It is no news that California has strict laws that enforce the liability of pet owners for dog bites and dog-related injuries.
Therefore, many pet owners within the state are keen on getting dogs with a mild temperament that will help them reduce the risk of dog-related mishaps.
As such getting pets from the best cavapoo breeders in California is a good bet.
One breed that readily comes to mind is the Cavapoo, a cross between the Cavalier King Charles Spaniel and Poodle.
Although the Cavapoo as a designer crossbreed is relatively rare compared to most purebred dogs, it has recently become increasingly popular.
We can credit the Cavapoo's newfound popularity to its affectionate nature, playfulness, charming physical attributes, and hypoallergenic properties, making it an inch-perfect choice for most people in California.
The Cavapoo is ideal for aged people, families with children, and first-time pet owners because they are calm, loyal, and friendly.
While it might sound easy raising a Cavapoo, it might be pretty challenging to get a healthy puppy from a responsible breeder in California.
You might get Cavapoos from several outlets within the state, but most are puppy mills and backyard breeders.
Buying from these sources comes with many dangers, including getting puppies with heart problems, hereditary health conditions, or parasitic infections.
Fortunately, you have arrived at the right place to become acquainted with some of the best Cavapoo breeders in California.
Best Cavapoo Breeders in California
1. Golden Heart Doodles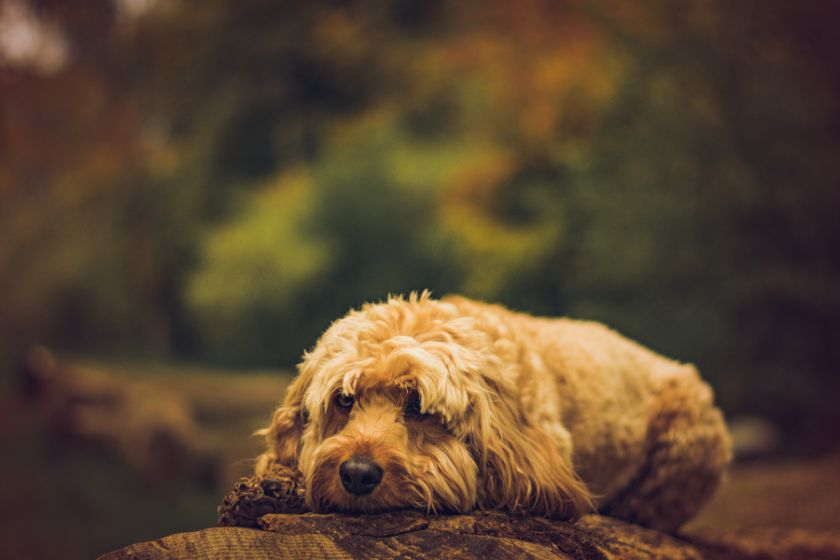 Experience cannot be of little consequence even though skillful people seem more celebrated and highly regarded in every walk of life.
Golden Heart Doodles have been in the business for over thirty years.
They began breeding Cavalier King Charles spaniel around the 2010s, but the breed's excess shedding and health issues prompted the breeding of the Cavapoos.
The breeder currently breeds Cavapoo and the Cavapoochon (a cross between the Cavalier King Charles Spaniel, Poodle, and Bichon breeds), using a well-organized home-breeding system to produce, train, and socialize these F1 and F1b hybrids.
Golden Heart Doodles prioritizes their dogs' welfare, mating only genetically tested parents to avoid the risk of the litter inheriting a genetic health condition.
The breeder is so sure of their breeding practices that they offer a three-year health guarantee for congenital and hereditary health conditions.
However, Golden Heart Doodles may demand a king's ransom for a Cavapoo puppy; male Cavapoo pups cost about $200, while female Cavapoo pups might cost $500 more.
2. Cee Cee's Puppy Palace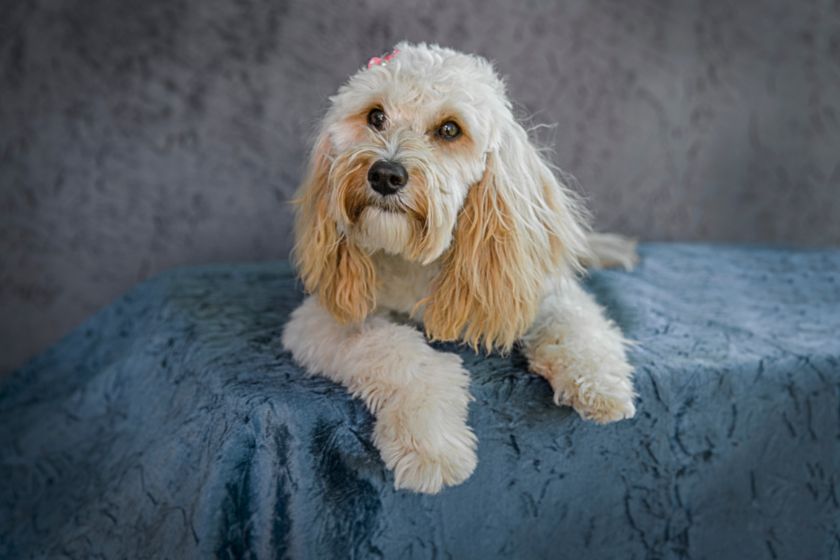 The Cavapoo inherits the Cavalier King Charles Spaniel's all-around beauty and regal grace and the Poodle's aristocracy.
Therefore, there could be no better name to describe the royalty of a Cavapoo kennel than a "Puppy Palace."
While it may initially seem inconsequential, emerging with such a name indicates the breeder's ability to think outside the box for the breed's advantage.
Our claim is backed by valid evidence from the breeder's breeding practices.
Cee Cee's Puppy Palace follows the highest breeding standards, breeding first-generation and first-generation backcross Cavapoo Puppies via a home-based breeding system that allows the breeder to focus on each puppy.
Every puppy is well socialized, allowing them to get along quickly with their families.
Securing a puppy from Cee Cee's Puppy Palace is hassle-free but might require you to submit a request before getting a puppy from the next litter, except you are lucky to find a puppy from those available.
Such reservations predicate from the breeder's puppies in high demand.
Please budget between $2,800 and $3,200 to secure a puppy from Cee Cee's Puppy Palace; you will get a blanket with your puppy's mom's scent on it to help your puppy settle down in its forever home.
Unfortunately, you cannot get a puppy if you stay far from San Joaquin Valley, except if you are willing to drive down to get it; however, the breeder is ready to deliver puppies to customers that live in or near San Joaquin Valley.
3. Pinewood Kennels Cavapoos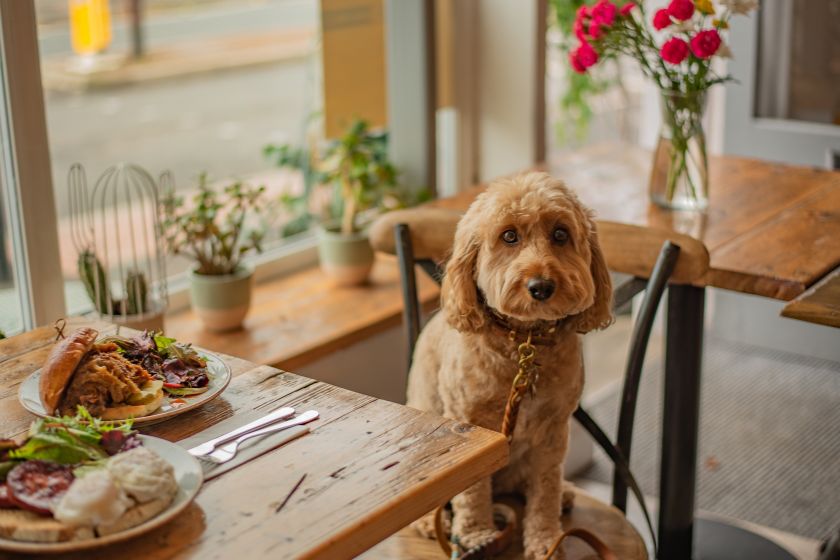 Pinewood Kennels Cavapoos understand that there are several Cavapoo breeders worldwide; however, they strive to stand out as one of the best.
The breeder is an experienced pet owner with proficiency in veterinary assisting, showing, and rescuing.
You might find most breeders new to the Cavapoo breeding industry, but Pinewood Kennels have a 12-year experience with Cavapoos.
While Pinewood Kennels occasionally breed Cavaliers or Poodles, they specialize in the Cavapoo without producing other designer crossbreeds like the Goldendoodle and Labradoodle, helping them focus on the breed's health and social demands.
Pinewood Kennels' puppies are home-bred, spending their first few weeks in the breeder's living and dining room before moving to a puppy pen, where they are allowed to interact with other puppies.
However, they are allowed in the open space and within the house, where they are properly socialized and receive house training.
Pinewood Kennels' puppies are neurologically stimulated between three and sixteen days through an appropriate introduction to varying sounds, sights, stimuli, and people.
The breeder works to improve their breeding practices via a "Puppy Culture" program that helps them integrate more puppy training techniques.
Pinewood Kennels gives precedence to health, ensuring that every puppy undergoes age-appropriate vaccinations, regular and thorough veterinarian check-ups, and deworming.
Puppies and adult dogs groomed for future breeding seasons live in a conducive environment and are well-treated.
Every pet parent will receive an up-to-date health record, a vet-approved health check-up sheet, a health guarantee, some toys, a homemade puppy blanket, pictures of the puppy's parents, and a packet of helpful information.
4. Silicon Valley Goldendoodles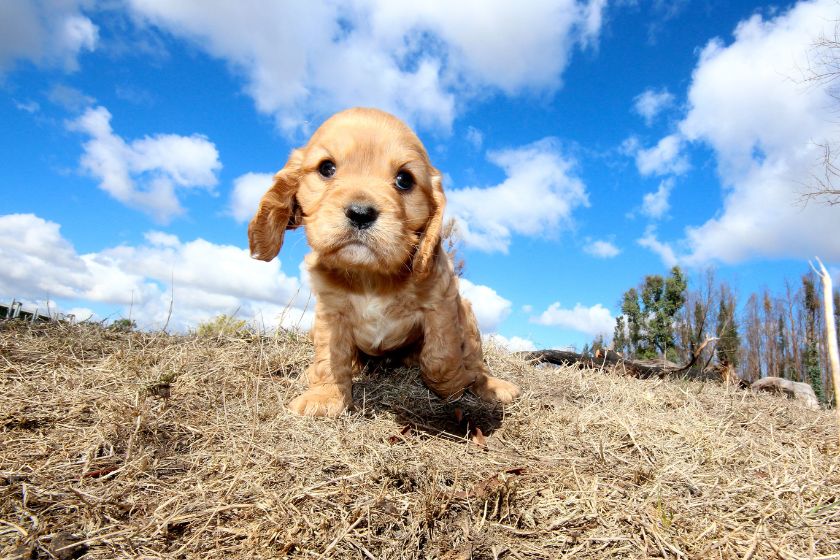 Silicon Valley Goldendoodles claim to have entered the Goldendoodle breeding industry out of passion, but they are undoubtedly an exemplary breeder of designer crossbreeds, including the Cavapoo, Labradoodle, and Bernedoodle.
Their primary objective is to breed puppies that live healthily and happily for a lifetime. It won't be easy to fault the breeder's love for designer breeds as a retired International Certified Dog Groomer.
Interestingly, he is also a Doctor of Neuropsychology and has twenty-year experience breeding doodles and poodles.
The breeder's credentials in the health and grooming of these beautiful breeds have helped the kennel produce healthy, highly trainable dogs with calm and loving temperaments and intelligence.
Silicon Valley Goldendoodles have high breeding standards that forbid the dams from being left in kennels; the breeder keeps their bitches in guardian homes, breeding them no more than two times.
They ensure that their puppies receive the best healthcare and training. Each puppy undergoes a thorough physical and vet check by a certified veterinarian before moving to its forever home.
Silicon Valley Goldendoodles have some incredible policies, including refundable deposits, a three-year health warranty, and a convenient adoption process. However, delivery within California attracts a $400 fee.
5. Lipscomb Doodles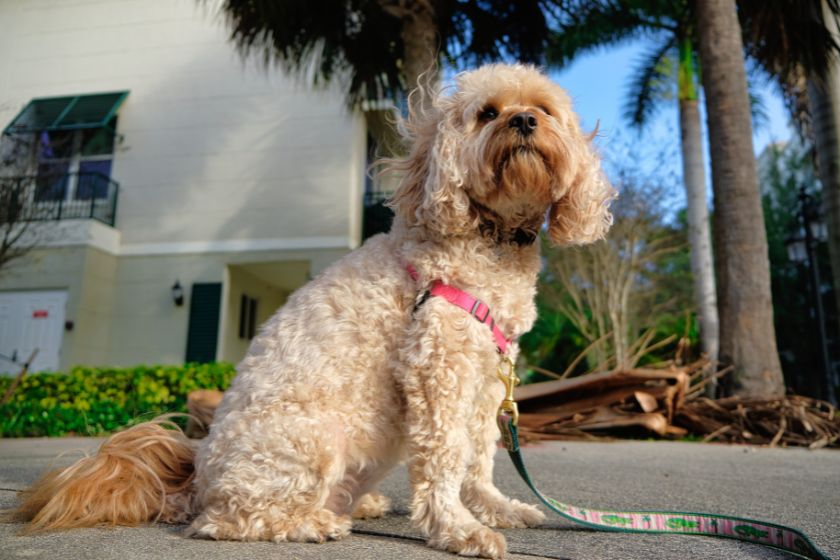 While Lipscomb Doodles specializes in Goldendoodles, they are a responsible breeder in California that occasionally breeds Cavapoos.
This breeder has ten years of experience raising healthy and happy puppies that will serve as beautiful companions in their forever homes.
Lipscomb Doodles regularly breed multigenerational Goldendoodles, but you can occasionally find first-generation Cavapoos.
Each adopter will receive a regularly dewormed, vet-checked, and well-socialized puppy with a year-long health guarantee.
6. Divinity Grace Cavapoos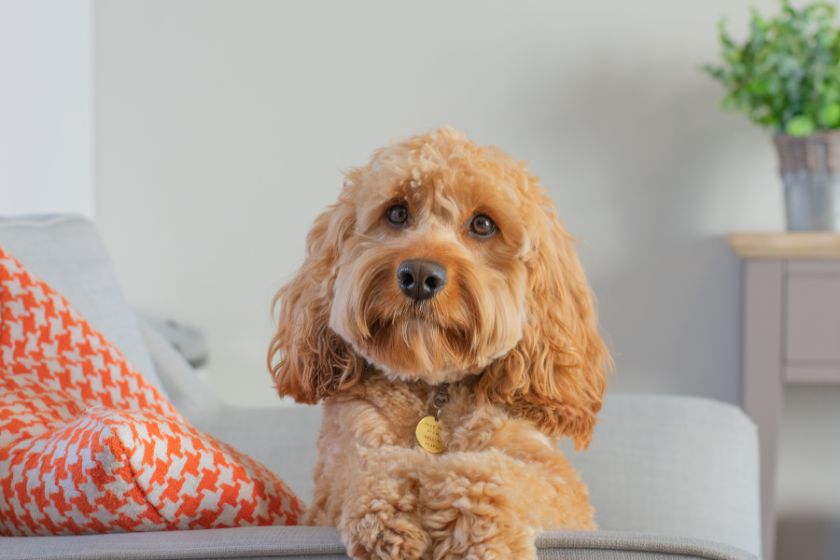 Dog raising is intuitive for Divinity Grace's breeders; it's more than just business. It is a hobby; it is passion!
The breeders started with the Cavalier King Charles Spaniel but moved to breed Cavapoos after falling in love with the Poodle's hypoallergenic property.
Divinity Grace's breeders are obsessed with raising puppies, enjoying every process of caring individually for each puppy. Impressively, they are ready to help match their Cavapoo puppies with their perfect forever families.
Divinity Grace raises healthy, happy, and charming Cavapoo puppies, breeding only dogs that excel in health, temperament, and conformation to breed standard.
The breeders pick only the best-purebred studs and bitches for breeding.
Their AKC and CKC sires and dams undergo DNA health tests to produce actual first-generation Cavapoo puppies.
Each puppy enjoys adequate care as a house dog and family member; they are loved, well-socialized, properly trained, and fully prepared to leave for their forever homes.
While it may seem inconsequential, Divinity Grace helps you get familiar with your potential puppy, giving you an idea about its traits before coming home by its eighth week.
You will get videos, pictures, and updates about your puppy's welfare as the breeder shares milestones it has reached.
Best Cavapoo Pet Stores in California
While they may not be breeders, some reputable pet stores offer healthy, happy Cavapoo puppies.
You can visit some of these stores if finding a responsible breeder within your residence is a hassle.
7. PuppySpot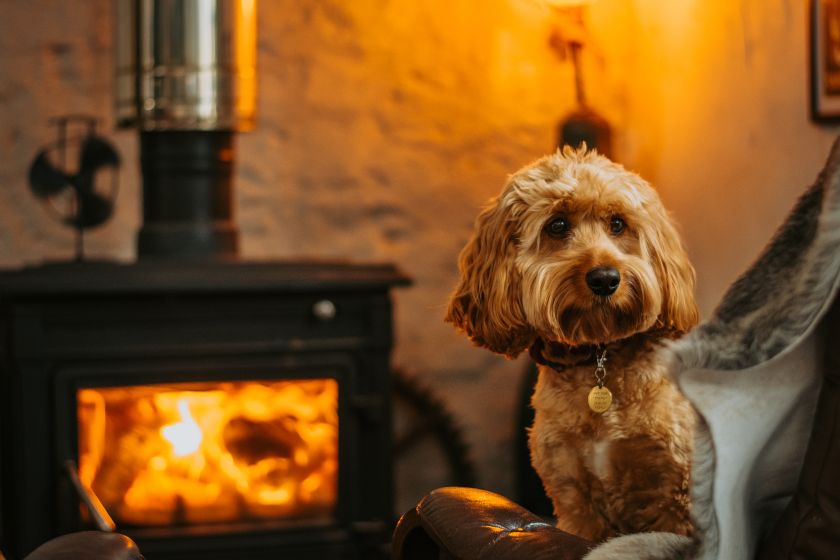 It might not surprise you to find PuppySpot on this list, especially if you have patronized them.
PuppySpot is a reputable community famed for its commitment to linking potential pet parents to breeders across the country.
The service drives to improve the life of each puppy, family, and breeder.
Breeders in the PuppySpot community are held to the maximum standard in the puppies' health and well-being.
Such a standard regularly eliminates over ninety percent of the breeders that apply to the community's comprehensive, proprietary screening process to provide puppies and families with quality experiences for a lifetime.
8. Premier Pups Cavapoos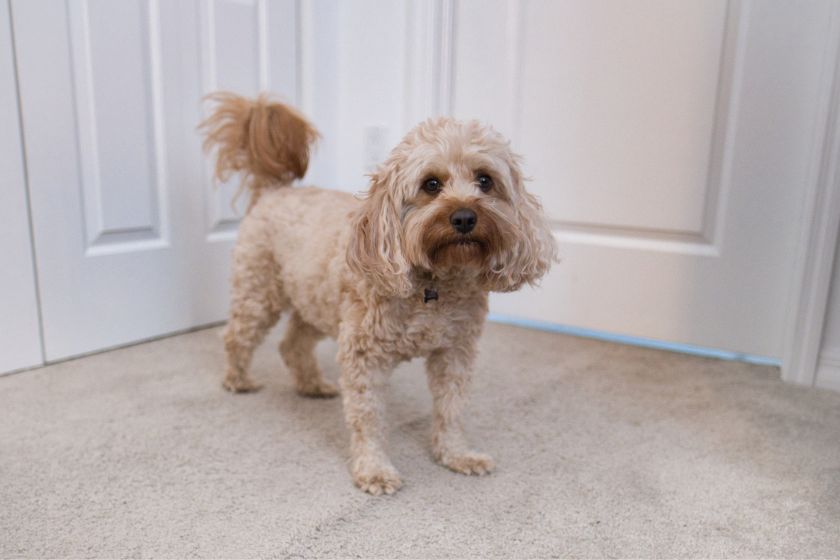 Premier Pups partners with top Cavapoo breeders across the United States, offering the best Cavapoo puppies for adoption.
Premier Pups connect families to breeders from whom they can get whichever generation of Cavapoo they desire.
While they have their contact point in Johnstown, Ohio, they ship puppies to any location within the country, provided that you place an order on their website.
Premier Pups offer a ten-year health guarantee as a token of their surety in their puppies.
Each healthy puppy is sold with a pre-screen blood test and insurance, giving you the satisfaction likened to buying a Cavapoo puppy from a responsible and caring breeder.
9. Good Dog

It is often said that one must look beyond what something is to appreciate it more. If puppy mills and backyard breeders see the Cavapoo as a mere dog, Good Dog sees this adorable breed as more than just a pet.
They believe the Cavapoo is a good friend and an excellent addition to the family.
Identifying the problems associated with getting a designer breed like the Cavapoo, Good Dog has made it easy for people to get healthy dogs from reputable breeders, shelters, and rescues, providing the required guidance and support to make the process a success.
Good Dog prioritizes health and behavior, working with leading vets countrywide and screening every member of their community to ensure responsible breeding practices.
The community upholds transparency and accountability and strives to create an enlightening environment for its customers.
Frequently Asked Questions (FAQs)
How can I choose a Cavapoo breeder in California?
There are several sources to get a Cavapoo from in California; however, most of them will leave you with a stroke of ill luck because they sell unhealthy puppies even though they come at lower prices. However, you can get some responsible breeders and buy from reputable sources online to enjoy the companionship of the intelligent, hypoallergenic, Cavapoo.
Do well to research thoroughly, getting sufficient information on various breeders online. It would help to take fewer risks, completely avoiding breeders that seem shady. Positive reviews and testimonies from clients can assist you in making the right choice when dealing with breeders online. If possible, you can drive to the breeder's address to pay a visit to the kennel; this could help you ascertain the breeder's integrity and see the puppies' conditions. Please note that you must schedule a visit to the breeder as some only welcome pre-scheduled visits.
 
How much should I pay for a Cavapoo puppy in California?
 
Cavapoo puppies in California are pretty expensive. You should budget between $900 and $3,200, depending on the puppy's color, generation, gender, and size. The breeder's reputation and location also determine the price of a Cavapoo puppy. However, the average cost of getting a Cavapoo puppy is within the $1,500 range.
What materials can I buy when bringing home a new Cavapoo puppy?
We rejoice with you if you have found a new Cavapoo puppy; however, you need to get a few items in preparation to welcome the new canine family member. Such essential items include puppy food bowls, beds, crates, a playpen, toys, grooming products, and treats.
What tips can help me successfully raise a Cavapoo puppy?
"Safety first!" The first thing to do is ensure that your house and backyard are safe for your puppy's arrival. Cavapoos are best raised in fenced compounds because of their curious nature, considerably increasing their wanderlust potential. Therefore, your yard should be escape-proof to ensure your puppy's safety. Please always ensure that dangerous items are out of your puppy's reach. Such things may include toxic foods, chemicals, and children's toys.
What documents should I expect from a reputable breeder in California?

While your puppy's health, parents, environment, and conditions are the first grounds to identify a responsible breeder, you should also consider paperwork. It would be best if your Cavapoo puppy came with a microchip paper, written health guarantee, change of ownership document, and a pedigree paper if available.
Wrap Up
Buying a Cavapoo puppy from a responsible breeder can be a hassle, but it is worth the effort.
While getting cheap puppies from the nearest outlet might be tempting, you should avoid trusting anyone without doing thorough research about their breeding practices.
We have highlighted some responsible breeders with the knowledge and experience to produce healthy and happy litters.
They can help you make the right decision when getting your Cavapoo puppy.
Discover other Cavapoo Breeders in the United States: