Unfortunately, not all dog foods are created equal!
That's why it's essential to learn about the worst dog food brands and discover the best dog foods of 2023, to ensure your furry friend is getting the nutrition they deserve.
The list is based on factual data regarding the percentage of all the ingredients used in the various dog foods.
What makes the dog food brands on this list worth avoiding is that they fail to provide many—if any—of those nutrients your dog needs to stay healthy. Instead, they use a variety of low-quality ingredients and types of filler.
These can be harmful or unnamed ingredients that make them bad choices. Below you can find our research. The top worst dog foods didn't change too much from previous year.
Top 6 Worst Dog Foods
| Puplore Picks | Brand |
| --- | --- |
| Worst Overall | Purina Dog Chow |
| Worst Runner Up | Gravy Train |
| Worst Wet Food | Cesar Filets |
| Worst Treats | Sportsmix Wholesomes |
| Worst Dry Food for Adults | IAMS Proactive Health |
| Worst for Puppies | IAMS Protective Health Smart Puppy |
We structured the following list of dog food brands to avoid this year in a way that will make it easy for you to make a more informed shopping decision.
You will have a better understanding of why it is critical to seek out the better option for your pup by first emphasizing the bad dog food and then reading about healthy dog food brands to choose from.
16 Worst Dog Food Brands to Avoid This Year
Worst Wet Dog Food: Cesar Filets
Cesar Filets is considered one of the worst dog foods because of its high salt content (we covered the best low sodium dog food options).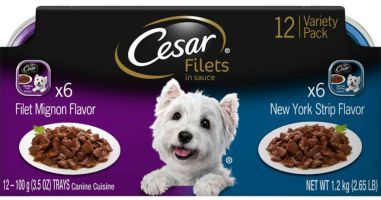 It has sufficient water for processing, animal liver, chicken, beef and meat by-products, wheat gluten, ground wheat flour, cornstarch, salt, pea fiber, sodium tripolyphosphate, calcium carbonate, added color, choline chloride, magnesium.
It helps if you also understand that the quality of ingredients cannot tell the whole story, but the amount of meat in the dog food is critical to consider before determining whether it falls in the best or worst category.
The amount of protein in Cesar filet is about 44%, with 22% fat and 25% carbohydrates.
This analysis shows that this dog food includes an above-average level of protein intake and just near-average fat.
At the same time, the carbs are below average compared to a portion of typical canned dog food.
Another factor making it a low-quality dog food is that it has artificial colorings added to it, which is useless and not preferred.
Worst Dog Treats: Sportmix Wholesomes Biscuits
Sportmix biscuit treats are on the list of dog food brands to avoid because it is made of unwanted dry leftovers and includes preservatives and fats harmful to dogs.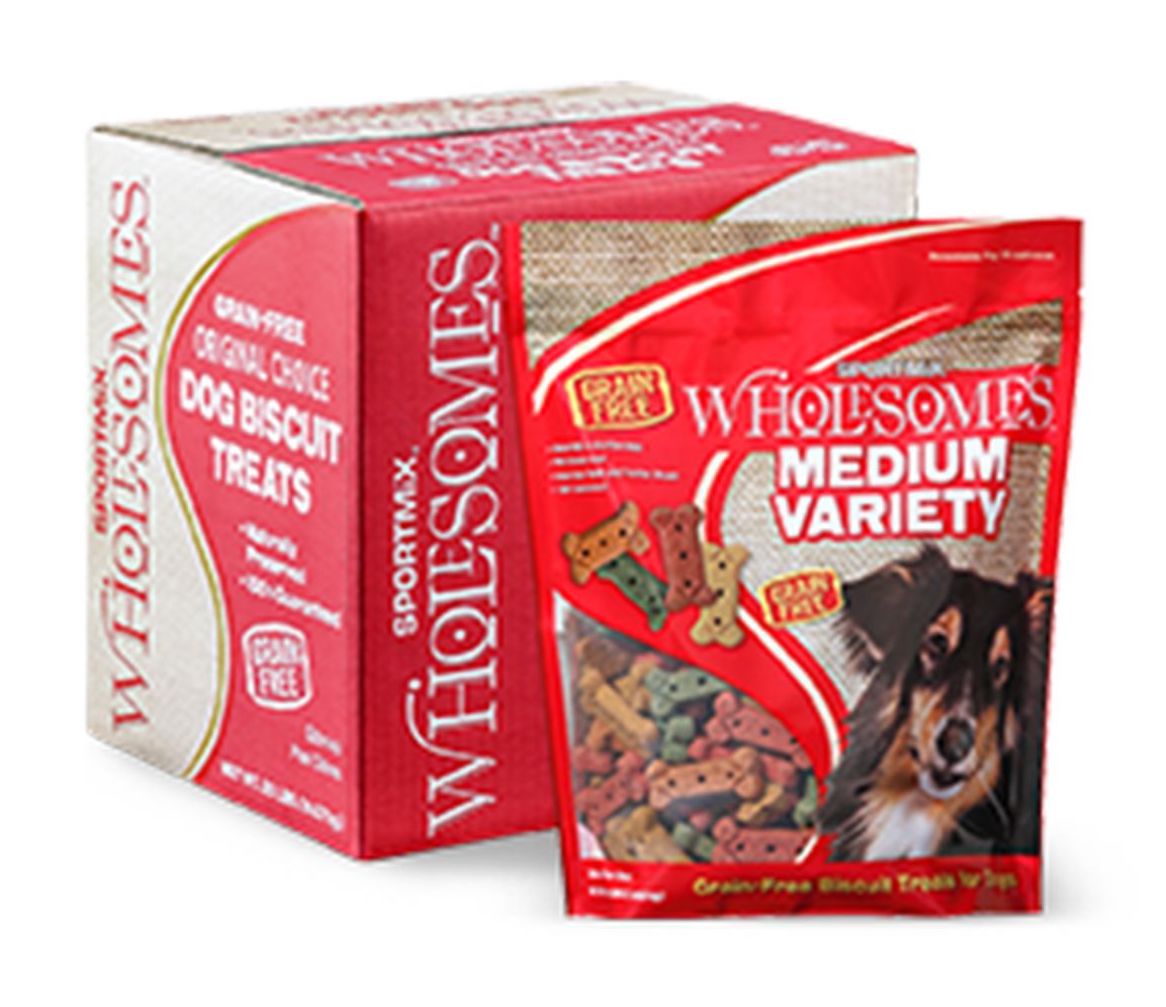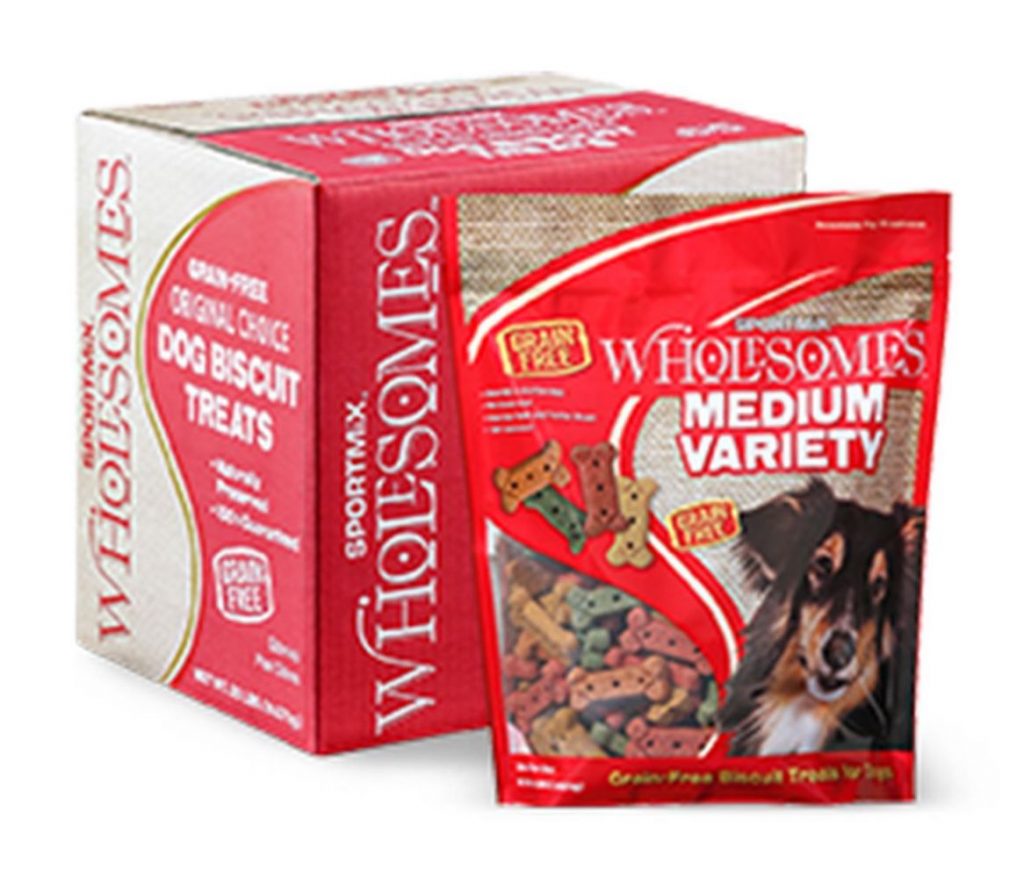 If we estimate the product's meat content, it shows that it contains about 24% protein content, 13% fat, and about 54% carbohydrates.
After analyzing these numbers, it is clear this is a poor choice and is just a bit above average compared to other high-quality dog foods.
Worst Adult Dry Dog Food: IAMS Proactive Health
The primary ingredient in IAMS Proactive Health Adult Chunks dry dog food is chicken.
Though chicken is a quality item and raw chicken comprises about 80% water, but when cooked, most of the water is lost, which reduces the meat content to just a portion of its initial weight.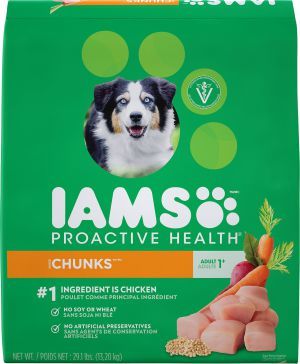 After processing, these ingredients would probably account for a smaller fraction of the whole content of the finished food.
The second ingredient is cornmeal which is coarse ground flour made from the dried corn. Corn is a controversial and inexpensive cereal grain of low nutritional value to a dog.
For that reason, it is not a preferred part of any dog food.
The third ingredient of this product is sorghum (milo), a starchy cereal grain with a similar nutrient profile to corn.
Because it is gluten-free and claims a smoother blood sugar performance than other grains, sorghum may be considered a satisfactory non-meat ingredient.
The fourth ingredient is chicken by-product meal, which is a dry product of the slaughterhouse waste.
This meal is made after all prime cuts have been separated, which includes almost anything left, including beaks, feet, and even undeveloped eggs, anything except the feathers.
But on the bright side, these portions are meat concentrates and comprise protein approximately 300% more than the fresh chicken.
The fifth ingredient is beet pulp, a controversial ingredient, as it is a high fiber by-product made of sugar beet processing.
Although this food contains all the amino acids a dog needs, it is still considered a low-quality dog food.
See Also:
Worst Puppy Food: IAMS ProActive Health Smart Puppy
Pups are very much like human children in the sense that what you feed them early on can have a significant impact on their growth and development.
Iams ProActive Health Smart Puppy Original Formula is the worst puppy food even though it may contain the phrase "Health Smart" on its label.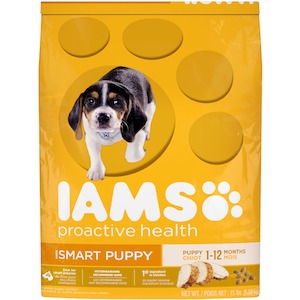 In one disturbing case, a dog owner on the Consumer Affairs website observed that her pet displayed indications of a parasite soon after eating this food.
However, a vet confirmed the digestive health issues arose due to the food, and no parasites were present in the dog, luckily.
Kal Kan Complete Adult
This dog food makes the list because of questionable ingredient quality that is not nutritional and is somewhat harmful to dogs.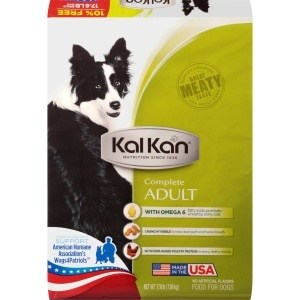 The primary ingredient is corn, which we just mentioned does not provide the proper nutrition your dog needs.
The second ingredient is meat and bone meal which is a dry product from the mammal tissues, including bones, exclusive of any added hair, blood, hoof, hide trimmings, horn, manure, rumen contents, and stomach.
Meat and bone meal may have a lower digestibility than most of the other meat meals.
Scientists believe that this decreased absorption may be because of the lower essential amino acid and higher ash content in the ingredient.
The meat itself can come from any mixture of cattle, pigs, goats or sheep, making classifying impossible for particular food allergens.
Although meat and bone meals are still considered meat concentrates rich in protein, a generic ingredient like this cannot be considered a quality item.
Kal Kan's third ingredient is a soybean meal which a by-product or leftover of soybean oil production more often found in farm animal feed.
Although soybean meal comprises about 48% of protein, this ingredient would be estimated to have a lower biological value than meat.
Inexpensive plant-based ingredients like this can boost the total protein, an element that must be considered while judging the actual meat content of this dog food.
The fourth ingredient is wheat which is another cereal grain and possesses the same issues as corn.
The fifth ingredient includes chicken leftovers or animal by-products, a dry leftover product of slaughterhouse waste.
I think you get the point that these types of ingredients are not ideal for your furry friend.
Twin Pet Dry Dog Food
Twin Pet dog food is a plant-based dry dog food utilizing a limited amount of unnamed and unidentified meat as its primary source of animal protein.
Twin Pet contains cheap ingredients of poor quality that do not provide the necessary nutrition to dogs.
Like the dog food brands we already discussed, the first ingredient is corn, so you already know how we feel about that.
The second ingredient is wheat middlings, also known as wheat mill run. It is a cheap by-product that remains after cereal grain processing.
Unfortunately, the disparities in nutrient content in the wheat middlings can be a critical concern in determining their aptness for being used in any dog food or even livestock feeds.
In actuality, wheat middlings is just the milling dust as well as floor sweepings. It is an ingredient that is typically associated with low-quality pet foods.
The third ingredient is the meat and bone meal, a rendered product from the mammal tissues. It has lower digestibility in comparison with the other meat meals.
Other unhealthy, non-nutritional ingredients in this dog food include unspecified animal fat and salt. The quantity of salt is also unknown, making it difficult to determine the nutritional value of this ingredient.
Altogether this product is one of the worst dog food brands.
Gravy Train
Gravy Train is a dog food to avoid because it lacks nutritional items needed for the strong growth of the dog.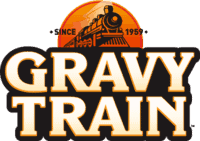 It is a meat-based canned food that utilizes a moderate amount of meat or poultry by-products as the primary source of animal protein.
Don't Miss:
Purina Dog Chow
Purina has introduced many pet food brands manufactured by the Nestle Purina PetCare Company.
The company began as the Ralston Purina Company in 1893, and presently it includes more than half a dozen various product items.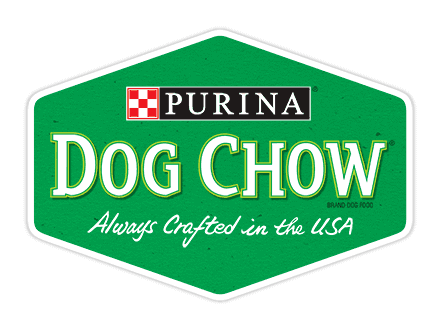 Purina dog chow's flaws include low-quality ingredients like grain wheat, soy and corn meal, artificial food coloring, preservatives, and flavors.
Unfortunately, many dog owners continue to buy these products because they are inexpensive and very well promoted.
Beneful
Beneful is another product line that lies under the Purina umbrella of brands.
Purina released the brand in 2001 and its main draw is that its boxes come in various shapes, textures, and colors.
Beneful offers different varieties of dry dog food products and wet dog food that contains "real meats" like chicken, beef, and salmon.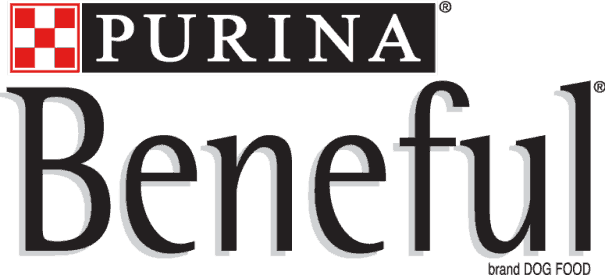 If you take a quick look at the ingredient list for some of Beneful's food, you will find that they are likely outweighed by standard products and plant proteins, while there are some natural meats included.
For example, the Purina Beneful Original with Real Beef lists beef as the main ingredient but it also contains five fillers or by-products.
There are also numerous artificial ingredients in their dog foods.
Beneful's wet dog food products are made with wheat, corn, soy ingredients, and artificial flavors.
The Pedigree Brand
This dog food is owned and produced by Mars PetCare, a subordinate of Mars, Inc., the sixth-largest privately held company in the United States.
Pedigree provides a wide variety of dry and wet dog food and other dog treats marketed as excellent food.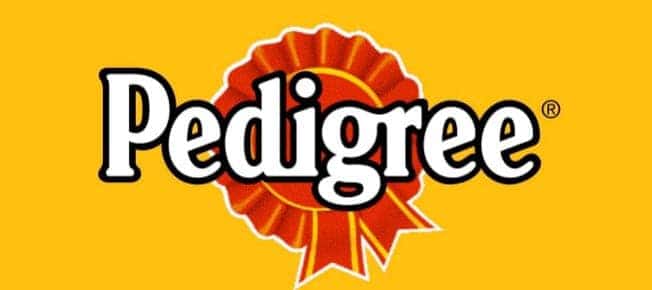 They make products for adult dogs, senior dogs, puppies, and recipes for dogs of different sizes and other health and dietary needs.
If you check the ingredients list for most of these products, you will find that they do not vary in their formulation.
Many Pedigree products list whole grain corn as one of the first ingredients.
Not only is this ingredient a common food allergen for dogs, but it also provides below-average nutrition.
Most of their dog foods are heavy on carbs and filled with inexpensive fillers and artificial flavors.
The only reason this brand is popular because it is cheap and affordable.
See Also:
Kibbles 'n Bits
This brand of dog food is easily one of the most popular brands on the market.
But a quick glance at their formulas demonstrates that not only is joy missing -their motto is Joy in every bite – from the ingredients list, but so are many high-quality ingredients which they claim that their food includes.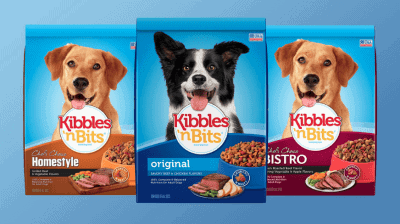 Kibbles 'n Bits dog food is supposed to be made with flavorful roasted meats like chicken and beef.
One look at the ingredients list on their dry food products will show they are very carb-heavy corn-based, which is the first ingredient in many cases.
Kibbles 'n Bits wet dog food is also loaded with corn, wheat, and soy ingredients, making it a dog food to avoid.
Ol' Roy Dog Food
The Ol' Roy brand of dog food is manufactured/Produced by the Mars Group specifically to sell in Wal-Mart stores.
Though Ol' Roy certainly belongs on the list of worst dog food brands of all time, it is still among the highest-selling in the United States.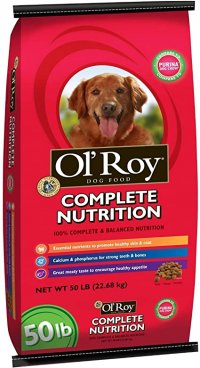 The key reason is probably the fact it is easy to find and the affordable price.
A review of the ingredients list for numerous Ol' Roy products reveals they use corn, soy and wheat ingredients, cheap meat products and artificial flavors.
A 50-pound bag of Ol' Roy dog food costs less than $25, another red flag because it is a low standard of dog food.
Original Line of Diamond Dog Food
The Diamond Pet Food Company is owned and produced by Schell & Kampeter, and comprises three product lines.
The original Diamond line of dog food lacks the desired nutritional content you should be looking for in your dog's food.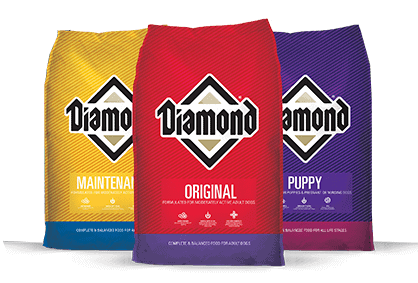 A review of several Diamond dog food products reveals the use of corn, soy and wheat ingredients.
Many of the meat-based ingredients come from unnamed sources like fish meal or meat by-products of questionable quality.
They don't use many artificial flavors and colors like other bad dog food brands on this list, so that's a plus.
Still, it would be good to avoid any brand that makes heavy use of wheat, soy, and corn.
Blackwood 1000 Dog Food
Blackwood 1000 dog food has an ingredients list that's full of items that deliver no health benefits to dogs and can even be harmful to their health.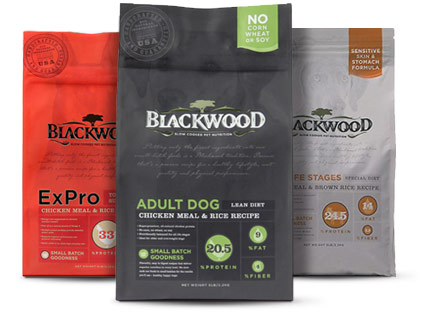 It also contains a lot of ingredients that are comprised of GMOs. Since many studies suggest that GMOs are not safe for human consumption, it's certainly not a good idea to fill your dog with such foods daily.
Wegmans Bruiser Kibble Variety Mix
This brand of dry dog food has ingredients that have been considered dangerous for dogs to eat, including BHA, xantham gum, BHT, corn gluten, and food coloring.
Wegmans Bruiser Kibble Variety Mix demonstrates the motto that you typically get what you pay for.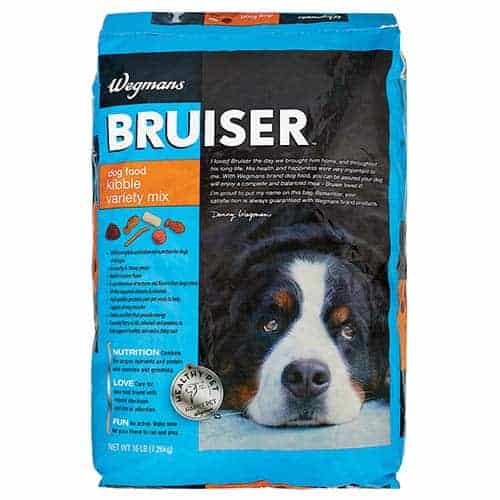 It is affordable dog food, but if you're looking to give your dog stable nourishment, you should look for an alternative option.
Alpo by Purina
After many complaints about dogs getting sick and dying that ate Alpo dog food – which Purina makes – it prompted the FDA to start an investigation into the company's processing plants.
If the brand does not bother to meet basic production guidelines, then there is no need to consider it a healthy product for your dog.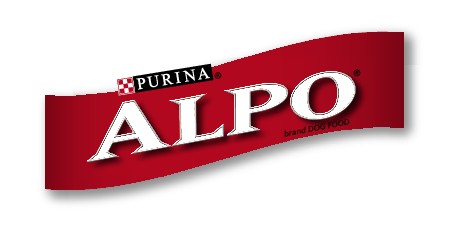 Don't Miss:
---
The Best Dog Food Brands We Recommend
Eagle Pack Dog Food
Eagle Pack is one of the top dog food brands and has been produced for over 25 years.
It is one of the best because it provides natural and quality nutrition without fillers or artificial preservatives.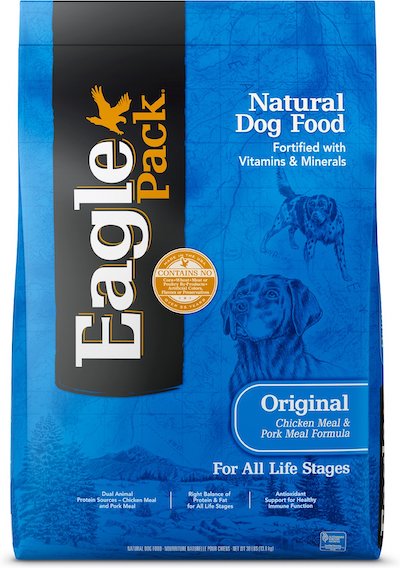 Its innovative food formula has been constantly researched with vets and trainers since 1985 to make sure they naturally fuel and energize the dog's daily routine and adventures.
The quality protein sources of this dog food included in all formulas have highly digestible protein as the first and foremost ingredient.
Wholesome grains and fiber such as tomato pomace, brown rice and oatmeal provide natural nutrients for firm stools and healthy digestion, along with flaxseed that helps nourish your dog's skin and coat.
Another excellent quality of this dog food as it has no artificial preservatives, flavors or colors, quality natural nutrition without artificial preservatives or fillers.
The Honest Kitchen
The Honest Kitchen dog foods are rich in ingredients that provide proper nutrition, making them a healthy option for dogs.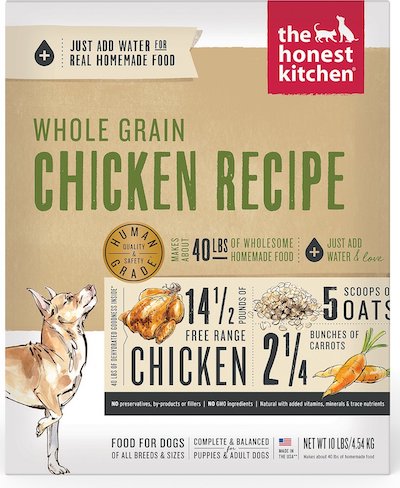 Their ingredients include chicken, organic quinoa, spinach, sweet potatoes, organic kelp, parsley, tricalcium phosphate, zinc amino acid chelate, choline chloride, vitamin E supplement and, vitamin D3.
Other ingredients are potassium chloride, potassium iodide, iron amino acid chelate, sodium selenite, copper amino acid chelate and thiamine mononitrate.

The Honest Kitchen uses chelated minerals, which means the minerals have been attached to a protein chemically, making them easier to absorb.
Solid Gold Dog Food
The 'Gold Source' of Solid Gold's complete nutrition is a mixture of nutrient-dense superfoods included in their dry dog food recipes.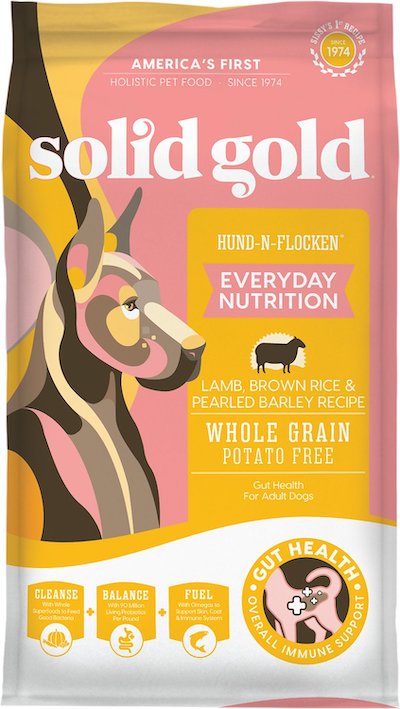 While many high-quality dog foods include their own antioxidant mixture of sorts, the superfood mix of Solid Gold dog food comprises more than just a vitamin-packed blend.
Some of its ingredients include vegetables and fruits like kelp, spinach, carrot, cranberry, blueberry, pumpkin, and apple, but with lots of extras.
Oils from sesame and proteins from ocean fish meal, salmon, and almond provide considerable amounts of Vitamin E and omega fatty acids.
Other ingredients include herbs such as the antioxidant-rich rosemary, a natural preservative, spearmint for digestion and thyme, which boosts the immune system.
The most prominent feature of this dog food is that it contains no chemicals, flavors, artificial colors, preservatives, corn fillers, soy or wheat.
Solid gold is adamant about utilizing only responsibly and naturally sourced ingredients and this is easy to see in their products and their positive reputation!
Wellness Pet Food
Wellness dog food contains all the nutritional ingredients required for your dog's health and stability.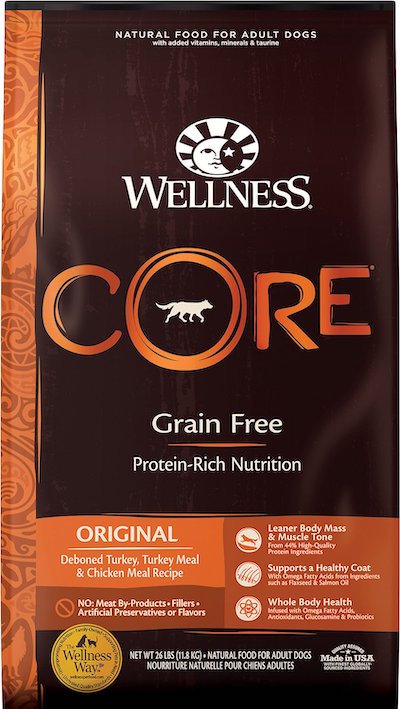 An exciting addition to its ingredients is chicken, chicken meal, turkey meal, which is meat concentrate rich in protein, and vegetables like peas, potatoes, and tomato pomace.
It also contains flaxseed rich in soluble fiber and is one of the best plant-based sources of healthy omega-3 fatty acids that are highly nutritious and needed for dogs.
Canidae Grain Free
Canidae Grain Free is a popular choice of the best dog foods as it contains menhaden fish meal, chicken, peas, lentils, dried whole egg, potatoes, chicken fat, flaxseed, sun-cured alfalfa and natural flavor.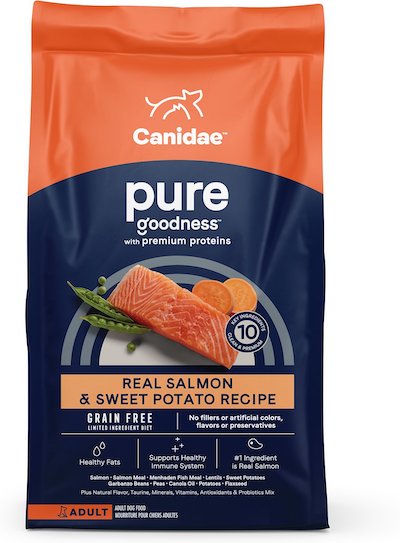 It also comprises chelated minerals similar to The Honest Kitchen.
Fromm Family Dog Food
Fromm Gold is one of the better dog food brands for active adult dogs.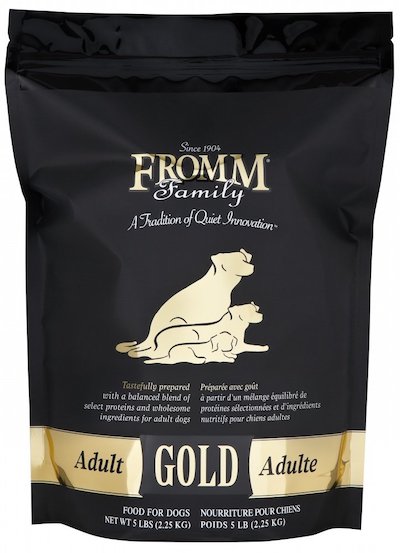 It is prepared with real Wisconsin cheese, lamb, chicken, duck, whole eggs and enhanced with salmon oil for a healthy coat and probiotics for aiding digestion.
Their guaranteed analysis has minimum levels of around 24% of Crude Protein, 16% Crude Fat and a maximum 3.5% of Crude Fiber and 10% Moisture.
It also has a minimum of about 0.5% Omega 3 Fatty Acids and 2.5% Omega 6 Fatty Acids.

Fromm has all the high-quality dog food ingredients that should be present to strengthen the dog's immune system and provide balanced nutrition.
PLEASE NOTE: Amazon.com and Chewy are NOT authorized retailers to sell Fromm Family Dog Food. Because of this, we suggest using only authorized online retailers such as PetFlow.
Taste of the Wild
Taste of the Wild dog food includes grain-free formulas which are made based on a dog's ancestral diet.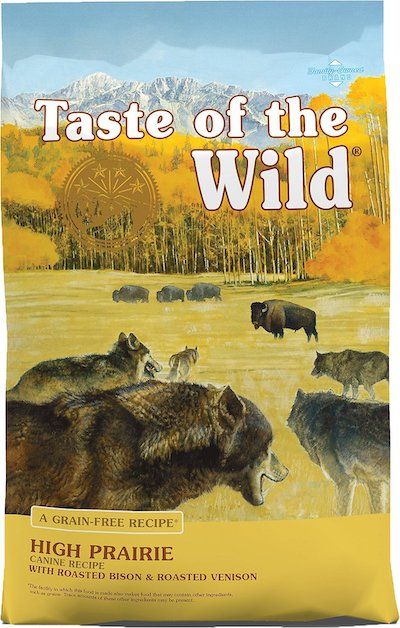 It provides highly digestible energy, has a better flavor, and provides natural antioxidants to support overall health and a healthy immune system.
Taste of the Wild has been popular with pet owners looking for grain-free dog food at an attractive price.
Their number one ingredient is buffalo, a high-quality meat source of protein.
The second ingredient in Taste of the Wild is lamb meal which is considered a meat concentrate and has almost 300% more protein than the fresh lamb.
Its third ingredient is sweet potato, a gluten-free source of dog food's complex carbs, which can naturally be rich in beta-carotene and dietary fiber.
Taste of the Wild also uses the same quality of water found in our bottled water for steam-drying all of their foods. This ensures their dog food is of microorganisms, inorganic and organic compounds.
Merrick Brand Dog Food
The ingredients that make Merrick a great choice include deboned duck, deboned chicken, turkey meal, salmon meal which is a source of omega 3 fatty acids, peas, potatoes, sweet potatoes, potato protein and lamb meal.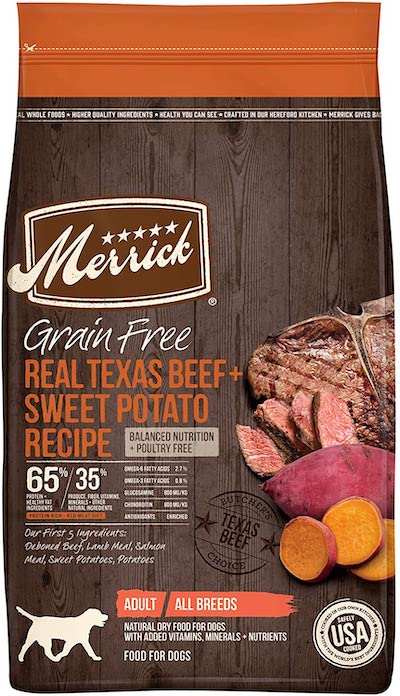 Merrick dog food also uses duck fat and chicken fat preserved with mixed tocopherols, blueberries, apples, salmon oil, organic alfalfa, natural flavor and salt.
Acana
Acana singles are a high-quality brand because of their natural and healthy ingredients, including duck, duck meal and vegetables like green peas and red lentils.
Both are rich sources of natural fiber.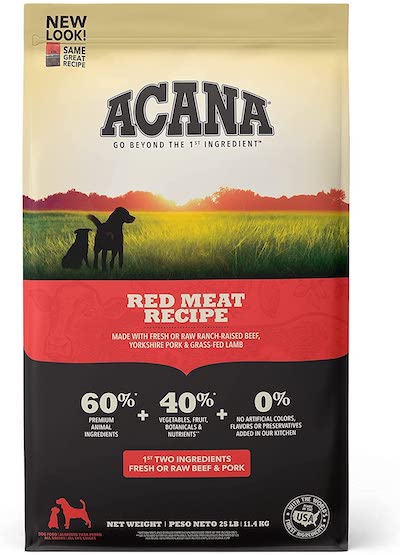 It also contains duck liver and duck fat which is an excellent source of omega 6 fatty acids.
In grains, this dog food contains chickpeas, pinto beans and it also includes herring oil.
All these ingredients are highly nutritional and rich in protein and fiber, which you will find in the top dog food brands.
Orijen
In simple words – Orijen is a meat-based and grain-free dry dog food that uses an abundance of named and specified animal meats and fish as the primary sources of animal protein in their dog food.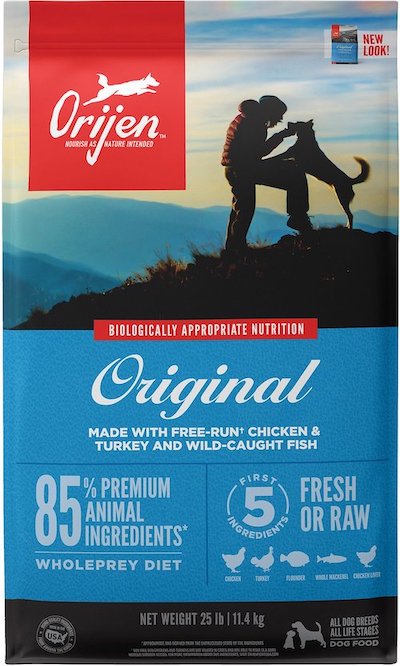 Orijen dog food has a variety of ingredients, including chicken and turkey meat, whole eggs, flounder, mackerel, chicken and turkey liver.
They also contain the heart of both chicken and turkey as they are naturally rich in quality minerals, protein, and also complex B vitamins.
It also contains red and green lentils, navy and pinto beans, alfalfa, chickpeas and chicory root.
Dogswell
Dogswell (Nutrisca) was founded in 2004 by Marco Giannini, who grew up with a German shepherd named Emily that developed hip dysplasia.
The spiteful experience of giving her pills helped Marco comprehend that there was an opportunity to add practical benefits right into pet treats and produce treats with positive effects and taste even better.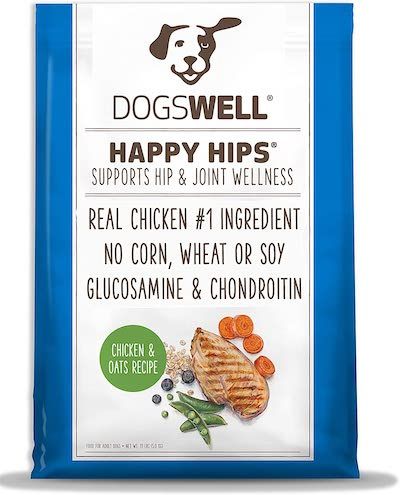 Dogswell is dedicated to producing high-quality food and treats that are:
Great in taste
Contain an abundance of vitamins, minerals or supplements that deliver functional health benefits
Made with natural food ingredients
Free of any corn, sugar, wheat, soy, or artificial flavors
Natural Balance
Natural Balance's grain-free formula utilizes only a select few protein and carbohydrate sources. This makes it ideal for dogs with a sensitive stomach or food allergies versus products usually used in kibble.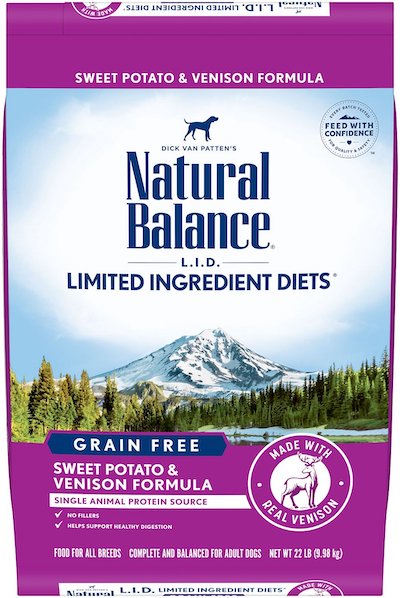 Natural Balance dog food contains Omega 3 Fatty acids from flaxseed which nourishes the skin and keeps your pup's fur healthy and shiny.
Their ingredient includes potatoes, duck, canola oil (with natural mixed tocopherols), natural flavor, potato protein and potato fiber.
Earthborn Holistic
Earthborn Holistic is another brand that ensures your furry friend is getting adequate levels of protein that help develop and sustain energy and build muscle mass.
Lamb meal and Bison meal are lean meats rich in composed amino acids considered essential building blocks for a fit body.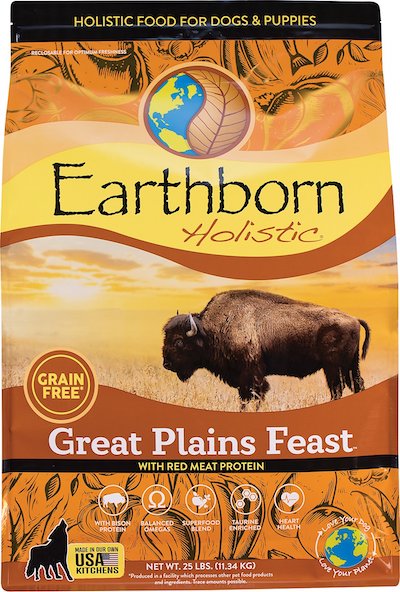 Egg protein is the organic standard of healthy proteins. Rich protein sources like these help build a durable basis for your dog's complete health.
While guaranteed levels of antioxidant nutrients like Vitamin E and Vitamin C blended with nutrient-rich vegetables and fruits such as peas, apples, blueberries, carrots, spinach, and cranberries help support the immune system and provide optimal health.
Evanger's Dry Dog Food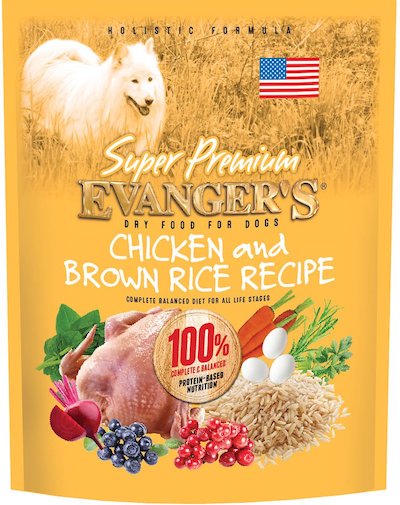 Evanger's Chicken Dry Dog Food is formulated to meet the nutrition levels determined by the AAFCO dog food profiles for all life stages.
Fresh chicken is the first and main ingredient. There is zero corn, soy fillers or wheat.
Other quality ingredients are oatmeal, dried egg, carrots, Vitamin A supplement, d-calcium pantothenate (source of Vitamin B5), chicken, chicken meal, dried kelp, cranberries, blueberries, brown rice, celery, beets, parsley, lettuce, watercress, spinach, potassium chloride, Vitamin E supplement, Vitamin B12 supplement, Niacin supplement.
There is no doubt this product can be considered a good diet plan for your dog.
Nutro Wholesome Essentials
Nutro Wholesome Essentials contains real chicken that delivers the amino acids adult dogs require to build muscle and uphold a healthy metabolism.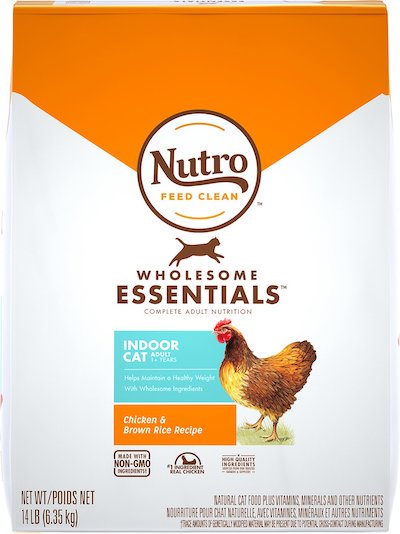 Nutro's natural dog food contains whole grains to nourish a healthy digestive system for appropriate nutrient absorption. Whole oatmeal high in soluble fiber helps delicate stomachs, and antioxidants, such as vitamin E, provide overall cellular and immune health.
They never use artificial flavors, preservatives or colors; only the best ingredients nature has to offer.
Not only will your dog adore the taste, but you will like the results.
Dr. Harvey's
Dr. Harvey's is a growing pet food online business that just lately expanded to retail shops but has quickly become a favorite of many dog owners.
Dr. Harvey's uses a freeze-drying procedure that safely conserves the essential amino acids in the beef.
It also includes eggs, carrots, raw chicken, potatoes, and flaxseed meal.
Their 5-pound bag of Canine Health Miracle Dog Food makes 33 one-pound meals.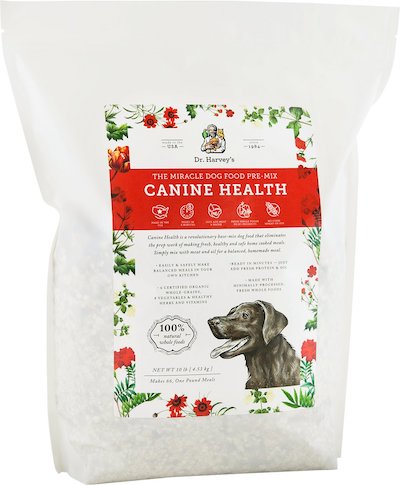 It is also a known fact flaxseed meal is one of the best plant-based cradles of healthy omega-3 acids, which their dog food contains.
Dr. Harvey's then throws in a mix of green beans, peas, zucchini, broccoli, and beets.
Strangely this product contains alfalfa. Although this hay is high in protein, it's rare to see in high-end brand dog foods.
---
FAQs
What Dog Foods are Killing Dogs?
If you read about a recent FDA statement regarding grain-free dog food, please visit the links below for more detailed information.
It is important to note that they still have not found any evidence to say the dog food brands in their report directly cause these reported DCM cases.
Here is a direct link to the FDA's investigation and their current findings.
At this time, there have been no recalls made on these brand's products since the FDA's findings are still inconclusive.
Champion Pet Foods, makers of Acana and Orijen, have updated their FAQs to address this topic which you can find here.
We always recommend consulting with your vet about your pup's specific dietary needs.
Just like human food, there is no 'one size fits all option for dogs either.
---
Wrapping Up
Since your pup is part of your family, you know you need to choose a diet full of nourishment and flavor.
We hope you use the information here to make a more informed decision regarding buying the best dog foods for your pup and knowing the worst dog food brands to avoid.
You May Also Like:
10 Best Dog Food For Pitbulls
10 Best Dog Food For Huskies