In its early years, Solid Gold contained a lot more natural ingredients than it does today and was founded on the basis that all dogs should have a natural and holistic diet.
Its founder, Sissy Harrington McGill, was a dog breeder who desired to have more natural foods for her dogs.
Currently, the brand has 9 kibbles for dogs available on the market, 6 canned foods, as well as an assortment of treats and supplements.
Some of the best Solid Gold dog foods include:
– Lamb, Brown Rice, and Pearled Barley Recipe
– High Protein with Real Beef
– Sensitive Stomach with Salmon & Vegetable
– Weight Control w/ Chicken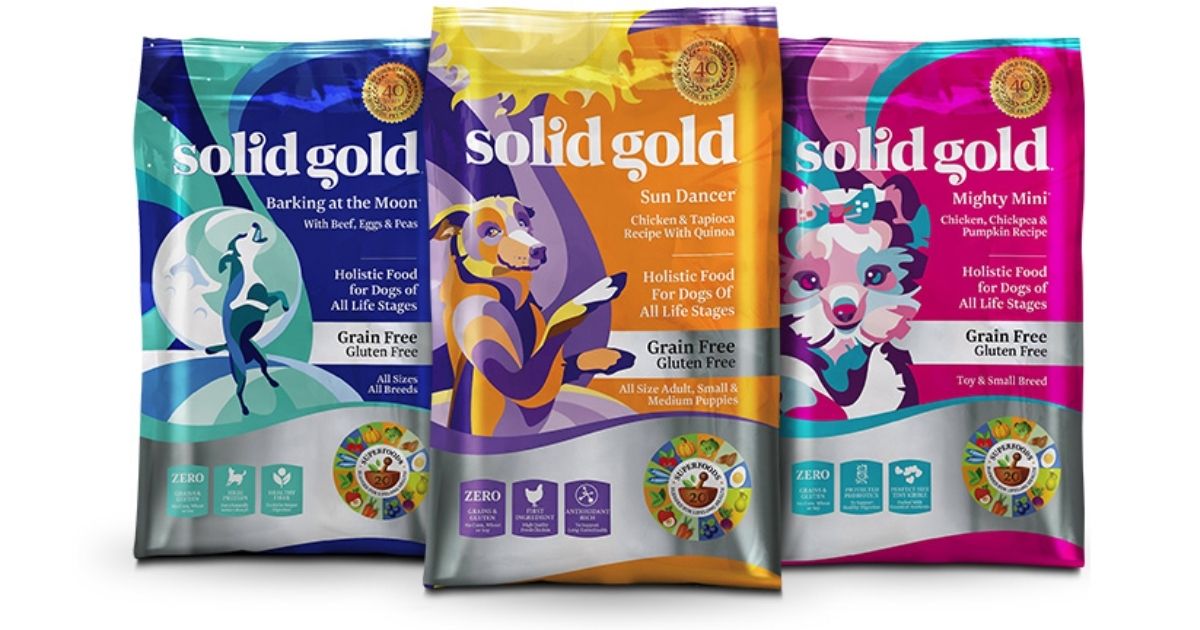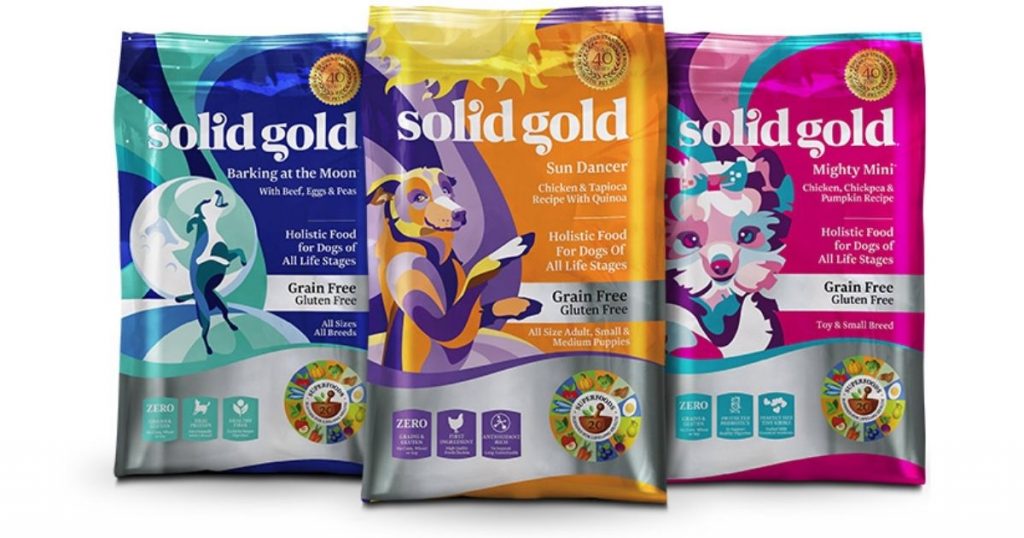 TL;DR – Is Solid Gold a Good Dog Food?
Given the company's history and use of the best dry dog food ingredients – free of corn, wheat, and artificial flavors – Solid Gold is one of the top-rated dog food brands you can feed your pup.
Solid Gold Dog Food ReviewS
Who Makes Solid Gold Dog Food?
Solid Gold dog food is manufactured by a company called Solid Gold Health Products for Pets Inc.
This company is located in Cajon, California, and was created in 1974, which gives the company over 40 years of experience in producing pet foods.
Solid Gold remains a reputable brand of dog food and has been a very important part of the dog food industry, being credited as the first company to introduce certain foods in dog food products.
The company has even been listed among approved dog foods and received an award from Whole Foods Magazine in the Pet Care category.
In addition to producing dog food, the brand also has a line of products that are specifically suited for cats.
Brand Highlights
Over 40 years experience making pet foods
Received an award from Whole Foods Magazine in the Pet Care category
Founded by a dog breeder
Located in Cajon, California
Processing Methods
Solid Gold aims to provide nutritious dog food that has the ability to significantly improve or maintain the quality of life of any dog.
They desire to positively impact the mind, body, and spirit of all animals that feed on their products.
Solid Gold now has its headquarters located in Greenville, South Carolina, but its products can be found throughout the USA.
Not much has been divulged about the processing aspect of Solid Gold Dog Food.
It is thought that the company has some form of connection to Diamond Pet Foods as recalls issued by Diamond Pet Foods always seem to be linked with a recall of Solid Gold Dog Foods.
There is no proof of this, however, as it is only mere speculation. What is known is that their products are made in the USA.
Learn about the worst dog food brands…
Solid Gold discloses on its website that it practices quality control measures such as partnering with quality ingredient suppliers, as well as lab testing every batch of food.
They operate a "positive release" program in which every batch of food is lab tested to look for pathogens.
Only when the results come back showing the food is pathogen-free, does the batch of food get released to the warehouse for distribution.
Solid Gold Dog Food Ingredients
Because Solid Gold was established with the aim of providing natural and holistic pet foods, they continually strive to use natural ingredients in each dog food formula that they create.
Their dry recipes contain no corn, wheat, sugar, soy, or artificial flavors and preservatives and they do not use products from China.
They use a combination of 20 super foods in most of their formulas with a variety of substances within each formula to suit the varying needs or likes of dogs.
Because Solid Gold aims to produce high-quality dog food, they acquire their ingredients from around the world, selecting only the best substances to incorporate into their dog food formulas.
Some of their protein substances include:
Venison from Australia
Lamb from New Zealand
Rabbit, duck and quail from France
Turkey, chicken and beef from the USA
Alaskan pollock from Alaska
They also include foods, such as pumpkin, sweet potato, cranberries, and tomato pomace from within the USA.
Eggs are used in all of Solid Gold's dry foods because they are a perfect protein source.
Peas are also used in all dry dog foods because they offer a great, low-ash carbohydrate source and high iron and lysine contents.
Solid Gold does contain a couple of controversial ingredients including canola oil, pea protein, and tomato pomace.
Canola oil can sometimes be from genetically modified rapeseed. It is a source of Omega 3's but is not as biologically appropriate as fish oil as an omega 3 source.
Pea protein is left over after the starch has been removed from peas. It is 80 % protein but has a lower biological value than meat.
Using this ingredient bumps up the level of protein on the label without being the type of protein dogs need.
Tomato pomace is a by-product of processing tomatoes into juice, soup, and ketchup.
Many praise tomato pomace as a high-fiber nutrient-rich ingredient, others scorn it for being a cheap pet food filler.
Pros
Uses fruits and vegetables
Named meat ingredients
No artificial preservatives, sweeteners or colors
Contains salmon oil, a rich source of Omega 3
Eggs are an excellent protein source
Contains chicory root, a source of inulin which is a prebiotic that promotes healthy gut bacteria
Contains chelated minerals that are easier to absorb
Cons
They use tomato pomace, a controversial ingredient
Not all varieties are grain free
Use canola oil and pea protein, two controversial ingredients
Why Solid Gold is One of the Best Dog Food Brands
Solid Gold continues to maintain a very good reputation among pet owners.
In fact, there has only been one instance where Solid Gold products have been recalled.
This was in 2012 when the company suspected that there may have been issues regarding Salmonella.
It was a voluntary recall, no lab samples tested positive for Salmonella, but the brand takes pet health very seriously and decided to recall on the abundance of caution.
Apart from this little hiccup, Solid Gold continues to make dog food products with a purpose.
Their recipes contain a blend of 20 nutritious foods that are packed with proteins of high quality and there is a wide variety of formulas to choose from depending on the needs, as well as likes and dislikes of your dog.
After careful consideration of the ingredients used to make their pet foods, Solid Gold does seem to be more than average dog food.
Meat is the main ingredient in most of their foods and there are a ton of other healthy ingredients that will promote any dog's health.
Moreover, there are no additives, such as corn, wheat, or soy, they do not use meat by-product meal, and there are even food lines for dogs with allergies.
Most Popular Formula
Solid Gold has a fairly extensive product assortment of dog foods. All products hold true to their mission of creating holistic natural foods and are all nutrient-packed.

However, if I were to make a recommendation of one of their products, it would be the Lamb, brown rice, and pearled barley formula that is an option from the Hund-N-Flocken line.
It is a holistic dry food for dogs of all sizes and contains healthy whole grain as well as lamb.
It contains at least 22% crude protein and 10% crude fat. This formula is digested quite easily so it suitable for dogs that have a sensitive stomach as well.
This blend of ingredients is rich in iron, plus it promotes muscle health in dogs.
There are 20 nutrient-dense super foods included in the recipe overall, all of which are natural and will support your dog both mentally, physically, and spiritually.
To Wrap Up
All dog owners want their dogs to be healthy and good health has a lot to do with the diet.
Solid Gold dog food contains healthy, natural ingredients, grain-free formulas and to top it off, they are very reasonably priced.
If your dog experiences allergic reactions to foods or has a sensitive stomach, there are products within the brand that are available to meet these needs.
Solid Gold has managed to build a very good reputation for themselves over the past 40 years and it is no surprise that this is the case, because the quality of the ingredients they use seems to be much more superior than that used by many other dogs food companies.
Whether your dog is a lover of dry dog foods, canned foods, or you are trying to find treats, there is a product relevant to you within the Solid Gold brand.
It is definitely one of the top brands that make natural dog foods.
You Might Also Like