A high sodium diet can be as harmful to our four-legged friends as it is for us.
Their bodies need sodium balance as much as do our human bodies; this means that too little or too much salt can cause many health problems for your dogs.
That's why today we'll look at the best low sodium dog food options to feed your pup along with some more detailed information on what sodium is, what the benefits are and how to choose the healthiest dog food for your furry friend.
In A Hurry? – 4 Best Low Sodium Dog Foods
According to our research these are the 4 best low sodium dog foods in 2023:
#1 – The Honest Kitchen Human Grade Dehydrated Organic Dog Food
#2 – Orijen Adult Dry Dog Food
#3 – Purina Pro Plan Focus Sensitive Skin & Stomach
#4 – Royal Canin Boxer Dry Dog Food
It is necessary to consult a veterinarian to see if this kind of diet is required or if it will have positive instead of negative effects on your pet.
Remember that too little sodium is also a risk, so make sure to be informed before you start this diet for your dogs.
Best Low Salt Dog Food Brand Options in 2023
Here we are! It's time to see the 14 best low sodium dog foods that you can get right now, so your dog can start their low sodium diet.
The Honest Kitchen Human Grade Dehydrated Organic Grain Dog Food
The Honest Kitchen is one of the top choices for low sodium dog food (you can read our review of Honest Kitchen…). They produce a high-quality product in the human-grade facilities.
They use fresh food and it makes a huge difference both in terms of health benefits and in terms of flavor.
Honest Kitchen low sodium dog food is rich in protein and carbs and it's dehydrated, so all you need to do is add water.
If you want your dogs to enjoy the benefits of home-made food but you don't always have enough time to make it happen, this is a great choice.
Orijen Adult Dry Dog Food
This recipe contains well-balanced meats, vegetables, and fruits. Carbohydrates are limited and specially selected, it also contains Omega 3 fatty acids that support healthy coat and skin, and the sodium content is listed at 0.3%.
The top Orijen dog food ingredients include boneless chicken, turkey, chicken liver, whole herring, red and green lentils, green peas, cranberries, and blueberries.
Orijen products may be a bit more expensive than other, but you'll be buying into a brand you can trust.
Hill's Science Diet Small and Toy Breed Dry Dog Food
If you have a small dog, this is one of the perfect choices for you. This low sodium food will provide the right formula, it is balanced and it's easy for your small dog to eat and digest.
The protein is made from high-quality natural chicken ingredients and it's enriched with vitamins and calcium to improve your dog's health.
This dog food contains a sodium level of 76mg per 100 calories or 0.30%.
The main ingredients are: soybean meal, whole grain wheat, chicken meal, brewers rice, whole grain sorghum, and cracked pearl barley.
Royal Canin Boxer Dry Dog Food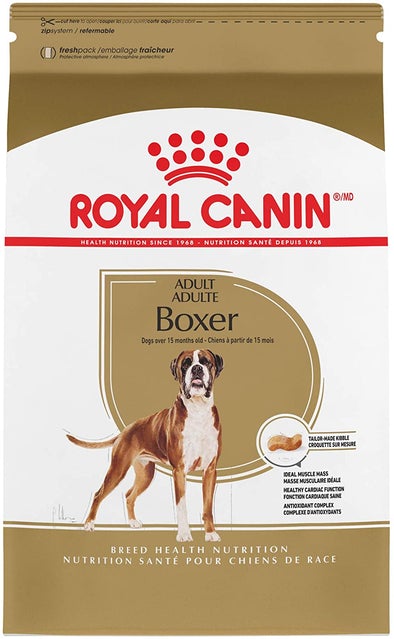 Boxers are very susceptible to heart disease, which is why Royal Canin creates food designed specifically for certain breeds.
This specific formula for adult boxers provides all the nutrients to maintain muscle mass, protein levels, and healthy hearts. It contains a sodium level of 50mg of sodium per 100 calories.
The main ingredients include brown rice, chicken by-product meal, chicken fat, brewers rice, and oat groats.
Hill's Science Diet Adult Light Dry Dog Food
And we come back to Hill's Science. The reason for this brand to be featured a couple of times on this list is that Hill's Science is one of the popular, high-quality brands that are backed up by veterinarians and by your dog because they love this food.
Users report happy and healthy eaters!
Earlier, I talked about Hill's Science recipe for small dogs, and now it's time to talk about food for larger breeds.
Light, low-calorie food doesn't mean that it's low sodium, and this is something you really need to keep in mind. You must check the labels of the foods you're considering when you're about to start a low sodium diet for your dog.
This formula is light, but it will satisfy your dog's hunger, and it promotes lean muscle. Sodium content is present at 0.35% and the main ingredients include a chicken meal, soybean oil, brewers rice, pea protein, potassium, vitamins, oat fiber, whole grain sorghum, folic acid, green peas, apples, broccoli, carrots, cranberries, among many other things. Sodium content is 77mg per 100 calories.
And there's also light treats! Hill's Science Diet Soft Savories Treats.
Purina Pro Plan Focus Sensitive Skin & Stomach Salmon and Rice Formula
This low sodium dog food recipe is designed for dogs suffering from stomach sensitivities or food allergies. It is fortified with omega fatty acids that promote joint, skin and coat health and there are no artificial colors, flavors, corn, wheat, or soy involved.
Sodium is present at 50mg per 100 calories and the main ingredients include salmon, barley, oatmeal, fish meal, fish oil, vitamin B12, and dried egg product, among many other things.
And here's the wet food alternative that your dogs will love; Purina Pro Plan Focus Sensitive Skin & Stomach Salmon & Rice Canned Dog Food
Some of the pros of this wet food version are: it's easy to digest, it provides balanced nutrition, it doesn't contain wheat, soy, or any artificial colors or flavors, and it's packed with Omega 6 fatty acid and linoleic acid which supports healthy skin and coat.
The downside is that it's a bit smelly!
Purina OM Overweight Management
This is an overweight management formula, but that makes it so much the better. It doesn't only have a low sodium content, it also helps reduce weight gain and fat accumulation. It promotes lean muscle and fat loss.
It is made with natural fibers that helps your dog feel full for longer periods of time, so they won't be hungry so often.
Main ingredients include whole grain corn, soybean meal, pea fiber, vitamin E, D, A, B12, riboflavin, folic acid, biotin, wheat gluten, poultry by-product meal, among many other things.
Sodium content is 70mg per 100 calories.
And here's the wet food version of this amazing formula: Purina Overweight Management OM Dog Food.

Remember that choosing the type of food depends entirely on your dog, so consider its tastes, and any health or teeth problems they may have.
Rachel Ray Nutrish Natural Dry Dog Food
The star ingredient of this formula is U.S. farm-raised chicken. That means there are no by-products, your dog will get the real deal.
There are no artificial flavors or preservatives involved, which is always a good thing.
Another thing that you won't find in this formula is fillers, wheat, or wheat gluten.
It is packed with vitamins, minerals, and the main ingredients are: chicken, carrots, chicken meal, ground rice, soybean meal, whole grain corn, poultry fat, beet pulp, brown rice, dehydrated alfalfa, calcium, olive oil, dried peas, vitamin E, D, B12, zinc, folic acid, and many other healthy things.
And here's the wet food version in case that's what you'd prefer: Rachael Ray Nutrish Natural Wet Dog Food.
Either way, you'll be getting a high-quality, natural product to promote your dog's health.
Natural Balance Limited Ingredient Diets Dry Dog Food
This dog food formula contains a lot of high-quality carbohydrate and protein sources to help maintain the overall health of your dogs. This formula also supports digestive health and a healthy skin and coat.
As far as ingredients go, it's made from real, organic and high-quality ingredients such as turkey, salmon, chicken, beef, and rice. In this case, the recipe is made with lamb meal and brown rice, but as I mentioned, there are other flavor choices for you to check out.
Let's not forget the wet food version: Natural Balance Limited Ingredient Diets Wet Dog Food.
---
Sodium Guidelines for Dogs
Let me start by saying that sodium has many benefits for our bodies and our health; the only problem with it is that it must exist in moderate quantities.

Too much sodium and too little sodium are two extremes we want to avoid at all costs, both for ourselves and for our dogs.
Our dogs' bodies need sodium to grow with normality and to fully develop.

Most healthy dogs can handle a rich sodium diet without experiencing water retention or high blood pressure.
But if your dog is a senior or if it already has organ problems, sodium makes a huge difference and you'll have to monitor their food.

That's where low sodium diets come in!
If you're wondering what's the right sodium content for your dog, here are some guidelines you can follow provided by Vermont Veterinary Cardiology Services:
Mild Sodium Diet: 0.3-0.4% (% of DRY matter) or 80-100 mg per 100 calories
Moderate Sodium Diet: 0.2%-0.3% or 50-80 mg of sodium per 100 calories
Marked Sodium Diet: 0.15%-0.2% or 40-50 mg of sodium per 100 calories
Extreme Sodium Diet: 0.075%-0.15% or 20-40 mg of sodium per 100 calories
Accordingly the average sodium intake per day for a dog shouldn't be higher than 100 mg per 100 calories of metabolized energy.

Of course, this quantity can vary depending on various factors such as health restrictions, weight, size, and breed.

Yes, breed, because keep in mind that some health conditions among dogs are genetic.

As always, when in doubt consult your qualified vet.
Benefits of Low Sodium Dog Food
On top of helping your dog avoid major health issues such as heart disease and high blood pressure, a low salt dog food diet comes with a lot of benefits that will boost and improve your dog's health.
Let's look at each of them:
Too much salt makes us all thirsty, and this is no different for our dogs.
What happens is that too much sodium makes us dehydrate a lot faster, so a low sodium diet will definitely keep your dog hydrated for longer and he won't be incessantly drinking water.
Drinking too much water causes its own set of problems for your dogs.
If your dog drinks too much water, it can lead to swollen kidneys and circulatory system which can cause vomit or diarrhea.
A low sodium diet keeps their kidneys and other organs healthy.
If your dog has a heart condition, it means that it's harder for them to process sodium ions, which is why a low sodium diet is recommended.
If you have a talk with your veterinarian and your dog gets a green light, a low sodium diet will help prevent a great amount of organ and health problems and it will keep the vet away.
If your dog has a high blood pressure, a low sodium diet will help lower it and maintain it down, so it will prevent heart attacks, strokes, and other heart conditions in the long run.
Low sodium diets lessen the chance of osteoporosis, and it's vital for dogs who already suffer from poor nerve or muscle function.
This is very common for senior dogs and reducing salt intake can improve muscle strength which will help your dog move better, no matter what size or age.
How to Start Your Dog on a Low Sodium Diet
Diets constitute a big change in everyone's life, including our dogs', which is why you can't simply change their diet from one day to the next.
The first thing you need to do is ease into the transition.
That means you shouldn't change all your dog's meals at once.
Instead, change one meal at a time or pick one regular food that your dog likes and change it into a low sodium version until your dog gets used to the change and then you can adapt the menu completely.
Another thing you can do at the beginning is mixing your current dog food with the new low sodium variety.
Gradually decrease the amount of their current food and increase the low sodium version.
This process can take about a week, but if your dog is a really picky eater, or it's older and it's already set in its ways, then it can take a little bit longer, maybe ten days or more.
Remember to be patient and to introduce the new low sodium choices in every form; that means that if you're accustomed to giving treats to your dog throughout the day or for an afternoon snack, look for low sodium treats to replace the regular ones.
Less sodium means less flavor, that's the fact.
Your dog will like flavorless food as much as you do—not at all–, so make it easier for them by adding other flavors or textures to their meals.
You can even buy gravy made for pets, just make sure it's low sodium.
Another neat little trick is mixing dry and wet food together, so you can make the meal a little bit more interesting.
You shouldn't forget that your dog needs as much encouragement as you do when you're trying a new diet, so reward him every time he finishes his meals by cuddling him, playing with him or taking him out on walks or to the dog park.
That way you can let him know he's doing a good job and he'll be much more willing to keep at it.
Types of Low Sodium Food for Dogs
There are two types of low sodium food for dogs: dry food and wet food. Dry food, or kibbles, are literally dried crunchy food.
This type of food comes in packages and it's the most widely available kind.
Dry food is cheaper, it can be found anywhere, and it's a lot less messy for you to clean.
However, they're a bit more difficult to chew, so consider the size of your dog when you're at the store making your choice.
Wet food is the kind of food that comes in cans or packets.
As opposed to dry food, wet food is chewy, and it has a liquid consistency, which means it's easier for them to chew and to swallow.
This makes it the perfect choice for senior dogs and dogs with poor teeth health.
One of the pros of low sodium canned dog food is that it also helps keep your dog hydrated and it has higher nutritional value than dry food; it has higher fat and protein content without too many carbs, which provides a few extra benefits for your dog's health.
The downside is that wet food can make quite a mess on the floor. Most dogs are very sloppy eaters, so if your dog is like that, you'll have to clean up after them very often.
Also, canned dog food is usually a little bit more expensive than dry food.
A third option would be making your buddy its own low sodium food, so keep reading to learn more about this.
Signs Your Pup Might Need This Special Diet
There are many reasons your dog might need a low sodium diet. High sodium levels in your dog's blood cause a condition called Hypernatremia.
Sodium is a necessary mineral for many vital functions, such as the regulation of blood pressure, blood volume, transmission of nerve impulses, and the maintenance of acid/base balance in the body.
But, higher than normal concentrations lead to the aforementioned Hypernatremia.
This condition manifests itself in an abundant loss of water via the gastrointestinal tract, which leads to high blood pressure and high risk of heart disease.
Here are some of the signs that will let you know if your dog is suffering from Hypernatremia or high sodium levels:
Unusual thirst, confusion, disorientation, seizures, vomit, diarrhea, excessive urination or any other cause for water loss, low or excessive water intake, among other things.
If you've noticed some of these things happening to your dog, immediately make a visit to the vet and find out exactly what's going on.
Chances are they're suffering from Hypernatremia and it's time to go on a diet.
As you may very well know, one big source of sodium would be human food, so be careful about how much of your own food you share with your dogs.
I know that they want pretty much anything, but they can't eat the same things we do.
Don't spoil them too much! Everything in moderation.
4 Low Sodium Food Recipes to Make at Home
Your dog's health depends greatly on what they ingest, so for you to make sure their food choices are adequate, you must do your research and talk to your veterinarian to get a bit of education on the subject.
This will help you make better choices to improve your dog's health.
In the case of dogs that suffer from high sodium levels and must go on a low sodium diet, as a worried owner I'm sure you'd like to know if it's possible for you to make their meals.
Well, it is!
If you feel more confident by making them their own food, or if it's something you've been doing from the start and wants to continue doing…
Here are a few simple recipes that you can try:
Beef and Potatoes
8 ounces of cooked lean ground beef
3 cups of boiled potatoes (with the skin)
5 bonemeal tablets or a teaspoon of bonemeal powder
One vitamin-mineral tablet
Chicken and Potatoes
A cup of cooked chicken breast
3 cups of boiled potatoes (with the skin)
4 bonemeal tablets or a teaspoon of bonemeal powder
One vitamin-mineral tablet
Beef and Rice
8 ounces lean ground beef
2 cups of long-grain rice
4 bonemeal tablets or 1 teaspoon of bonemeal powder
1 vitamin-mineral tablet
Chicken and Rice
1 cup cooked chicken breast
2 cups of long-grain rice
4 bonemeal tablets or 1 teaspoon of bonemeal powder
1 vitamin-mineral tablet
For the preparation of these low sodium dog meals all you have to do is mix all the ingredients together and serve them to your dog.
All these recipes have a healthy amount of protein and fat without excess sodium, which is what we want to avoid.
These home-made low sodium meals contain from 600 to 800 calories on average, which is enough for medium-sized dogs.
Portions must be customized according to your dog's size and weight.
This is definitely something we encourage you to discuss with your vet, so you can make sure to avoid overfeeding.
In case you want to lower the potassium intake of your dog, you can replace the potatoes on each recipe with two cups of cooked, long-grain rice.
How to Choose the Right Foods
When it comes to choosing anything for your dogs, there are quite a few factors that you should always keep in mind, so you really must be careful with your choices.
Here are the things you have to consider in order to choose the best low sodium food for dogs:
Type of Food
I already mentioned the types of low sodium dog food that you can find for your dog, and I also gave you some recipes for home-made food.
Choosing the type of food will depend on your dog…
What do they prefer, dry or wet food?
Do they have sensitive teeth?
Can they chew properly?
If they do, go for wet low sodium food for dogs. If they don't have any problem with dry food, go for the kibbles, or just make your own version at home.
Age and Size
There are low sodium choices according to age—from puppies to adults—and size. Make sure you choose the best option for your dog.
Consider the size of the servings and the nutritional needs of your four-legged friend.
Flavor and Nutritional Value
Just as there are several flavors of regular dog food, you'll also find different flavors of low sodium food for dogs.
If your dog already enjoys chicken instead of beef, then go for what he already likes in order to make the transition easier.
Always read the nutritional information to make sure that the sodium levels are adequate.
If you had a conversation with your veterinarian about your dog's new diet, then you know which levels are adequate and which are not.
Avoid These Ingredients
Before I move on to the list of low sodium foods for your dog, I wanted to tell you a little bit about the kinds of foods that you should help your dog avoid if they have a high presence of sodium in their blood.
MSG is, of course, the very first thing you should avoid giving to your dog.

For those of you who don't know, MSG means Monosodium glutamate, and it's a sodium salt that enhances the flavor of certain foods and it also serves as a preservative.
MSG is present in a lot of processed foods, so fast food and junk is out of the question for your dog.

If you want to treat them, try low sodium gravy or low sodium snacks for dogs instead.
Nitrates are also on the no-no list. They help preserve many meat products, you'll find them in bacon, hot dogs, deli meats, and ham.

In short, nitrates mean a whole lot of salt which will cause blood disorders and high sodium levels. No processed meats for your dogs!
As you may have guessed, salt is to be avoided on a low sodium diet, that means no more salted chips, pretzels or any other salty snacks. It's time to stop sharing them with your dog.

Actually, there are many things you should stop sharing with your dog, so have a talk with your veterinarian about it.
---
Wrapping Up
All in all, I've presented you with more than 14 of the best low sodium dog foods for you to check out, including the wet food choices.
There's also an example of a low sodium treat bag in there.
Treats are important, and they should be as healthy as the rest of your dog's diet, so make sure that you go for low sodium versions!
It's not at all difficult to get your dog started on a low sodium diet.
As you can see, there are many food choices out there with different prices, flavors, formulas, and benefits.
There's a formula out there for every dog because every dog has different needs. This is why it's so important to be familiar with dog's eating habits.
You should educate yourself as best you can, so you can provide healthy sustenance for your four-legged friends.
Remember that you have a source of knowledge on this topic in the form of your veterinarian!
Be a concerned owner and don't be afraid to have a conversation about your dog's health and about what you can do to improve it.
You Might Also Like