WellPet LLC is the company that is responsible for producing Wellness Core Dog Foods.
In our Wellness Core Dog Food reviews, we take an in-depth look into why the brand is among the best in the market right now.
The Wellness brand has been in use for approximately 80 years, but they began making dog food in 1997 and soon after they introduced cat recipes.
There are other brands that are currently manufactured by WellPet, such as Eagle Pack, Old Mother Hubbard, Prism, and Holistic Select.
The quality of dog food produced under the Wellness brand still remains high.
Currently, there are 3 product lines in the brand; simple, core and complete health. Each product line has a variety of formulas that increase the options that are available for you to purchase.
Of course, each product line has its own standard unique qualities, plus there are also snacks and treats available for purchase.
The Wellness Core product line is grain free and is made using quality ingredients that contain a significant amount of meat protein.
Their foods do not contain any animal fats or substances that may contain allergens and has adequate proportions of the nutrients that a dog needs.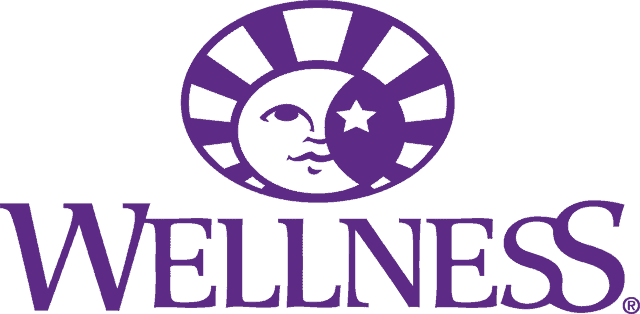 Wellness Core Dog Food Reviews
Brand Highlights
Made In: The USA
Manufactured By: WellPet LLC
Free Of: Meat by-products, soy, grain, gluten, artificial colors, and preservatives
Began making dog food in 1977
No allergens
Bag Sizes: 4 lb, 12lb, 26 lb Bags
Processing Methods
Based on recall history, it has been noticed that Wellness Core Foods are made by Diamond Pet Foods.
It is not clear whether all product lines are made by them or not as the packaging for Wellness Core products only states that they are made in the USA.
As it relates to the manufacturing process, Wellness Core dog foods only use quality ingredients which may be either fresh or frozen.
A grinder is used to grind the meat before it is inspected for strange objects that may be present. All other ingredients are added afterward so they can be mixed with the meat.
Another inspection takes place to ensure that the resulting mixture is of high quality.
Which is the opposite of what you might find with these dog food brands to avoid…
The product is then canned and strict protocols adhered to in order to ensure that the product will be safe for consumption, even after being stored for some time.
Wellness does not compromise on their recipe or the quality of the ingredients they use.
They are committed to providing quality at every step, foods you can trust, wholesome ingredients, using conscientious suppliers, implementing and maintaining food safety programs, giving attention to detail, and maintaining customer satisfaction.
Wellness Dog Food Ingredients
There is a wide variety of ingredients used in Wellness Core Dog Foods.
Apart from the meat used in their formulas, a few other ingredients include apples, blueberries, carrots, oatmeal, spinach, rice, olive oil, garlic, and sweet potatoes.
Meat ingredients used include chicken, duck, lamb, fish, beef, and turkey.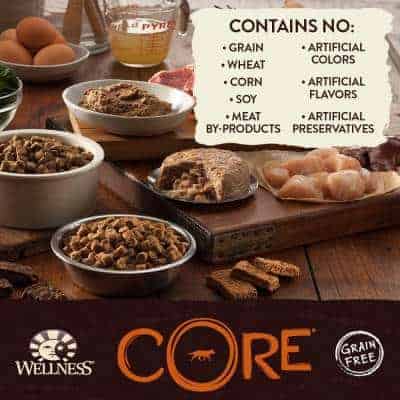 Each product has a unique combination of some of these products in proportions that are incredibly nutritious for dogs.
The wellness brand prides itself on the fact that it does not incorporate artificial substances, such as preservatives, sweeteners or colors in its foods.
It also does not use ingredients such as meat meal which are from unnamed sources.
Instead, it produces food with a very good meat content which is both grain and gluten-free.
Although Wellness does not explicitly state where it sources its ingredients, all suppliers are said to undergo very strict scrutiny before their supplies can be incorporated into the Wellness products.
To guarantee a high quality of foods, they have even added an "all ways well" seal to show their commitment to maintaining high standards regarding their ingredients and food quality.
Wellness Core dog food does contain a couple of controversial ingredients including tomato pomace and pea fiber.
Tomato pomace is a by-product of processing tomatoes into juice, soup, and ketchup. Many praise tomato pomace as a high-fiber nutrient-rich ingredient, others scorn it for being a cheap pet food filler.
Pea fiber is a mixture of both insoluble and soluble fiber derived from pea hulls. It offers no nutritional benefit to dogs other than being a good source of fiber.
This ingredient is really low on the list, so it is not a significant amount.
Pros
Uses fruits and vegetables
Meat ingredients include chicken, lamb, fish, duck, beef, and turkey
Grain and gluten free
No artificial preservatives, sweeteners or colors
No meat meal from unnamed sources
Contains chelated minerals that are easier to absorb
Contains chicory root, a source of inulin which is a prebiotic that promotes healthy gut bacteria
Cons
They use tomato pomace, a controversial ingredient
Pea fiber is used purely for fiber content and offers no nutritional value
Why Wellness Pet is One of the Best Dog Food Brands
According to WellPet, there is only real meat in their Wellness Core products.
Not all brands of dog foods can pride themselves on being able to offer real meat in their foods, moreover, all the ingredients they use are considered to be human grade.
To add to this, Wellness has maintained a very good reputation as their products live up to all the claims they make.
Their dog food is natural and any ingredient used is received from sources that meet strict guidelines and adhere to specific standards.
Regardless of the type, size or specific requirements of your dog, there is a Wellness product that is suitable to meet their needs.
In fact, the Core product line contains foods that are high in protein, low in carbs and, best of all, grain free.
With 7 different recipes to choose from, it is highly likely that there will be a combination that you and your dog will absolutely love.
You can rest assured that the quality, flavor and nutritive value are appropriate and relevant to your dog's needs, especially since they have specific formulas for specific stages in a dog's life.
Gunnar's Favorite Flavors
Although the entire Wellness Core line of products is natural and nutritious, I would highly recommend the Wellness Core Natural Grain Free Dog Food (original formula).
A fairly reasonably priced product with protein-focused nutrition.
It contains premium ingredients that are all natural and does not include any artificial substances, such as preservatives or flavors.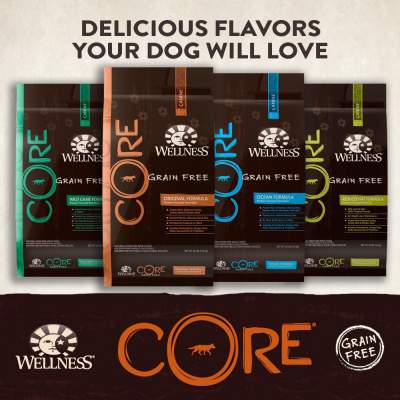 Wellness Core contains turkey, chicken, salmon oil, fruits, and vegetables, and because of its high protein content, it promotes digestion and boosts energy.
Because it is easily digested, it may even be suitable for dogs that have a sensitive stomach.
Gunnar's other top picks are…
#1 – Core Reduced Fat Weight Management
#2 – Core Large Breed Adult
Wrapping Up
Wellness is a very reputable brand of dog food and since the company has been in existence, there have only been two instances where they had to recall dog food products.
Both instances occurred in 2012 and there were none before or afterward.
Their foods have a very high protein content which is a very desirable feature of dog foods.
To add to this, they do not use artificial flavors, colors or preservatives and there is a good proportion of other nutrients that a dog would require to remain healthy.
If you are in search of dog food that is completely grain free, nutritious, natural and has ingredients that are fit for consumption, the Wellness Core product line may be a very good option.
It is definitely above average and may be one of the best dog foods currently on the market.
You Might Also Like