For more than 25 years, Orijen Dog Food is a brand that has been produced by the Canadian company Champion Petfoods.
Our Orijen dog food reviews takes a closer look the world's most award-winning dog food, available in more than 60 countries and available online.
Orijen has built quite a reputation for itself in being second to none.
They pride themselves greatly on being biologically appropriate and so all its products contain ingredients that are natural, nutritious and extremely relevant to the animal for which it is developed.
Currently, Orijen pet foods are made for dogs as well as cats, and each line of food is made to mirror the natural diet of the animal, whether cat or dog.
There are 5 principles which guide the Orijen brand. These include being rich in meat, having good meat diversity, continual meat freshness, low in carbohydrate and glycemic, as well having whole fruits, vegetables, and botanicals.
There are no other brands that contain the same formula or composition of substances.
Orijen Dog Food Reviews
Brand Overview
Made In: United States & Canada
Manufactured By: Champion Petfoods
Free Of: Meat by-products, grain, gluten, dried and powdered ingredients, artificial colors, flavors and preservatives including Ethoxyquin, BHA, and BHT
Bag Sizes: 5 lb, 15 lb, 25 lb
Some of Champion Petfood's Awards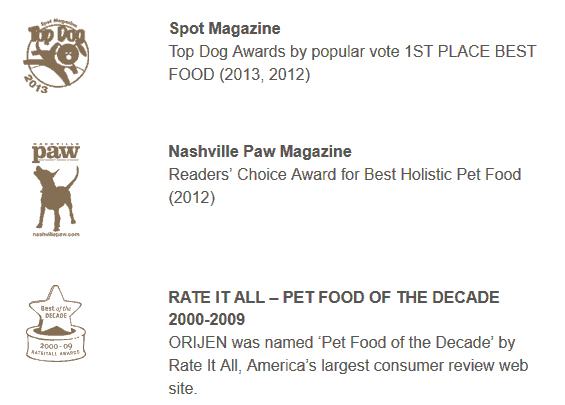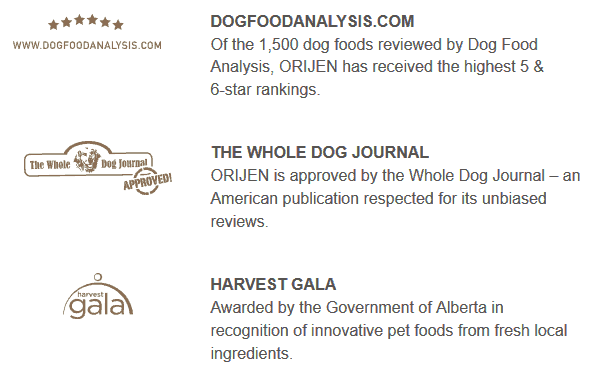 ---
Processing Methods
In order to maintain the production of top quality products, Orijen Dog Foods ensures that their ingredients, processes, kitchens, and products continue to meet or exceed regulatory standards.
Their kitchens are located in Auburn, Kentucky, also where the Acana brand is produced.
Only ingredients that are approved by the Departments of Agriculture in Canada and the United States are used when making the products.
One reason it is considered such a premium product are the strict and rigorous standards that are enforced at all times by their production and quality assurance departments.
Unlike most of these worst dog foods…
Furthermore, the kitchens their foods are processed in have been described as state of the art because of the high quality of equipment they use in mixing and combining their ingredients.
Some processes they utilize in making their products include sequential infusion and twin thermal cooking. They offer two basic styles of dog foods as they have foods that have been freeze-dried using nitrogen, as well as whole prey foods.
Orijen Dog Food Ingredients
Orijen dog food does not outsource its ingredients.
Instead, it uses ingredients that are locally grown so they can be utilized in a very fresh state.
The ingredients have never been frozen but rather refrigerated or cooled to maintain their freshness.
Any ingredient found in an Orijen product is safe for human consumption and no preservatives have been added to their ingredients. The company only purchases ingredients from reputable sources in the region.
Champion Pet Foods does not use GMO ingredients, meat with hormones and antibiotics, or fish high in heavy metals.
See Also…
Taste of the Wild dog food review
Canidae dog food review
Dogs are carnivores, they need a diet high in meat and protein, they do not need carbohydrates.
Conventional pet foods contain anywhere from 40-60% carbs.
Orijen dog foods are extremely high in meat protein. They contain a variety of meats, in order to mirror the natural diversity, dogs would have in the wild.
They believe in offering dogs meat diversity. This means there are a variety of meats in each formula. Each formula uses FRESH WHOLE MEATS—including organs, cartilage, and marrow.
Champion's ingredients or foods are never treated with Ethoxyquin or any other chemical.
Ethoxyquin is often used as a fish preservative, Champion makes sure that the fresh fish they are getting is preserved with Vitamin E and botanical extracts.
Ingredients are steam-cooked in their own juices, no water is added to the formulations and no powdered ingredients are used.
A few ingredients Orijen uses:
Free-range Bison, indigenous to Alberta
Heritage pork, raised in Southern Alberta
Fresh fruits and vegetables, grown in Okanagan Valley Orchards
The whole nest laid eggs, produced on Hutterite Farms
Freshwater fish, caught by fishermen in the cold Northern Lakes
Orijen does contain a couple of controversial ingredients including alfalfa and pea fiber.
Although alfalfa is high in protein (18%) and fiber, it is more commonly associated with horse feed.
Pea fiber is a mixture of both insoluble and soluble fiber derived from pea hulls. It offers no nutritional benefit to dogs other than being a good source of fiber.
Pros
Locally sourced ingredients
Grain and gluten-free
Ingredients are always fresh and never frozen
Contains chicory root, a source of inulin which is prebiotic that promotes healthy gut bacteria
Contains chelated minerals that are easier to absorb
Cons
Alfalfa is commonly associated with horse feed
Pea fiber is used purely for fiber content and offers no nutritional value
Why Orijen is One of the Best Dog Food Brands
If you are very knowledgeable about dog food brands, you should know that the Orijen brand is one of the best brands of dog food on the market.
Known for using fresh ingredients to produce biologically appropriate foods, their dog food products contain a lot of meat protein with up to 80% meat that contains a maximum of 42% protein.
Not only does the brand produce natural, nutritious dog foods, but it has 7 dry dog foods that cater to dogs at different life stages. They also offer freeze-dried dog foods in 3 different products, increasing the variety of products that you can choose from.
There are also 8 types of dried dog treats and each product maintains the high quality of foods for which the brand has become so famous. It is no wonder why the company has earned so many awards.
The reputation of the company continues to be quite flawless and, to date, there have not been any recalls of their products and the company has a money back guarantee if you are dissatisfied with any of their goods.
Needless to say, there are virtually no complaints about the product itself, although, there are a few incidences online where people complain about the customer service.
Don't Miss…
Wellness dog food
Best Low Sodium Dog Food 2023
Is Orijen Dog Food Too High in Protein?
This is a question that often gets asked about Orijen pet foods as there is information floating around stating that high protein diets are bad for dogs.
Champion Petfoods debunks this myth:
"As there are so many myths circulating about high protein diets, this is probably one of the most commonly asked questions received at our customer service.
Countless studies published over the last 15 years have roundly debunked the high protein myth (often fueled by multinational and marketing companies that still produce or sell low-protein, grain-based foods).
The truth is simple — high-protein diets are Biologically Appropriate for all breeds of dogs and cats. By better matching the natural diets and anatomical physiology of dogs and cats, higher-protein, lower carbohydrate foods better promote their peak health and conditioning.
Today's conventional pet foods are lower in protein and high in carbohydrates (40-50%). As carbohydrates are not part of the natural diet, it should come as no surprise that carbohydrates are not nutritionally essential (in any amount) for dogs and cats.
Dogs and cats are evolved to derive their energy from animal proteins and fats, not carbohydrates from grains."
Orijen vs Acana
Both Orijen and Acana are produced with fresh ingredients and are made to be Biologically Appropriate. The differences in the two brands include:
Meat Content – Orijen is 75-80% meat, while Acana is 60-65% meat.
Fresh Meats – Orijen uses 50% fresh meats, Acana uses 9-30%.
Protein – Orijen foods are between 38% and 42% protein. Acana foods are between 32-35% protein.
Carbohydrates – Orijen contains 20-25% carbs, and Acana contains 25-28% carbs.
Meat Diversity – Orijen contains a minimum of 6 fresh meat ingredients, Acana contains a minimum of 3 fresh types of meat.
Acana is basically a more affordable version of Orijen. Both are excellent quality dog foods and are considered the best that the dog food world has to offer.
Gunnar's Favorite Flavor
Although all Orijen dog food products are known for their superior quality, the product that I would recommend is the Orijen 6 Fish Grain-Free Formula Dry Dog Food.
As the name suggests, this formula includes 6 different types of fish- Pacific Salmon, Flounder, Northern Walleye, Northern Pike, Lake Whitefish, and Wild Herring. Additionally, there are fruits and vegetables included providing the nutrients that cannot be received from fish.
This particular product has 80% protein and is nutritious for dogs of all breeds and stages of life.
The Orijen six Fish Grain-Free Formula is specially designed to enhance lean muscle mass, improve skin and hair coat, as well as maintain healthy blood sugar levels of any dog – ultimately keeping your dog at an optimum weight and in top peak condition.
Wrapping Up
The Orijen brand is truly set apart from the rest. With this, the products can be a little pricey.
This brand has more protein than the average brand of dog food and very little carbohydrate when compared to others.
To date, it seems to be a great option that mimics the natural diet of a dog.
It remains grain-free, with a very diverse range of meats, even including animal organs, such as the liver and tripe, as well as the cartilage and marrow for nutritive value.
Orijen dog foods include an exceptionally high amount of meats and truly does capture the freshness and variety of meat that a dog would naturally hunt in the wild.