The best dog food for huskies includes enough dietary nutrients to help them maintain their stamina, speed, strength, and the necessary qualities that huskies are bred to have.
While you might presume this means they need heavy meals, in reality, they tend to be picky eaters. You don't survive out in the woods by binge eating.
Before we proceed, let's clear some misconceptions on the word 'Husky'. Is it a type or a breed? The short answer is both.
In reality, 'Husky' refers to a group of sled dogs in the Arctic. The most popular Husky is the Siberian Husky, and this breed is sometimes simply called 'Husky', further adding to the confusion.
Our focus would be on the Siberian Husky and another popular Husky, the Alaskan Husky.
However, the information can apply to others, such as the Mackenzie River Husky.
Husky's popularity surged with the interest of people in Wolfish dogs, and Hollywood helped fuel the fire.
According to the American Kennel Club, the direwolves in Game of Thrones inspired many to look for a close alternative, and Huskies were the closest.
You need to study the Husky dog breed before you grab your car keys to get one, and a crucial aspect to understand is feeding.
This article looks into the best dog food for huskies and everything you should know about feeding your husky that would make them wish they could speak human just to say 'thank you.'
General Husky Diet and Nutrition Requirements
Due to their weight and energy, Huskies need a meal with the right nutrients, protein being the most essential.
They are not big eaters, so you don't have to worry about obesity, but regulate their meals.
For the household Husky with a 50 pounds weight, 1,358 calories will do.
Huskies who work will require more than their companion counterparts. Other factors like age and weight should be considered.
Though they look like wolves, Huskies are not carnivores. Their diet should be balanced with the right nutrients. A poor meal will be detrimental to a Husky's health.
Here are some nutrients Huskies need:
1. Protein
As stated above, protein is the most essential nutrient for Husky, and they shouldn't be deprived of it.
Meat protein is recommended for this breed, and the food should contain real meat. Beef, chicken, lamb, and fish are good examples.
2. Healthy fats
Huskies need a decent quantity of healthy fat because of their energy level.
Working Huskies, especially, should have fat incorporated into their diet. Chicken fat and canola oil are good sources of fat with additional health benefits.
3. Carbohydrates
Although Huskies don't need this as much as protein, include carbs in their meal for sugar balance.
Sweet potato is an excellent source of carbohydrates for a Husky, and carbs should be low.
4. Omega 3s and DHA
Omega 3s provide fatty acid that improves a dog's skin and hair. DHA's are fatty acids that work on a dog's eyes and brain.
A Husky's dog food should contain enough Omega 3s, so check for it before buying any dog food.
5. Fruits and vegetables
Fruits are as beneficial to Huskies as it is to humans, but not all fruits are good for Huskies. They can eat fruits like apples, bananas, and mangoes, but should avoid avocadoes, raisins, grapes, and figs.
Quick Overview of the Best Food for Huskies
The Best Dog Food for Huskies Review
In deciding what to feed a Husky, it is ideal to go for the best options.
We've rounded up the top 10 best dog foods for Huskies. Each meal comes with pros and cons, but all are beneficial to Huskies.
1. ORIJEN Original Grain-Free Dry Dog Food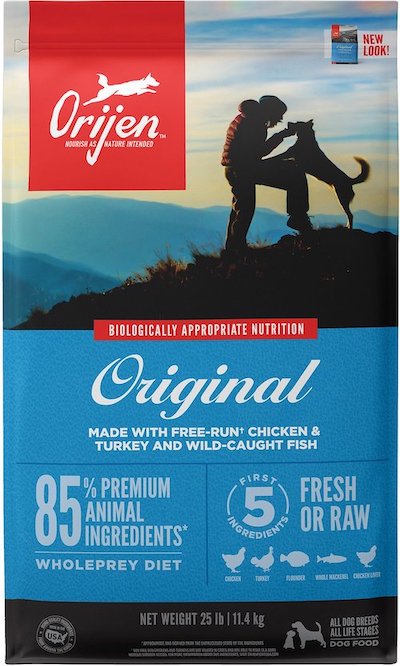 As the name implies, this dry dog food was produced by the brand ORIJEN and contains as its first 5 ingredients turkey, chicken, flounder, mackerel, and chicken liver.
Altogether, animal ingredients make up 85% of the food, including eggs.
The 15% is made up of vegetables, fruits, and lentils. Grain is absent. Orijen also provides prebiotics and probiotics, essential for digestion and an improved system.
The ORIJEN brand also produces Orijen Puppy Formula, Orijen Regional Red for Dogs, Orijen Senior Dry Dog Food, and Orijen Wholeprey Grain-Free Dog Food.
Advantages
Orijen boasts of quality ingredients.
It improves digestive health.
It makes use of organic ingredients.
It is grain-free, a plus for Huskies.
Disadvantages
Orijen products are expensive.
It is not always accessible in stores.
Read Full Orijen Dog Food Reviews
---
2. Taste of the Wild Dry Dog Food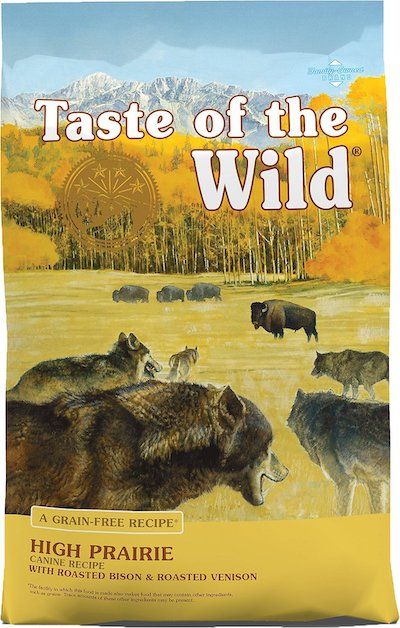 Taste of the wild comes with many sub-brands, including the Taste of the Wild Prairie for dogs with allergies, Taste of the Wild Grain-Free, and Taste of the Wild Pacific Stream.
The Taste of the Wild Grain-Free is the most known sub-brand.
Altogether, Taste of the Wild Dry Dog Food contains ingredients like beef, peas, beans, lamb, canola oil, and egg.
Some other notable ingredients include boar, fish, dried yeast, tomato, flaxseed, and minerals.
According to dry matter results, the protein level of the Taste of the Wild Dry Dog Food goes up to 32%, carbohydrates at 43%, and fat at 17%. This is above-average dog food.
Advantages
It doesn't contain artificial preservatives.
The protein is of high quality.
The vitamins and minerals are natural.
It has a grain-free sub-brand.
Disadvantages
It is not always available.
The brand had had legal cases.
Their ingredients are imported.
Read Full Taste of the Wild Review
---
3. Blue Buffalo Wilderness Dry Dog Food
The Blue Buffalo Wilderness Dry Dog Food is a product with nineteen sub-brands.
They include the Blue Buffalo Wilderness senior chicken, large breed puppy chicken, Adult Toy breed, and Adult small bite.
The Blue Buffalo's first five ingredients are salmon, chicken, pea protein, peas, and tapioca starch.
You will also find egg products, flaxseed, and chicken fat in the Buffalo dog food. Yeast is present in the Buffalo dog food, and it could cause an allergic reaction in some dogs.
The protein percentage in this dog food goes up to 36%, with the fat at 16% and the carbohydrate at 41%, according to dry matter results.
Animal protein is the main protein in this food, good for Huskies.
Advantages
It has no artificial preservatives or animal by-products.
Uses different recipes.
It doesn't contain soy, wheat, or corn.
Ingredients are natural.
Disadvantages
It is expensive.
It cannot meet all dietary requirements.
---
4. Hill Science Diet Dry Dog Food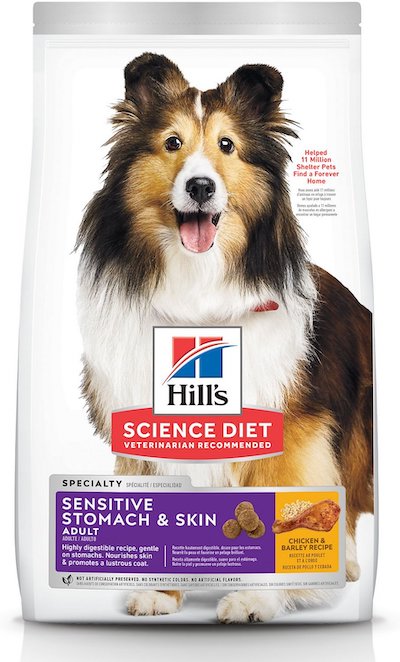 This is an excellent food choice for picky Huskies who can't stomach every meal. The products of this brand have a lot of benefits, including better skin and coat.
The Hill Science brand contains over 20 sub-brands including the Science Diet Adult Healthy Mobility Large Breed, Healthy Mobility Small Bites, and Adult Large Breed Light.
The primary source of protein in this brand is chicken, good for Huskies.
Hill Science also contains prebiotics which aid in digestion. Its five main ingredients are chicken, yellow peas, brown rice, barley, and chicken.
Other ingredients in Hill Science dog food are flaxseed, vitamin B12, pork liver flavor, egg products, soybean oil, carrots and greenpeas.
Dry matter measurements put the protein level at 25%, fat at 16%, and carbs at 51%.
Advantages
Ill health dogs will benefit from this.
Has a lot of nutrition.
It is inexpensive.
Disadvantages
It has grains
Has a low protein level.
---
5. ACANA Wild Atlantic Grain-Free Dry Food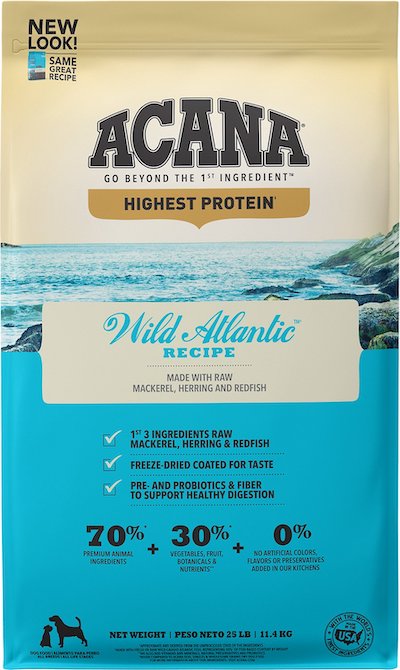 ACANA Wild Atlantic Grain-Free Dry Food is a Canadian brand with six sub-brands.
The sub-brands are ACANA Paleo Formula, Feast formula, Freshwater fish formula, Free-Run poultry formula, Puppy and Junior Formula, and Light and Fit Formula.
The primary source of protein for ACANA products is fish. The ingredients in ACANA dry foods are fresh and grain-free.
Its five main ingredients are Silver Hake, Redfish (whole), Herring (whole), Mackerel (whole), and Mackerel Meal.
In addition to those, some other important ingredients are fish oil, yellow peas, pea starch, carrots, apples, pears, and pumpkin.
According to dry matter results, the protein level is estimated at 33%, fat at 19%, and carbohydrate at 40%.
Advantages
No product has been recalled.
Meat is gotten from a sustainable source.
It is made in the United States.
Has both grain-free and grain-inclusive products.
Disadvantages
No options for wet food.
Brand had had legal cases.
Not always available.
Read Full Acana Dog Food Review
---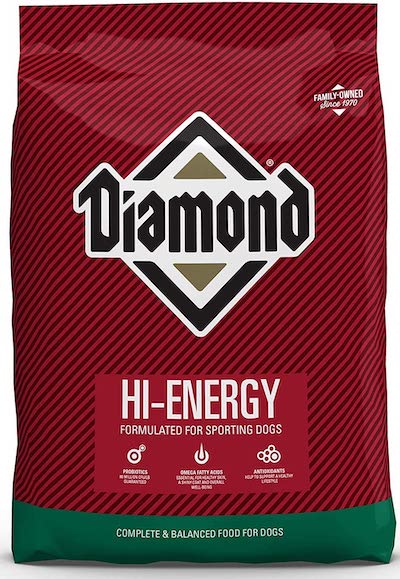 Diamond brand has made a name because their products have enough protein and are of high quality.
The main source of protein is chicken, and the 5 top ingredients of this dog food are Chicken and the byproduct, Wheat flour, grain, and egg.
This dog food is good for energetic dogs and perfect for Huskies.
Diamond dog food also contains probiotics, omega fatty acids, and antioxidants which contribute to good health and better physical attributes.
Besides the top five ingredients, this food also contains fish, vitamin E, vitamin A, flaxseed, folic acid, and salmon oil.
Dry matter measurements showed that the protein level in the Diamond Recipe is at 24%, the fat is at 19%, and the carbohydrate is at 44%.
Advantages
It is affordable
Excellent for large dogs
Disadvantages
Whole lamb meat isn't part of the ingredient
---
7. Iams ProActive Health Mature Adult Dry Food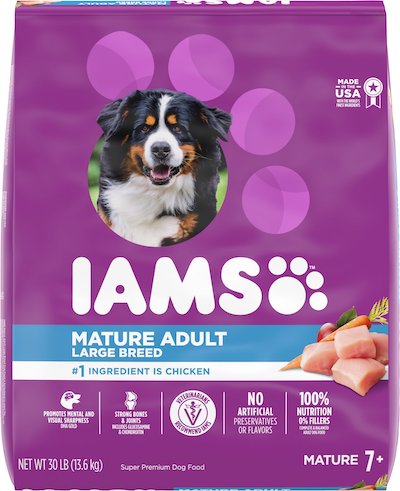 Iams is another popular brand and good for elderly dogs. It is suitable for many dog breeds and offers to pet parents rich ingredients.
It has both wet and dry options, and the variety can spice up a Husky's appetite.
The major source of protein is chicken, and the 5 ingredients at the forefront are barley, corn, chicken, chicken by-products, and sorghum.
It doesn't stop with the five, however. Other ingredients make the Iams Dog Food of superior quality.
They include dried egg, vitamin A, vitamin B12, citric acid, and minerals.
The Iams product has up to 16 sub-brands, including the ProActive Health Mature Adult, the Adult MiniChunks, Adult Large Breed, and Smart Puppy Large Breed.
According to dry matter, this product contains 28% protein, 16% fat, and 49% carbohydrates.
Advantages
The brand has existed for decades.
Recipes are suitable for all ages.
It is affordable.
Nutrients are beneficial for health.
Disadvantages
There are no formulas for many dog breeds.
No organic ingredients included.
---
8. CANIDAE Grain-Free Pure Puppy Chicken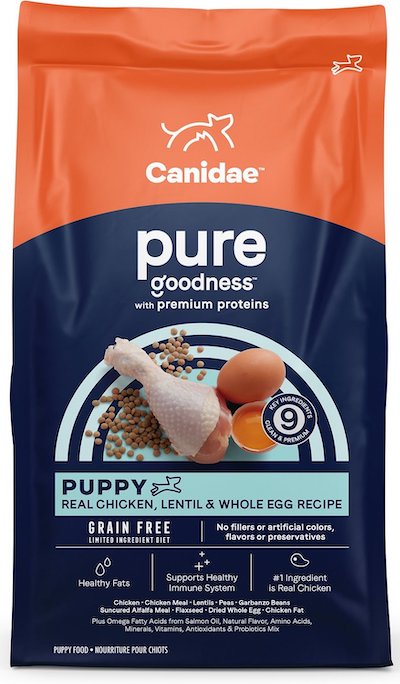 Canidae's product is a good option for Husky puppies because of the low number of grains and few ingredients.
This meal is a good source of energy and can also be eaten by dogs with sensitive stomachs. The omega fatty acids and antioxidants help the brain and immune system.
The main ingredients in the CANIDAE Grain-Free product are fish meal, peas, potatoes, chicken, and lentils. Others include whole egg, chicken fat, vitamins, minerals, and flaxseed.
The Canidae products come in 10 sub-brands, including the Canidae Grain Free Pure Chicken, Lentil and Pea, the Canidae Grain Free Pure Duck and Sweet Potato, the Canidae Grain Free Pure Salmon and Sweet Potato, and the Canidae Grain Free Pure Lamb and Pea.
Dry matter measurements the protein level of this dog meal at 36%, fat at 20%, and Carbs at 36%.
Advantages
The brand is owned by a family.
Protein is rich.
You have the option of dry and wet food.
Disadvantages
Doesn't target some specific health issues.
Read Full Canidae Dog Food Review
---
9. Holistic Select Natural Dry Dog Food
The Holistic Select Natural Dry Dog Food is from the brand Holistic Select and has up to 11 sub-brands including the Holistic Select Grain Free Senior Health, Free Weight Management, Free Adult and Puppy Health, and the Free Puppy Health.
The 5 major ingredients of this product are potatoes, lentils, peas, molasses beet pulp, and chicken meal.
Some other valuable ingredients are pea fiber, potassium chloride, apples, pumpkin, and dried kelp.
With the dry matter measurements, Holistic Select Dog meal contains 32% protein, 16% fat, and 44% carbs.
Advantages
Improves a dog's health
Can be eaten by dogs with a sensitive stomach
---
10. Wellness CORE Grain-Free Original Deboned Turkey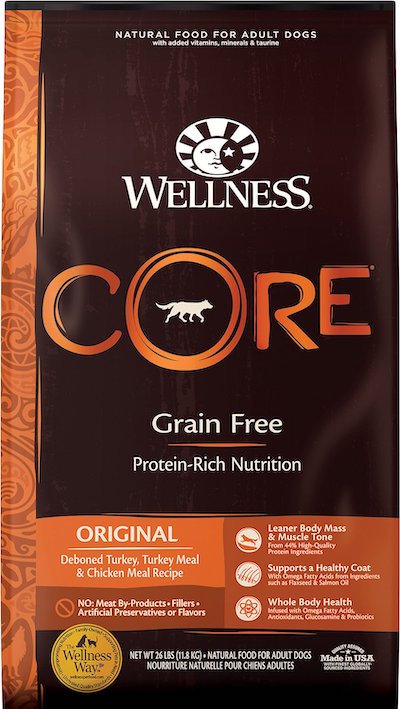 From the brand Wellness, this dog meal comes as the last on our list. It shares similarities with the Orijen, but it is more affordable and trustworthy.
The product has up to 12 sub-brands, including the Wellness Core Lamb Formula, Puppy Formula, and Senior Formula.
Many ingredients enrich the Wellness Core Dog Food. The 5 main ingredients are deboned turkey, peas, dried ground potatoes, chicken meal, and turkey meal.
Other ingredients include flaxseed, peas, lentils, chicken fat, salmon oil, and taurine.
According to a dry matter basis, the Wellness Core Dog Food has 38% protein, 18% fat, and 36% carbohydrate.
Advantages
The ingredients are rich.
It enriches the dog with Omega-3 fatty acids.
Doesn't have potentially harmful ingredients.
Disadvantages
The Carbohydrate level is too high, while the protein level is low.
The brand has recalled many products
Read Full Wellness Core Dog Food Review
---
Common Husky Food Allergies
Like some other dogs, huskies may develop allergic reactions to some meals. These reactions range from mild to severe, and some require medical attention.
Food allergies are common amongst dogs. If you notice any unusual effect a Husky gets after eating a food, quit feeding them that.
Food allergies occur when a dog's immune system considers a meal as a danger and develops antibodies to fight it.
Common symptoms include:
Paws that itch
Constant sneezing during or after a meal
Red and watery eyes
Spots on the skin due to scratching
Vomiting
Loss of hair
A Husky may be allergic or intolerant to beef, dairy products, and other sources of protein like chicken and egg.
A veterinarian or nutritionist can diagnose a food allergy and may prescribe an elimination diet, which involves getting rid of the meal the Husky is reacting to.
Husky Feeding Guidelines and Chart
Huskies eat like human athletes, which means they only do so when they are hungry and are not prone to overeating. It is uncommon to see an overweight Husky.
Any guideline you set for a Husky should take into account the age, more than anything else.
Husky Feeding Chart for Puppies
Puppies have a different meal requirement compared to older Huskies. For each stage, you need to know what to feed them.
2 Weeks
The Husky Puppy at 2 weeks can eat nothing more than the mother's milk. At this age, they are not active yet. Mother's milk is all they need to survive.
That said, a Husky pup that's too lean may need some additional puppy formula. Get a vet's approval before you do this.
3 Weeks
At 3 weeks, the puppy gets a bit more active, but still depends on the mother's milk and shouldn't be given puppy food.
4 Weeks
Once he gets to 4 weeks, slowly introduce puppy food to his diet. Do not wean him yet, as weaning should be done progressively.
Mix ¼ of puppy food with ¾ water and serve it to him, taking care not to force it in. The 4 weeks pup won't eat much.
5 Weeks
Keep up with the puppy food mixture at 5 weeks. He should be more interested in it, at this point. Feed him 3 to 4 times a day, but do not push it if the pup doesn't finish the meal.
6 Weeks
At 6 weeks, the Husky pup should be more active, and this is the ideal week to start weaning them. Start reducing the water in the mixture till it gets to ¾ puppy food and ¼ water.
7 Weeks
The 7 weeks Husky puppy will need more puppy food and less milk in his diet. He'd be more active and spend less time with his mother. At this age, breeders get them ready for a new home.
8 Weeks
Once the Husky pup gets to 8 weeks, he should be weaned. He may not finish 3 meals, so you could reduce it to 2, as long as his weight is balanced.
9 Weeks
The 9 weeks Husky pup should be living in a new home and away from his mother, so he needs a lot of puppy food.
If you decide to change his diet from what he was accustomed to, do it at a slow pace.
10 Weeks
When he clocks 10 weeks, keep his feeding at 3 times daily and encourage—not force—him to eat.
During this week, incorporate a feeding schedule so the Husky pup will know when to expect food.
11 Weeks
A word of caution for the 11-week Husky pup. He is given to mischief and may want to eat anything he sees. Needless to say, that is a health risk. Asides from that, pups at 11 eat well.
12 Weeks
The 12 weeks Husky pup may go through a period where he'd seem uninterested in food because of the teething process. Other than that, he should not have a problem eating.
Husky Feeding Chart for Adults and Seniors
The ideal time to switch from puppy food to adult food is when the dog has grown to full height. Huskies get to this stage at 18 months.
Until then, stick to puppy food. Once they get to 18 months, slowly introduce them to adult food. It will take you some days, to avoid stomach complications.
The adult Husky needs about 2 to 4 meals a day. Again, it depends on their activity level and weight. You could consult a vet for further help.
Huskies can be free-fed because they are not likely to overeat, but it is best to keep them on a schedule as a form of training.
The adult Husky needs between 1,100 to 1,800 calories per day. The best time to feed an adult Husky is 2 hours before exercising.
If you want to feed a Husky after exercise, wait for at least 30 minutes. A meal too close to exercise time may lead to gastric torsion.
While the adult Husky can eat a quality homemade meal and some human food, some food endangers them.
They include:
Raw eggs
Chocolates
Raw meat
Bones
Onions
Garlic
Alcohol
A meal with salt
A husky becomes a senior at 7 years. The senior Husky may need an estimate of 1000 calories and will be pickier with food than younger ones.
It is important to encourage a senior Husky to eat because they need it.
FAQs
What is the best dog food for Siberian Huskies?
The Siberian Husky needs a meal filled with protein to maintain energy and growth. One of the best dog food for the Siberian Husky in 2021 is the Taste of the Wild Dry Food.
How many cups of food should a Husky eat?
The Husky pup needs about 3 cups a day. When he becomes an adult, 2 cups is usually sufficient. They are not prone to obesity.
Do Huskies stop eating when full?
Huskies eat like athletes and often have limits. They don't overfeed and would often stop eating when they are full. This helps keep their working bodies in shape.
Are Huskies sensitive to food?
While Huskies can eat good food without reservation, many are picky eaters and some have sensitive stomachs. You need to find an appropriate diet that is convenient for them. 
What food can Siberian Huskies eat?
Huskies need food filled with enough protein, fat, and carbohydrate to maintain their energy. Animal protein is the most efficient source of energy for them. Also, feed Huskies a mixture of dry and wet food. 
What is bad for Huskies to eat?
While Huskies would benefit from fruits, some are risky for them. An example is grapes and raisins. Some human food like chocolates and garlic are bad for them, as well. 
How many meals a day should a Siberian Husky eat?
Husky pups should be fed 3 times a day. It could be more, if necessary. When they get to adulthood, 2 meals is often sufficient. 
Wrap Up on Best Food for Huskies
Huskies need the best when it comes to feeding. They can be selective and may not settle with a poor diet.
Protein is an essential nutrient for them, especially animal nutrients. They also need healthy fat and a little carbohydrate to stay fit, as well as omega-3.
The best dog food for huskies on our list contains these nutrients, plus some extra. They have their pros and cons—so be diligent when selecting.
Related: