Canidae dog food is a family owned company that has its nutrition facility located in Brownwood, Texas, however, Canidae originated from a feed store located in Southern California.
Canidae, in existence from 1996, has over 20 years experience in producing pet foods that have 'made a difference'.

The company is family-owned and continues to operate under their slogan pet food, made by pet people.

Canidae is committed to producing a premium pet food that is healthy, natural, and holistic and in 2005 they began manufacturing their grain free dog foods through Diamond Pet Foods.

To ensure that they produce quality dog food, Canidae only uses ingredients that are safe for human consumption and the company follows strict guidelines when finding suppliers and processing their products.
Most of their dog food formulas can be used for dogs at any life stage and their formulas tend to contain very good proportions of meat protein.

It is for this reason why the company has managed to maintain a very good reputation amongst pet owners.

In addition to producing dog food, the company also produces a variety of foods for cats.
Brand Highlights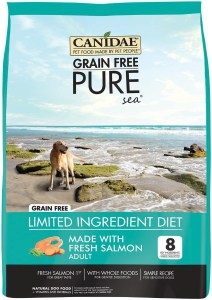 Family owned company made in the USA
Over 20 years experience
Used for dogs at any life stage
Free Of: Corn, wheat, and soy
Bag Sizes: 4 lb, 12 lb, 24 lb Bags
---
Processing Methods
Canidae has its roots in Southern California, but in 2012 they opened a facility in Brownwood, Texas.

It is at this facility that it manufactures all its pet foods, except for their grain free dog food which is made by the Diamond Pet Foods Company.
When Canidae started, it was always the intention to ensure that the processing aspect of the pet foods could be done in-house so it could be easily monitored.

So, in 2012 when they purchased their nutrition facility, the dream was realized. In fact, as they discover new formulas and recipes, they test them on their own animals to ensure that they are as effective as they will claim to be.

Not only do they test their formulas but they have very strict testing methods within the facility.
The tests that they perform are done with the aim of ensuring quality and absence of harmful microorganisms, including Salmonella and other bacteria.
Quality control is a very important aspect of the Canidae brand and plans seem to be underway for improvement and expansion of their quality control measures as well as an expansion of the facility.

Learn more about the best and worst dog foods…
Canidae Ingredients
Canidae sources their ingredients from various regions across the world.

In order to ensure that their ingredients are of high quality and standards, their suppliers may be found in New Zealand, France, Wyoming and in the Pacific Northwest.
Finding suppliers from different parts of the world is part of Canidae's commitment to sourcing and utilizing the best ingredients in their pet foods.

Canidae likes to support family owned businesses similar to theirs that are independent.

Whether farmers, ranch owners, retailers or distributors, these small business owners have made significant contributions to the success of Canidae by supplying them with fresh, quality ingredients that have very good nutritive value.
See Also…
Nom Nom dog food
Taste of the Wild Review
Low sodium dog food brands
Some ingredients they use are sweet potatoes, peas, cranberries, whole grains, pumpkin, kale, poultry, fish, lamb, and other meats.

Canidae Pure does contain a one controversial ingredient : sun-cured alfalfa

Although alfalfa is high in protein (18%) and fiber, it is more commonly associated with horse feed.
Pros
Uses fruits and vegetables
Meat ingredients include chicken, bison, duck, lamb, salmon, and wild boar
Grain and gluten free
Limited ingredients for sensitive dogs
No meat meal from unnamed sources
Cons
They use alfalfa, a controversial ingredient
Contains potato, which is only of modest nutritional value to a dog
---
Why Canidae is One of the Best Dog Food Brands
Canidae produces dog food that is completely natural, holistic, and grain free.

Their foods are amongst those of the highest quality in the industry and all their ingredients are safe to be consumed by humans.
Although Canidae is a bit expensive, it is a specialty product that has grain free formulas that are perfectly suited for dogs that are unable to tolerate grain, require more meat portions or may have allergic reactions to certain foods.

Their pet foods undergo several testing procedures to ensure that a high quality is maintained and no microorganisms are present.

Moreover, a batch of the final product is sent for testing in their research center.
Sourcing foods from various places around the world ensure that Canidae dog food is able to acquire the best fresh and natural ingredients to include in their foods.

There is no need to supplement their foods with vitamins or other supplements as their foods are nutritionally complete to promote and maintain the health of your dog.

Furthermore, no artificial preservatives are used as they only use Vitamins E and C in order to preserve their foods naturally.
Don't Miss…
Acana dog food review
Wellness dog food reviews
Gunnar's Favorite Flavors…
Canidae has managed to maintain the same high quality in all 3 areas of its dog food product- dry food, wet food and treats.
The foods are branded as Canidae Grain Free Pure or Canidae All Life Stages and contain either a grain free diet or the multi dog home formula. Although all their products contain very good formulas, if I were to recommend only one product it would be the Canidae Grain Free Salmon Formula.
This limited ingredient recipe is made with fresh meat or fish and is simple enough to be eaten by dogs that have a sensitive stomach.
There are a variety of formulas to choose from within this line and they all are able to provide your dog with all the nutrients they need.
For this particular product, it is a Salmon flavor that your dogs will definitely enjoy the most.
Gunnar's other top picks are...
#1 – All Life Stages with Chicken
#2 – Grain Free PURE Land Formula
---
Wrapping It pUp…
Most formulas used in Canidae's dog foods are able to be used at all stages of a dog's life.

These natural, holistic foods are tasty and contain all the nutrients needed for your dog, so you do not have to supplement their meals with vitamins or other nutrients.

To date, the Canidae brand has only had one incidence of recall in May 2012 when Diamond Pet Foods had to recall some batches of its product for fear of Salmonella.
Despite this, the name Canidae is still associated with quality specialty dog food and pet owners have little fear of contamination of their foods, especially since their products are tested during and after being processed.

The reputation that Canidae dog food has built is certainly a contributing factor in it being one of the top brands in the dog food industry today.