You all probably know about food delivery services for people, but did you know that you can also get high-quality, human-grade, fresh food with fresh ingredients for your pets delivered right to your door?
Nom Nom is one of those companies that specialize in food delivery service for your pets, so that pet parents (yes, you!) don't have to worry about what's in your pet food.

Their team of employees, doctors, and scientists have created restaurant-quality food for your dog that even you could eat if you need to!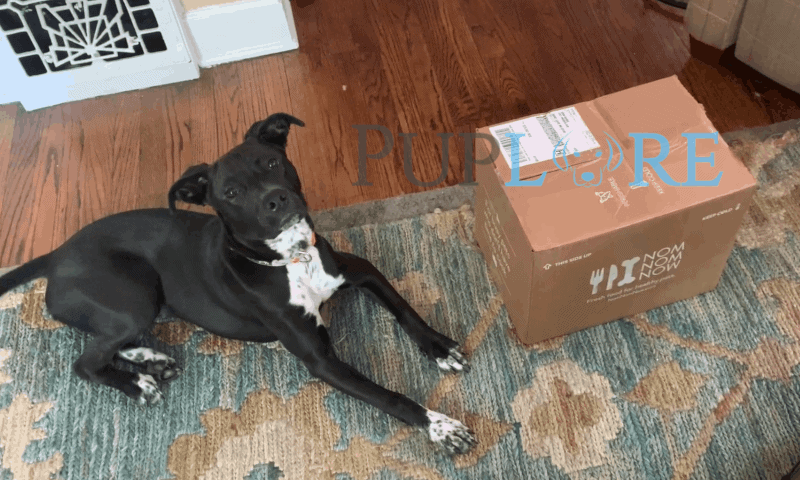 Freshly cooked dog food is the number one way to help heal your dog of many health issues, especially dogs with a sensitive stomach as fresh food is ideal for gut health.

My pup, Reba, a one-year old Lab mix has had health issues related to a sensitive gut since she was just 3 months old.
Our vet put her on a bland diet for several weeks, requiring us to make rice and boil chicken or beef almost daily.

This helped for a little bit, but the smell of boiled meat permeated our house all the time and became very time-consuming as she had to eat so much to make up for the loss of nutrients she was missing from her dry dog food puppy formula.
When we tried Nom Nom Now, we fell in love with the ease of use, the added nutrients to help her develop and heal her gut.

We also loved not having to make freshly cooked meals for her every day especially since she's a picky eater!

It was a no-brainer to write up this Nom Nom dog food review so you could try it out for your pup and see what all the hype is about.

Plus, thanks to the good folks at Nom Nom you can get a nice discount on your first order by clicking the link below…
PupLore readers get 50% Off on First Order!
I know the freshly cooked recipes are what helped Reba get back to good gut health with the fresh ingredients and specially formulated NomNomNow Nutrient mix created by the company's veterinarian, Dr. Justin Shmalberg.
The Nom Nom Story
Nom Nom founders Alex, Nate & Zach, and their mini Australian Shepherds Harlee & Mim began their company in 2014 after realizing that not much had changed in the dog food category since the 1980s.

The food they could find was either kibble or canned food with many ingredients that were hard to pronounce and most likely not necessary.
They wanted better for Harlee and Mim so they played around with cooking their own food with fresh ingredients, and were successful in creating a pet food delivery service for their friends and family.
As word got out, they realized they needed an expert in pet nutrition to help them with their formula to be able to spread their fresh meals to other pet parents who found themselves in the same situation — wanting better high quality and fresh ingredients for their pets.
And they found Dr. Justin Shmalberg, a board-certified specialist in both the American College of Veterinary Nutrition and in the American College of Veterinary Sports Medicine and Rehabilitation.
Dr. Shmalberg is also a professor and Chief of Integrative Medicine Service at the University of Florida College of Veterinary Medicine.
He's now an integral part of the NomNomNow team and formulates every new recipe to make sure the dogs are receiving the best possible food with restaurant-quality ingredients — ingredients that even you would be happy to eat.

This ensures your dogs get exactly what they need to either stay active and healthy or find their way back to.
Nom Nom Recipes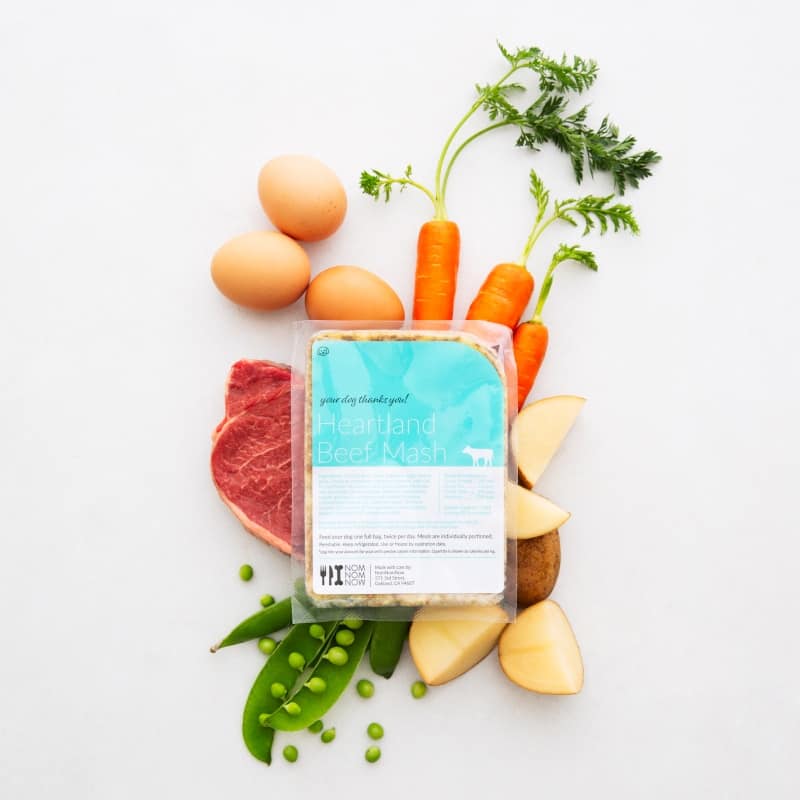 With Dr. Justin Shmalberg on the team, NomNomNow provides natural, healthy, and fresh dog food for all life stages.

Each meal exceeds the Association of American Feed Control Official (AAFCO) standards. AAFCO is a non-profit organization that sets standards for pet foods in the United States.
For pet food to be labeled and/or marketed as "complete and balanced", it must meet their nutrition regulations.

But beyond exceeding these standards, Nom Nom subscription pet food delivery service (click here to save 50% off your first order) provides meals with real food that's good enough for even us humans to eat.
Yes, that's right, you could eat your dog's meal if you really wanted to. And yes, I tried it…and I approve! So what are are your dog's food options?
Nom Nom provides 4 deliciously nutritious meals that are perfectly portioned for your dog's personally unique dietary needs based on the information you provide when signing up.

But before we get into that, let's look at Nom Nom Recipes…
Beef Mash
The first one Reba & I tried (yes, I did try it, did you think I was joking before) was the Beef Mash.

Gluten-free and all-natural ingredients, my sweet Reba fell in love with this recipe immediately!
One thing I loved is that you can see the real ingredients, there are no surprises.

You can see clearly the high-quality ground beef to provide protein, vitamins, and minerals to keep our pup's bones healthy and strong for years to come.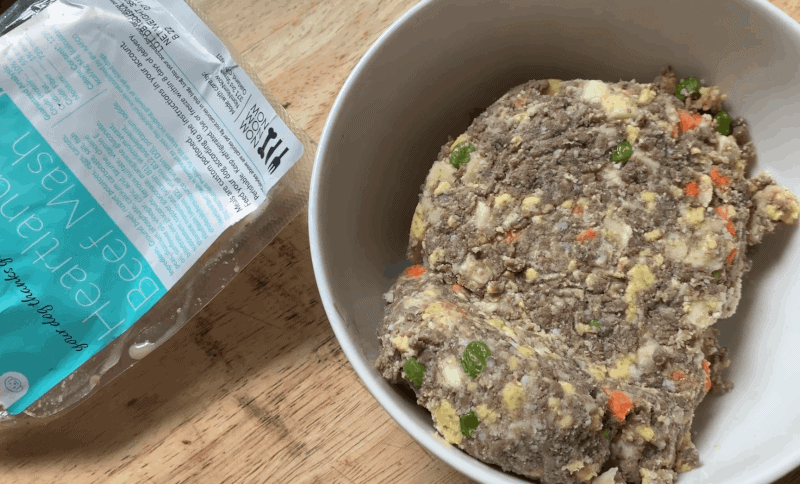 The beautiful russet potatoes provide energy and are packed with potassium.
The bright orange carrots give our dogs the much-needed vitamin A (and more) for healthy eyesight, and the beautiful green peas add fiber, vitamin C, K, B6, and additional vitamin A, plus loads of minerals that provide much-needed nutrients for our beloved pets.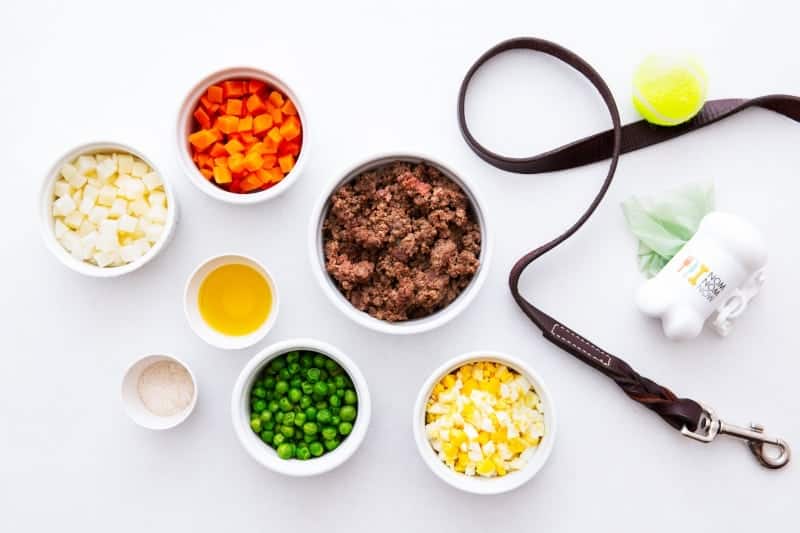 You'll also find eggs in this recipe to add more protein, calcium, iron, and zinc, and fish oil for those omega fatty acids that keep our dog's coats with a healthy sheen.

A complete ingredient and nutritional breakdown taken from Nom Nom's website is found below:
Ingredients: Ground beef, russet potatoes, eggs, carrots, peas, dicalcium phosphate, calcium carbonate, salt, fish oil, sunflower oil, vinegar, citric acid (preservative), taurine, choline bitartrate, zinc gluconate, ferrous sulfate, vitamin E supplement, copper gluconate, manganese gluconate, thiamine mononitrate (vitamin B1), selenium yeast, riboflavin (vitamin B2), vitamin B12 supplement, cholecalciferol (source of vitamin D3), potassium iodide.
Pork Potluck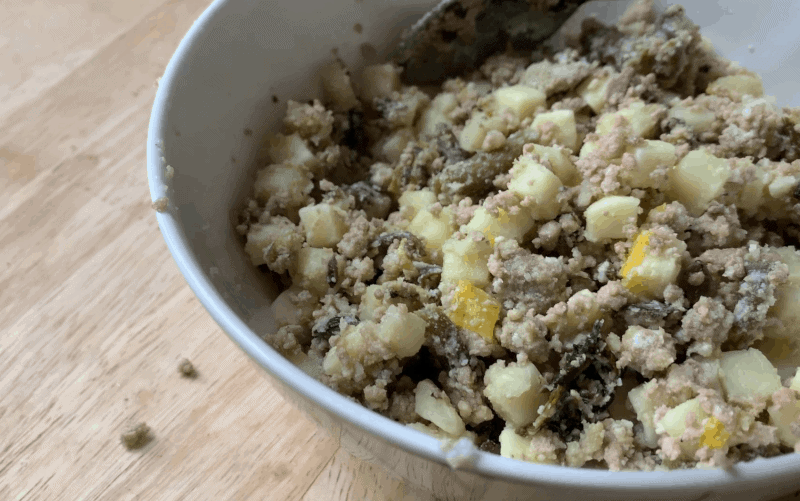 Can you say, yum?! This was the first time Reba had tried pork, and I think she likes it!

This recipe looks like something I typically make for myself: Pork, potatoes, kale, green beans, and mushrooms.
I love that something that looks so familiar to me is also great for my dog with pork providing the protein, Vitamin B6, and minerals; the potatoes that are packed with potassium and provide energy for dogs of all sizes and ages, and my favorite ingredient of all…kale.
Yeah, I'm one of those kale-loving pet parents, who love to see the sautéed superfood providing quality nutrients for my little one as she grows.

And like all of their other dog food recipes, Pork Potluck also includes the Nom Nom Nutrient Mix created by Dr. Shmalberg and fish oil for a beautifully healthy coat.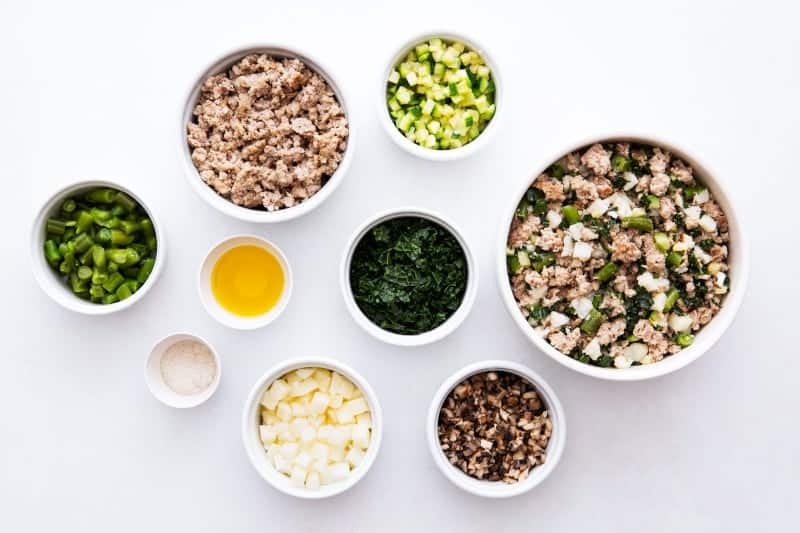 Ingredients: Ground pork, russet potatoes, green beans, yellow squash, brown mushrooms, kale, dicalcium phosphate, salt, fish oil, vinegar, citric acid, taurine, choline bitartrate, zinc gluconate, ferrous sulfate, vitamin E supplement, copper gluconate, manganese gluconate, thiamine mononitrate (vitamin B1), selenium yeast, riboflavin (vitamin B2), vitamin B12 supplement, cholecalciferol (source of vitamin D3), potassium iodide.
Turkey Fare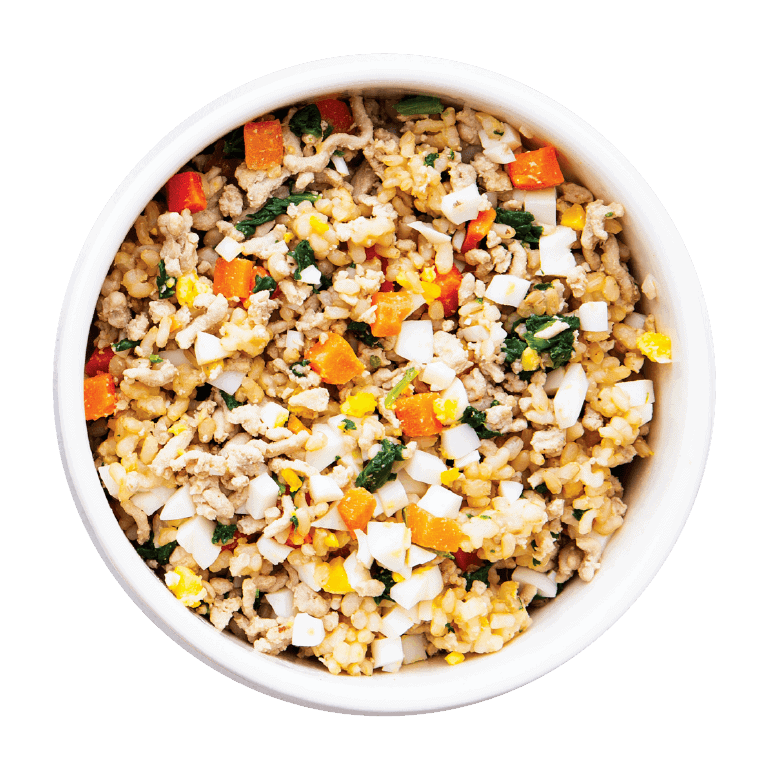 Your pup is going to gobble (wink, wink) this one up! Turkey isn't just for Thanksgiving, you know!
The Turkey Fare, while still gluten-free, is the only recipe that includes a grain source with the addition of brown rice instead of potatoes to provide carbohydrates and minerals to keep up your pup's energy, and dietary fiber, vitamins, folate, and manganese is provided by Popeye's favorite food — Spinach!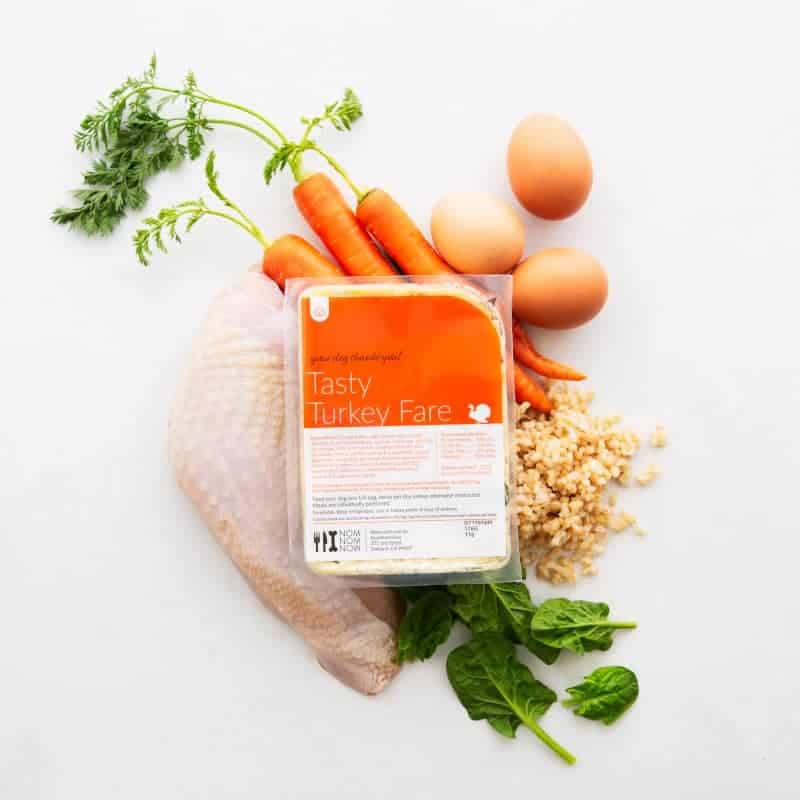 Ingredients: Ground turkey, eggs, brown rice, carrots, spinach, dicalcium phosphate, calcium carbonate, salt, fish oil, vinegar, citric acid, taurine, choline bitartrate, zinc gluconate, ferrous sulfate, vitamin E supplement, copper gluconate, manganese gluconate, thiamine mononitrate (vitamin B1), selenium yeast, riboflavin (vitamin B2), vitamin B12 supplement, cholecalciferol (source of vitamin D3), potassium iodide.
Chicken Cuisine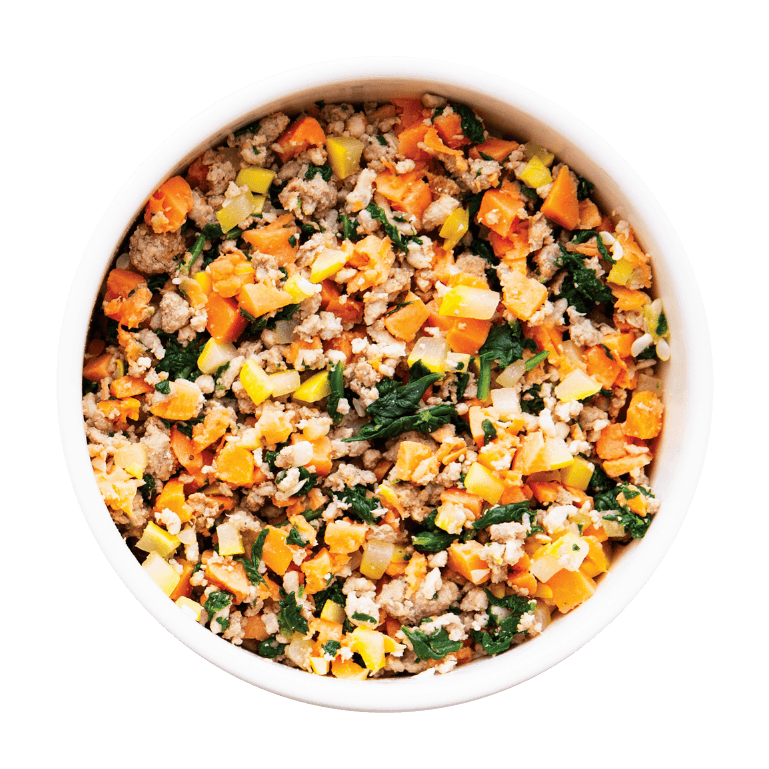 This colorful fresh dog food meal is grain-free and packed with all the good things, including sweet potatoes!
I don't know about your dog, but Reba is a huge fan of sweet potatoes and gets super excited when her nose gets a whiff of that sweet superfood packed with fiber, potassium, Vitamins A, B6, and C.

The yellow squash and spinach next to the orange of the sweet potatoes make a beautiful medley of high-quality fresh ingredients that are perfect for a homemade diet.
Ingredients: Diced chicken, sweet potatoes, yellow squash, spinach, sunflower oil, dicalcium phosphate, canola oil, calcium carbonate, fish oil, vinegar, citric acid, taurine, choline bitartrate, zinc gluconate, ferrous sulfate, vitamin E supplement, copper gluconate, manganese gluconate, thiamine mononitrate (vitamin B1), selenium yeast, riboflavin (vitamin B2), vitamin B12 supplement, cholecalciferol (source of vitamin D3), potassium iodide.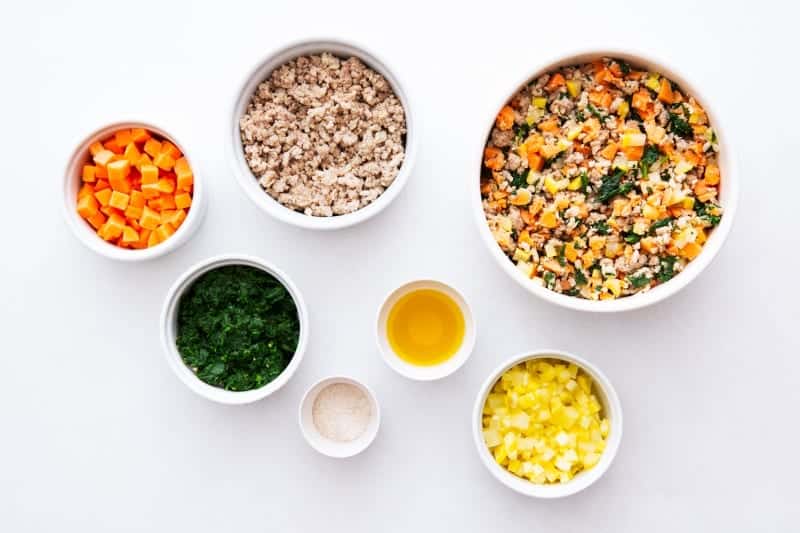 How Does Nom Nom Dog Food Delivery Work?
Signing Up
Because each delivery option is personalized for your pet's needs, the sign-up includes several questions about your dog's breed, age, activity level, weight, ideal weight, etc.

It does take a little time to enter the details, but that just shows how much they care about providing exactly what your dog needs for optimal health.
Once you go to the website you are asked to enter your name and email address to create an account.

Then, of course, they ask for your dog's name. You can enter additional pets (they have cat food, too) after creating the first profile.
Enter your dog's current weight and ideal adult target weight, along with his or her age, helping the Nom Nom team customize the food delivery portion that's right for you, which also determines your unique cost per meal: smaller dogs = less food.

You're then asked to pick an ideal recipe, but you can mix later on in the process if you think your pup would like some variety in her freshly cooked meals.
At the bottom of this screen, there is also an option to choose full meals or half meals.

The half meal choice is great for transitioning your dog to a homemade diet, but also great for budget-conscious pet parents who choose to continue to mix the freshly cooked dog food with dry dog food their pups still love.

Mixing is a good way to add healthy fresh ingredients and reduce the cost that a weekly delivery of food would be.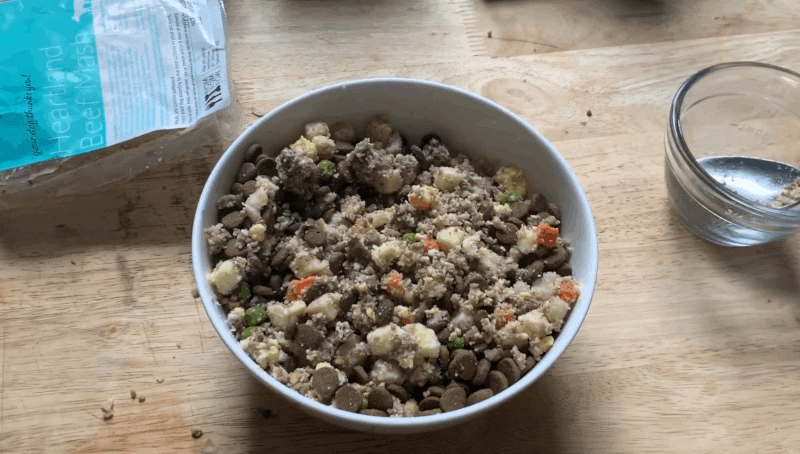 Speaking of reducing your costs…
NomNomNow is giving our readers 50% off your first order (instead of the usual 20%) so make sure to click here!
Then you are taken to the page where you enter the delivery information, like your address and how frequently you want your fresh dog food to be sent.

Delivery is set to a specific day, but you can have that changed to make sure you are home (or will be home soon) when the meals are delivered.
Of course, if you are ever not home, the eco-friendly insulated packaging is well-designed so that even in the heat of the summer, your fresh dog food should keep until you arrive home.

As long as the food is cool to the touch after unboxing, the fresh meals are good to go.
Delivery
This section of the sign-up also asks how frequently you would like your deliveries.

The longer between deliveries, the more discount you receive, but you are free to choose from weekly, every two weeks or every four weeks.
And because Nom Nom understands that needs change from time to time, they also provide the ability to skip deliveries when that becomes necessary for you.
Unboxing Your First Shipment
One of the main reasons we looked into fresh dog food for Reba was because of her gut health issues and our vet's suggestion to provide homecooked meals.

We needed something that was quick and easy because of our family's very busy schedule (and because boiled meat doesn't provide a very welcoming fragrance for the home), so we found that Nom Nom's food delivery service to be just what we needed.
After we signed up, we received a very informative email letting us know what was coming next.

Three days later, another email arrived giving us detailed information on what to expect for our first delivery…

1) That we would receive a tracking order and that we didn't need to be home because the order is well-insulated.

2) What would be in the box — 14 perfectly portioned meals.

3) How to start the new routine.
One week later Reba's fresh meals were on their way!

This email also was very organized and helpful for any pet parents who are new to the fresh food delivery system: what to do when the package arrives, how to store, freeze if you need to, a complete list of what was included in the order, a tracking number and a quick link to click to track directly from the email.
And the VERY NEXT DAY we received the food!

All the recipes are cooked weekly to maintain the freshness of the product.

Currently, they own and operate two locations where they prepare and cook your pet's food with fresh ingredients: one in San Francisco Bay Area and the other from Nashville, Tennessee.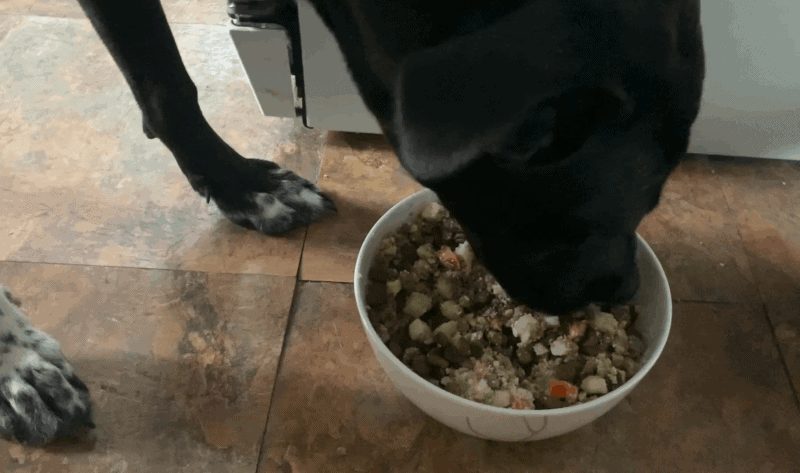 The packaging used is designed to reduce waste with either recyclable material or made from recyclable material.
The meals themselves were all perfectly portioned and so easy to use, with a peel-away top.
A transition schedule was provided to help us ease Reba into her new routine, and a list of the ingredients was also provided.
Nom Nom Treats
They also added a couple treats surprises for Reba: Beef Jerky and Chicken Jerky; unfortunately Reba doesn't respond well to chicken, but we were able to gift that tasty treat to one of her four-legged friends.
What's great about these treats is that the ingredient list is pretty short. For the beef jerky, it is just beef; for the chicken jerky, it is just chicken.
Just high-quality dehydrated protein. So good!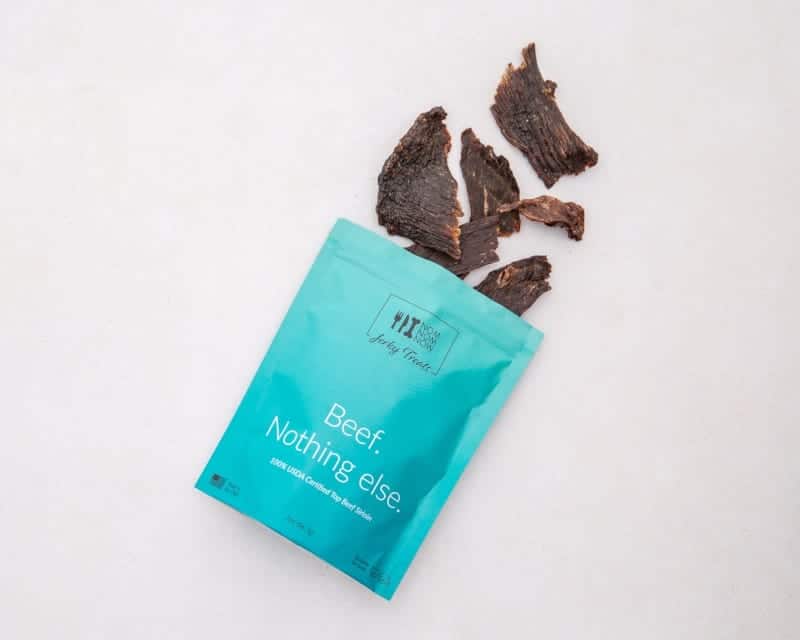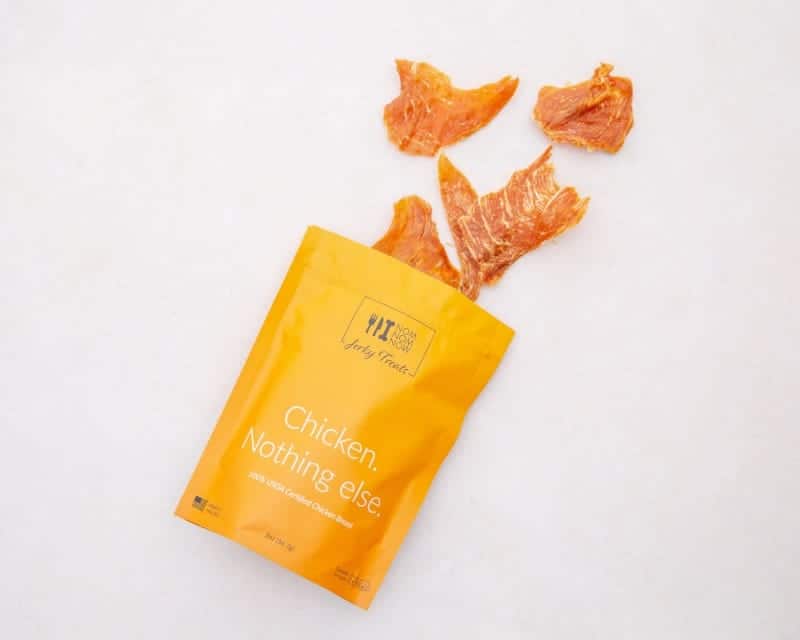 Microbiome Testing and Supplements for Overall Health
Nom Nom, with the help of Dr. Ryan Honaker, a leading specialist in gut microbiology, has formulated a microbiome kit that analyzes your pet's gut health by an analysis of a stool sample.

Yes, you have to provide this and mail it in, but you only have to swab it, and they give you an extra swab just in case there may be a mishap in collecting the first time.
This microbiome testing kit will give information about the good and bad bacteria and will suggest ways to improve your pet's gut health if there happen to be any imbalances found in the analysis.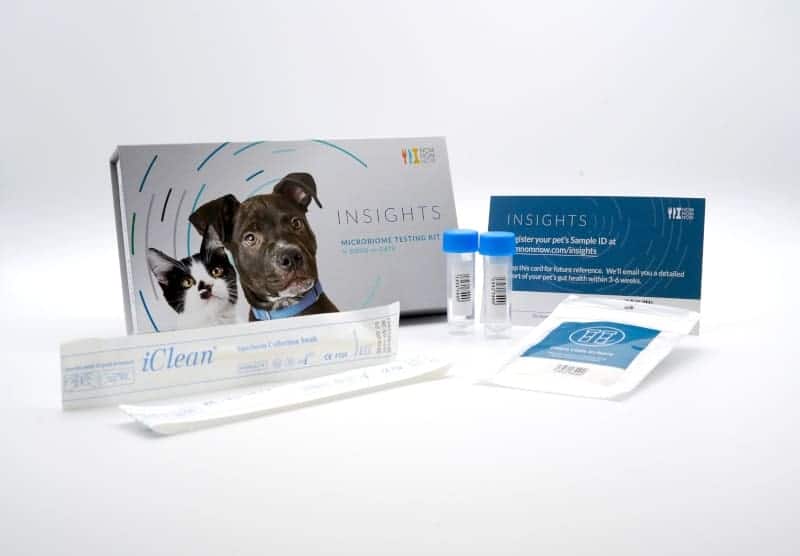 After you collect the sample and mail it back using the prepaid envelope provided, you'll register the sample and take a few health assessments.

The results of the microbiome test come back within 2-5 weeks with valuable insights about your pet's digestive system and gut health.
If the test comes back with imbalances, Nom Nom provides "expertly formulated probiotics" that will help get your dog's gut health back on track.

The microbiome kit is $90 and a 30-day supply of probiotics is $40.

There are two types of probiotics to choose from (full spectrum probiotic and prebiotic blend; GI targeted probiotic and prebiotic blend). The microbiome kit will provide you information on which is best for your pet.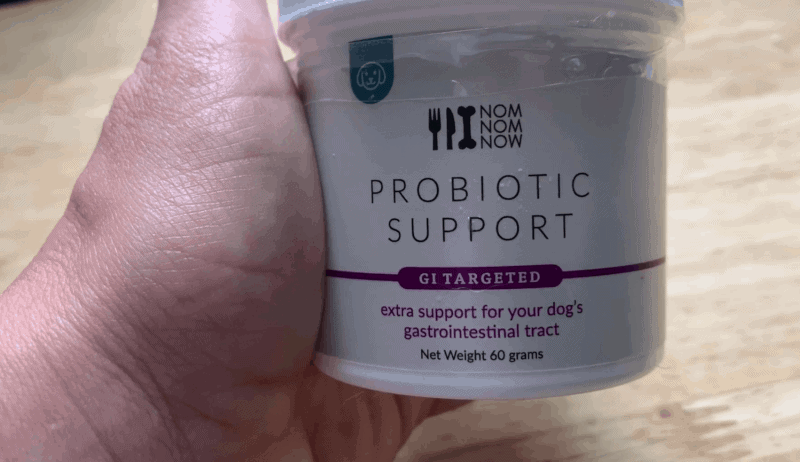 We did purchase a microbiome kit for Reba, so stay tuned for what we find out.
Wrapping It pUp…
We know their ready-made homecooked meal delivery service has been a huge help in getting Reba back to a happy, healthy gut and her happy puppy self, but it has also been a super convenient time-saver for us.
We highly recommend Nom Nom because your dogs are your family and you want them to be eating as good as you are.
So what are you waiting for? Take advantage of the special offer and save 50% off your first order today!