The Eagle Pack brand has been in existence for around 30 years.
The brand was developed in 1985 and caters to a wide variety of dogs.
It has been a well-known brand, especially for athlete dogs and other performance dogs that have a more intense nutritional demand because of their regular daily activities.
They also have product lines for dogs that are not as active and have been providing these dogs with the right proportions and quantities of nutrients that they need on a daily basis.
Our Eagle Pack dog food reviews take a closer look at the premium brand of dog food that is most often seen in independent pet specialty stores.
The brand was bought in 2010 by WellPet, which manufactures other pet food brands, such as Wellness, Old Mother Hubbard, and Holistic Select.
Since it has been sold, the pet foods sold by Eagle brand dog foods have been manufactured in a WellPet facility that is located in Indiana.
However, the quality of the product has not taken a turn for the worse and the brand continues to be a favorite with pet owners.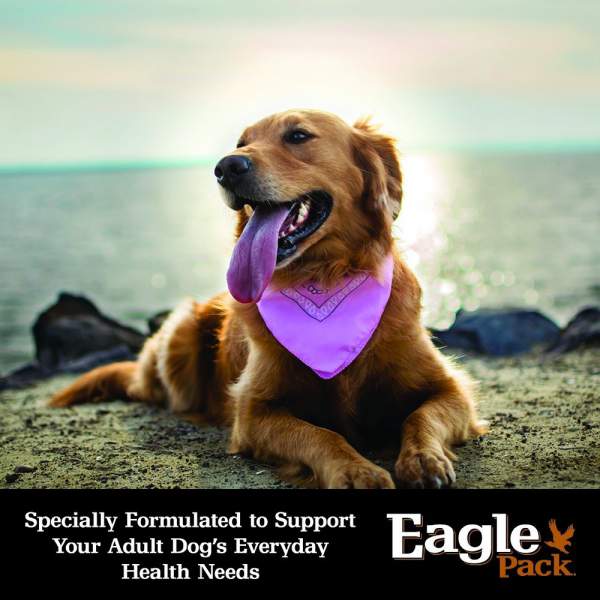 Eagle Pack Dog Food Reviews
Overview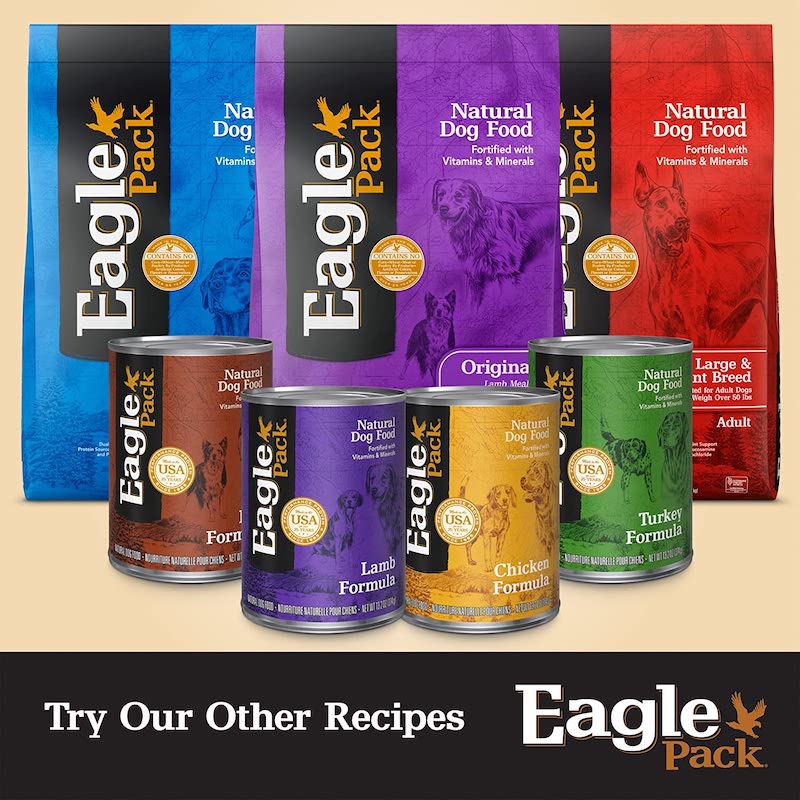 Made in the USA
Making dog food for over 30 years
Well-known for the athlete and other performance dogs
Bought by WellPet in 2010
---
Food Processing Methods
The WellPet facility, from which all Eagle Pack dog foods are manufactured, is located in Mishawaka, Indiana.
The plant was actually expanded in 2012, just 2 years after the Eagle dog food was bought.
The company prides itself on maintaining the highest standards of pet food safety and follows strict guidelines that have been set by the FDA.
See Also:
As a matter of fact, the company has stated that the highest on its priority list is to ensure that both pet owners and their pets are provided with safe, quality natural foods that remain consistent and true to all safety guidelines.
Eagle Pack ensures that its ingredients are safe for human consumption and ensure that all its suppliers adhere to HACCP standards.
At every step of the manufacturing process, Eagle Pack has implemented some form of quality control.
From receipt of ingredients all the way to the inspection of the final product, their Quality assurance team is ensuring that they live up to the standards that the company professes.
Their food safety programs, quality systems, and oversight departments, although separate units, work cohesively and continually to ensure that the Eagle Pack brand continues to provide safe, healthy, and natural dog food.
Eagle Pack Dog Food Ingredients
Eagle Pack uses only natural ingredients in its recipes.
All ingredients have vitamins and minerals added to them so they can supply dogs with all their nutritional requirements.
The brand does not use corn, wheat, meat by-products, artificial preservatives, colors or flavors and requires all their suppliers to be certified.
The Eagle Pack brand has developed very extensive testing procedures over the years and has a comprehensive analytical testing program that ensures that all their ingredients meet their strict specifications.
It is not a very easy process to become a supplier of ingredients for the Eagle Pack brand as they have a 3-step program that all suppliers are expected to pass.
Don't Miss:
These are some of the things that set this brand apart from other dog food brands.
The quality of their products must be amongst the best in the world.
Eagle Pack does contain a couple of controversial ingredients including tomato pomace and brewers yeast.
Tomato pomace is a by-product of processing tomatoes into juice, soup, and ketchup.
Many praise tomato pomace as a high-fiber nutrient-rich ingredient, others scorn it for being a cheap pet food filler.
Brewers' yeast is a by-product of the beer-making industry.
Proponents say that yeast repels fleas and supports the immune system, brewers yeast is rich in minerals and other healthy nutrients.
Critics are concerned that yeast can be connected to allergies, and potentially contribute to a life-threatening condition known as bloat.
Pros
Very extensive testing procedures
Meat ingredients include chicken, lamb, or pork meals
No artificial preservatives, sweeteners or colors
No meat meal from unnamed sources
Contains inulin which is a prebiotic that promotes healthy gut bacteria
Contains chelated minerals that are easier to absorb
Cons
They use tomato pomace and brewers yeast, two controversial ingredients
---
Why Eagle Pack is One of the Best Dog Food Brands
The Eagle brand dog food includes 7 varieties of dry dog foods in addition to canned foods and treats.
Four of the dry food varieties are only for adult dogs, 2 can be used at any life stage, and 1 product line is made specifically for puppies.
This gives you and your dog a very good range of options to choose from.
In addition to this, Eagle Pack produces dog food of extremely good quality and is an all-natural, holistic source of nutrients for any dog.
Their products are high in meat protein, low in carbs, and do not require supplemental sources of nutrients.
Eagle Pack dog food is an excellent dog food for very active and athletic dogs. It is used exclusively by SP Kennels in Alaska for their sled racing husky dogs.
Our Favorite Formula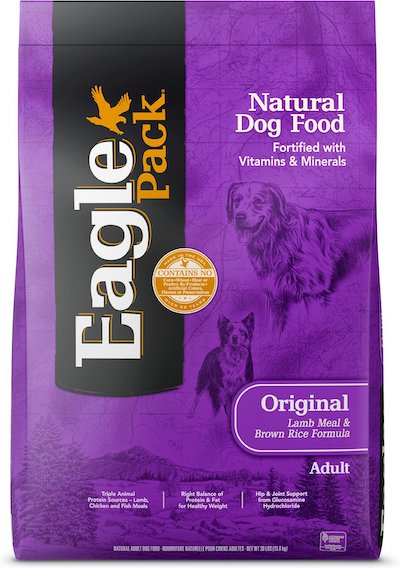 Sold in a variety of sizes, this particular recipe has quality ingredients with lamb being the most prominent source of meat protein.
As expected, the ingredients are all-natural and the recipe has no form of artificial coloring, flavors, or preservatives. In addition to this, there are no corn, wheat, or meat by-products.
It has no ingredients from China and contains the perfect balance of nutrients to supply your dog's daily requirements.
This recipe contains wholesome grain and fiber, healthy supplements, antioxidant support, and triple animal protein.
It really doesn't get much better than this.
Was Eagle Pack recalled?
From our research on DogFoodAdvisor, Food and Drug Administration, and AVMA, Eagle Pack dog foods have never been recalled.
What company makes Eagle Pack dog food?
Headquartered outside of Boston, in Tewksbury, Massachusetts, WellPet LLC is the home for the premium natural pet food brand Eagle Pack, and other brands such as Holistic Select, Wellness, and Old Mother Hubbard.
Is Eagle Pack dog food made in the USA?
The Eagle Pack natural dry dog food is produced in the brand's manufacturing facility located in Mishawaka, Indiana.
Wrapping Up
Overall, the Eagle Pack brand is a good brand of dog food.
Their ingredients are of very high quality and their products, as a result, are consistently meeting and exceeding expectations.
Their screening processes from the acquisition of the ingredients all the way to the end of processing seem to involve a lot of quality and safety tests which is very commendable.
Moreover, they ensure that their ingredients are human safe which is a very good quality test.
Although their products do not seem to be recommended for dogs with digestive health problems or even food allergies, the quality of foods they produce is safe for all healthy and normal functioning dogs.
Their formulas are not all grain-free, but the nutritional analysis definitely makes this brand a very good option for food for many dogs.