The Honest Kitchen dog food was started in 2002 by Lucy and Charles Postins. The company has its roots in San Diego where it began in a beach cottage.
It has since moved to the old Wonderbread factory that is located in the East Village of San Diego.
In this The Honest Kitchen dog food review, we take an in-depth look into why the brand is listed among the best in the market right now.
The Honest Kitchen brand is actually composed of a product line of dehydrated foods that are human grade.
Plus the company does not use fillers or chemicals in their foods hence the reason they are one of the healthiest dog food brands today. Chemicals will hurt your dog so it's better to avoid the brands that include them. Even if the price is better.
Interestingly, the company filed a lawsuit against the federal government regarding their right to include the term 'human grade' in its foods.
Unlike most companies that went through this process, the Honest Company actually won the case. This means that their products are of an extremely high quality and are unquestionably safe.
The Honest Kitchen only uses ingredients that are human-edible and produces all of its products in a human food manufacturing facility.
The first batch of Honest Kitchen Dog Food was called Verve and it sold out very quickly.
This product was not grain free, but a grain free version called Force was produced shortly after in 2003.
These products were only for adult dogs so a puppy friendly formula was developed in 2004. Since then, the company has expanded and now manufactures cat food as well.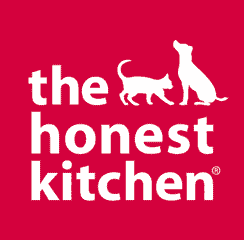 The Honest Kitchen Dog Food Review
Brand Overview
Made In: The USA
Manufactured By: The Honest Kitchen
Started in 2002 – Small, family-owned company
Free Of: Food not fit for human consumption, meat by-products, soy, corn, GMO's, artificial colors, flavors, or preservatives
Human grade dehydrated foods
Bag Sizes: 2 lb, 4 lb, 10 lb Boxes
Processing Methods
The Honest Kitchen pet food preserves its foods in a factory that is located in the East Village, San Diego.
The company believes that they should not process foods too much, so they opt to dehydrate the foods using as little processing as possible.
Dehydration has proven itself to be one of the best methods of preserving foods and it often results in it foods that are healthier and more nutritious as only the water content is removed during the dehydration process.
Yes, it may involve more work after purchasing since the foods are not in a kibble form, but these dehydrated foods retain much more nutrients and may be a much healthier option for your beloved pets.
The Honest Kitchen Dog Food Ingredients

The Honest kitchen does a pretty remarkable test of all their ingredients, unlike many other pet food companies.
They actually test their ingredients by tasting them to make sure that they are tasty. These taste tests are done before the ingredients are used and even while they are being mixed or blended.
A majority of the foods used in their products are sourced in the USA. In fact, 67% of their ingredients come from North America.
These include things like chicken, turkey, beef, salmon, eggs, oats, flaxseed, and many others.
Around 13% of the ingredients are from South America, including items, such as potatoes, pumpkin, and apples.
The remaining portions of their ingredients are from Europe (14%), Africa (1%) and Asia (5%).
The relationship with many of their suppliers has been long term and the company prefers to use suppliers from around the world to ensure that they maintain products of the highest quality and safety.
In fact, they completely rule out China as a source of ingredients.
There are no controversial or questionable ingredients in The Honest Kitchen dog food.
A must watch a video giving us a great look at the real honesty of this company, check it out for yourself!
Pros
100% Human Grade ingredients
Zero ingredients from China
Meat ingredients include poultry, fish, and beef
Contains coconut, a source of medium chain fatty acids
No artificial preservatives, flavors, sweeteners or colors
Plant-based dog food
Contains eggs, an easy to digest protein
Use mostly organic ingredients
Contains chelated minerals that are easier to absorb
Cons
Why The Honest Kitchen is One of the Best Dog Food Brands
Is the honest kitchen healthy for my dog? The Honest Kitchen food dog has a reputation befitting their name.
They are regarded as a company that is very reliable and one that has remained consistent in providing dog food that is of exceptionally high standards.
Their products are complete, which means that they do not have to be supplemented by additional sources of nutrients and they are completely natural.
The company makes several formulas and has many recipes that you and your dog can choose from.
This includes products that are extremely safe for dogs that may have food allergies or issues with their digestive health.
Avoid theses bad dog food brands…
Gunnar's Favorite Flavors
The Honest Kitchen dog food has a variety of dog foods, including a grain-free product line as well as a line with whole-grain foods.
The grain-free line has 6 different formulas while there are 5 formulas to choose from in the whole grain foods. These lines do not include the food options for dogs with allergies or digestive issues as well as treats.
Although all their products are of superior quality, if I had to recommend only one product it would have to be their Grain Free Chicken.
The Honest Kitchen Force Grain Free Chicken Dog Food is sold in 3 different sizes.
The smaller is 2 pounds but makes 8 pounds of food, the mid-size is 4 pounds and makes 16 pounds of food, while the larger size is 10 pounds and makes 40 pounds of food.
This particular recipe is grain-free and as is the case with all Honest Kitchen products, it is dehydrated rather than in kibble form.
It is all-natural with no by-products, artificial flavors, preservatives, or colors.
When you purchase the product, all you need to do is add warm water and serve the mixture after an approximate 3-minute wait.

As is the case with all Honest products, it is made in the USA and does not contain ingredients from China.
Gunnar's other choices…
#1 – The Honest Kitchen Grain Free Base Mix – Fruit & Veggie
#2 – The Honest Kitchen Grain Free Turkey Recipe
Wrapping Up
The Honest Kitchen's integrity and commitment to safe, high quality dog food are parallel to none.
They must have put a lot of thought to the selection of the company name because so far it is very befitting to the standards of which the company is now known for.
The company also has an advantage over many others as it is still family-owned and the intimate details of the manufacturing process can still be regulated very carefully.
Although the company had to perform a recall of some of its dog food products in 2013, many describe the process as being very honest; a characteristic that has been used to build the reputation of this fairly new company.
The only negative and this is a stretch, is that re-hydrating the food takes a bit more time than just dumping kibble in a bowl.
But your dog's nutrition is worth the extra effort, right!
If you are trying to find a dog food that is natural, holistic, safe, healthy, and nutritious then look no further than The Honest Kitchen.
You Might Also Like