Acana Dog Food is made by a Canadian company called Champion Petfoods that has been in business for over 25 years.
Acana recipes are developed to ensure that dogs maintain a kibble diet that is natural yet rich in nutrients.
Acana prides itself on making biologically appropriate foods, and the brand makes food for both dogs and cats.
Using only fresh ingredients, Champion Petfoods makes their dog food from start to finish and maintains very high standards.
The Acana brand seeks to create a new and high standard that makes it one of the top dog food brands.
They aim to nourish pets by producing foods rich in protein and made from fresh products from farms and ranches.
Of course, to do this, they need to sustain a supply of fresh produce adequately. Acana has managed to do so by relying on local suppliers who can meet their growing demands.
Gunnar's Favorites…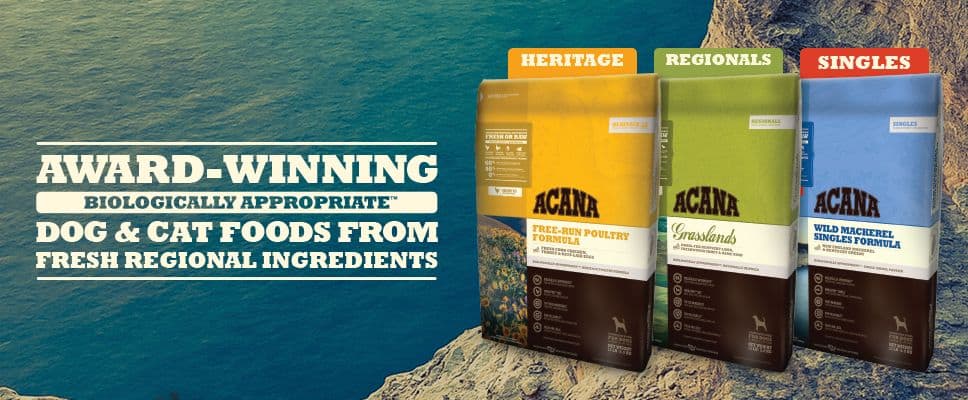 Acana Dog Food Reviews
Brand Highlights
Made In: United States & Canada
Manufactured By: Champion Pet Foods
Free Of: Meat By-products, grain, gluten, dried and powdered ingredients, artificial preservatives, colors, and flavors
Bag Sizes: 4.5 lb, 13 lb, 25 lb
Acana Dog Food Recall
There has been confusion in the past year about whether there was an Acana dog food recall in 2019.
The answer is NO…
You can read the Champion Petfoods FAQ about DCM to understand better why the FDA news may have led you to believe there had been a recall.
Processing Methods
Where is Acana Dog Food Made?
Acana is produced in Canada in Morinville, Alberta.
In the US, the kitchens responsible for making the Acana brand are located in Kentucky USA, on approximately 85 acres of farmland.
Petfoods has ensured that these facilities continually exceed all regulatory requirements.
Additionally, the kitchens are only responsible for making pet food for the Acana and Orijen brands to ensure that the product you receive is exclusive and authentic.
Their kitchens maintain high standards by adhering to six principles.
Advance their mission
Partner with the agricultural community
Never outsource
Earn trust
Natural product fit
Build the best, not the biggest
These principles ensure that all facilities produce products with equal quality and maintain the current standards of the brand.
Please read our article about dog food brands to avoid…
The Acana kitchens are high quality and state-of-the-art.
Their DogStar® certified kitchens are furnished with equipment that can deliver high-quality foods containing meat inclusions introduced to the pet food industry by Champion Petfoods.
One such piece of equipment is the vast blenders that blend and combine many ingredients at once.
Other state-of-the-art equipments used in the kitchens include votator heat exchangers, high-intensity preconditioners, and proprietary moisture reduction systems.
Additionally, to aid in processing their dog foods, the kitchens utilize processes, such as twin thermal cooking and sequential infusion.
Acana Dog Food Ingredients
Acana is a brand known for high-quality, natural pet food using fresh local ingredients.
This is one of the primary reasons the DogStar® kitchens are located close to the agricultural areas in Kentucky and Alberta.
The nearby farms and ranches can easily supply the kitchens with fresh products to use in the dog foods.
A refrigerator as big as half of a football field keeps the fresh products usable.
It can store around 600,000 pounds of ingredients and measures approximately 25,000 square feet.
Of course, not all products are available all year round as some items may be seasonal.
To counteract this situation, Champion Petfoods has equipped their kitchens with nitrogen freezers so these seasonal items can be flash-frozen to retain their freshness.
Champion Pet Foods does not use GMO ingredients, meat with hormones and antibiotics, or fish high in heavy metals.
They do not contain chemical preservatives.
Champion's ingredients or foods are never treated with Ethoxyquin or any other chemical.
Ethoxyquin is often used as a fish preservative. Champion makes sure that the fresh fish they get is preserved with Vitamin E and botanical extracts.
Dogs are carnivores, and they need a diet high in meat and protein. They do not need carbohydrates.
Conventional pet foods contain anywhere from 40-60% carbs. Acana dog foods are very high in meat.
They use a variety of meats to mirror the natural diversity dogs would have in the wild.
Ingredients are steam-cooked in their juices, no water is added to the formulations and no powdered ingredients are used.
A Sample of Ingredients Acana Uses
Free-range Bison, indigenous to Alberta
Heritage pork, raised in Southern Alberta
Fresh fruits and vegetables, grown in Okanagan Valley Orchards
The whole nest-laid eggs, produced on Hutterite Farms
Freshwater fish, caught by fishermen in the cold Northern Lakes
Acana does contain one controversial ingredient: Alfalfa – Although alfalfa is high in protein (18%) and fiber, it is more commonly associated with horse feed
Pros
Locally sourced ingredients
Meat ingredients include turkey, pork, lamb, fish, wild boar, chicken, bison, and beef
Grain and gluten-free
Fresh fruits and vegetables
Use low glycemic carbohydrates
Utilize fresh whole meats and include cartilage, organs, and marrow
Cons
Alfalfa is commonly associated with horse feed
Acana vs. Orijen
Both Orijen and Acana are produced with fresh ingredients made to be Biologically Appropriate.
The differences between the two brands include:
Meat Content – Orijen is 75-80% meat, while Acana is 60-65% meat.
Fresh Meats – Orijen uses 50% fresh meats and Acana uses 9-30 %.
Protein – Orijen foods are between 38% and 42% protein. Acana foods are between 32 – 35% protein.
Carbohydrates – Orijen contains 20 – 25% carbs, and Acana contains 25 – 28% carbs.
Meat Diversity – Orijen contains a minimum of 6 fresh meat ingredients, Acana contains a minimum of 3 fresh types of meat.
Acana is a more affordable version of Orijen.
Both are excellent quality dog foods and are considered the best that the dog food world has to offer.
Watch the following video for more information:
Is Acana a Good Dog Food?
Any brand of dog food that includes natural, fresh ingredients is a brand worthy of mention.
With the Acana brand, the ingredients are natural and the nutrient proportions have been carefully thought out to ensure that the foods are biologically appropriate for dogs.
Made of more than 95% fresh ingredients and less than 30% carbohydrates, these dog foods are definitely of high quality.
To add to this, the Acana brand is reasonably priced when you consider the caliber of ingredients that the products contain.
Because Acana dog food is made in kitchens Champion Petfoods exclusively owns, the quality of the dog foods will be maintained and a guarantee that no other brand contains the same formula.
Not only are these foods biologically appropriate for dogs, the ingredients used in making the foods are safe for human use.
All these factors make the Acana brand one of the best available brands of dog food currently on the market.
Best Acana Dog Food Flavors
There are four product lines for Acana dog foods- Acana Classics, Acana Heritage, Acana Regionals and Acana Singles.
The Heritage and Regionals line contain ingredients of varying proportions, while the Singles line is specifically made for dogs with a sensible diet.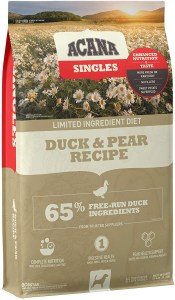 I highly recommend the Acana Duck and Bartlett Pear Dry Dog Food from the Singles line of products.
This particular product is grain-free and has limited ingredients that are safe for dogs that need a sensitive diet.
It is reasonably priced and a great source of nutrients for all types of dogs.
To Wrap Up Our Acana Review
The high-quality ingredients used to make this food is why we feel confident recommending it to you through our Acana dog food review.
Acana pet food will provide your dog with all the necessary substances for adequate energy levels, excellent muscle tone, and a healthy immune system.
It is an excellent product to provide your dog with a kibble diet that is nutritious and natural.
My sister and brother-in-law feed their pup Acana dog food and he loves it too!
His coat is shiny, he is happy and healthy so what more do you want.
You Might Also Like