Dogs, just like humans, need healthy and nutritious foods. Fiber is one of the commonly neglected nutrients in dog's food.

There are different types of fiber for dogs and as a dog parent, you want to make sure that your dog is eating a superior dog food.

What is fiber? It is a subtype of carbohydrate that cannot be digested by the body. It passes through the digestive system intact.
You might be wondering why it is important when it can't be digested in the first place.

Fiber is beneficial in the sense that it can regulate the functions of the intestines. It can significantly slow down the absorption of glucose and promote colon health.

It is highly beneficial to dogs and incorporating it into dog's diet isn't difficult at all.
What's the Best High Fiber Dog Food
Wellness Complete Health Healthy Weight Natural
The Wellness brand has been in the pet food industry for many years now. They have a variety of dog food products.
They have come up with a high-fiber dog food, which is perfect for dog owners who want to increase the fiber intake of their dogs.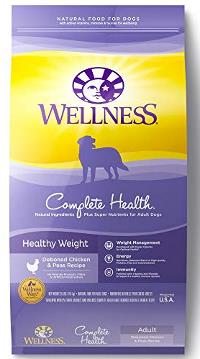 What makes Wellness Complete Health Healthy Weight Natural Dry Dog Food a perfect choice is the following:
Blue Wilderness High Protein Grain Free
Blue Wilderness Healthy Weighthas been in the pet food business for quite some time now.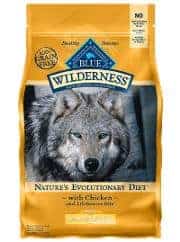 Its selling points include:
Natural Balance Original Ultra Whole Body Health
Natural Balance is one of the prominent names in the pet food business.
Although it only contains 5% fiber, the best thing is that it contains high-quality fiber of different types: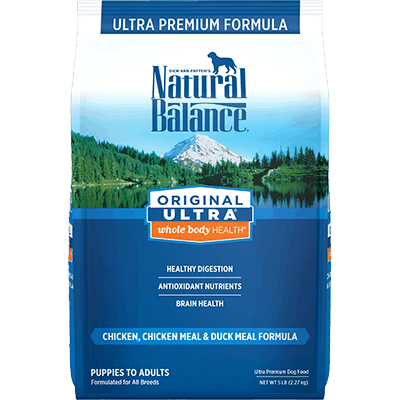 Purina Pro Plan Veterinary Diets EN Gastroenteric Fiber Balance
Formulated to provide optimal nutrition for your dog it has a high-level of fiber and complex carbohydrates, which makes your pup full without compromising the energy requirement.
Contains soluble and insoluble fiber, which is perfect for dogs suffering from digestive problems such as constipation, diarrhea, and colitis.
It contains omega-3 and omega-6 fatty acids, which are beneficial to your dog's skin and coat.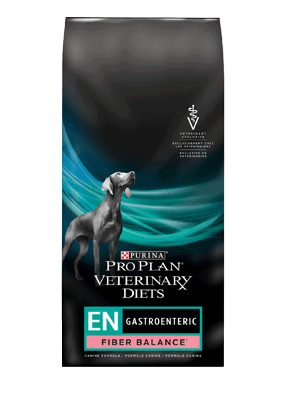 The nutritional components are enough to strengthen their immune system as well.
Royal Canin Gastrointestinal Fiber Response
When it comes to the high fiber content of dog food, Royal Canin is definitely at the top of the list.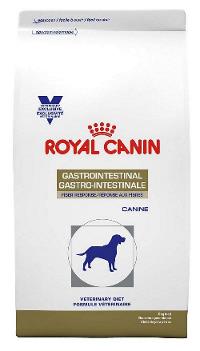 Perfect for dogs suffering from loose watery stool (diarrhea) and colitis.
9 More High Fiber Dog Food Brands
Even though we are confident your dog will love any of the 5 best high fiber dog food brands above, we know you like having options.
So here are 9 more products to choose from…
What are Different Types of Fiber?
Fiber has two types: Soluble and Insoluble…

Soluble fiber: It creates gases by fermenting in the colon.

An excessive soluble fiber could lead to excessive gas and diarrhea, especially if the fiber suddenly introduces to the dog's diet.

Diarrhea episode can be prevented by gradually introducing soluble fiber in the dog's diet.
Insoluble fiber: Unlike the soluble fiber that relies on fermentation, insoluble-type is metabolically inert, which means that it absorbs water as it moves through the gastrointestinal tract.

It does not produce intestinal gas. However, too much intake of the insoluble fiber decreases its nutrient value.
12 Benefits of Fiber for Dogs
How to Tell When Your Pup Could Benefit from a High Fiber Diet
Some Considerations Before Starting Your Dog on a High Fiber Diet
• Fiber that is safe for a human is not always safe for dogs. Grains and corns are okay in humans but are not okay in dogs.

They have a shorter intestinal tract and giving them corn and grains could result in gas and bloating.
• Start your dog in a small amount of dog food with fiber. Some high-fiber dog food brands have a sample pack. Test your dog to see if it likes the taste and how your dog reacts to the food.
• Gradually incorporate fiber for dogs in your dog's regular diet. Be patient as introducing new food to your dog takes time.
• When it comes to choosing a high fiber dog food brands, the expensive is not always the best. Always take a look at the ingredients label and pay particular attention to the nutritional information.

If your dog has been struggling with digestive-tract related problems or is extremely obese and needs to lose weight, then a high fibre dog food is the best remedy.
• Store-bought pet food formulas and supplements are a big help.

However, you have to keep in mind that dietary fiber can not only be found in store-bought pet food formulas.

You can create your very own high fiber dog food using the ingredients readily available in your kitchen.
 • You have to understand how soluble and insoluble fiber works and add fiber to your dog's diet accordingly.Your dog's nutritional fiber requirement depends on the dog's age, activity level, breed, and general health condition.
Should you have any questions or concerns regarding adding fiber in your dog's diet, the best thing to do is to consult a veterinarian.
How to Add Fiber to Your Dog's Diet
Should you wish to start a high fiber dog diet, there are a few important things to keep in mind:
What is a Good Source of Fiber for Dogs?
Creating your own high-fiber dog food is easy as most of the ingredients can be readily found in your kitchen.

Some of them include the following:
Oats: You can feed your dog a porridge as it works well for hungry dogs. It is satisfying minus loads of calories.

Give your dog oats during snack time and it will make the dog full for a long period of time.
Brown rice: It is a perfect alternative to the typical white rice. It is best to give in dogs with a voracious appetite.

Vegetables: When it comes to the best fiber foods, vegetables are on top of the list.

Examples of high fiber vegetables are green beans, carrots, broccoli, cabbage, sweet potatoes, and sprouts.
Steam the vegetables and chopped finely. You can also steam and mash the veggies.

Fruits: Your dog can also benefit from the fiber content of apple, citrus pulp, and tomato pomace.
How to Choose the Right Foods
When it comes to choosing a good fiber for dogs, there are a few important things you should keep in mind…

Age of your dog: To make sure that your dog is getting the right nutrition, you should first take into consideration the age of your dog.
The dog's life stages are categorized into three: puppy, adult, and senior.

The amount of fiber in the dog's diet should be appropriate for the stage the dog is currently living.

Puppies need more fiber, protein, and calorie than adults and seniors.
Dog's lean weight and feeding schedule: There are different breeds of dogs and each breed has a specific diet requirement.

The dog's lean weight and feeding determine how much and what type of fiber is needed in the diet.

Small breeds have less fiber requirement than bigger breeds.
Carefully read the label: It is important to carefully and properly read the label of the dog food.

That way, you will know now just the fiber component of the dog food, but also other essential nutrients.
Check the product name as it plays an important role in determining the quality of the product.

Read the ingredients one by one and make sure you choose a product that contains fewer unwanted fillers including preservatives and artificial coloring.
Look for AAFCO approved label: A dog food with AAFCO approved label means that the dog food contains all the essential nutrients for dog's growth and well-being.
Canned food or dry food: It depends on your dog's preference. Some dogs are fine with dry dog food while others want canned/wet foods.

If your dog is not fond of drinking, then you can give your dog canned high fiber dog food such as canned green peas.
On the other hand, if your dog is a chewer, then try giving him dry high-fiber dog food.

It is perfect for dogs who love to chew as the kibble varies in sizes. It also helps clean the dog's teeth as it chews the kibble.
Check for food allergies: Some dogs are sensitive and so you have to carefully choose the higher fiber food to give your dog.

Itching, lactose intolerance, ear infection, skin infection, and a poor coat are just some of the symptoms of allergy.
You have to be sensible when giving foods to your dogs. If your dog develops an allergy, then it needs a special diet.

Sometimes buying readily available high fibre dog food won't help because most of them contain fillers and preservatives.

As a pet parent, the best thing you can do is to prepare theirhigh food from scratch.
Choose a high fiber food for dogs that is easily digestible: Some dogs have a hard time digesting foods.

A normal dog should defecate every day. If your dog does not defecate every day and having a hard time passing stool, then it is an indicator that there is something wrong in your dog's food.

A high fiber dog diet can help in their digestion but you have to set the right feeding time so as to regulate your pup's pooping habit.
You Might Also Like