No matter the size of your dog, you can bet she wants to spend as much time with you as possible.
Exploring the great outdoors is no different – even if you have a small, disabled or overly anxious dog that might not be able to trek easily or all that long.
So, it's a good thing there are plenty of backpacks specially designed to help you carry your tiny friend with you anywhere you go.
Below we highlight the 5 best dog carrier backpacks for hiking that will take you from a stroll around town to the rugged trails.
These carriers are all comfortable and make sure your dog is safe throughout your journey.
The 5 Best Dog Carrier Backpacks
1. Kurgo G-Train Backpack Carrier
Remember when we asked about using a regular backpack to carry your dog?
This pack is when we can answer – yes!
The high-quality, rugged Kurgo G-Train functions as a comfortable traditional backpack and dog carrier all in one, complete with a separate laptop compartment and additional pockets.
Perfect for hiking, camping and traveling, this pack can hold dogs up to 25 pounds and is made from water-resistant and waterproof fabric.
FEATURES:
Transforms from a backpack into a traditional carrier with padded handle and stow-away shoulder straps
Roll-up mesh window offers your pup the chance to stick his head out or stay inside with good ventilation
Lightweight, rugged and tough, yet has softly padded compartments for your pet and your belongings
Interior swivel tether latches onto harness to keep pet confined in his area
Exterior features breathable mesh side and top, two water bottle sleeves, and water and muck proof bottom
CONS:
Most pricey option on our list but you get what you pay for
Watch the video below to learn about the Kurgo G Train features.
---
2. Petsfit Comfort Dogs
Petsfit is a loved and trusted brand for dog carriers. And this one is no different.
Your pup will love joining you on the journey – whether he wants to stay secure inside, or if you roll the top up to allow him to stick his head out to see the sides.
And the extra padded back, adjustable shoulder straps, and chest strap will keep you comfortable and feeling secure all throughout your trek.
FEATURES:
Mesh window sides and breathable material allow for extra ventilation, safety and visibility
Comfort grip handle allows you an additional way to carry your pup through a crowd or tight space
Handy side pocket provides storage for treats, food or toys
Safety harness attachment and drawstring top offer added security
The extra padded shoulder straps ensure long-term comfort for carrying dogs up to 13 pounds
CONS:
---
3. K9 Sport Sack Air
The K9 Sport Sack is a durable pack great for towing your dog along on your treks.
Designed for safety and comfort, the wide mesh foamtek shoulder straps keep you cool while the thick bottom rest pad keeps your canine comfortable.
The fabric is lightweight and water resistant, and the pack features side pockets for water bottles, leashes, and other things you need to take along.
With 4 sizes, 5 colors and 2 styles, it will be easy to find a K9 Sport Sack to fit your dog and your style perfectly.
FEATURES:
Ventilated cooling side panels
Adjustable dual side pockets to hold keys, phone, water
Moisture wicking, ventilated shoulder strap and sternum strap
Air Plus version includes a detachable storage bag for gear along with thicker shoulder straps for added comfort on those longer treks
Veterinarian approved
CONS:
Ventilation could be improved on the base model
---
4. Pawaboo Pet Carrier Backpack
The Pawaboo Pet Carrier Backpack is a legs-out design for pups up to 15 pounds that comes in a ton of styles and colors.
This high-quality pack features super breathable mesh fabric to keep you and your pet cool, and fabric covered elastic offers gentle support and flexibility.
With an easy in and easy out design, it's very convenient for you and your excited pup.
FEATURES:
Adjustable straps to help you balance weight and be comfortable throughout your journey
Hook and loop, zipper and elastic openings allow you to fit your dog inside comfortably
Quick-release buckles on end of straps ensure quick installation with just one hand
Sturdy fabric with sponge padding ensures durability and provides comfort for you and your dog
Legs-out and tail-out design keeps your pet safe and comfortable, while keeping your hands free for maximum movement
CONS:
The straps could use a little more padding
---
5. PetAmi Deluxe
This top-quality dog carrier backpack for hiking is a go-to product for small dogs.
Designed to offer you and your pup maximum convenience and comfort during travel and hiking.
It's great quality at a reasonable price and even comes with a collapsible water bowl.
FEATURES:
Comfort for your pet with a Sherpa lined bed and multiple mesh windows for airflow and visibility
Thick backstraps for ultimate comfort, along with chest and waist straps for added security and weight distribution
Three exterior storage pockets allow you plenty of room to bring extra gear along on your journey
Two-way entry makes the carrier backpack easy to access and the firm structure prevents any collapsing while your dog moves around
Suitable for small and medium-sized dogs up to 18 pounds
CONS:
It's on the smaller side, especially in height, so you may want to measure your dog carefully before you purchase it.
---
What Exactly Is A Dog Carrier Backpack?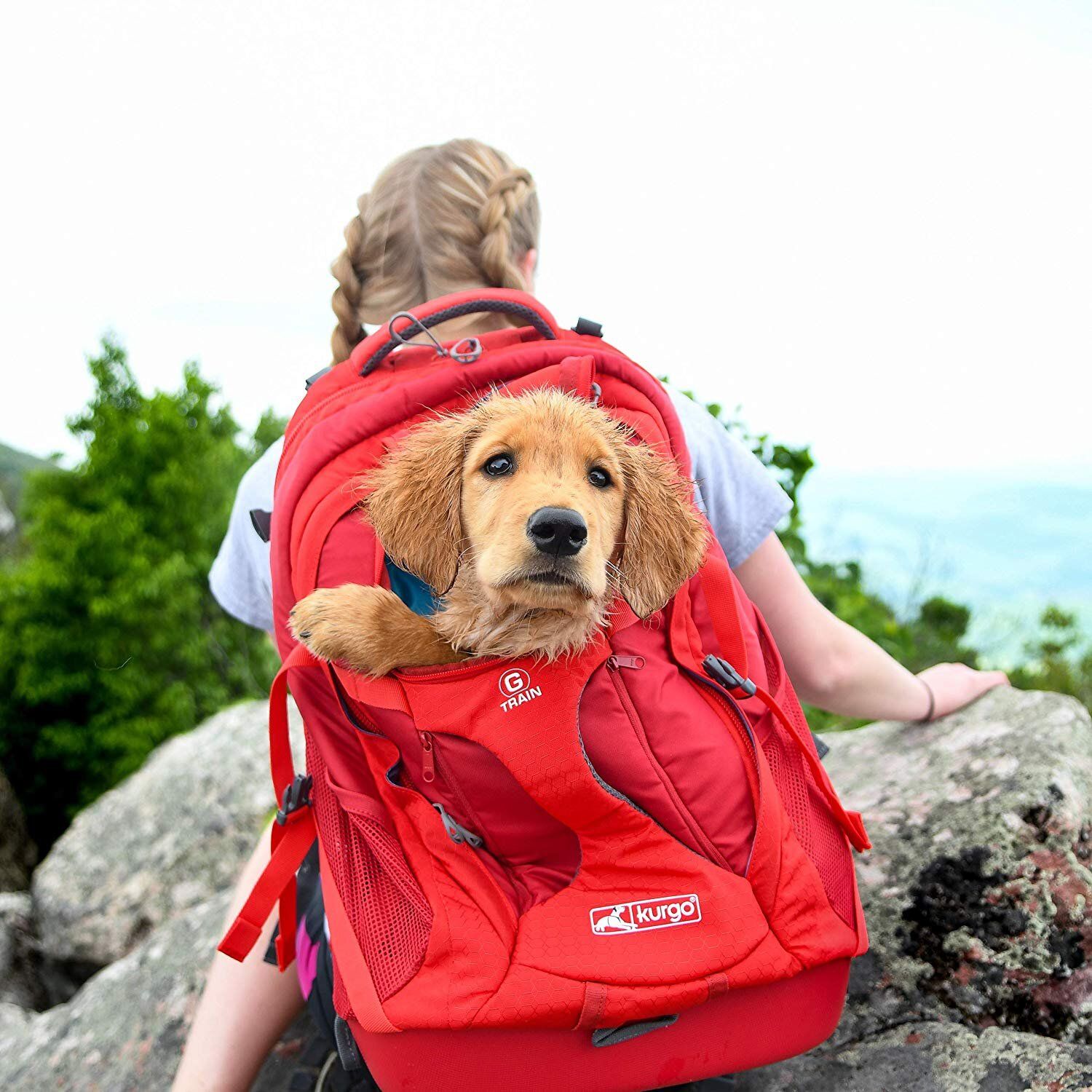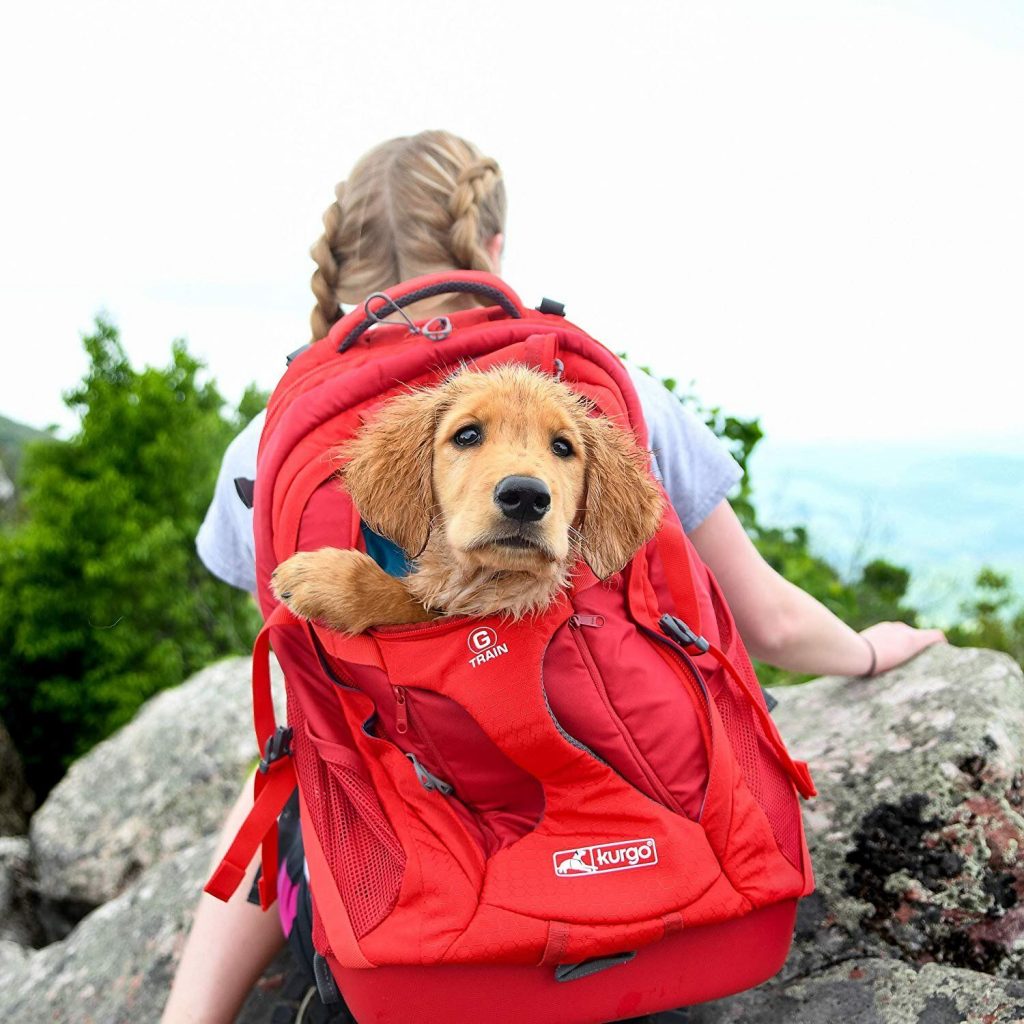 The carriers we've selected here are made for more rugged terrain and activity than your standard carrier made for taking your pup to the vet, on an airplane, or just a standard stroll.
Of course, you can do that with these carriers, but there might be others out there that suit that purpose better.
These carriers affix to your back or the front of your chest, keep your hands free for balance and agility, come with padded straps and safety belts for ease of movement while keeping your dog secure, and feature breathable material and ventilation.
So, these are mainly for those of you who are avid hikers and campers who want to take your pup on your next adventure.

Read more… Is it safe to take your dog hiking?
What Size of Dog Can I Carry In One?
Size and weight limits are determined by each manufacturer. And, it's up to how much you can carry on your body as well!
But generally, these carriers are made for dogs 25 pounds and under, and most are for around 15 pounds and under.
Size does matter to your dog's comfort – and yours, too! If purchasing in store, you can always bring your pup along to try it out before buying.
If you're ordering online, check your dog's weight and measure the chest at the widest point along with the full length and shoulder height to match up with the specific manufacturer's size chart.
It's important not to go by weight alone. Some dogs are tiny on the scale, but still take up a lot of space, so their overall measurements are essential as well.
Watch the video below from K9 Sport Sack to learn more about bag sizing…
What Different Types Are Available?
I mainly decipher types by carrying position. While we call them backpacks, most of these packs can also be worn on the front of your chest – it just depends on your comfort level and security.
There are those that allow your pet to lie down in an enclosed space, which is great for hiking or long journeys.
Others provide your dog the option of sticking his head out of the top.
There are also packs with a "legs out" design, where the dog's legs are put through holes.
These usually work best for shorter hikes and tiny toy breeds.
What Kind of Material Should I Look For?
Invest in a good quality pack that's made from durable, strong material.
The last thing you want is your dog falling through!
That goes for zippers, buckles and attachments as well. They need to be secure enough to withstand rugged terrain, lots of movement, and weather changes as well.
As noted above, padded straps will ensure long-lasting comfort, and breathable material like mesh or cotton is essential if you'll be out in any kind of heat or your dog gets hot easily.
Can't I Just Use a Regular Backpack?
I suppose you could for a quick stroll, but for more adventurous activities such as hiking, it's vital you purchase a carrier backpack specifically designed for dogs.
Regular backpacks and handbags don't have the features required to keep your pup safe and comfortable.
Some dog carrier backpacks are even designed by veterinarians who know the ins and outs of keeping your dog healthy while doing what they love most – spending time with you!
Wrapping It pUp
Travel with your dog anywhere you want, because they love it – and so do you!
These best dog carrier backpacks for hiking, travelling and walking will allow you to easily take your dog along for the adventure in a safe and comfortable way.
You Might Also Like