Dog treats are essential to pet parenting, and it is one of the best motivations you can use when training your pooch.
It also serves as a supplement to a dog's diet, like snacks are to humans.
Given the importance, you can't afford to be carefree about it and end up feeding your pooch the worst dog treats.
Getting the right dog treats can save you from unexpected veterinarian bills.
Experts are getting more skeptical of treats now than they were in the past.
Because these treats are more wants than needs, you take an unnecessary risk when you get a product that could endanger your dog's health. Small dog owners, in particular, should be more careful.
Therefore, here's a list of the 10 worst dog treats brands you should avoid. Most of them look normal, but they contain ingredients that would be either unhealthy or outright harmful to dogs.
Subsequently, we would also recommend the best dog treats that are healthier alternatives.
The Worst Dog Treats You Should Avoide
01. Milk-Bone Original Biscuit Dog Treats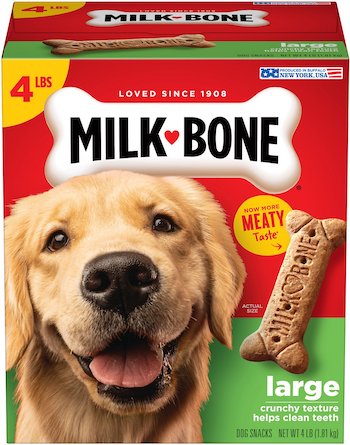 Milk-Bone Original Biscuit is a very popular dog treat, and some of you might be disappointed to find it on this list.
Nonetheless, some ingredients used could be unhealthy for dogs.
Before you grab one off the counter and into your cart, realize that this treat contains wheat which has low nutritional value and can even trigger allergies in some dogs.
Also, the artificial preservatives used have been known to cause cancer and some medical conditions. One such preservative is the BHA, a controversial additive.
Ingredients: Wheat Flour, Wheat Bran, Meat and Bone Meal, Milk, Beef Fat, Salt, Natural flavors, Dicalcium Phosphate, Wheat Germ, Calcium Carbonate, Malted Barley Flour, Choline Chloride, Minerals and Vitamins, Brewer's Dried Yeast, Bah, Sodium Metabisulfite, BHA Preservatives.
02. Canine Carry Outs Beef Flavor Dog Treats
One of the main ingredients used in Canine Carry Outs Beef Flavor treat is chicken, and, what's so wrong with that?
The answer is nothing.
Chicken isn't the problem, and if other ingredients followed the path of chicken, this product wouldn't be listed here. Unfortunately, such is not the case.
Canine Carry Outs contain corn syrup as its second ingredient. Corn syrup has a high amount of sugar which is bad for dogs.
Similar to humans, high sugar can cause obesity, diabetes, and even tooth decay.
Then there's the controversial BHA and other artificial preservatives.
Ingredients: Chicken, Corn Syrup, Soy Flour, Wheat Flour, Corn Starch, Water, Propylene Glycol, Animal Fat, Animal Digest, Calcium Sulfate, Soy Protein, Concentrate, Sugar, Beef, Potassium Chloride, Salt, Phosphoric Acid, Titanium, Dioxide, Sorbic Acid, Red 40 Lake, Garlic Powder, Natural Smoke Flavor, Iron Oxide, BHA, Citric Acid.
03. Pup-Peroni® Dog Treats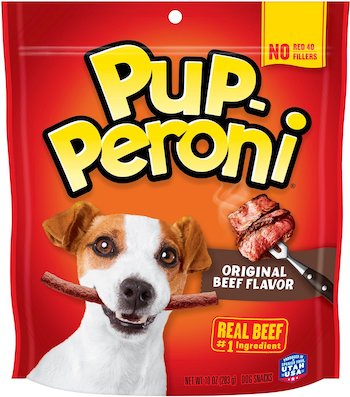 Pup-Peroni Original treats have a good side to them, similar to the Canine Carry Outs. It contains beef, an excellent and recommended source of protein for dogs.
However, as you might have already guessed, it doesn't stop there. We also love the creative brand name, but we have our concerns.
Pup-Peroni contains sugar, salt, meat by-products, and the notorious BHA.
The meat by-products used are not specified to the consumer, making it a shady business.
As for sugar and salt, they are both unhealthy and harmful to dogs.
Ingredients: Beef, Meat By-Products, Soy Grits, Sugar, Salt, Liver, Propylene Glycol, Caramel Color, Natural Smoke Flavor, Potassium Sorbate, Sodium Nitrite, BHA (Used as a Preservative), Onion Extract.
04. Pedigree® Marrobone Dog Treats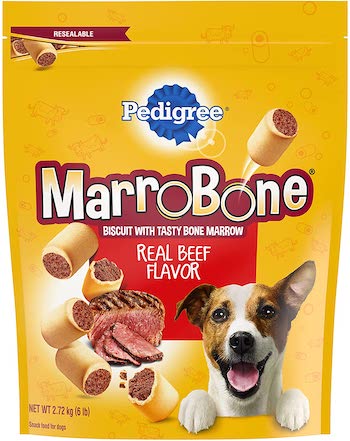 Marrow has its advantages and is generally recommended for dogs. To this brand's credit, there is cooked bone marrow in the treats.
However, there is less of it compared to other unneeded ingredients that are in this treat.
Bone marrow is at the 6th spot on the ingredients, showing just how small the quantity is.
The main ingredients in Pedigree® Marrowbone Dog Treats are sugar, wheat flour, poultry flavors, meat and bone meal, animal fat, and the BHA preservatives.
Some of these are okay, others are unhealthy and offer no strong nutritional value.
Ingredients: Wheat Flour, Meat and Bone Meal, Sugar, Natural Poultry Flavor, Animal Fat (preserved with BHA/BHT), Cooked Bone Marrow, Calcium Carbonate, Salt, Malted Barley, Sodium Metabisulfite, Vitamin A Supplement, Vitamin B12, Supplement, Vitamin D3 Supplement, Vitamin E Supplement, D-Calcium, Pantothenate, Niacin, Riboflavin (Vitamin B2), Pyridoxine Hydrochloride (Vitamin B6), Thiamine Mononitrate (Vitamin B1), Folic Acid.
05. PupCorn® Dog Treats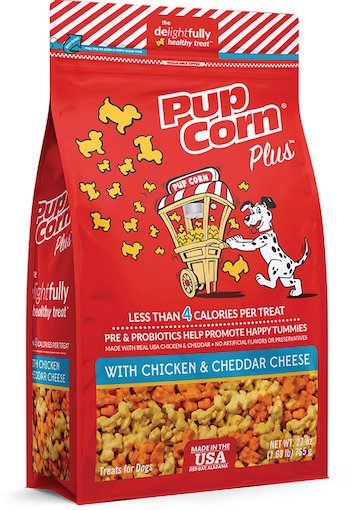 Impressive wordplay on the name, but that's not enough to ease our concern on the health aspect.
PupCorn Dog Treats' main ingredient is corn (obviously) and while corn is considered safe for dogs and even nutritional, it has its downsides.
Serving this treat to a dog that's sensitive to allergies is akin to torture.
It can cause uncomfortable itching, vomiting, stomach cramp, skin irritation, and even hives. If you're not sure of your dog's allergies, avoid this treat.
Ingredients: Corn Flour, Natural Chicken Flavor, Powdered Cellulose, Water, Canola Oil, Dried Cheese Product, Mono and Di-Glycerides, Yellow #6.
06. Gravy Train Beef Sticks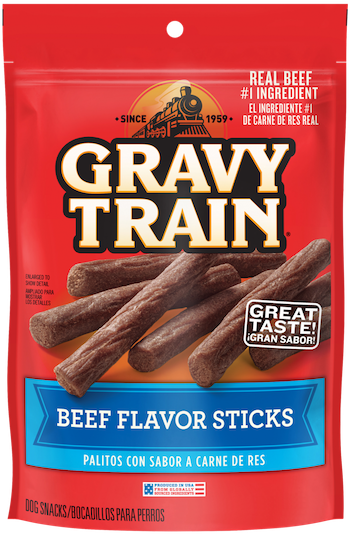 At first glance, Gravy Train looks like a pack of delicious steaks, and you might already imagine the fun your dog would have with this.
Don't judge the treat by its cover, though, or maybe you should, once you look at the ingredients listing.
Gravy Train is piled up with wheat flour and soy flour which are essentially fillers.
The animal fat and By-Products are unnamed—another red flag. Let's not start with the corn syrup. You already know how high the sugar content is.
Added to the unholy mixture are salt, propylene glycol, and artificial colors.
Ingredients: Beef, Wheat Flour, Soy Flour, Water, Ground Corn, Corn Syrup, Chicken By-Product Meal, Propylene Glycol, Animal Fat (with BHA as preservative), Dried Cheese Product, Calcium Sulfate, Phosphoric Acid, Salt, Potassium Chloride, Natural Flavor, Bone Phosphate, Titanium Dioxide, Potassium Sorbate, Garlic Powder, Caramel Color, Red 40, Onion Extract.
07. Purina® Beneful Baked Delights Dog Treats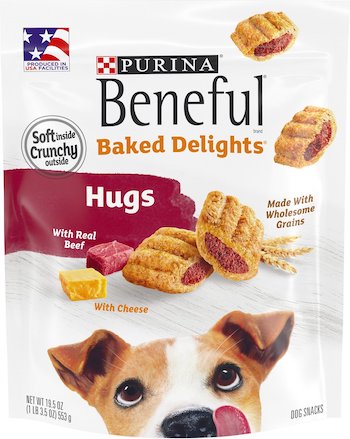 Purina Beneful Baked Delights may not be as beneficial and delightful as the name implies.
Similar to Gravy Train, you'd find no meat content in the first five ingredients of Purina. That only is enough reason to avoid, but we have more.
Purina Beneful contains Brewer's rice as the first ingredient. Brewer's rice is processed in such a way that it loses nutrients.
The final product is less nutritious than normal white and brown rice.
Ground yellow corn, another ingredient in this treat, has the same issue as wheat. It offers low nutritional value.
Altogether, these ingredients can cause digestive issues in dogs.
Ingredients: Brewer's Rice, Ground Wheat, Glycerin, Ground Yellow Corn, Wheat Flour, Chicken By-Product Meal, Natural Flavors, Corn Gluten Meal, Dried Whey, Wheat Starch, Beef, Egg and Chicken Flavor, Dried Cheese Powder, Oat Fiber, Sugar, Salt, Phosphoric Acid, Animal Fat preserved with Mixed- Tocopherols, Sorbic Acid, Calcium Propionate, Red 40, Yellow 5, Blue 1. F-4050, Yellow 6, Citric Acid, Rosemary Extract.
08. Ol' Roy® Basted Biscuits Dog Treats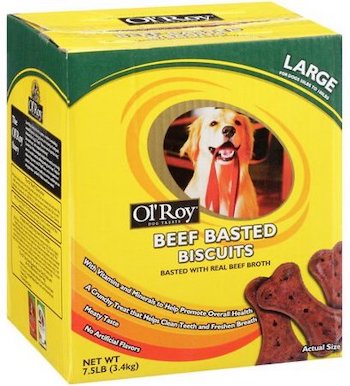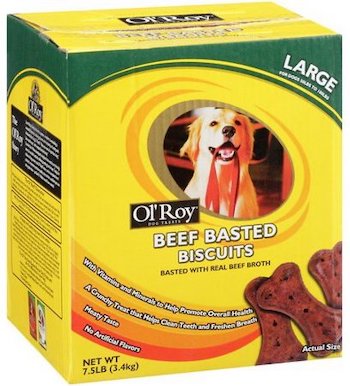 Ol' Roy has its advantages, and we're not talking about the wheat flour that's the 1st ingredient on the list. Ol' Roy has meat and bone meal in the top 5 ingredients.
This is a plus for them as the meat content is a good source of protein.
There's a catch, though. Quality brands always specify what animal is used in their meat and bone meal.
These lower ones keep it hidden, leaving us in doubt as to which animal was used. It is the same shady business we held Pup-Peroni accountable for.
Ingredients: Wheat Flour, Wheat Bran, Meat and Bone Meal, Animal Fat (preserved with Mixed- Tocopherols), Calcium Carbonate, Rice Starch, Corn Starch, Maltodextrin, Beef Broth, Animal Plasma, Carboxymethylcellulose, Dried Chicken Liver Powder, Potassium Sorbate, Salt, Natural Flavors, Brewers Yeast, Zinc Sulfate, Copper Sulfate, Manganese Sulfate, Cobalt Carbonate, Calcium Iodate, Sodium Selenite, Vitamin A Supplement, Vitamin D3 Supplement, Vitamin E Supplement, Niacin, Calcium Pantothenate, Thiamine Mononitrate, Pyridoxine Hydrochloride, Riboflavin Supplement, Folic Acid, Biotin, Vitamin B12 Supplement, Red 40, Caramel Color, Iron Oxide.
09. Purina® Beggin' Strips Dog Treat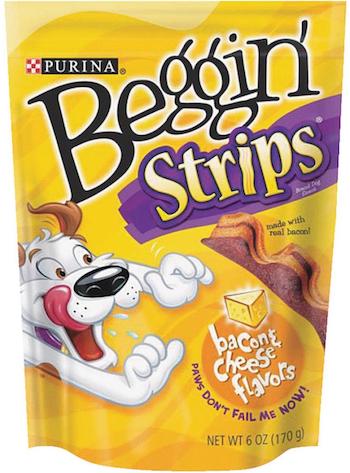 The marketing team for Beggin'Strips did a good job at making this product appealing.
From the cover design of an overexcited dog to the encouraging caption ("so good they will be beggin' for more"), it does seem like a good reward for your pooch.
However, you might want to think twice.
Beggin' Strips has ground wheat as the first ingredient on this list. Bacon—which should be the main selling point of this treat—is in the ninth place, placed after sugar.
This entails that there is more sugar content than bacon.
Ingredients: Ground Wheat, Corn Gluten Meal, Wheat Flour, Water, Glycerin, Ground Yellow Corn, Sugar, Soybean Meal, Bacon Fat, Phosphoric Acid, Sorbic Acid, Calcium Propionate, Natural and Artificial Flavors, Red 40, Yellow 5, Blue 1, Yellow 6, T-4005 (added color).
10. Purina® Alpo Variety Snaps Dog Treats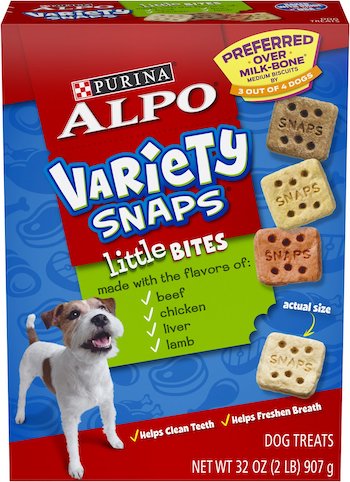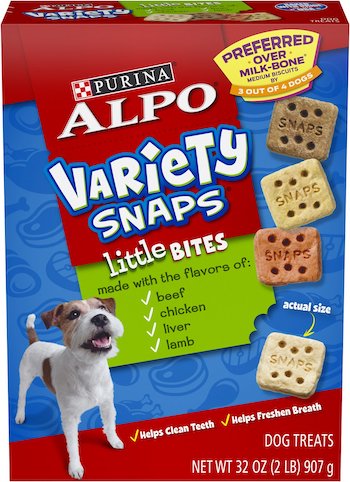 Purina Alpo Variety Snaps also has Wheat Flour as its number 1 ingredient, just like Ol'Roy.
As you might have noticed, wheat is present in all these treats, despite not being so nutritious.
Too much wheat can even lead to digestive problems and diabetes when taken in excess.
Ingredients: Wheat Flour, Beef Tallow (preserved with Mixed-Tocopherols), Wheat Gluten, Lecithin, Chicken By-Product Meal, Animal Digest, Lamb Meal, Oat Fiber, Mono and Dicalcium Phosphate, Calcium Carbonate, Garlic Powder, Red 40, Yellow 5, Blue 1, Yellow 6.
Recommended:
16 Worst Dog Food Brands To Avoid (+16 Top Choices)
The Best Dog Treats We Recommend
This article won't be complete if we only consider the worst dog treats without recommending some good alternatives.
Based on research, reviews, and rankings, here are the 10 best dog treats that are good for your pooch. Only the real deal—no artificial flavors, fillers, and toxic ingredients.
01. Rocco and Roxie's Jerky Dog Treats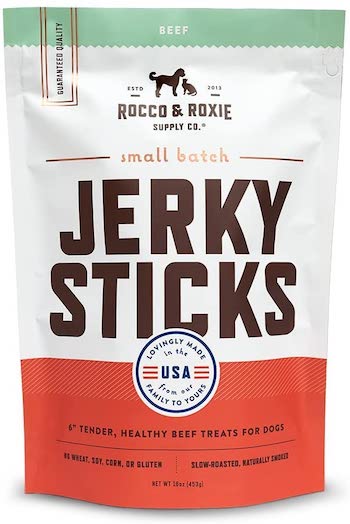 Despite the unfavorable image jerky treats have gotten after some 'Made in China' treats got recalled, Rocco and Roxie distinguish themselves.
It being an American product is a win for it. Rocco and Roxie take the first spot in many lists of good dog treats, and it isn't hard to see why.
This treat is a doggy favorite because of its scent, texture, and even taste. It is so similar to real meat that your pooch would want more.
Rocco and Roxie have the scent of real beef, so much that you might even get tempted to have one.
As they put it, "even we humans, with our seriously limited noses, can smell that these Jerky Sticks are the REAL THING from the moment the bag is opened."
Rocco and Roxie also come without wheat, soy, corn, and even gluten fillers.
02. Buddy Biscuits Oven Baked Healthy Whole Grain Dog Treats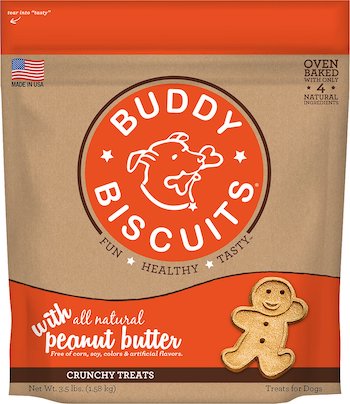 The only possible downside of Buddy Biscuits is its high cost. But if you can afford it, you will get your money's worth.
Buddy Biscuits is a healthy, well-balanced treat that you might even find in vets' offices.
It is available in many pet stores too, making it easy to find.
Buddy Biscuits has different sizes that you can choose depending on your dog's size, along with a grain-free variety.
You also get the chance to choose from chicken, peanut butter, or bacon and cheese.
Dogs of all ages will be comfortable with this treat, and it has a low level of fat.
03. Wellness Wellbites Natural Grain Free Soft Dog Treats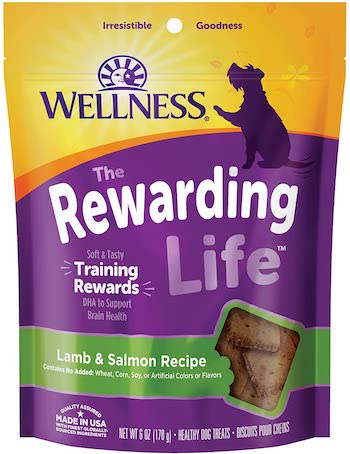 The edge Wellness Wellbites has over many other products is its use of only natural ingredients.
It stays away from artificial additives, making it a healthy option for pets. Rather than artificial flavors, the brand used fruits and vegetables as flavor.
Wellness Wellbites is also easy to chew, good news for senior dogs and dogs with dental issues.
Furthermore, it doesn't contain soy, wheat, and other fillers.
There are no meat by-products too, and it was made in the United States of America. As a bonus, it is tasty!
04. Natural Balance L.I.T. Limited Ingredient Original Biscuits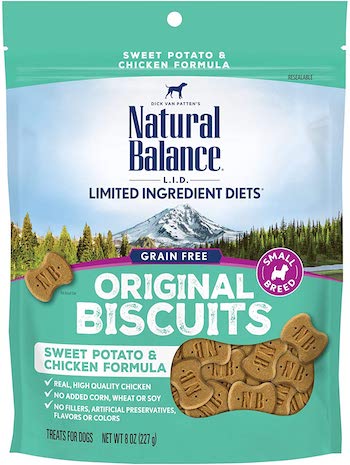 Natural Balance dog treats were made with your dog's health in mind, and each ingredient reflects that.
The product contains duck, potato protein, canola oil, natural flavor, citric acid, and even natural preservatives. The name reflects the product.
Natural Balance is good for all ages as puppies, adults and seniors can benefit from it.
It is also good for dogs with allergies and those with sensitive stomachs because it is grain-free.
The best part? You get a satisfaction guarantee from the company.
05. Zuke's Puppy Naturals Puppy Treats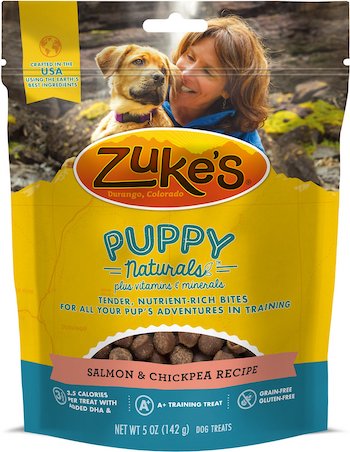 Zuke treats are one of the most popular in the United States, and it is a common feature in training.
Compared to others, it is smaller and has low calories. Dog owners can give it multiple times as a reward without worrying about weight gain.
Zuke is also an American product, and it doesn't contain wheat, corn, or soy. It comes in different flavors, including chicken, duck, pork, rabbit, and salmon.
Even better, Zuke contains unprocessed food like fruits and vegetables.
06. Blue Buffalo Wilderness Trail Treats High Protein Dog Treats Biscuits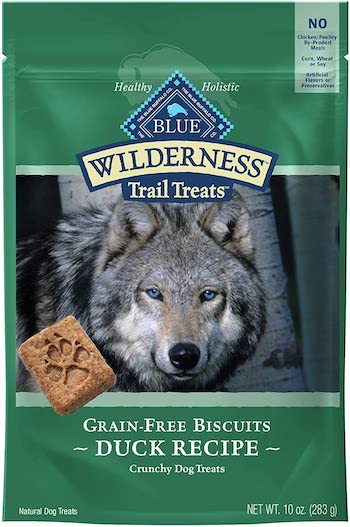 Blue Buffalo offers a good, high-quality alternative for your dog's enjoyment and good health.
Blue Buffalo is crunchy, grain-free, and made in the United States with natural ingredients.
These include duck, chicken wings, chicken fat, potato, chicken meal, and natural preservatives.
Dogs that don't fancy soft treats may prefer this crunchier alternative. The absence of grain makes this treat highly suitable for dogs with allergies and sensitive stomachs.
07. Fruitables Baked Crunchy Treats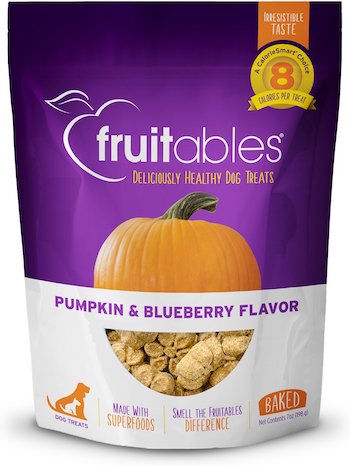 Fruitables Crunchy is natural and has an appealing aroma that would wake your dog from a deep nap.
It is made in the United States and comes in different flavors. It is also perfect for different dog sizes and even has resealable pouches to conserve freshness.
A downside to Fruitables Crunchy is that it is, well, crunchy. While that is good for some dogs, those with teeth issues may find it difficult to eat it.
That said, they can be used for training because of their low level of calories.
08. Zuke's Jerky Natural Bites Beef Recipe Treats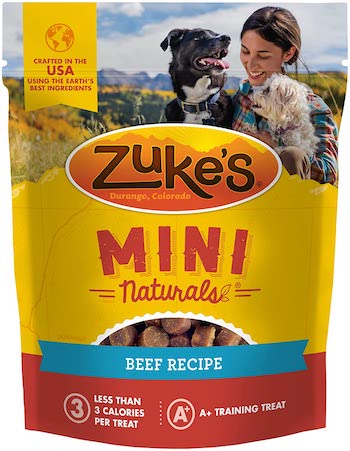 Zuke Jerky is just as safe and recommended as the Rocco and Roxie Jerky, so your dog would be treated right (pun intended).
Zuke comes in small sizes, making it perfect for both big and small dogs.
The "naturals" in the name isn't for fancy. Zuke contains natural ingredients like real meat, carrots, apple, herbs, and blueberries.
The herbs are good antioxidants, which help with your dog's overall health. Zuke uses no artificial flavors, fat, or fillers. The packaging and aroma deserve credit as well.
09. Old Mother Hubbard Classic Crunchy Natural Treats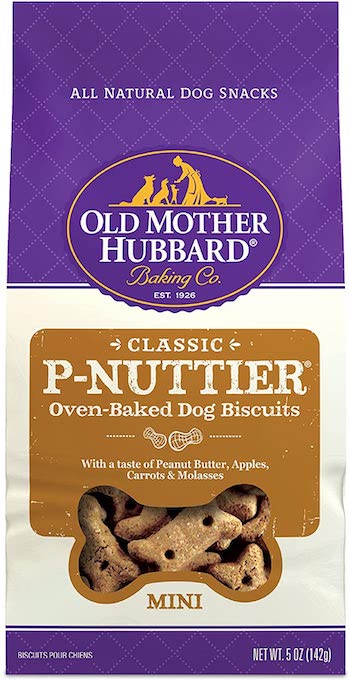 Our last recommended good dog treat is another crunchy biscuit with a name that oozes warmth. These treats have no additives, fillers, or artificial flavors.
There's a variety of tastes to pick from, one of which even a picky dog would love.
The biscuits are also baked in ovens, keeping that natural flavor intact.
Recommended:
Best Bone Broth For Dogs (Top 10 & Why They're Good)
FAQs
What are the most unhealthy dog treats?
Treats are good for dogs in many ways, but not all treats are healthy for them.
Low-end products often have ingredients that don't benefit dogs in many ways. Some examples are Beggin'Strips, Ol'Roy, Gravy Train, and Pup-Peroni.
What brand of dog treats is killing dogs?
Some dog treats are unhealthy and problematic, others have been blamed for causing illnesses and even death in dogs. Golden Rewards, a private Walmart label, is one such brand.
What dog treats do vets recommend?
Vets often recommend dog treats that contain some nutritious and natural ingredients.
These include bananas, carrots, apples, pears, peanut butter, and even green beans. Ensure that the peanut butter contains no xylitol.
Recommended:
Can Dogs Eat Roast Beef? What Experts Say
Bottom Line
The major difference between bad dog treats and high-quality ones is the set of ingredients used.
Lower brands tend to try cutting corners by using fillers, artificial colors, and a high amount to entice the dog.
While your pooch might love the taste, it won't stay healthy for long if you keep giving it these low-quality dog treats.
Even with the good ones, caution must be taken. Treats are meant to be for special occasions, not an integral part of the dog's diet.
Ensure you get high-quality, protein-filled food for your pooch.
You May Also Like:
Complete Guide To Nutrition For Your Dog
Reference & Notes