Bone broth is considered good for humans because of its many nutritional benefits, not limited to boosting the immune system, improving digestion, and facilitating weight loss.
What some may not know is that bone broth is good for dogs and will improve them in many ways.
This is what it means to be a pet parent, looking out for your pet without reserve. Your dog deserves the best meal and should be given that.
Their diet has to go beyond good taste and be nutrient-rich. Feeding your dog bone broth is a good way to contribute to the growth of a dog.
The treasured nutrients in bone broths are valuable to a dog's immune system and other parts, like the joints and skin.
What is a bone broth, anyway?
it is the liquid you get as a result of boiling bones and joints in water. It is similar to stock but takes longer to cook.
In this article, you'll discover the benefits of feeding bone broth to canines and 10 of the best bone broth for dogs you'll get in the market.
Is Bone Broth Good for Dogs?
Bone Broth has many advantages to a dog. Besides being tasty and drawing interest, bone broth keeps a dog healthy in different ways.
A meal that has been around for centuries, bone broths are enjoyed by humans, dogs, and even cats.
Bone broth gives glucosamine and chondroitin sulfate to the dog that takes it. These nutrients come about during the simmering stage when the cartilage and collagen are boiled.
Glucosamine and collagen help in strengthening the joints. Collagen also makes the bones stronger.
Bone broth improves gut health through gelatin, produced by collagens.
A study was done on mice using gelatin tannate, and the results drawn from that study showed that gelatin "reduced diseased activity, bodyweight loss, and preserved colonic length."
Dogs with kidney complications or a sensitive stomach will benefit from bone broth. Ditto for ill dogs suffering from a lack of appetite.
Another category of dogs that would benefit from bone broth is those prone to allergic reactions. Bone broth has no grains or gluten that can trigger allergies.
Having said that, bone broth should not be the main diet of any dog as that would be against the regulations of the AAFCO. Bone broth can be either a treat or a supplement.
Top 10 Best Bone Broth for Dogs
Now that we know how good bone broth is, you may be itching to try feeding some to your dog.
Here are the 10 best bone broth for dogs, in no particular order. Underneath each one, you'll get an overview, as well as the pros and cons.
1. Solid Gold Beef Bone Broth with Turmeric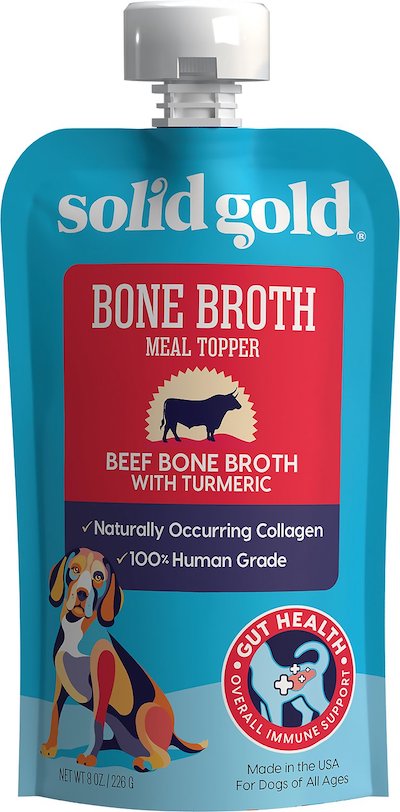 The Solid Gold Human-Grade Bone Broth is a gem for canines, as it is free from any artificial substance, as well as grain and gluten.
It contains natural ingredients like carrot, apple, sesame seed oil, and beef bone broth.
These ingredients have their nutritional values which are bonuses to a dog. There are no ingredients of toxic nature in it.
The Solid Gold Human-Grade Bone Broth uses turmeric as flavor. The latter gives this bone broth an appealing taste and has some beneficial attributes.
To senior dogs, this bone broth acts like an elixir as it reduces joint complications these dogs are prone to.
This is courtesy of the glucosamine and chondroitin within. For dogs of all ages, the bone broth works on their skins too.
Pros
It is long-lasting when preserved in frozen form.
Bone broth contains a good amount of minerals and vitamins.
It targets the needs of puppies, adults, and senior dogs.
Ingredients are natural and human-grade
Cons
The smell is a turn-off for some dogs.
2. Nature's Diet Pet Bone Broth Protein Powder with Pumpkin Fish Oil and Turmeric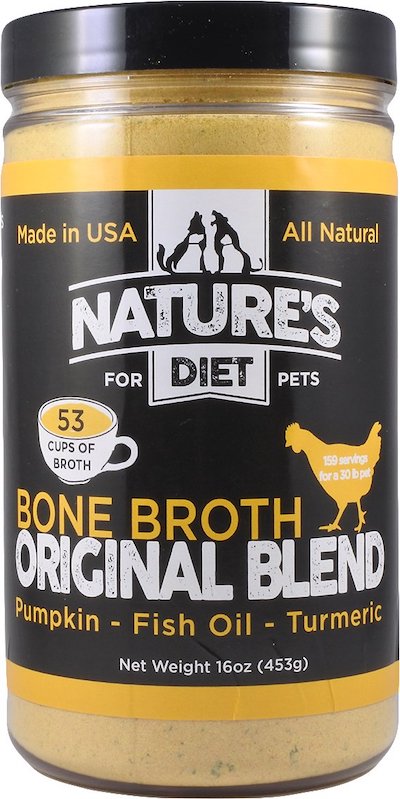 The first trump card of this bone broth is the set of important ingredients within. Prebiotics, probiotics, fish oil, and shea seeds.
Prebiotics and probiotics help a dog's gut and prevent stomach complications, including the fatal bloat. 
The Shea seeds add oil to a dog's skin to give it an extra shine. Oil on a dog's skin also helps avoid irritation caused by dry and flaky skin. Dogs with such skin will benefit a lot from this bone broth.
Senior dogs will also reap good fruits. As a dog grows older, its joints and muscles weaken. The collagen in the bone broth is good for senior dogs.
Unlike some other brands with cheap ingredients used to save costs, the Nature Diet Pet Bone Broth has quality, human-grade ingredients.
Pros
It is fit for all dog ages.
The ingredients are human-grade.
It has a high quantity of protein.
3. Brutus Beef Bone Broth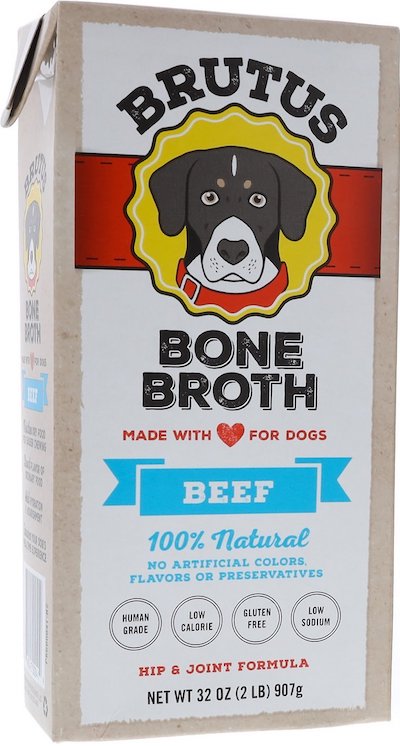 The Brutus 100% Natural Beef Bone Broth is a suitable choice for adult dogs because of its high rate of glucosamine and collagen.
This human-grade bone broth is safe for many reasons—It doesn't contain any artificial preservatives, colors, or harmful ingredients like high sodium.
Pros
Hydrating dog food topper
Contains Low calorie and sodium
It is organic, gluten-free and of human-grade
Convenient packaging
Cons
Contains sweet potatoes, which may not be suitable for some dogs
A little expensive
4. The Honest Kitchen Bone Broth – Chicken Flavor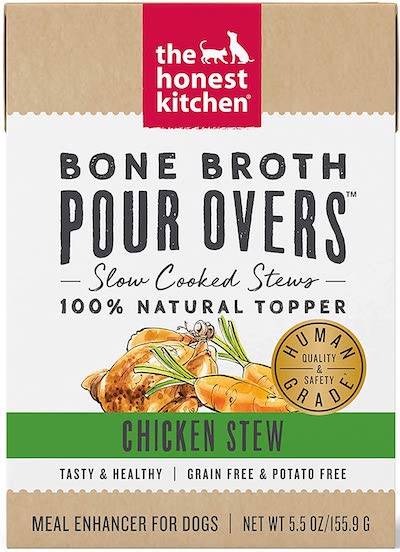 The Honest Kitchen Bone Broth is another bone broth with human-grade ingredients. It is more suited for grown dogs.
One quality that makes the Honest Kitchen Bone Broth appealing to dogs is its deliciousness.
The Honest Kitchen Bone Broth uses chicken and chicken broth as ingredients. Both of these account for its irresistible taste. 
Furthermore, the Honest Kitchen Bone Broth uses ingredients that are of good quality and do not contain carrageenan, a food additive placed in other meals.
With a good amount of glucosamine and chondroitin, this bone broth recipe keeps a dog's joints strong.
Pros
It is easy to make and less time-consuming.
All ingredients used are natural and healthy. No artificial flavors are added.
Ingredients are also human grade and rich.
Cons
It is expensive
No proper packaging
5. The Honest Kitchen Daily Boosters Beef Bone Broth with Turmeric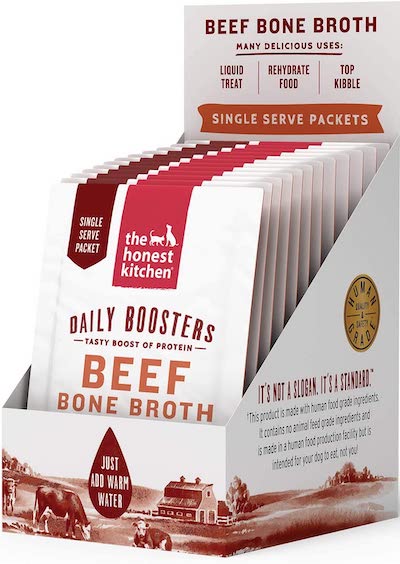 A bone broth with self-imposed high standards, the Honest Kitchen Daily Boosters uses human-grade ingredients to maintain excellent quality and customer satisfaction.
To avoid mistakes, the ingredients are gotten from American farms. 
A weak jointed or injured dog would need this bone broth. Dogs who survived an accident should also be fed with this for proper restoration of joints, thanks to glucosamine and chondroitin.
The flavor used in this recipe is turmeric. The pleasantness of this flavor makes a dog eager to get down to business. This helps when the dog is selective or lacks an appetite.
Another ingredient added to The Honest Kitchen Daily Booster is pumpkin.
This is beneficial to dogs with a sensitive stomach as pumpkins help develop the stomach. There is also glycine that stops the stomach from swelling. 
Pros
It is easy to prepare
The salt content is low
No corn or wheat which can disturb a dog's stomach
Made in the United States of America
6. Pet MD Bone Broth Powder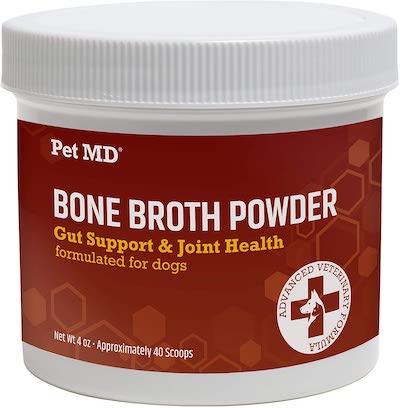 Pet MD is the bone broth's example of 'beauty and brains'. The wonderful packaging attracts pet owners, and the taste makes canines want more.
Like others, Pet MD Bone Broth is beneficial to a dog's joint thanks to glucosamine and chondroitin.
It is also grain-free and rid of gluten, which makes it suitable for dogs with allergies. 
Pet MD can be eaten alongside dry food or mixed with water and drank.
Pros
Rich with nutrients
Good for dogs prone to allergic reactions
Ingredients are safe
7. Castor & Pollux Pristine Grain-Free Bone Broth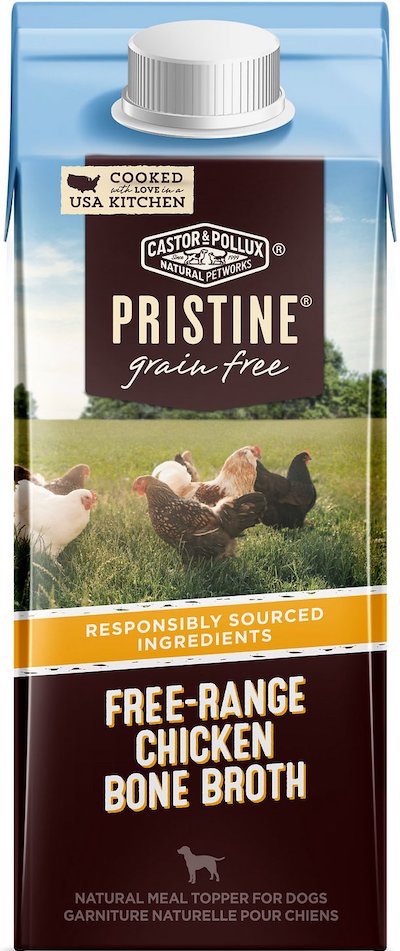 A brand with a stellar reputation, Castor & Pollux's Bone Broth follows the footsteps of their other products by being 100% natural.
No artificial ingredients were used. The bone broth is also of high quality.
Castor & Pollux's Bone Broth is chicken-based, delicious, and doesn't lack nutrients.
You would equally find the glucosamine, chondroitin, and glycine contained in other bone broths. 
Turmeric was added to this bone broth as well. It contributes to good joint and cardiac health. It is good for dogs who have sensitive stomachs.
Pros
Homemade ingredients
The chickens used are free-range
It is easy to use
8. Only Natural Pet Bone Broth Nutritional Boost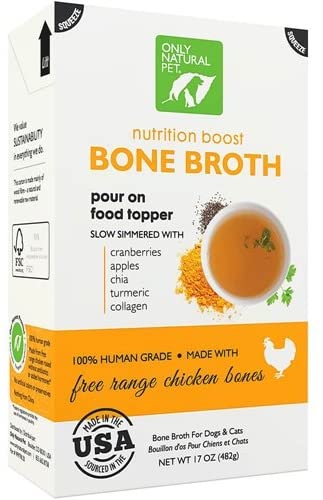 The Only Natural Pet Bone Broth comes with a lot of amazing traits, good for your dog.
It can be taken by dogs of all ages, it was gotten from free-range chicken bones and it contains turmeric, healthy fruits, chia seeds, and Collagen.
For the dog suffering from joint pain or arthritis, chondroitin and glucosamine come into play to help strengthen the affected joints.
Similar to other bone broths on this list, Only Natural is stomach-friendly and guards against diarrhea and bloating. It is also good for dogs with allergies.
Pros
Good for a dog with sensitive stomachs and allergies
Homemade and natural ingredients
It is easy to use
Cons
Packaging is poor
It is expensive
9. Nature's Logic Dehydrated Beef Bone Broth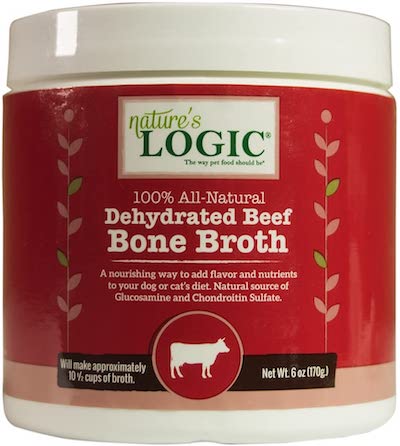 The Nature's Logic Dehydrated Beef Bone Broth is good for dogs' digestive systems and is of high quality with a splash of savory flavor.
It helps to support your pet's overall immunity, nutrient absorption, and joint health through the natural source of trace minerals, glucosamine, amino acids, and chondroitin sulfate.
Nature's Logic Bone Broth is good for dogs of all ages and caters to their different needs. It is also free of grain, gluten, potatoes, and dairy product.
Pros
Supports overall immunity
Improves digestion and nutrients absorption
Contains no grain and gluten
Cons
Some dogs may not like it
10. Native Pet Organic Bone Broth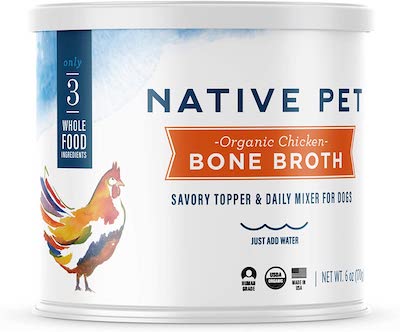 This bone broth differs from the two first ones by the number of ingredients used.
The Native Pet Organic Bone Broth uses only three ingredients: chicken broth, chicken protein, and sweet potatoes. 
Their limited ingredients make them stick to what matters. This bone broth doesn't rely on artificial flavors and poor ingredients used as fillers.
A high level of collagen helps with a dog's joints. The bone broth also has a protein flavor that appeals to dogs, and almost 70% of the protein is in its content.
Even dogs who are picky and vulnerable to allergies can eat this bone broth as it is grain-free and dairy-free.
Pros
Ingredients are limited and focused.
It is made in the United States.
It is natural and organic.
It is grain-free and dairy-free.
Cons
It can be difficult to mix the powder.
What to Look Out For in a Bone Broth for Dogs
There are many bone broth products you'd find in the market, and you need to consider some factors before buying any.
While the list is exhaustive, here are a few important requirements:
Avoid bone broths with artificial ingredients.
Human-grade products are better than free-grade products.
Ensure the bone broth product fits the size and age of your dog.
Get a product with good packaging.
Consider your budget.
Related: Bone Broth Recipe For Dogs, Serving & Benefits
What Experts Say
Experts in the field of animal nutrition and veterinary have given a collective thumbs up to the bone broth.
It is safe to say that adding bone broth as a supplementary diet is one of the best decisions you can take.
Dr. Karen Becker, a veterinary nutritionist, highlighted the many roles played by the bone broth to dogs. According to her, the bone broth helps with:
Liver detox
GI upset
Picky eating
Joint, skin, and coat health
You do have reasons to be careful, though — bone broth can be toxic both to dogs and humans.
The high level of glutamic acid and lead toxicity level can become problems.
Having said that, experts agree that bone broth is beneficial to dogs, but shouldn't be the main diet.
FAQs
How much bone broth can I give my dog?
Bone broth should be supplementary, not a dog's main diet. The amount of bone broth to give a dog depends on the size. A dog under 20 pounds should not be fed as much as one of 80 pounds. Consult a vet or nutritionist for better instructions
Can I give my dog bone broth from the grocery store?
Bone broth bought from grocery stores are generally safe for dogs. However, take some necessary precautions by looking at the label to know what ingredients were used.
Is beef broth the same as bone broth?
Beef broth and bone broth play the same role as dogs and humans. They are sometimes substituted. However, beef broth and bone broth are not the same.
Is bone broth good for senior dogs?
Bone broths should be fed regularly to senior dogs, especially those suffering from arthritis. The chondroitin and glucosamine in bone broths help develop the joint muscle.
Wrap Up
Hopefully, you found our review of the best bone broth for dogs helpful.
As an additional diet, bone broths should be implemented by every pet parent who's concerned for the welfare of their dog.
Bone broths are especially good for dogs with sensitive stomachs, injuries, or joint problems.
They also help dogs with allergies. In general, bone broths are nutritious and healthy.
However, not all bone broth products should be bought. Do your homework well before getting a particular product, and never make bone broth a main meal for your dog.
You May Also Like: