If you are planning to bring a puppy in your home and life, or if you already have one, search for the best collar size for your labrador puppy. A puppy's neck size changes as it grows. You'll need to know the pup's neck circumference, not just the length of its neck, to find the correct collar size. This guide covers everything you need to know.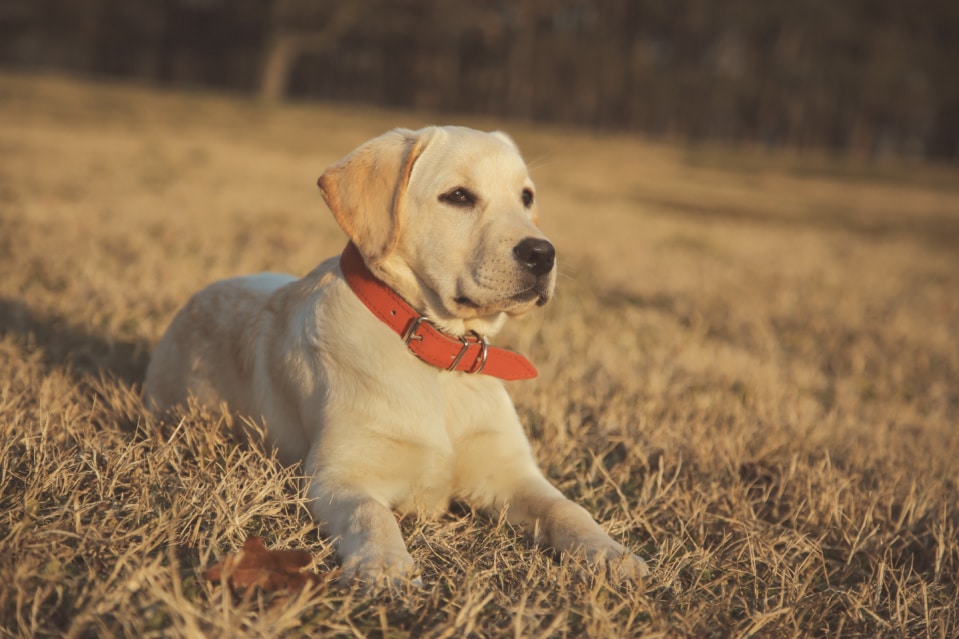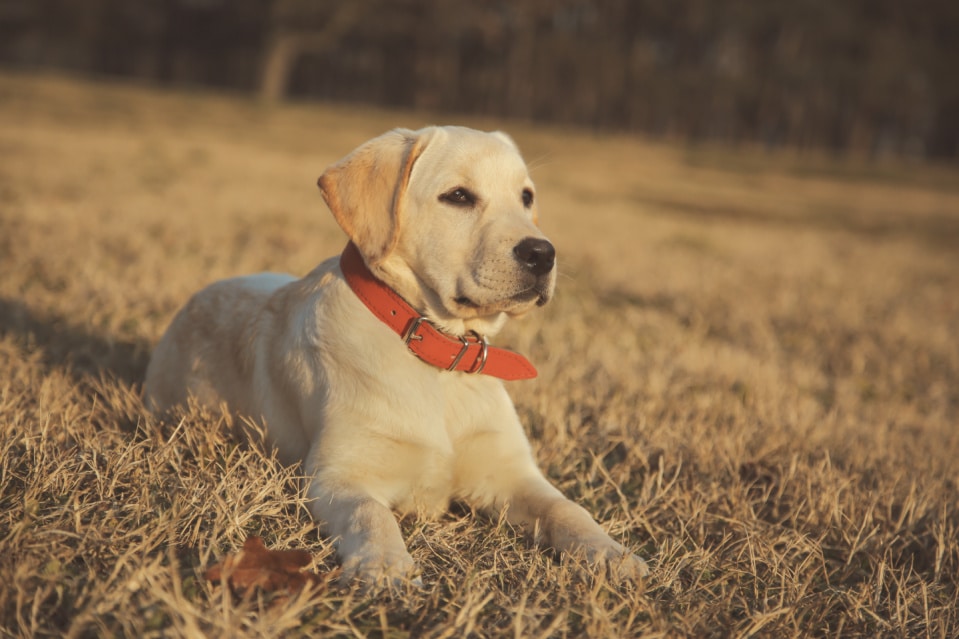 I remember, upon bringing home my puppy for the first time, I rushed into the pet store, which was jam-packed with options, making it easy for one to become overwhelmed and wonder what size collar for a lab puppy is best? Or how will I be able to find a collar that is comfortable enough for my pup?
Thus, with this intent in mind, let me share how I chose the best collar for my lab puppy or what size collar for lab puppy is perfect to buy.
As we move forward, I'd like to discuss sizing in more detail and provide you with some options regarding collar choices. Now let's talk about it.
Always ensure your puppy's collar fits correctly which is crucial for both – its safety and health.
When choosing a collar for your labrador puppy, make sure it is neither too loose for the pup to slip off, nor too tight for him to have trouble breathing. When fitting a collar for a puppy, keep in mind that puppies grow incredibly fast, making it imperative that their collars adjusted as the puppy grows.
A collar with a minimum length of 9 inches required for a lab puppy, although some might require a collar up to 10 inches in length. Therefore, if you get a collar for your puppy that is more than two inches long, he'll be able to wear it for quite some time.
Labrador Puppy Collar: Sizes and Colors Available
When choosing a collar, there are so many factors to consider. It can be challenging to understand where to begin! Labrador Puppy Collars are available in a wide range of colours and sizes. Your puppy will have a comfortable, stylish collar with your name on it. Find the perfect size and colour dog collar for your new Labrador, with more durable, comfortable, and fashionable. Our labrador puppy collar size is one step guide for you.
Measure The Neck Size Of Your Lab Puppy
It varies from puppy to puppy in terms of neck size, in the manner of how people vary in terms of their physical characteristics like size and shape. You can use this guide to figure out what collar fits your pup.
You should always measure the neck of your lab pup rather than guessing its size to ensure a perfect fit. This is how it's done by the masters.
Take a cloth seamstress's tape to measure your pup's neck.
Simply start measuring from his head down a couple of inches and then add an extra inch.
Make sure it's comfy. Don't tighten it too much.
In case, you don't have a tape available to measure, you can also use a piece of string, utilize a rigid ruler to measure afterward.
Next, follow the two-finger rule, this two-finger space ensures a comfortable fit of the collar against the pup's neck.
Pick The Right Collar size For Your Labrador Puppy
Puppy collars are essential. It will be easier to pick the right collar size for your labrador puppy if you know what to look for. Numerous aesthetically pleasing, durable, and cost-effective collars are available to choose from.
A variety of materials, such as leather, nylon, and cotton, are available. You can also get a breakaway collar that lights up at night to make sure your puppy or dog is safe. GPS-enabled collars are also available to track lost pets as well as monitor the pets' activities.
It is also possible to find no-pull collars which are extremely effective in preventing a hyper-active puppy from yanking out of control while also teaching them how to walk properly.
However, sizing up collars is preferable, since they're less likely to need replacement than collars that fitted to the largest size.
With a few of the top collars for lab puppies available on the market today, we have taken the time to cut through the clutter and provide you with a selection of well-made, durable, and highly-rated collars.
Best Collars For Lab Puppies
Adjustable dog collar from the American Kennel Club
Blueberry pet adjustable dog collar
Sassy dog wear collar
CollarDirect reflective dog collar
Rogz utility medium dog collar
Collar Types For Puppies
Lab pups can also benefit from other collar options. As there are two different types of collars you can use on your canine companion.
Flat Collar & Round Collar
According to most labrador experts, buckle-fastened flat collars are the best choice for puppies collar size. The collar you choose depends on your personal preference and budget. It is okay to use leather or fabric collars as long as they don't smell bad since labs love swimming. And if your lab loves swimming, then use cotton collars. These cotton waterproof collars contain polyurethane-like synthetic materials.
In addition to being odor-resistant, waterproof collars are easily washable. Our favorite thing about them is that they are usually bright in color, which is something we love about them.
Leather Collar – This is a luxurious and traditional collar for dogs that offers the perfect balance of functionality and style. In spite of their higher cost, a leather collar is likely to last for many years to come. Keep in mind that you should only buy a collar made of genuine leather. The leather bonded together consists of scrap leather, which glued together using an adhesive. Although the leather of this type might resemble the feel and appearance of genuine leather, it provides less durability and is dreadful in quality. Dogs, especially those with thick coats that tend to matt around collars, generally preferred to wear collars made of rolled leather.
Nylon Collar – This type of collar is the most common kind, and it's also known as a polyester collar. You can choose from a wide range of color choices, designs, and sizes. Lab puppies can wear these on walks as well as at home. The nylon collar is a standard collar that can be worn for many purposes.  
Neoprene Collar – Neoprene is an extremely flexible rubber material used to make wetsuits, bolstered with nylon mesh to provide extra durability, flexibility, and strength. If your dog spends a lot of time in the water, a neoprene collar is a perfect choice.
Biothane Collar – Dogs who enjoy swimming will love biothane collars too. Contains non-toxic materials composed of polyester weave and powder coatings composed of polyurethane or polyvinyl. Neoprene and leather collars are expensive, while biothane collars are more comfortable, easier to wear, and more affordable.
How To Decide If Your Puppy's Collar Needs Replacing
As important as collars are, they aren't meant to last forever, mainly because they are susceptible to several factors that can deteriorate them gradually.
A collar needs to be checked every two to three weeks. Look for indentations and signs of wear and tear. The collar should replaced immediately when you notice any defect that may upset the dog or endanger his safety.
You should inspect the collar every few days to prevent it from growing into the dog's neck. If it does, your dog will suffer from pain and discomfort.
When your puppy is indoors, it is best to remove its collar. It attracts bacteria when it is damp. You should remove the collar indoors so the collar won't develop an unpleasant odor. As a bonus, this practice will significantly extend the collar's lifespan, which is a cost-effective way to reduce the costs of a new collar.
Additionally, a dog collar not being clipped onto furniture or choking hazards in a crate will be avoided.
What Size Collar Is Best For An 8-week-old Labrador Puppy
Labrador retriever puppies can be taken home as early as 8 weeks old without the need to start immediately. As a general rule, puppies should be taught to wear a collar and leash around 10 weeks of age. As a result, you will be able to get started in a week or so after they have settled in.
FAQs
Question 1: Do lab puppies always need to wear collars?
Although there are some puppies who seem perfectly happy to wear a neck collar, it is important to consider that wearing one for prolonged periods of time could harm their coat and their skin due to the friction created by the collar.
Question 2: Which collar size is best for my puppy?
For dogs under 10 pounds, a collar up to 12 inches long is adequate. 11 to 15 inches will likely be sufficient for dogs weighing between 11 and 25 pounds. The collar length should be from 13 to 18 inches for dogs between 26 and 55 pounds. These dogs will probably need collars between 16″ and 24″ in length when they weigh between 56 lbs and 80 lbs.
Question 3: Are dogs better off with wide collars?
There are many benefits to using wide collars for your dog, including strolling, training, and even playing with. Wider dog collars provide your pup with a better fit around the neck while walking or training. For dogs that like to play rough, a wide collar can provide a better level of safety from other dogs or potential neck injuries.
Question 4: Does my labrador puppy need a smaller collar?
While it is important to plan for the future, your puppy's safety is of paramount importance. The dog's collar can fall off his head if it is too large or become overly complicated.
Question 5: Choosing the Right Puppy Collar Size for Your Labrador
When it comes to choosing the right puppy collar size for your Labrador, there are a few factors that you'll want to take into account. While many people will just go ahead and get the next size up, that could be a mistake.Make sure you choose a collar that will fit your puppy as he grows into adulthood.