Choosing the best food for your dog, which contains the right nutrients and ingredients, considering your budget, activity level of your dog, overall health, and life stage can be tasking.
It gets even more complicated for large-sized canines with a genetic mix and impeccable hunting abilities such as the Rhodesian Ridgeback.
To ensure that Ridgebacks are at their best performance, the need for their diet to be strictly sourced is imperative.
After widely researching various diets, we have carefully compiled the best dog food for Rhodesian Ridgebacks, with options suitable for a puppy, adult, and senior dog.
All our selections are high quality — without fillers, rendered meat meals, or by-products.
Quick Comparison of Good Dog Food For Rhodesian Ridgebacks
RATING
PRODUCTS
FEATURES

Blue Buffalo Wilderness Chicken Recipe Grain-Free

Rich in antioxidants.
Contains healthy carbs.
High protein recipes with real chicken.

American Journey Active Life Formula

Balanced Diet.
Contains Antioxidant and nutrient-rich vegetables.
It is formulated for large dogs.

Zignature Essential Multi-Protein Formula Grain-Free

High in Protein.
Free of common potential dog allergens.
Grain-free.

True Acre Foods Grain-Free Beef & Vegetable

Contains natural fiber for gentle digestion. 
Crafted with farm-grown veggies. 
Balanced with no grain and artificial flavor. 

VICTOR Purpose Senior Healthy Weight

No artificial preservatives.
Contains L-carnitine for fat to energy conversion for muscle development. 
Gluten-free
The Best Dog Food for Rhodesian Ridgebacks
1. Best Overall: Blue Buffalo Wilderness Chicken Recipe Grain-Free Dry Dog Food
Calories: 413 kcal/cup, Crude Protein: 34.0%, Fat: 15%, Fiber: 6.0%, Moisture: 10.0%.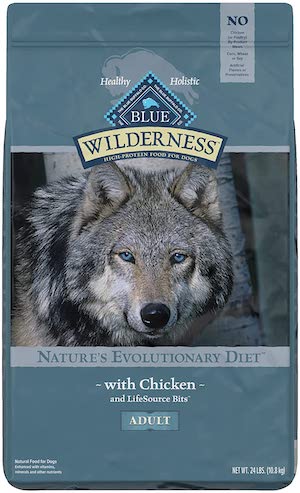 Top 5 Ingredients: Deboned Chicken, Peas, Pea Protein, Tapioca Starch, Fish Meal.
A high-protein dry food that utilizes chicken as its main ingredient, Blue Buffalo Wilderness Chicken Grain-Free Dry Dog Food is free of soy products, wheat, and any known allergens capable of causing digestive issues in your pooch.
The inclusion of the unique LifeSource Bits dog formula, a fine blend of minerals, vitamins, and antioxidants, ensures your furry partners stay in healthy condition all day long.
This chicken dry formula further strikes a perfect balance of calories and carbohydrates to ensure your pet's dietary needs are met.
Alongside the main ingredient, other nutrition accouterments include blueberries, cranberries, carrots, potatoes, and peas.
Pros
No artificial preservatives, flavors and by-products.
A balanced diet made with whole food and healthy ingredients.
High crude protein content.
Meets AAFCO Dog Food Nutrient Profiles for Maintenance.
02. Best Value: American Journey Active Life Formula Dry Dog Food
Calories: 332 kcal/cup, Crude Protein: 24%, Fat: 13%, Fiber: 6%, Moisture: 10%.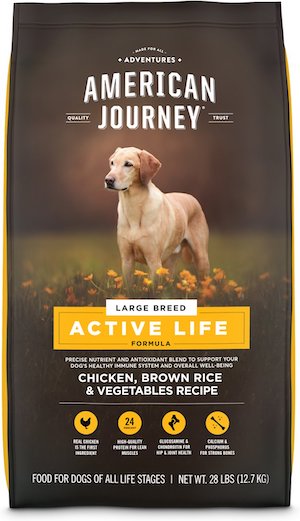 Top 5 Ingredients: Deboned Chicken and Chicken Meal, Brown Rice, Peas, Rice Bran, Barkey.
A reasonably priced dog formula with immense health-boosting nutrients, the American Journey Active Life Formula Dry Dog Food was formulated to provide superior nutrition to your dogs.
It contains chondroitin and glucosamine, two essential nutrients that keep your dog's joint in perfect health condition.
Whole-food ingredients are another superb reason why this dog food is a top choice.
With deboned chicken listed as the main ingredient, other fresh Whole Foods with minimal processing include cranberries, peas, sweet potatoes, blueberries, and carrots.
The formula contains Omega fatty acids, ensuring your pet's coat and skin stay shiny and healthy.
DHA, minerals, and vitamins further promote healthy cognitive development and sight improvement.
The absence of artificial fillers, preservatives, colors, soy, and by-products makes it a preferred choice among Rhodesian Ridgebacks pet owners.
Pros
Contains deboned chicken as primary ingredient.
Contains Whole-food ingredients.
Very affordable
Cons
Does not contain enough protein
Not recognized as an essential nutrient by AAFCO Dog Food Nutrient Profiles
03. Best Dog Food for Rhodesian Ridgeback Puppies: Zignature Essential Multi-Protein Formula Grain-Free Dry Food
Calories: 415 kcal/cup, Crude Protein: 32.0%, Fat: 18.0%, Fiber: 4.5%, Moisture: 10.0%.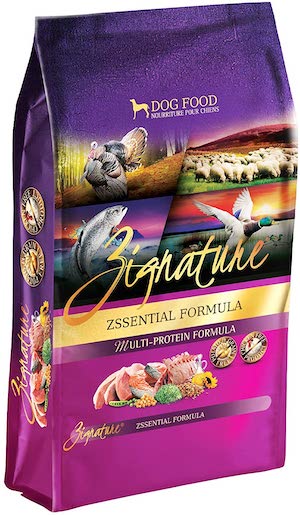 Top 5 Ingredients: Turkey, Turkey meal, Salmon, Lamb meal, Duck meal.
This is an ideal formula for puppies that bases its core on protein as seen in its main ingredient, Turkey.
The Zignature Essential Multi-Protein Formula Grain-Free Dry Dog Food ensures your Rhodesian Ridgeback puppies have a steady flow of amino acids to fuel their athleticism and developing muscles.
It also takes into consideration the relatively inferior nature of puppies by ensuring the absence of common smaller allergens in Ridgebacks such as grains.
Even with the absence of grains, carbohydrates and high fiber contents are not sacrificed as your pup is bound to get just enough from the antioxidant-rich vegetables and fruits.
Pros
Ideal for puppies with allergies
Promotes well hydrated and healthy skin in puppies, especially those with itchy skin conditions.
Flavored to ensure desirability by pups.
Cons
Some puppies may have issues digesting chickpeas.
Expensive
Pups may show loose stool and gas after feeding on this diet for an extended period.
Not recognized as an essential diet by AAFCO.
04. Best for Adults: True Acre Foods Grain-Free Dry Dog Food
Calories: 349 kcal/cup, Crude Protein: 24%, Fat: 13%, Fiber: 5%, Moisture: 12%.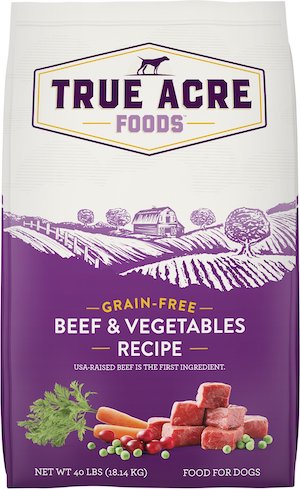 Top 5 Ingredients: Beef, Pea Starch, Poultry by-product meal, Canola meal, Soybean meal.
Few dog formulas present nutritional benefits for your pooch while being inexpensive, and True Acre Foods Grain-Free Dry Dog Food ranks high in this category.
Though not packed with the usual assortment of Whole Foods, it contains tapioca starch and poultry by-product meals.
The grain-free formula has an enviable recipe that makes it easy to digest and is primarily a great choice for adult canines with digestive issues or sensitive stomachs.
It also boasts of a unique blend that packs a rich combination of vitamins, fatty acids, and minerals.
Pros
The absence of grains makes digestion easy.
Contains vitamins, fatty acids, and minerals for boosting the immune system.
Meets the AAFCO Dog Food Nutrients Profiles for all life stages.
Cost effective.
Cons
Contains poultry by-product meals.
Not enough crude protein.
05. Best for Seniors: VICTOR Senior Healthy Weight Dry Dog Food
Calories: 360 kcal/cup, Crude Protein: 27.0%, Fat: 11.5%, Fiber: 4.5%, Moisture: 9.0%.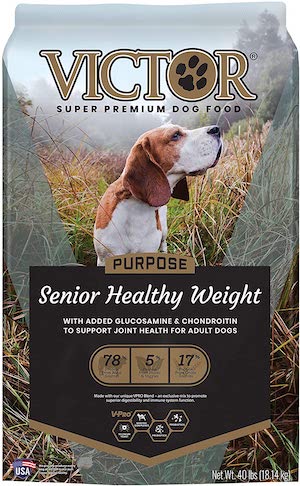 Top 5 Ingredients: Beef meal, Whole Grain Brown Rice, Whole Grain Millet, Sorghum, Chicken Fat
With top priority placed on glucosamine and chondroitin, this dog formula is the perfect choice for aging Rhodesian Ridgebacks as it contains enough health-boosting nutrients to support their life stage.
VICTOR Senior Healthy Weight Dry Dog Food boasts of a unique blend of DHA to ensure healthy mental development, glucosamine, and chondroitin, for improved joints, as well as omega fatty acids.
It has a minimum of 27% crude protein sourced from diverse ingredients such as beef meal, the primary ingredient in the formula, chicken bone, pork meal, and blood meal.
The formula isn't made with whole foods but with carrot powder and alfalfa meal, making it not ideal for picky eaters.
Pros
Contains a variety protein sources.
Designed for older dogs.
Contains chondroitin and glucosamine to promote healthy joints.
Meets nutritional levels established by the AAFCO Dog Food Nutrient Profiles for Adult Maintenance.
Cons
Not preferred by picky eaters.
Absence of Whole Foods
Does not contain high-quality protein sources.
06. Instinct Raw Boost Grain-Free Recipe with Real Salmon & Freeze-Dried Raw Pieces
Calories: 525 kcal/cup, Crude Protein: 37.5%, Fat: 21.5%, Fiber: 4.5%, Moisture: 9%.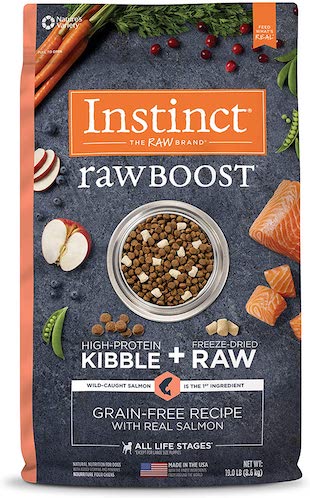 Top 5 Ingredients: Salmon, White Fish Meal, Peas, Menhaden Fish Meal, Canola oil.
This is one of the premium dog formulas available, which combines raw and semi-raw food and contains high-quality ingredients that provide top-notch nutritional quality at a very affordable price.
The Instinct Raw Boost Grain-Free Recipe is available in Salmon and chicken, beef, and rabbit, making it an ideal choice for picky eaters.
However, the salmon formula would be the most advantageous bet for your Rhodesian Ridgeback as it provides omega fatty acid, a crucial nutrient needed in preventing heart disease and maintaining your pet's healthy coat and skin.
The inclusion of small oily fish such as the menhaden fish meal, and herring, which are common in dog formulas, further improves the overall nutritional quality of this food.
Pros
Rich in protein.
Minimally processed.
Contains probiotics for easy digestion.
Cons
Raw bits may cause stomach issues in dogs not used to raw diets.
Not recognized as an essential nutrient by the AAFCO Dog Food Nutrient Profiles.
07. Taste of the Wild Pacific Stream Grain-Free
Calories: 408 kcal/cup, Crude Protein: 25%, Fat: 15%, Fiber: 3%, Moisture: 10%.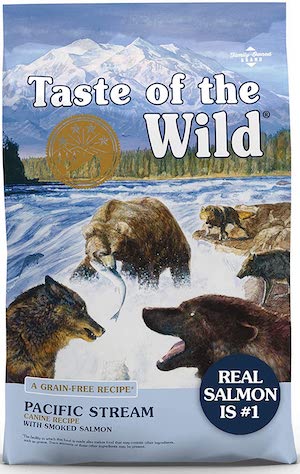 Top 5 Ingredients: Salmon, Ocean Fish meal, Sweet Potatoes, Potatoes, Peas, Canola Oil.
Made with high-quality and tasty sources of proteins your dog is sure to love, the Taste of the Wild Pacific Stream Grain-Free Dry Dog Food contains the right combination of all nutrients to ensure your pet's healthy development.
Potential allergens in dogs are eliminated with the grain-free recipe.
The formula further supports your dog's immune system with its antioxidant-rich vegetables and fruits.
The recipe opts for omega-3 fatty acids while eliminating harmful fillers, thus ensuring healthy skin and coat appearance and mitigating the risk of itching skin.
Other essential ingredients that add to its overall nutritional contents include sweet potatoes, blueberries, tomatoes, raspberries, and ocean fish meal.
Pros
Rich in protein.
Contains antioxidants and K9 Strain Proprietary Probiotics for immune shoots and easy digestion.
No artificial colors or flavors.
Meets AAFCO Dog Food Nutrient Profiles for Maintenance.
Cons
The fish smell may be a big turn-off for canines.
08. Wellness CORE Grain-Free Original Deboned Turkey, Turkey Meal & Chicken Meal Recipe
Calories: 417 kcal/cup, Crude Protein: 34%, Fat: 16%, Fiber: 4%, Moisture: 10%.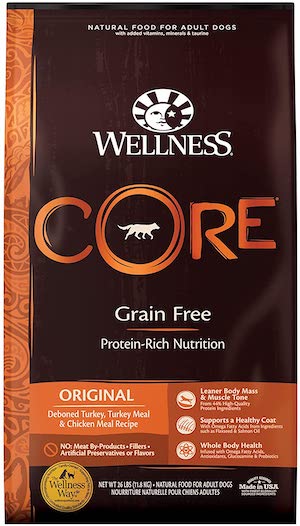 Top 5 Ingredients: Deboned Turkey, Turkey Meal, Chicken Meal, Peas, Dried Ground Potatoes.
Though highly-priced, the Wellness CORE Grain-Free Original formula distinct itself from its competitors by its high crude protein percentage sourced from high-quality ingredients such as Turkey and chicken, which are heavily favored by canines.
The recipe provides the right blend of nutrients to keep your furry friends in pristine health condition.
It contains salmon and coconut oils which offer a high level of omega 3 and 6 fatty acids, a required nutrient for shiny coats in dogs.
It also contains antioxidants, vitamins, mineral-rich veggies, and garden products such as spinach, kale, and broccoli.
The presence of probiotics in this formula rules out the possibility of digestive issues in your dogs.
Pros
Probiotic coating for easy digestion.
No Artificial preservatives.
High in protein.
Cons
Expensive.
Not recognize as an essential nutrient by AAFCO Dog Food Nutrient Profiles.
09. Stella & Chewy's Chewy's Chicken Dinner Patties Freeze-Dried Raw Dog Food
Calories: 50 kcal/patty, Crude Protein: 48%, Fat: 28%, Fiber: 5%, Moisture: 5%.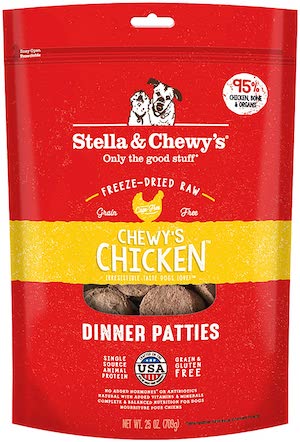 Top 5 Ingredients: Chicken with ground bone, Chicken Liver, Chicken Gizzard, Pumpkin Seed, Organic Cranberries.
One thing experts agree on when it comes to dog nutrition is that they thrive on diets similar to those they would have access to in nature.
This Stella & Chewy's Chewy's dog formula takes that fact in high regard, as seen in its ingredients.
The freeze-dried recipe contains raw chicken, the primary source of its high crude protein percentage, and is supported by other organic ingredients such as veggies and fruits.
The recipe heavily favored natural ingredients as it is entirely devoid of antibiotics and hormones.
The exclusion of grains, glutens, and artificial fillers, makes this recipe a preferred choice for your pups.
When mixed with water, the probiotics in the dehydrated food make it easy to digest.
Pros
Gluten-free
No hormones or antibiotics included.
Dehydrated and easy to serve.
Cons
Dogs unfamiliar with raw diets may have trouble with digestion.
AAFCO Food Nutrient Profiles do not recognize it as an essential nutrient.
10. Primal Duck Formula Nuggets Grain-Free Raw Freeze-Dried Food
Calories: 130 kcal/oz, Crude Protein: 42%, Fat: 30%, Fiber: 3%, Moisture: 3%.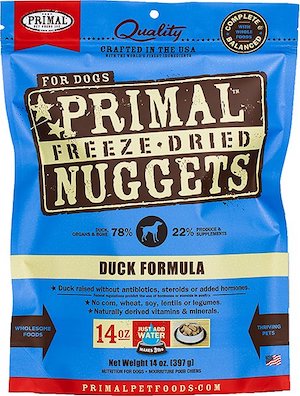 Top 5 Ingredients: Duck Necks, Duck (with ground bones), Duck Hearts, Organic Carrot, Duck Livers.
Tasty, freeze-dried, and nutritious, the Primal Duck Freeze-Dried Nuggets Grain-Free Raw Food, though designed for adult dogs, fit the nutritional needs of just about every canine of different life stages.
Free from steroids and hormones, the superior quality of the dog food blend is reinforced with the rich vitamins, minerals, and antibiotics that supply your furry friend with vital nutrients for optimal development.
The mix is also abundant in Omega Fatty acids and amino acids to ensure proper body functionality.
Pros
Suitable for dogs of all stages.
High palatable raw-ancestral diet.
Meets nutritional levels established by the AAFCO Dog Food Nutrient Profiles for all life stages.
Cons
Trouble with indigestion for pets unfamiliarity raw diets.
Buyer's Guide: How to Choose the Right Rhodesian Ridgeback Food
As with every agile, muscular, and athletic breed of canines, the Ridgeback is no exception in requiring highly nutritious diets to ensure maximum functionality.
Though the breed requires a highly nutritious diet, its diet differs starkly from other large dog breeds, thanks to the maintenance of its lean body muscle.
Aside from the unique nutritional requirement of this breed, which is imperative to keep it in good body condition, diet differs depending on the age and activity level.
A high protein mix for budding pups may supply enough nutrients for optimum development but trigger an alarming growth spurt.
This brings about the need to choose the right dog food carefully for your Rhodesian Ridgeback.
The following section considers all you need to consider when choosing dog foods for your beloved furry friend.
Quality Ingredients
The remarkable difference between a high-quality and a low-quality dog formula is majorly seen in its ingredients. As a result, ingredients should be your primary concern when sourcing food for your pet.
Dog foods with poultry, meat, fish, lambs, or ducks supply a good amount of protein, an integral element in canine formulas, making such dog foods a preferred choice.
Aside from the protein, which keeps your pet lean muscles in good condition, amino acids, a required nutrient for healthy development, are supplied.
Fat oils, canola oil, chicken oil, coconut oil, and flaxseed provide useful fat and Omega Fatty Acid in good proportions to keep your pooch healthy.
Complex carbs, which come in grains such as brown rice, barley, and oats, are crucial elements that give energy to your mutts, making them one of the vital ingredients you want your preferred dog food to include.
While all the above would provide enough nutrients to keep your pooch in good health, you most likely would have a pooch with a frail immune system without veggies and fruits.
This thus emphasizes the need for high-quality dog food to include tasty fruits and veggies, which supplies antioxidants, minerals, and vitamins for your pet.
Combining these ingredients sums up the perfect ingredients that make the ideal dog food.
Hence no compromise should be entertained when sourcing the ideal dog food for your furry partners.
The inclusion of these ingredients in a single formula for your pooch is bound to produce positive results, evident in your pooch's health and boisterous appearance.
Safety Standards
Standards exist to preserve the safety and promote healthy development.
This is the need for your preferred formula for your pooch to contain a badge of approval or statement entailing authorization for the required agency.
While all dog formulas you come across will boast of some of these approvals, which approval should be considered with all seriousness and earnestness?
The Food and Drug Administration (FDA) ranks as the primary agency by law that regulates every dog formula produced.
Hence all dog formulas you will come across will have some sort of FDA approval.
However, other agencies set nutritional profiles based on in-depth research on every dog formula's preferred nutrients to ensure healthy consumption.
Every dog owner most likely has come across one — the Association of American Feed Control Officials (AAFCO).
Though a voluntary non-profit organization, its recommendations have been adopted and implemented by states to enforce dog formula regulations.
With representatives from each state and relevant agencies such as the FDA, and the US Department of Agriculture, who determine the AAFCO Food Nutrient Profile, manufacturers tend to meet these standards.
However, as you may have noticed, some high-quality dog formulas contain a statement referencing unqualified AAFCO Dog Food Nutrient Profiles.
As revealed by the AAFCO, this occurs as a result of the fact that the formula "is an implied guarantee that the product contains the minimum concentrations for all nutrients in the profile and no more than any maximum concentration listed for a specific nutrient in the profile."
This does not translate to unsafe consumption, but that the product does meet the minimum standards, but the same can't be said of the maximum.
While all formulas must meet FDA standards, not all meet the AAFCO Dog Food Nutrient Profiles. But that doesn't mean it is unsafe for your dog consumption.
One important thing to note when settling for the right formula is to see if the formula meets the required standards.
Artificial Fillers
In choosing the right dog formula, one important ingredient to be on the lookout for is artificial fillers.
Capable of triggering canine allergic reactions, artificial fillers do little good to pooches.
These formulas containing artificial fillers should be avoided. While you should be on the lookout for artificial fillers, it is important that you also avoid formulas with artificial flavors and colors.
Just as it is with artificial fillers, artificial flavors and colors can cause intolerance in mutts, posing significant health risks.
Aside from the health issues artificial fillers, flavors, and colors pose, formulas containing these ingredients usually have low nutritional value or in extreme cases, no nutritional value.
Caloric Density
Calories are needed in huge quantities for large-sized dogs to ensure steady development. But how do I know just the right caloric density for my dog's needs?
A quick way to know this is by consulting your veterinarian. But if you do not have the luxury of time, you can also get your pet's daily calorie intake by using a caloric calculator for your dogs.
Typically your pet's caloric density is largely based on its weight. A pooch that weighs about 85 pounds may require as much as 1500 calories daily.
However, to be sure of the precise caloric density of your pooch, do well to consult your veterinarian.
Once you're armed with your pet's caloric density, when choosing formulas, do be on the lookout for formulas within the range of 300 calories per cup to 500 calories per cup.
This will be ideal as serving your dog such formulas will attend to its daily caloric density intake.
Nutrients
One of the primary things to check out in any dog formula, the nutritional value of the formula determines how your dog will react to it.
Though formulas with FDA approvals and AAFCO Dog Food Nutrient Profiles typically have the minimum nutrients necessary for a dog's overall well-being, it is not unusual for certain formulas to have more nutritional content than others.
Because protein forms an integral part of mutts development, especially large breeds, you may want to prioritize that and settle for a formula that provides just that.
However, your pets' needs play a primary role in what nutritional content you prioritize.
If your dog seems susceptible to illness and you plan on boosting its immune system, it will be best to purchase a formula that boasts high vitamin and mineral nutritional content, such as veggies and fruits.
If you prioritize energy, formulas with carbs will be prioritized.
Though considering the nutrients your dog needs when choosing formula is essential, it should not come at the expense of other nutrients.
A balanced formula will have a more beneficial impact on your pooch.
Recommended:
16 Worst Dog Food Brands To Avoid (+16 Top Choices)
Best Food Ingredients/Nutrients For Rhodesian Ridgebacks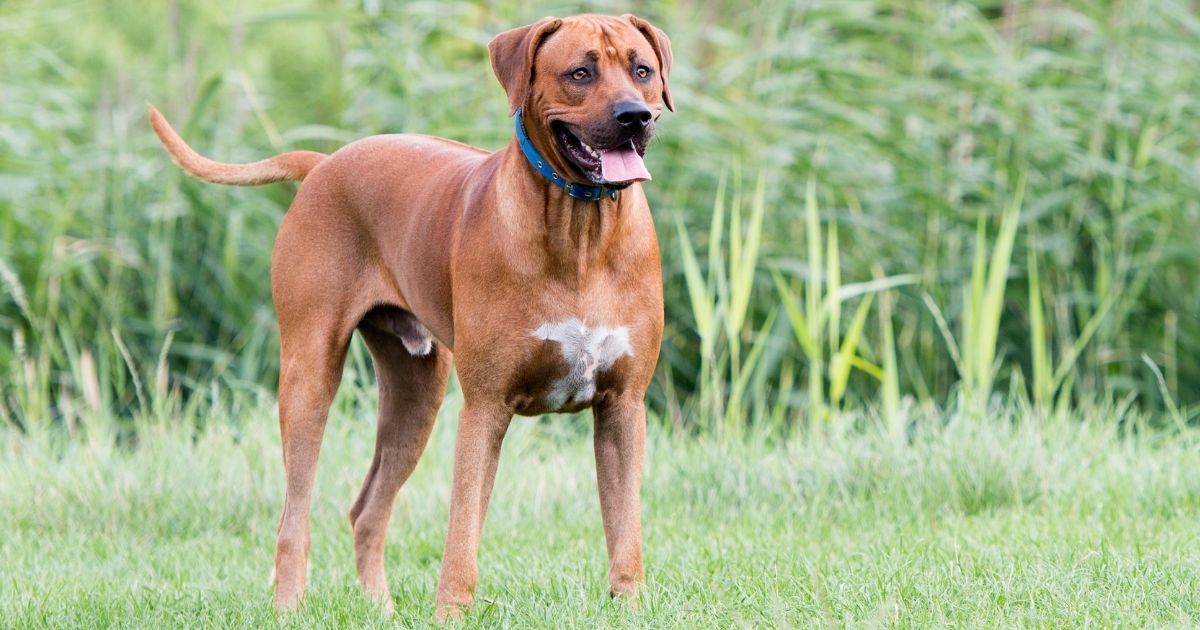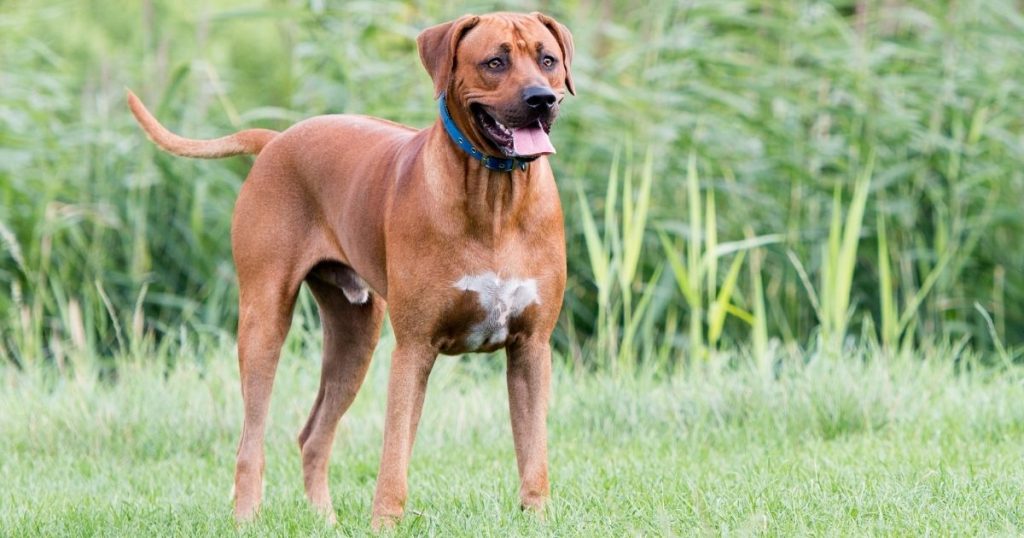 When it comes to choosing the food with the right ingredients for your furry partners, an endless amount of options are available.
But what vital ingredients do you need to always include in your preferred dog formulas? Below, we narrow a list of best food ingredients for your dog.
Whole Foods
Dog formulas come in various forms – powders, chemicals, starch, and by-products. But this provides inferior nutrition benefits to your pooch compared to Whole Foods.
Similar to natural foods, Whole Foods serves to meet the nutritional requirements to keep your pet in healthy condition and also give them a tasty and savory meal.
When settling for your dog formula, it is thus recommended that you go for formulas with Whole Foods such as deboned chicken, Turkey, deboned salmon, cranberries, apples, carrots, peas, sweet potatoes, and pumpkins.
Protein
While you prioritize the inclusion of Whole Foods in your preferred dog formula, it is essential that proteins rank as the primary ingredients in your chosen dog formulas.
Rhodesian Ridgebacks require a lot of lean muscle to keep agile and stay in their muscular state. Protein provides the required nutrients for muscle building, tissue repair, and good skin condition.
Though protein is vital to your pet's dietary needs, what is more important is not how much protein a dog formula contains but where the protein comes from.
Thus do well to get a formula with protein sources such as:
Deboned chicken
Deboned lamb
Deboned salmon
deboned turkey
Beef
Duck
Wild boar
Probiotics
When sourcing the best dog formula, nutritional needs often get most of our attention with little or no detail paid to digestibility. Hence the need for probiotics to be an integral ingredient in your chosen dog food.
Probiotics are bacterial, which, when in the digestive tracts, helps in easy digestion.
This thus makes it an important ingredient in dog formulas, especially raw dog formulas, as pooches unfamiliar with a raw diet may have trouble digesting such foods.
However, as useful as probiotics, if your pooch has a weak immune system or just had surgery, you should consult your veterinarian before feeding it formula with probiotics.
Fats
A vital nutrient not to miss out on, fats play a significant role in how your pet performs in daily activities. A dog formula with an adequate amount of fats will help a dog's metabolism, thus contributing significantly to how long your pets exercise.
Fats also contain Omega 3 and 6 fatty acid and linoleic acid, which are integral nutrients in providing fat portions so the epidermal and skin cells.
Hence, if you want your pet's skin and coat to remain the most pristine and healthy condition, fats should be one of the nutrients you look out for in any dog formula you choose to buy.
While fat is undoubtedly important to a dog's overall well-being, the right amount of fat is also important.
A formula with an increased amount of fat may result in obesity in your pets. Hence it is best to settle for dog formula with fats between the range of 10 – 15%.
Vitamins and Minerals
One of the most formidable nutrients required in canines, minerals, and vitamins provides the armpit your pet's systems need to fight illness. Vitamins and minerals of various kinds help rejuvenate your pets' immune systems.
As a result, vitamins and minerals should be the primary nutrients in any dog formula you choose to purchase.
Below are some of the minerals and vitamins your pooch should get from their food:
Vitamin A
Vitamin D
Vitamin E
B-vitamins
Calcium
Potassium
Phosphorous
How Much Should I Feed my Rhodesian Ridgeback?
Rhodesian Ridgebacks grow at an alarming rate and, as a result, require lots of food to fuel their growth.
As puppies, Ridgebacks may eat as much as three times a day.
Usually, their first meal of the day is served early in the day (6 AM), which is followed by another meal in the afternoon (2 – 2:30 PM), and then the final meal of the day is served around just before bed (9:30 PM).
Before serving puppies their food, ensure it is soaked in warm water to soften the pieces. However, with advancement in age, soaking time will reduce.
At 2 months, presoaking of food is not required, though you can add warm water while you dish it out. At that age, they begin losing their puppy teeth, and crunching hard kennels will help their teething process.
For Ridgebacks as old as 3 months you can reduce feeding to 2 times a day.
Puppies typically eat one cup of kibble per meal, but half a cup can be added if it kicks the bowl clean.
If your pet doesn't eat its meal after about 10 minutes of eating, ensure you pick up his bowl. This is as a result of the fact that free feeding or leaving food all days for puppies may lead to picky eating.
Older dogs (4 months old or older) eat as much as 5 – 8 cups of kibble each day.
Below is a detailed Rhodesian Ridgeback feeding chart based on age.
| Age | Times Per Day | Quantity in Cups pet Feeding |
| --- | --- | --- |
| 8 – 12 weeks | 3 – 4 (Puppy Food) | ½ – 1 cup 4 – 6 months |
| 4 – 6 months | 3 (Puppy Food) | 1½ – 2 cups |
| 6 – 12 months | 2 (Adult Food) | 1½ – 2⅔ cups |
| 13 -18 months | 2 (Adult Food) | 1 – 2 cups |
| Two years and above | 2 (Adult Food) | 1 – 2 cups |
What Foods Are Bad for Rhodesian Ridgebacks?
Getting the right food and nutrients for your dog ranks as one of the primary concerns of every dog owner.
But while we are focused on that, attention on what foods are bad for pets is given little or no consideration.
Considering how the food your dogs consume affects their health makes it very important to know what foods are bad for them.
Chocolate: The presence of theobromine in chocolate makes it harmful to dogs as it can trigger kidney failure.
Artificial Sweetener: The presence of artificial sweeteners releases xylitol in dogs which can cause hypoglycemia resulting in blood clotting and liver failure.
Cooked Bones: While dogs enjoy bones, cooked bones can pose a significant challenge to your dog's well-being. This is because coocked bones can splinter and cause perforation in the gut and constipation when consumed in large quantities.
Onions and Garlic: These are particularly harmful to canines as they can cause red blood cell damage and gastrointestinal irritation.
Alcohol: Alcohol does not only cause intoxication in dogs even when consumed in mild quantity, it can trigger damage to the central nervous system, diarrhea, and other health problems.
Recommended:
Best Bone Broth For Dogs (Top 10 & Why They're Good)
Common Rhodesian Ridgeback Health Problems
As agile and boisterous as this breed is, it is plagued with certain health challenges, thanks to its genetic makeup.
These health limitations afflict the dog at different life stages and can be expedited by the dog food you settle on. Hence the need to know what health problems your pet is likely to face.
Hypothyroidism
An autoimmune disease characterized by malfunctioning of the thyroid gland is caused by the lack of production of sufficient thyroid hormones by the thyroid gland.
The effects of this health challenge mainly affect your pet's metabolism resulting in lethargy, suddenly increased appetite, hair loss, slow heartbeat, and increased weight gain.
The health condition can be diagnosed by blood testing and can be remedied through daily supplementation of hormones.
Cataracts
This occurs when your dog's vision becomes obstructed by clouds in the eye. A clouded film can be observed in the eyes.
The health challenge is inherited as it is passed down through the genetic pool, making certain dog breeds more susceptible to it, including the Ridgeback.
It often results in pets losing their vision, thus making them bump into obstructions.
Though cataracts cannot be prevented, it can be remedied, especially when detected in the early stage.
In its mild stage, cataracts can be treated through surgery, but it can result in total blindness once left untreated.
Dermoid Sinus
A health condition unique to a few breeds, Dermoid Sinus, affects afflicted canines' skin and nervous system.
This heritable health complication is characterized by a tubular skin defect resulting from the skin and nervous system not separating during prenatal development. The skin defect is often seen in the neck or upper spine.
Though not life-threatening, it can be corrected by surgery.
Hip Dysplasia
Unique to large breeds, hip dysplasia is a condition where the joints are not aligned with the up socket leading to pain, inflammation, and discomfort.
Afflicted dogs struggle to put weight on one or both back legs. The health condition is not life-threatening, but the severity of the pain can bring about various lifestyle adjustments.
To remedy the effects of hip dysplasia, pain supplements, medications, stem cell treatment, physical therapy, and surgery are recommended.
Bloating
The Rhodesian Ridgeback is a deep-chested canine, which makes it very prone to bloating.
Bloating is a health condition involving the intestinal tracts filling with gases, resulting in great discomfort, abdominal pain, excessive salivation, and attempts to vomit.
In certain conditions bloating can cause stomach twisting, which in turn affects blood circulation resulting in death.
Heart Conditions
The genetic makeup of this breed makes them very susceptible to a heart condition known as Inherited Arrhythmia.
In afflicted dogs, it is not uncommon to notice irregular heartbeat and irregular cardiac electrical systems.
Pets begin showing symptoms of this life-threatening health condition between the age of 6 – 30 months. When detected in its early stage, Inherited Arrhythmia can be treated with medications.
Deafness
Generally, deafness is often seen in every canine, but the genetic makeup of the Ridgeback makes it highly susceptible to inherited deafness.
Despite being afflicted with this health condition, dogs can live comfortable lives after making the required lifestyle changes.
Frequently Asked Questions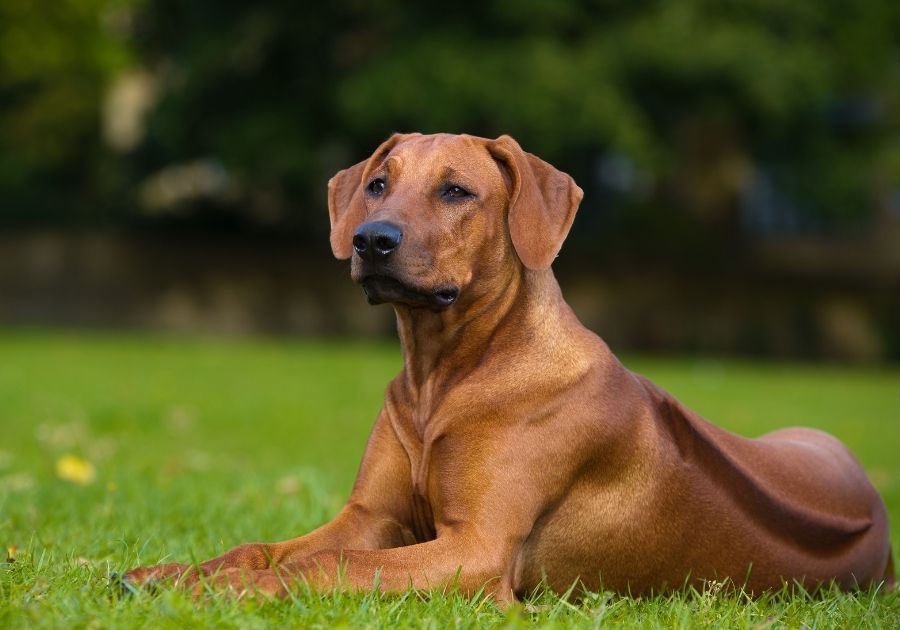 What is the average life expectancy of a Rhodesian Ridgeback?
Rhodesian Ridgebacks are healthy breeds with an average lifespan between 10 – 12 years. 
Do Rhodesian Ridgebacks need special food?
While Rhodesian Ridgebacks thrive on diets every dog feed on, to keep your pet in the best health condition, it is recommended you feed it a fresh, high-protein, animal-based diet.
Though protein forms an integral part of your dog's diet, do well to look out for other vital nutrients such as fats, vitamins, and minerals in your preferred diet for your pooch. 
How much is a Rhodesian Ridgeback supposed to eat a day?
Generally, an average fully developed Rhodesian Ridgeback will eat between 23/4 to 43/8 cups of highly nutritious diets divided into two meals.
While this applies to most dogs, it may not be the same in all. How much your dog eats depends mainly on the weight, age, build,  metabolism rate, and activity level.
How often should I feed my Rhodesian Ridgeback puppy?
Puppies between the age of 8 – 14 weeks should be fed an appropriate diet with the required nutrients up to 3 times daily. When feeding your puppies, ensure you do feed them at the same time each day.
Once your puppy is past 14 weeks, feeding should be limited to 2 times a day, and of course, its diet should be highly nutritious and appropriate for its age.
When should I switch my Rhodesian Ridgeback to adult food?
Your Rhodesian Ridgeback, a large breed, should be fed adult foods when it is 8 – 12 months old. Your dog will require food suited for adult dogs to maintain its energy level and metabolism rate at that age.
Is high protein dog food good for Rhodesian Ridgebacks?
Yes, Rhodesian Ridgebacks are large breeds with lean muscles and, as a result, require high protein.
Your preferred dog food for your Ridgeback should have a high crude protein percentage, and its primary ingredient should be a good protein source such as deboned chicken, deboned turkey, salmon, or duck.
What can I give my Rhodesian Ridgeback for diarrhea?
The first step to remedying your pet's diarrhea is to figure out what the major trigger is. Identifying the cause and effectively dealing with it will no doubt help your dog's diarrhea.
Also, applying homemade remedies such as rice water, cottage cheese, boiled potatoes without skin, herbs, over-the-counter medications for humans, probiotics, herbs, pumpkins, boiled yogurt can help cure your pet's diarrhea.
What human food can Rhodesian Ridgebacks eat?
Rhodesian Ridgebacks can eat raw meaty bones, lambs, leafy vegetables, fruits such as bananas, apples, yogurts, and eggs. 
What are some good raw foods for Rhodesian Ridgebacks?
Can Rhodesian Ridgebacks eat raw meat?
Yes, Rhodesian Ridgebacks can eat raw meat. Though before you feed your pets raw meat, ensure you do not mix raw meats with kibbles and fast your dog for 36 hours to let the kibbles in its system digest.
This is because kibble and raw meat digest at different rates, which can cause gastric upset in your pet.
What vegetables can Rhodesian Ridgebacks eat?
Rhodesian Ridgebacks can eat vegetables such as carrots, spinach, lettuce, and broccoli. However, it is recommended that you feed your pet these vegetables with other foods.
Are raw eggs good for Rhodesian Ridgebacks?
Eggs are good for dogs as long as they don't have any health condition that makes eating eggs a problem.
Eggs provide protein, Iron, fatty acid, riboflavin, selenium, vitamin A and Vitamin B12, which help keep your dog in healthy condition.
Should I free-feed my Rhodesian Ridgeback?
No free-feeding your dog will result in picky eating, especially in young pups. Hence free-feeding is highly discouraged. 
How much should my Rhodesian Ridgebacks Weigh?
An average male Rhodesian Ridgeback should weigh between 36 – 41 kg while a female should weigh between 29 – 34 kg.
How Much Water Should A Rhodesian Ridgeback Drink?
This depends on your dog's size, activity level, and the temperature of the weather.
But a good rule in setting how much water your dog drinks is 8 – 18 ounces of water for every 10 pounds of body weight.
Conclusion
With numerous concerns ranging from safety standards, nutritional needs, to your dog's preference, it can be very hard to settle for the best food your dog will be sure to like.
This guide explicitly breaks the tough task of sorting them out, with our high-quality recommendations.
Alongside that, it explains the various pitfalls to avoid and what to look out for when sourcing a good food.
For us, our best choice for Ridgebacks is the Blue Buffalo Wilderness Chicken Grain-Free Dry Dog Food, which contains 34% crude protein, is calorically dense, and made with whole food ingredients, without any artificial preservatives, flavors, and by-products.
Our preferred best affordable dog food is the American Journey Active Life Formula Dry Food with a minimum crude protein of 24% and formulated with whole food ingredients.
For Ridgeback puppies, we think the Zignature Essential Multi-Protein Formula Dry Dog Food is a good choice.
With this information provided in this article, your Rhodesian Ridgebacks will enjoy a healthy lifestyle.
Recommended:
10 Worst Dog Treats To Avoid (+10 We Recommend)