Rhodesian Ridgebacks are revered for their well-rounded vigor in guarding and their earnest desire for companionship.
On many occasions, people record a terrifying first encounter with this breed because of its muscular, athletic, and elegant structure.
Still, such an intimidating appearance is more than enough to win the adoration of potential dog owners.
Many people in the United Kingdom and other places worldwide sought after this breed because of their intelligence, imposing appearance, guarding instincts, and desire for companionship.
Considering that this breed is susceptible to a few genetic health conditions like hip and elbow dysplasia, people rely on the most reliable and best Rhodesian Ridgeback breeders in the UK to supply them with puppies from a healthy bloodline.
Being a relatively rare breed in the United Kingdom as opposed to Labradors, German Shepherds, Retrievers, and Spaniels, potential Rhodesian Ridgeback parents count on reputable sources for expert advice and top-notch care for the first few weeks of a pup's life.
This is why we've selected the UK's bests in the Rhodesian Ridgeback breeding industry.
Rhodesian Ridgeback Puppies for Sale: How Much is a Rhodesian Ridgeback in the UK?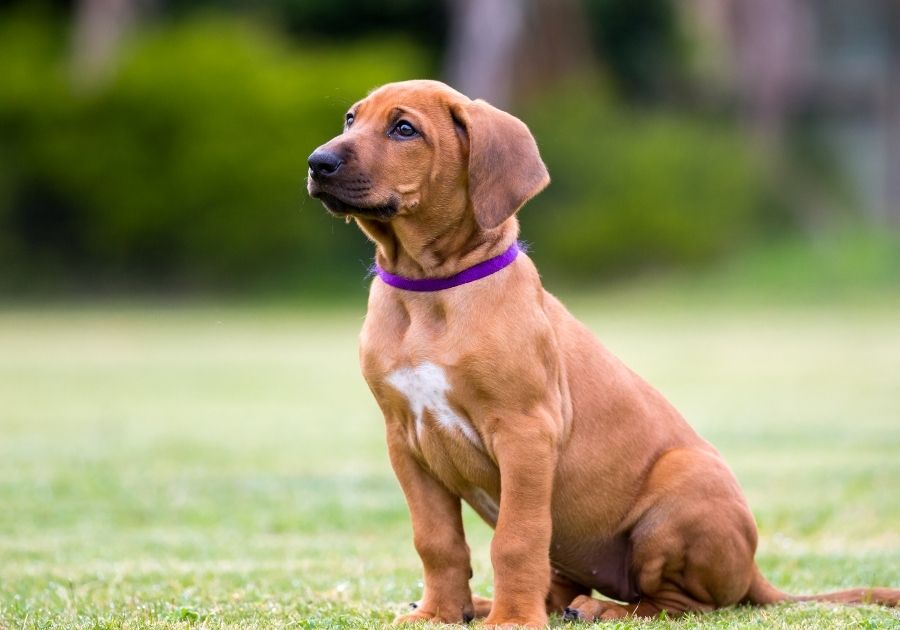 The Rhodesian Ridgeback puppy doesn't come cheap; a purebred pup can cost between £700 and £1,600 on average.
They're more expensive from reputable breeders, between £1,200 and £2,400. However, you can expect to add more for champion bloodlines.
The Best Rhodesian Ridgeback Breeders in the UK
1. Kazembe Rhodesian Ridgebacks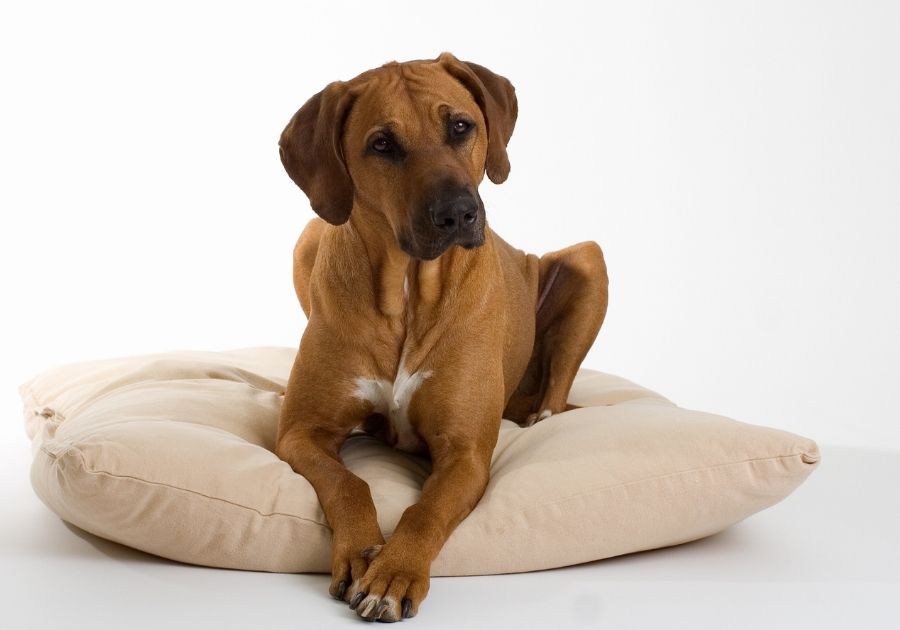 Kazembe's 22-year journey matters to them as much as their goal of respecting the Rhodesian Ridgeback breed's history, breeding healthy, quality dogs of well-rounded temperament while staying true to the breed's physical standards.
Alex and Nita Webster, the owners of Kazembe, are devoted to caring for Rhodesian Ridgebacks, which they see as integral members of the family, regardless of their four-legged classification.
You can trust their commitment to that course, knowing that Nita is a veterinary physiotherapist.
Kezembe is not short of champion dogs; they're proud awardees of some first-placed victories in the show world, including the Limit and Junior Bitch categories at Crufts and Junior Bitch and Reserve Challenge categories at Midlands and Northern Rhodesian Ridgeback Championship Shows.
Kazembe has a safe breeding policy that allows them to breed tested dogs only when the circumstances are right; as such, litters are not readily available for sale.
The breeder requires you to book well in advance for a puppy. However, it would help if you knew that puppies are only sold to well-chosen homes.
First-time pet owners are advised against this breed as it is a large breed with many training and welfare demands.
You might have to own or previously own a Rhodesian Ridgeback or a similar large-sized breed to be favored.
Nevertheless, more-than-usual questioning, training, and help are provided for first-time owners willing to raise this breed.
2. Sonstraal
Established in 1985, Sonstraal can confidently say that it pays to earn the coin of experience first in the Rhodesian Ridgeback and Pointer breeding business.
We'll focus on their success in breeding champion and companionship-based Rhodesian Ridgebacks for the purpose of this article.
Sonstraal imports their dogs from selected bloodlines worldwide to preserve genetic diversity.
Such policy explains why their litters are revered for their stable temperament and healthiness.
Sonstraal breed on a book-in-advance basis but are sure to supply you with health-tested puppies.
They also offer a contract and a puppy pack to help pet parents welcome their fur baby and ease them into the responsibility of caring for its needs.
Their confidence is evident in their 4-week insurance policy that serves as a warranty to cover the pup's demands.
You can get a puppy by filling out a form on their website, requiring you to fill out your eMail and send your booking.
3. Gunthwaite & Burncoat Rhodesian Ridgebacks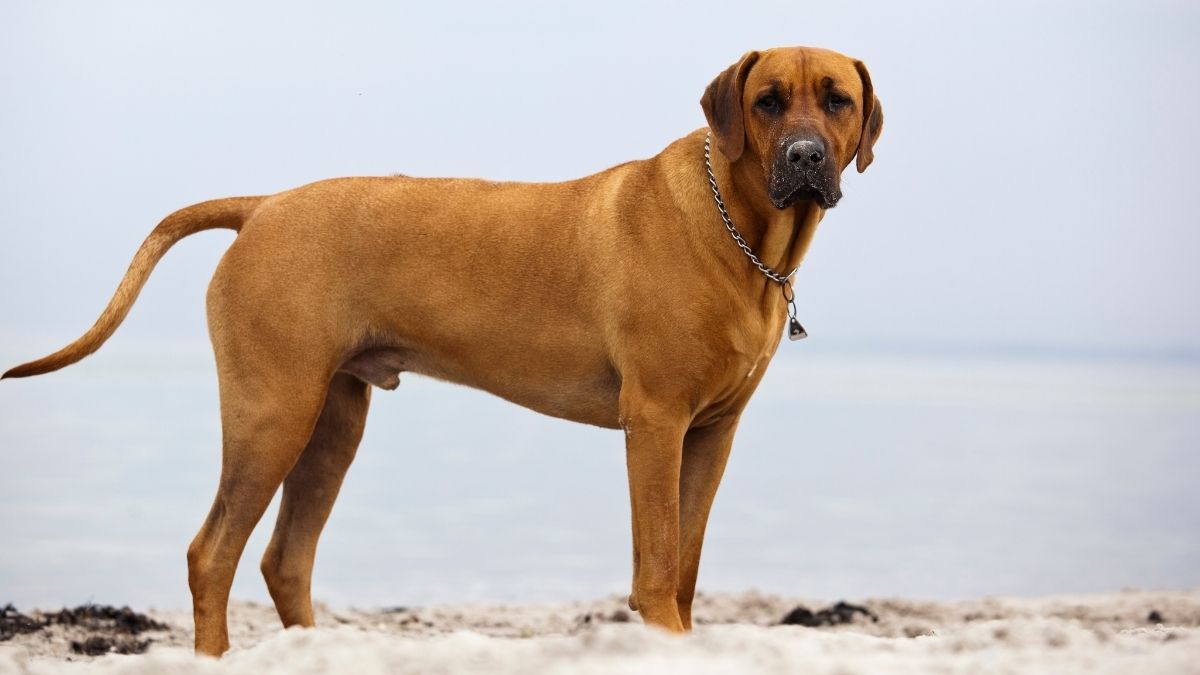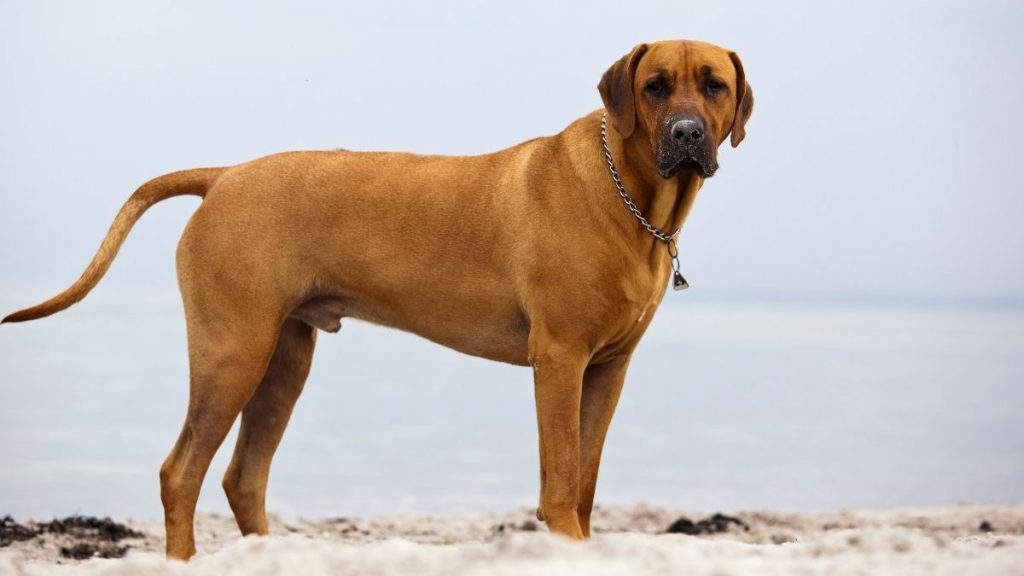 Have you ever wondered how gross it will be to see your fur baby treated like a cash crop? The thought of it alone must be worrying.
That's how pups from a puppy mill are treated — they suffer from malnutrition and little or no veterinary attention. Garthwaite & Burncoat are assuring you that their kennel is no puppy mill.
They provide a first-class breeding system for healthy, company-loving puppies such that they maintain an impressive, clear record of Juvenile Myoclonic Epilepsy tests.
Garthwaite & Burncoat have been in the Rhodesian Ridgeback breeding industry for over fifty-five years and are consistent in their litter quality, type, and temperament via the importation of healthy and stable bloodlines to maintain the breed standard, characteristics, and diversity.
They retain their integrity by being true to type and prioritizing responsible prospective puppy owners to protect a pup's welfare.
Garthwaite & Burncoat will provide you with all the help and information you need if you're ordering a puppy outside the UK.
4. Colkeririn Rhodesian Ridgebacks
Before we consider anything else about this breeder, let's see what they stand for. Colkeririn believes in giving their puppies the best start in life, providing them with optimum healthcare and social training.
Quality, not quantity, is their measure, explaining why they breed puppies on request or only when the conditions are right to add a new member to the fur family.
They've bred champion dogs, certificate holders in the Crufts Reserve Challenge, UK's Top Rhodesian Ridgeback, and a Best in Show winner at Bakewell Agricultural & Horticultural Society.
Colkeririn has its Rhodesian Ridgebacks registered with the United Kennel Club and offers a comprehensive dog package to its customers.
Their pups are tested for Hip and Elbow dysplasia, juvenile myoclonic epilepsy (JME), and Degenerative Myelopathy (DM); they also run tests to diagnose heart, eye, and thyroid conditions.
Colkeririn's recognition for their contribution to Early Onset Adult Deafness (EOAD) research is a mind-blowing feat, a cherry on the cake in their honor.
You may get a pup on a reservation, and be sure to expect some puppy food, essential information on care and maintenance, and a piece of bedding full of familiar smells to help your fur baby settle without much trouble.
5. Kiromol Rhodesian Ridgebacks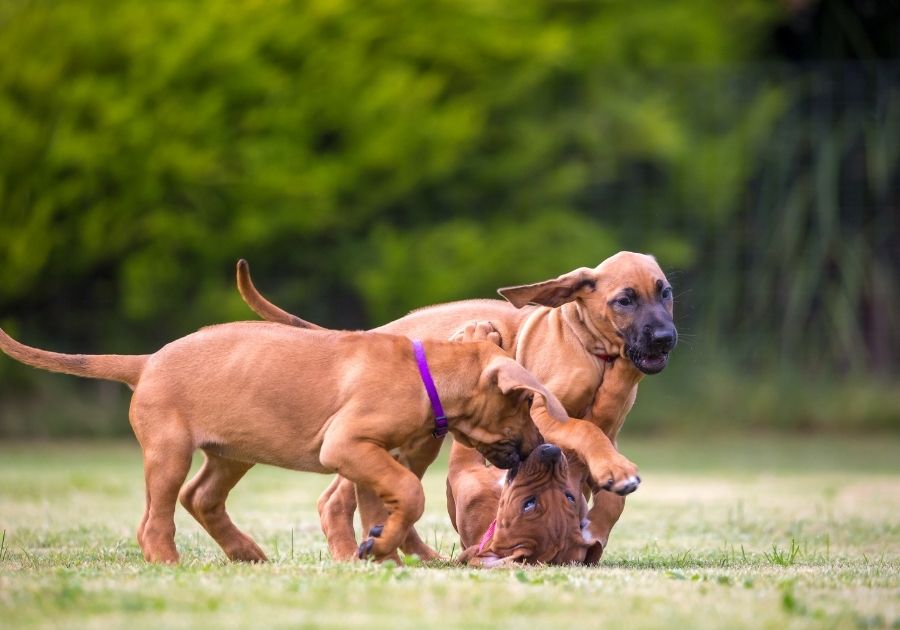 One of the first words on the breeder's website is "Always lead, never follow!"
You can tell that they're true to their words by their success in many dog competitions, including winning the Best Puppy Category in Crufts (2010) and even collecting the Reserve Challenge Certificate.
Kiromol upholds the breed standard, maintaining its legacy of breeding champion dogs with well-rounded temperaments.
They understand that a parent dog's soundness, genetic traits, and wellness shower down to its offspring; that's why they select well-tempered dogs symmetrically conforming to the breed type to breed puppies.
They boast healthy bloodlines with ancestries across Europe, Australia, America, and Canada.
6. Druimderg Rhodesian Ridgebacks
Top Ridgeback in Ireland from 2007-2009, 2007 Cruft Best of Breed, the only Rhodesian Ridgeback breeder in Ireland to have bred two GB Champions from the same litter, and many other accolades in conformation shows are highlights of Druimderg's profile.
Moreover, reviews from satisfied families show that Druimderg's Rhodesian Ridgebacks are excellent companions with well-rounded temperaments and a desire for affection.
Druimderg is not an all-season breeder, breeding only when the conditions are right or when there's a need to do so. You must reveal your interest by booking a puppy via email or their website to be considered.
Druimderg's pups are tested healthwise and neurologically, microchipped, and properly socialized.
They're delivered to their new family with a puppy pack containing endorsements on their registration documents, a blanket with their mum's scent, and food sufficient for two weeks to make settling into their new home easy.
7. Hooz Rhodesian Ridgebacks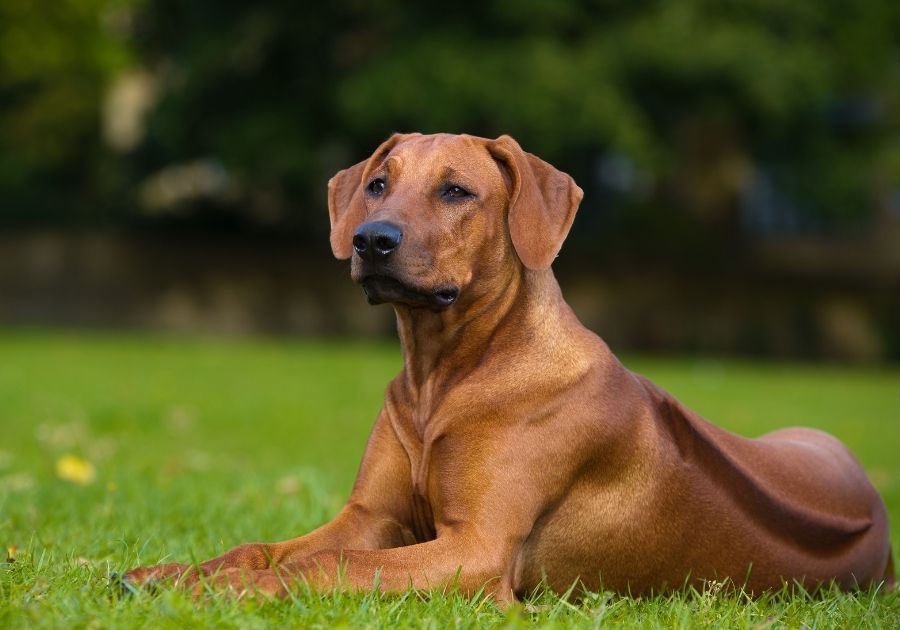 Hooz Rhodesian Ridgebacks are celebrating their fourth decade of enjoying the company of Ridgebacks but are twenty-two years into the breeding business.
Through those years, the kennel has prioritized breeding according to the breed standard in type and temperament.
They carefully chose their bitches and studs to suit this purpose, testing them for any unpleasant health and behavioral conditions.
8. Diamondridge Ridgebacks
Since 1978, Diamondridge has been breeding Rhodesian Ridgebacks fit for shows.
They've gone on to breed champion dogs, including a Cruft Best of Breed, Best Brood Bitch, Certificat d'Aptitude au Championnat (CAC) awardee, Certificat d'Aptitude au Championnat International de Beauté (CACIB) awardee, and Rhodesian Ridgeback Club of GB Golden Centenary Reserve Best Bitch.
Such pedigree demonstrates the kennel's commitment to breeding physically and mentally sound dogs.
The United Kennel Club accredits Diamondridge Ridgebacks; they follow the club's recommendations and uphold the breed standards.
The kennel does not release puppies until seven weeks to feed on their mothers' milk and learn proper canine behaviors.
You can be sure to get healthy puppies from this breeder because they test their puppies for physical defects and dermoid sinus before completing any sale.
Recommended:
Best Dog Food For Rhodesian Ridgebacks
Are Rhodesian Ridgebacks good for novice pet parents?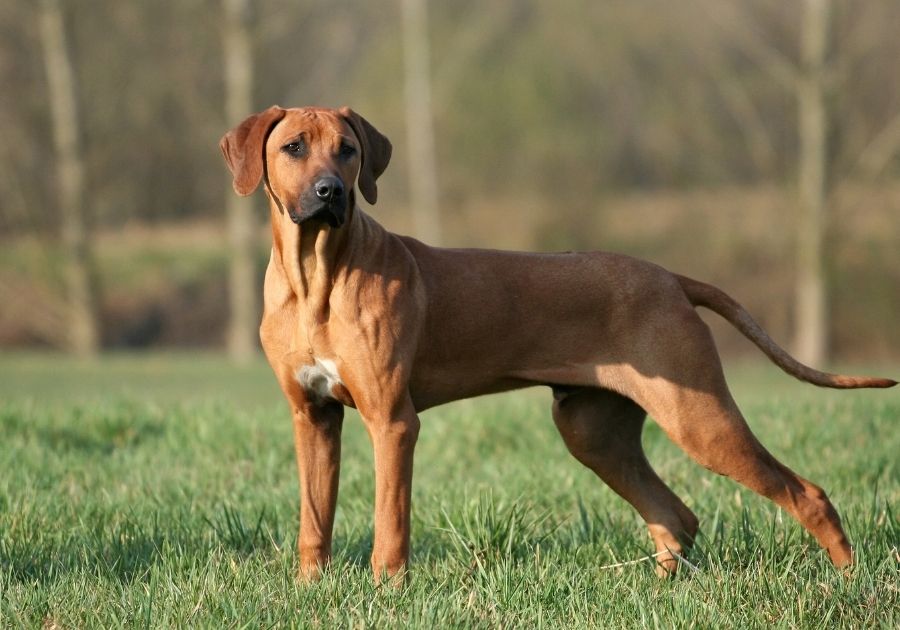 It's simply no! The Rhodesian Ridgeback is not the most suitable dog breed for a first-time pet parent.
While the breed is revered for its intelligence, strong will and independence are also part of their package. They must be raised by a confident and firm human suitable to establish themselves as the pack leader.
Novice pet parents might tilt to the extreme by forceful training or excess leniency, resulting in destructive behaviors and dominance.
Experienced pet parents with tack, firmness, and fairness will shape this breed into becoming loyal, lifelong companions.
Frequently Asked Questions (FAQs)
How long do Rhodesian Ridgebacks live?
The Rhodesian Ridgeback's mean lifespan is between ten and twelve years. 
How popular are Rhodesian Ridgebacks in the UK?
The Rhodesian Ridgeback is a relatively rare breed in the United Kingdom. You will often find Labrador Retrievers, Springer Spaniels, Cocker Spaniels, Jack Russells, German Shepherds, Border Collies, and Terriers.
Do Rhodesian Ridgebacks bark a lot?
You won't get letters from your neighbors about a lousy dog if you own a Rhodesian Ridgeback. Rhodesian Ridgebacks are quiet and reserved; they rarely bark.
Therefore, it'll be impossible to get a reliable watchdog from a Ridgeback. Although your Ridgeback might not be the loudest on the block, it makes an excellent guard dog.
Rhodesian Ridgebacks are instinctive hunters, initially bred for hunting lions in Southern Africa. They do well with their threatening presence, fending off unwelcome intruders.
Do Rhodesian Ridgebacks have a high prey drive?
A Rhodesian Ridgeback might be well-behaved if properly trained and socialized but never forget its hunting roots.
Ridgebacks tend to have a high prey drive, chasing small animals or possibly hunting them.
It would be safer to keep small pets away from this breed or properly socialize them from a very young age.
Are Rhodesian Ridgebacks high-energy dogs?
You might expect nothing less from a hound. Energy is synonymous with Rhodesian Ridgebacks since they were initially bred to hunt wild cats.
Their hunting heritage might require you to help your dog let off steam every day to avoid destructive tendencies. 
Rhodesian Ridgebacks require about two hours of exercise every day; you might walk them, play catch, freebie, or engage in other activities that help them remain active. 
Wrap Up
While the breed isn't for everybody, those with an active lifestyle and enough time to spare will do well with Rhodesian Ridgebacks.
Like those reviewed in this article, reliable Rhodesian Ridgeback breeders in the UK supply healthy puppies that excel in soundness, agility, and temperament.
Some offer the best assistance in helping a puppy through the first few weeks of its life.
While their pups cost way more than puppy mills and a couple of pounds above average breeders, you can the assured of their standards and helpful policies.
You May Also Like: