With so many different dog shampoo choices out there, it can be a challenge for an owner to decide which option to pick.
Some shampoos are better designed for dogs with longer fur, others for dogs with shorter fur.
Many shampoos include a wide range of natural and beneficial ingredients.
On the other hand, still others may contain some ingredients that could perhaps be stripping to the coat.
Many brands design shampoos specifically targeted for a certain breed or dog group.
These shampoos will have ingredients which will work best for a particular coat type and basic needs of a breed.
As for the Belgian Malinois, these dogs have short and straight fur, with a dense undercoat.
A good shampoo for them will have ingredients and benefits that will work great on their coat type.
So what is the best shampoo for Belgian Malinois?
Healthy Breeds – Bright Whitening Shampoo For Belgian Malinois
This shampoo by Healthy Breeds is a great pick for the Belgian Malinois because of its many beneficial properties.
It has the ability to soothe and calm any irritation on inflamed skin with the colloidal oatmeal it contains.
Belgian Malinois can be prone to allergies and therefore itching, so this shampoo can do wonders for your dog's skin.
This shampoo further promises a coat which is shiny, soft, lustrous, and easy to manage. It can work both to lighten white coats, and to brighten a dull coat of any color.
If your Belgian Malinois has a coat which seems dreary, or he has gotten dirty from mud or earth, this shampoo is perfect.
It will help clean any dirt off and ensure his coat looks healthy and shiny.
This shampoo is especially good for enhancing the color and brightness of a Belgian Malinois with a lighter colored coat.
Honeydew – Lavender Oatmeal Dog Shampoo
This Honeydew Dog Shampoo is made with natural ingredients such as lavender essential oil, jojoba oil, and oatmeal.
It refreshes and acts great as a deodorizer. Additionally, it will get rid of any bad smells on your Belgian Malinois.
It additionally moisturizes dry skin and cleanses in a gentle way.
This product has no sulfates or parabens, and it does not irritate your dog's eyes.
Moreover, the scent of lavender can relax and calm your Belgian Malinois down. This means it is perfect for dogs that suffer from anxiety.
The Honeydew Lavender Oatmeal Dog Shampoo bottle also comes in another older version, This is the exact same formula, just a different bottle.
Healthy Breeds – Deodorizing Shampoo
This Healthy Breeds shampoo helps deodorize your Belgian Malinois, and will leave him with a clean and fresh vanilla and sweet pea scent.
It contains essential fatty acids which hydrate, moisture, and nourish the skin.
This formula works outstandingly on dogs with dry or flaky skin. It is pH balanced and soap-free, so it will not strip your Belgian Malinois of their natural skin oils.
This shampoo is also hypoallergenic, so it is safe to use on dogs prone to allergies or frequent reactions to products.
Burt's Bees – Relieving Dog Shampoo
Burt's Bees Relieving Dog Shampoo contains mild, gentle, and soothing all-natural ingredients such as chamomile and rosemary.
As a result, this shampoo helps to relieve any irritation and itching which your dog may experience. It works fantastic on dogs that constantly itch and scratch themselves due to allergies.
This formula is completely free of any colorants, parabens, or synthetic fragrances, which may be a cause factor of irritation.
It is pH balanced, cleanses the coat in a gentle, non-harsh way and rejuvenates. As it is so mild, it is suitable for all dogs, especially those with skin problems.
Buddy Wash – Dog Shampoo and Conditioner
This Buddy Wash Dog Shampoo comes with green tea and bergamot, and cleanses the coat in a gentle and soothing way.
It also contains botanical extracts, essential oils, and vitamins. These not only nourish the skin and coat, but leave your Belgian Malinois refreshed, and with soft, silky fur.
The oils also hydrate and moisturize your dog's coat, and the green tea and bergamot can have relaxing effects on your dog.
You also do not need to follow up with a conditioner, as this version packs both shampoo and conditioner into one bottle.
The Buddy Wash Shampoo is safe to use if you bath your dog frequently, as it does not strip his coat of his natural oils.
This shampoo also comes in other versions. This includes the rosemary and mint version and the lavender and mint version.
All the formulas in these three versions have similar beneficial properties. The essential oils contained in them are relaxing, soothing, and nourishing.
Isle of Dogs – Silky Oatmeal Shampoo
This Isle Of Dogs Shampoo is a sulfate and paraben free formula which is incredibly gentle for your Belgian Malinois.
It cleanses, deodorizes, and it has a lovely jasmine and vanilla scent which leave your dog smelling fresh and clean.
The oatmeal and jojoba contained are perfect for dogs that suffer with dry or flaky skin, as they soothe and hydrate.
They also help nourish your dog's skin and coat, leaving it looking healthy.
Moreover, this shampoo will leave your Belgian Malinois with a soft, shiny, and silky coat, just as it promises.
How To Wash A Belgian Malinois?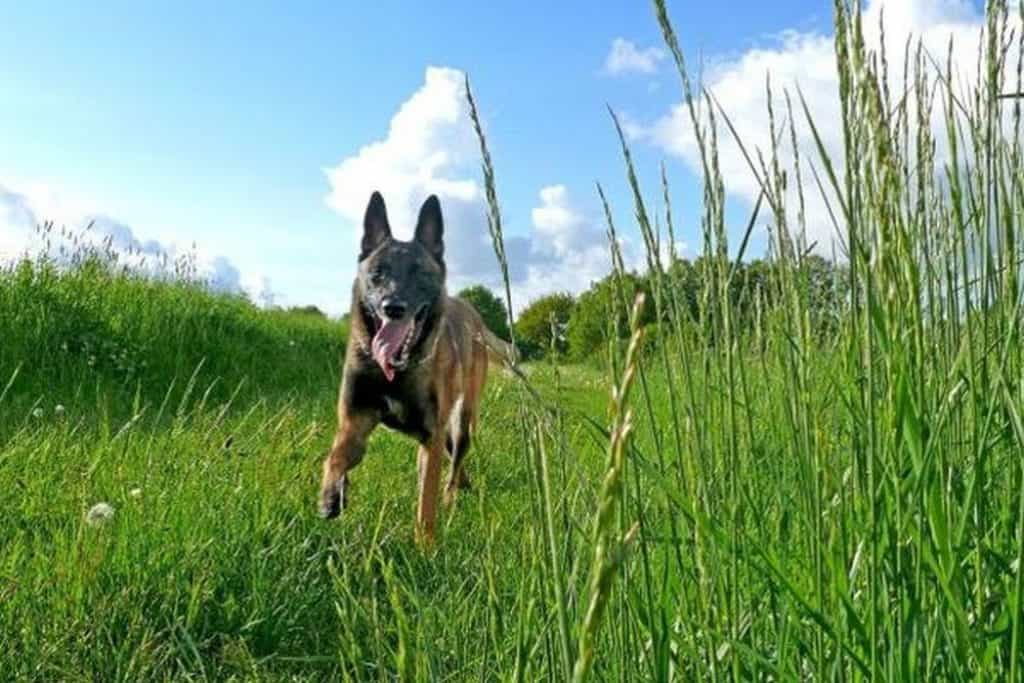 To avoid a bad odor coming from your Belgian Malinois, it is advisable to wash him at least every month or two.
Preparation
First, brush your Belgian Malinois to remove any dead undercoat to avoid intensive shedding in the bath or shower.
You may place a rubber matt on the bottom of the bath or shower if you think your dog may slip.
Use the shower hose or a shower hose attachment for the bath tap to wet your Belgian Malinois.
If you don't own these, fill the bathtub with some water and use a cup to pour it over your dog.
Ensure the bathroom is warm, and use lukewarm water for the bath.
Be very careful around the ears and eyes to avoid the water getting in them. If the ears are tilted back, push them forward so that you can wet them without getting the water inside.
Shampooing
Begin washing your Belgian Malinois with the dog shampoo, trying to massage it into the skin to get rid of all the dirt.
Wash your dog's paws well, as this is where a lot of filth collects. Wash the head last, and be careful not to get the shampoo into your Belgian Malinois ears, eyes, or nose.
Rinse the shampoo off properly. If you feel that your dog was extra dirty, you can wash him a second time.
Additionally, if the shampoo does not have moisturizing properties, you may want to use conditioner after shampooing.
Towel dry your Belgian Malinois well. He should not take too long to dry, as these dogs have a rather short coat.
Conclusion
What is the best shampoo for Belgian Malinois?
I recommend the first product as the top pick – the Healthy Breeds Bright Whitening Shampoo For Belgian Malinois.
This is the best shampoo for Belgian Malinois for a variety of reasons.
This shampoo has a special version for the Belgian Malinois breed, and many beneficial properties and great ingredients.
It will help to make your dog's coat shiny, soft, and lustrous.
Additionally, it helps lighten and brighten a coat that appears dull or is dirty. It does this without any harsh bleaching ingredients.
The oatmeal that this shampoo contains are perfect for the Belgian Malinois. Some individuals may be prone to allergies, causing itching and irritation.
This shampoo will lessen these symptoms, and it will soothe and calm itching and irritation to give your Belgian Malinois relief.
The other shampoos have many great benefits as well, with soothing and nourishing ingredients.