If you're the proud owner of a confident and graceful Belgian Malinois, making sure they're elegantly groomed and taken care of is extremely necessary.
Brushing is a huge part of grooming and finding the right brush for the fur coat of a Belgian Malinois can be difficult.
You might be wondering, what's the best brush for grooming a Belgian Malinois?
Well, that's precisely what I'm here to tell you.
In this article, I'm going to provide you a list of the top brushes for grooming your Belgian Malinois.
I'm also going to talk about the uniqueness of a Belgian Malinois coat, how you can groom yours, and exactly what type of brushes you can use on Belgian Malinois as well.
So, make sure you read this article till the very end.
Hertzko – Self Cleaning Slicker Brush
Hertzko is one of the top pet grooming brands that has come up with the incredible Self Cleaning Slicker Brush packed with features.
Getting this for your Mal is going to be an absolute treat for them.
This slicker brush comes with bend edges that allow you to deeply brush the coat of your Belgian Malinois without hurting or discomforting them.
All the mats, tangles, and dander from your pet's coat will be removed easily.
Once you're done, you can easily clean this slicker brush by pressing a button because all the pins will retract into the brush, leaving only fur and debris out to be cleaned.
The overall build of the Hertzko Self Cleaning Slicker Brush is pretty decent and durable.
It also comes with an anti-slip handle and a great fun design that your dog will get excited around.
Overall, it is quite a fun grooming brush and will look and perform great even though it is a bit pricier than others.
So, I'd highly recommend that you get it for your Belgian Malinois.
Pet Neat – Pet Grooming Brush
Pet Neat has gone for a more traditional approach with their pet grooming brush and I've got to say it works like a treat!
The Pet Neat Pet Grooming Brush is amazing and full of great features.
It comes with a stainless steel blade with many razor pins that can deeply run through your Mal's coat and remove any dander, tangles, mat, and thatch, as well as dead hair.
The easy-to-grip handle also adds a layer of ease of use to the Pet Neat Pet Grooming Brush.
It is quite strong and durable and will last for quite a while if you buy it.
The price of this product is a bit over the average for the features but if grooming your Belgian Malinois is what you want to do, then you're going to be able to easily do that with this particular brush.
So, get it if you like it because it is worth it. This brush is easy to use and is perfect for beginners or those who have no prior experience of grooming a dog.
Pat Your Pet – 2 Sided Pet Grooming Tool
Pat Your Pet has made quite an impact in the pet grooming industry with their 2 Sided Pet Grooming Tool.
This amazing rolling de-shedder makes quick work of the grooming process and offers a lot of features.
It comes with a 2-sided head. You can start the grooming process with 9 rounded slightly sharp teeth and make your way deep into the fur and use the 17 teeth of the tool to untangle the hair, remove dead fur, and deal with mats.
The easy grip handle and the ergonomic design of this tool allow you to keep your hand steady while you're grooming your Belgian Malinois and make sure they're not hurt by the tool and they're comfortable.
The teeth are extra durable and the speed of the pet grooming tool is pretty amazing as well.
You're going to have a pretty amazing experience grooming your pet with this incredible tool, although it is a tad bit overpriced.
Since it's packed with a number of impressive features, you won't be disappointed with your purchase.
Pet Magasin – Professional Grooming Brushes
Pet Magasin came out pretty powerful with their 3-in-1 Professional Grooming Brushes Pack.
It comes with a 2-in-1 brush, an undercoat rake, and a de-matting comb as well so the functions are unlimited.
With the 2-in-1 brush, you can clean the coat of your Belgian Malinois as well as get tangles and thatches cleared up.
Meanwhile, the undercoat rake is responsible for going deeper and dealing with dead fur and dander.
And then you've got the show-stopper de-matting comb that makes sure there are no mats in your dog's fur.
So, ultimately, your dog will be left completely satisfied and groomed with this grooming brush kit.
They're all very high-quality products and the bundle actually costs not as much when it comes to value.
So, if you have a higher budget but you want an all-in-one solution, I'd definitely suggest getting the Pet Magasin Professional Grooming Brushes set.
HandsOn – Pet Grooming Gloves
One of the best and most innovative products on the Pet Grooming market is the HandsOn Pet Grooming Gloves set.
This pair of gloves is amazing for de-shedding and grooming your Belgian Mal so it will be a perfect choice.
The gloves are equipped with bristle tips on the fingers and round-tipped pins on the palm side.
All you need to do is run your hands generously through your pet's fur and you'll easily de-shed and groom them.
A great thing about this tool is that it can be on any pet and it can even be used for bathing and massaging your pet.
The tips are comfortable and don't hurt your Mal as you're grooming them.
If you've just groomed your pet and your gloves seem filthy with debris, simply do the hand washing motion with the gloves on under running water and your gloves will be as clean as new.
The gloves are amazing and I've experienced them first hand.
Their price is a bit high but I believe the end result is satisfaction and that is what matters the most alongside your pet's health.
This product is best suited to those who are looking for a unique and innovative solution for their dog's grooming.
BV – Pet Grooming Comb 2-in-1
BV has come into the pet grooming brush game and has made quite an impact with their incredible Pet Grooming Comb 2-in-1 combo.
This brush has multi-function and will be great for your Mal.
It has two-sided features.
One side has a long pin brush design which allows you to get into medium-coated fur and make sure it is well-groomed and perfectly taken care of,
And the other side is equipped with bristles that you can use to get any tangles, and curls out of your Belgian Malinois' fur.
The comb also features quite an amazingly ergonomic handle that won't slip when you're brushing your dog's fur.
It will remain pretty solid in your hand as the construction of the brush is quite durable as well.
Pair that with the one-year company warranty and you've got a recipe for success.
The price of this product is also on the decent side of the scale and it looks quite elegant too.
So, if you like it, you can definitely get it and be merry with your buying decision.
If you are looking for something that will last a long time, don't hesitate to buy this tool.
What's Unique About Belgian Malinois Coat?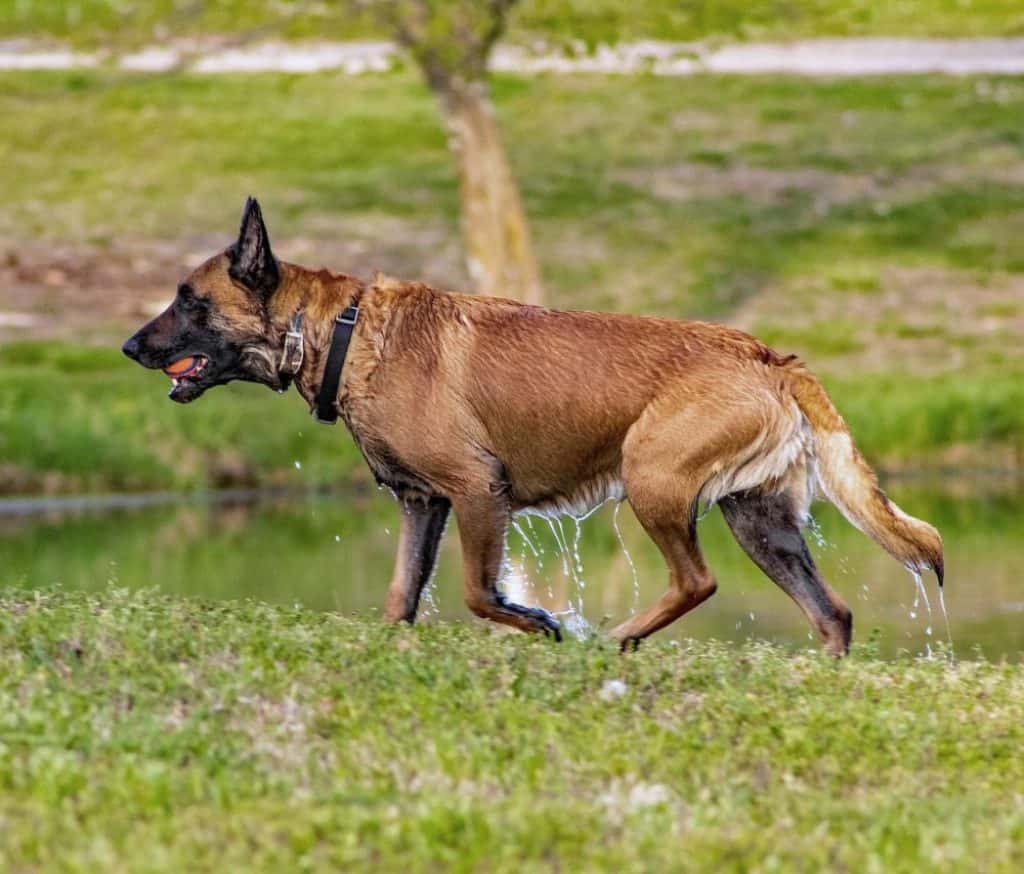 The Belgian Mal is a beautiful dog breed that is strong, smart, confident, and large in size.
The average height of this dog is around 22 to 24 inches and it's a well-muscled breed.
But the one thing that truly makes them unique and graceful is their amazing fur coat.
From childhood to adulthood, the Belgian Malinois fur coat undergoes an incredible visual change.
In the early stages, you might see your Mal sporting a light skinnish color also known as a fawn.
However, as the Belgian Malinois grows, the fawn changes into light mahogany, and the transformation is beautiful.
The visual appeal of the dog is part of the reason they're seen so commonly in competitions. The coat on a Belgian Malinois is medium-sized.
They're not all fluff like many other dog breeds. The fur is tough and thick, so you're going to have to pay attention to grooming for sure.
This dense, double coat is not just rugged but also weatherproof. At the same time, it is also difficult to groom this coat because of its texture and density.
They shed twice a year so it's important to make sure there is no loose or dead hair tangled in the coat.
Since the coat of a Belgian Malinois requires a specialized brush for grooming, I have compiled this list of the best grooming brushes available on the market.
You can weigh their pros and cons and then choose a product that fulfills your requirements.
Grooming a Belgian Malinois
Belgian Malinois has a thick waterproof fur coat which makes grooming and brushing them quite fulfilling in comparison to grooming some of the other dog breeds.
Usually, you're going to need to brush them with a pin brush 2-3 times per week in the direction of the fur growth to keep them clean, their fur perfect, and without thatch and tangles.
However, during shedding season, things could be a little problematic.
The Belgian Mal breed dogs shed twice a year and in this period, you're going to have to groom pretty vigorously.
In shedding season, you're going to have to brush your dog's coat about 4-5 times to keep them comfortable and relaxed. The grooming process isn't very difficult either.
You're simply going to take a spray bottle with water in it. Then gently spray the water on the thick coat of your Belgian Malinois.
Once you've done that, you're going to brush the coat in the direction of the fur growth and you'll get rid of all the stuck and tangled shedding fur. It's that easy.
Types of Brushes for Grooming Belgian Malinois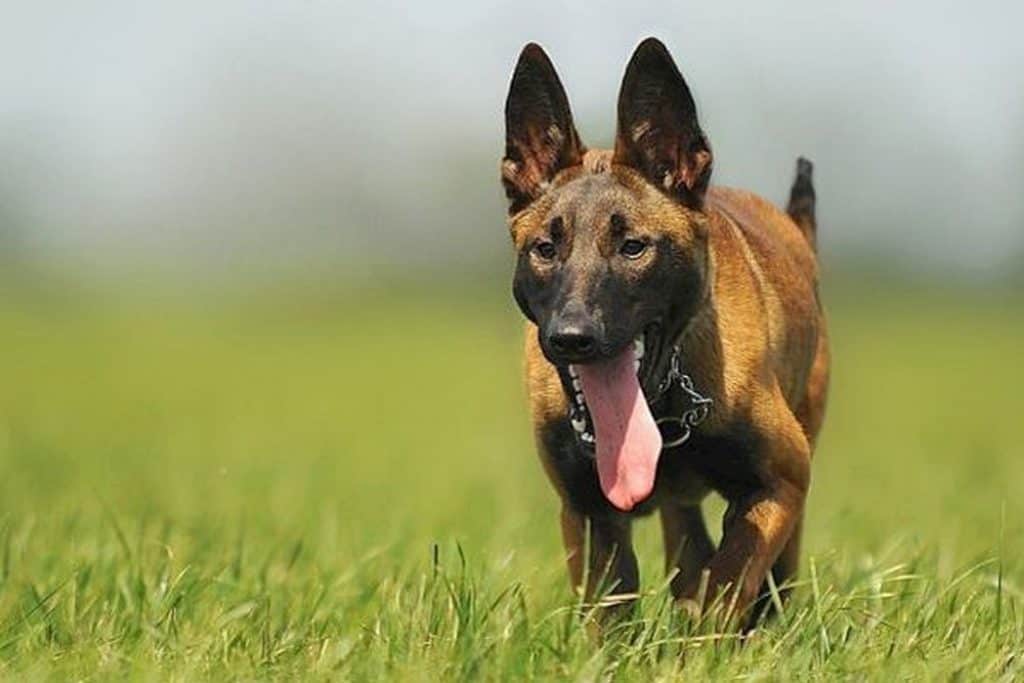 Now that you know how you can easily groom your Belgian Malinois, you must be wondering, what's the best kind of brush to do so?
Well, there are basically 3 major types of brushes used for specialized Belgian Mal grooming: pin, rake, and slicker.
All three can be used to brush a Mal but depending on the individual texture of your dog's coat, you can choose the right brush.
Let's take a look at these brushes one by one.
Pin Brushes
Pin brushes are usually oval-shaped with hard wires placed on top with their heads being pins.
These brushes are good for finishing off the grooming process as they don't go too deep into the coat and only take off dead fur or set the coat of a dog.
Since the coat of a Mal is medium, pin brushes are quite useful for their grooming.
Rake Brushes
Rake brushes are designed like rakes having many tiny razor-like wires placed in a line.
These brushes go deep into the coat and remove any dead fur, debris, and tangles that can be found in the thicker-coated furry dogs and even Belgian Malinois.
But make sure you don't exert too much pressure as these brushes are pointy.
Slicker Brushes
The most commonly used and well-liked brushes are slicker brushes used for grooming Belgian Mals.
Their design includes fine and short wires closely packed on a flat surface. They're ideal for medium-haired dogs like the Mal.
Make sure you get the right size and good quality one though. You need to be gentle with this brush and you'll get great results using them.
Conclusion
Grooming your beloved pet helps ensure that it has a healthy and strong coat and skin that breathes well.
To make sure you follow all the required steps for proper hair hygiene, you need to find a perfect brushing tool.
Such a tool will not only help get rid of all loose hair but also massage your pet's skin without causing any kind of irritation.
Belgian Malinois are active and friendly creatures that rely on their owner's love and care and attention to feel happy and whole.
A lot of playtime and attention can mean the fur getting debris and dirt in it.
I have discussed in this article some of the best grooming brushes available on the market, particularly for Belgian Malinois.
Some of these tools also come with a separate comb to take your dog's grooming to the next level.
With the help of the aforementioned brushes, you'll be able to find the perfect tool for your Mal so that their fur remains perfectly maintained without any tangles or mats.
I hope that you have a great grooming experience with your Belgian Malinois!