Tired of trying to take your German shepherd to a walk but ending up constantly struggling to keep them on a leash?
Well, the best solution for this is to get a Martingale Collar for your dog so you don't have to struggle too much and your dog also feels more comfortable than with a Slip Collar on.
You might be wondering, which Martingale Collar is the best one and how do I buy one for my dog?
Well, that's precisely what I'm here to tell you.
In this article, I'm going to talk about some of the best Martingale Collars for German Shepherds and other breeds as well.
So, let's dive in and take a look at the features, pros, cons, and everything.
RUFFWEAR – Chain Reaction Martingale Collar
The RUFFWEAR Chain Reaction Martingale Collar is an amazing choice because of the many features and add-ons it comes with.
Let's take a look at the features of this collar.
The Durable Tubelok webbing this collar has features reflectivity that allows you to see the collar in low-light at night.
Moreover, the O-ring allows you to connect the leash and keep your dog in a Martingale Collar when you're taking it around for walks.
There is a v-ring that allows you to put a leash on it and use the regular collar feature for everyday home and playtime.
The collar comes with a silicone tag to reduce the clank and noise.
Max & Neo – Chain Martingale Collar
The Max & Neo's Martingale Collar is another one of the best sellers on this list.
With a bundle of features and meant for a great cause, you can surely consider this one for your German shepherd.
Stainless steel O-ring allows for comfortable but controlling pressure to keep your dog well-behaved. You have room for dog tags and name chains in the side loops of the collar.
The collar comes with reflective stitching bands to increase visibility at night-time.
With every purchase, Max and Neo's donate a dog collar to a dog rescue which is amazing!
Mighty Paw – Leather Martingale Collar
Mighty Paw is also known for making some of the best pet collars and leashes.
Their Leather Martingale Collar is a durable, tough, and decent looking product that comes with a bunch of features.
The leather strap and stainless steel make for quite a strong and durable hold around your German shepherd's neck.
The controlled cinch of the collar allows only gentle pressure application so your pet remains comfortable.
The brown leather of the collar gives this product a quite earthy and original look. This collar is well-approved by a lot of dog trainers.
PetSafe – Nylon Martingale Dog Collar
The PetSafe Martingale Dog Collar is a simple yet very effective collar for your German shepherd and other big dogs and comes with an array of incredible features that make it one of the best on this list.
This Martingale collar is made of Nylon which is quite durable and at the same time comfortable.
It comes with a quick-snap buckle so you can instantly take the collar off whenever you like.
The controlled pressure from the Martingale collar will make sure your dog doesn't escape out of anywhere.
It is recommended by many trainers and vets.
If It Barks – Martingale Dog Collar
If It Barks has come up with their very own stylish and durable Martingale Collar that looks and feels amazing.
It is filled with a lot of features that you should consider when buying a martingale collar for your German shepherd.
The collar made of durable x-tough fabric and high-quality material makes sure no big dog can break or damage the collar.
This humane no-choke collar is the perfect way of controlling your dog and making it obedient.
There are many incredible designs and colors you can choose from depending upon the gender and the liking of your dog.
With the O loop, you can control and restrain your big and small dogs without a problem.
NIKPET – Gold Dog Martingale Collar
When it comes to bling and style, the NIKPET Gold Dog Martingale Collar is arguably the best out there.
It comes with quite a few features and you should totally keep an eye on it if you've got a high budget.
The pure 18K gold coated on stainless steel makes the martingale collar incredibly durable and strong.
Slight pressure around your dog's neck will make sure that it doesn't get out or struggle on long walks.
The size of this martingale collar is great even for small dogs and especially for bigger ones like German shepherds.
Hyhug Pets Nylon Martingale Collar is one of the best top-of-the-line collars on this list.
Let's take a look at some of its high-quality features and specs.
100% Nylon makes for a quite durable, high-quality, and strong as well as comfortable martingale collar.
There are spaces in the tri-glide where you can hang dog tags or IDs and charms.
It is a very neat and clean design and the overall look and feel are quite premium.
There are many different colors and designs you can choose from.
Dazzber – Martingale Collar
This Dazzber Martingale Collar is available in many different colors and patterns.
It has been made from aluminum and stainless steel hardware that offers impressive strength.
The process of thermal dye sublimation ensures bright and beautiful colors. Furthermore, the square knotted edge trimming enhances its design and beauty.
It is designed to be a slip collar and hence very easy to use.
The collar is available in different sizes from extra small to large so you can choose an optimum size for your dog.
Country Brook Petz – Nylon Martingale Dog Collar
Another dog collar that will exceed your expectations when it comes to durability and strength.
It's simple yet quite sturdy and found in many different colors.
The Country Brook Petz Collar can be adjusted easily from 15 to 21 inches according to the dog's neck size. The solid pattern looks very attractive and bright.
The collar is very comfortable owing to its silky soft nylon webbing. It has been made from nickel-plated steel hardware that won't break easily!
What to Look for While Buying a Martingale Collar for Your German Shepherd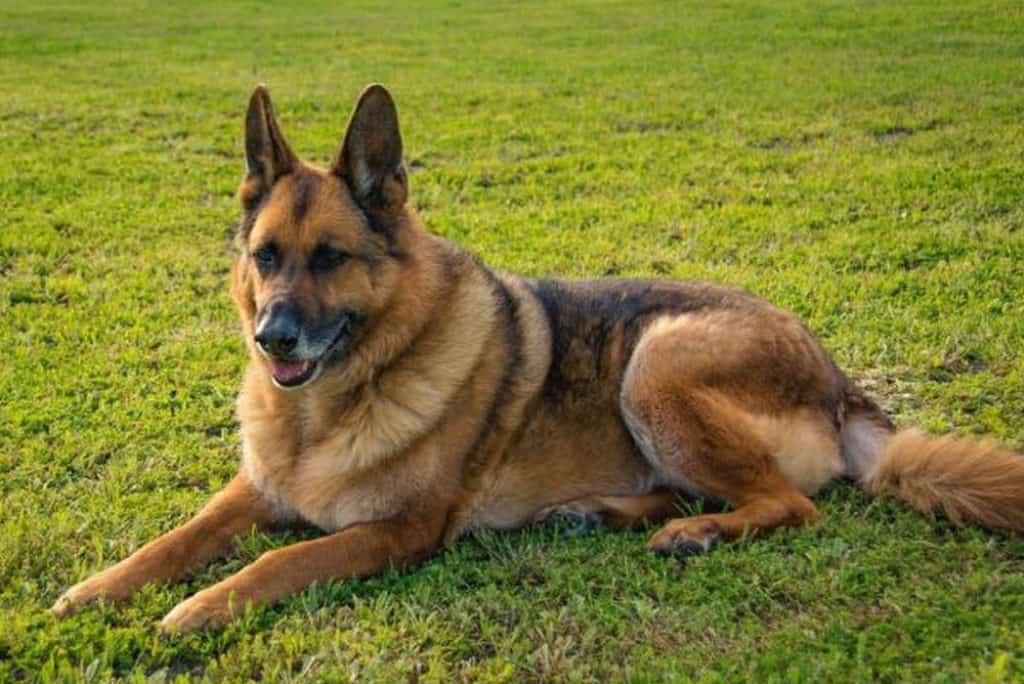 If you're curious as to what you need to look for in the ideal Martingale Collar for your dog, don't be, because I'm here to help you find the perfect collar for your canine without having to scour through tons and tons of available options on the internet.
So, let's take a look at some of the important factors regarding Martingale Collars.
Perfect Size
Making sure that the size of the Martingale Collar that you've chosen for your German shepherd is a perfect fit is quite important, otherwise the collar can be too tight or loose which is a problem.
Durability of the Fabric
Another thing to keep in mind is the durability of the fabric.
Larger dogs like German shepherds and Pit bulls can pull their way out of a collar with their sheer strength so making sure that the fabric is durable is very crucial.
Comfort Factor
The softness and comfort of the material, as well as the side loops, need to be on-point because if your dog feels uncomfortable in a collar, they'd want to get out of it.
Design
This isn't very important but it's a bonus part of the guide.
There will be a lot of different colors available in Martingale Collars, make sure you find the perfect one with the best design and patterns for your dog.
How to Size a Martingale Collar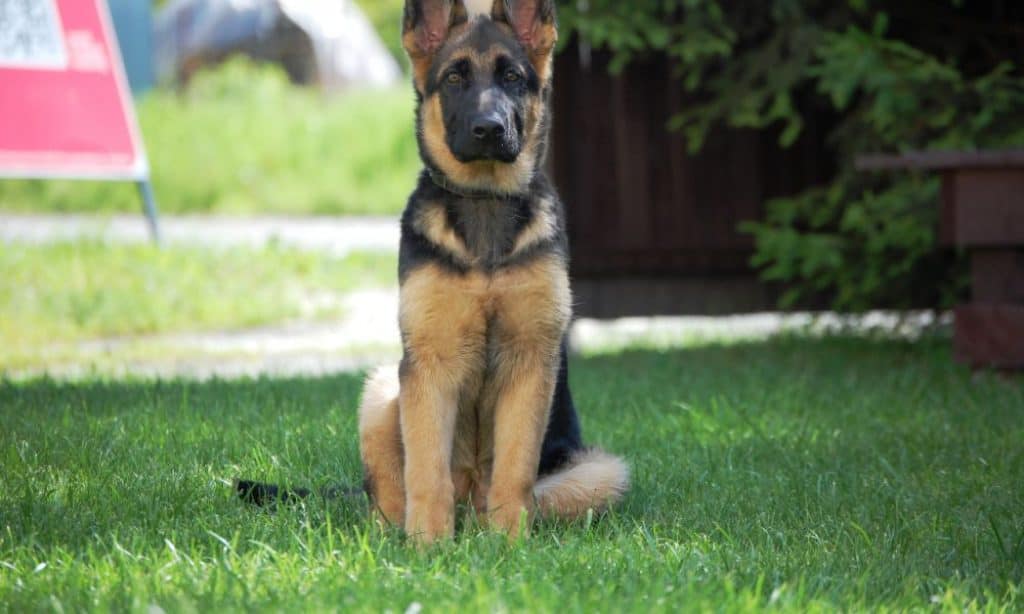 To find the perfect sized Martingale Collar for your dog, you're going to need to follow a proper sizing process so that your dog doesn't slip its way out of the collar when you're taking it out for a walk.
Here's what you're going to need to do to size a Martingale Collar:
First, get a measuring tape and put it around your dog's neck and take the measurement.
Now, you're going to take the measurement of the widest part of the head of your dog.
You now have to find out which of the measurements is larger and then add 1-1.5 inches to the measurement and that's the size you're going to choose for the Martingale Collar.
How to Fit Your Dog in a Martingale Collar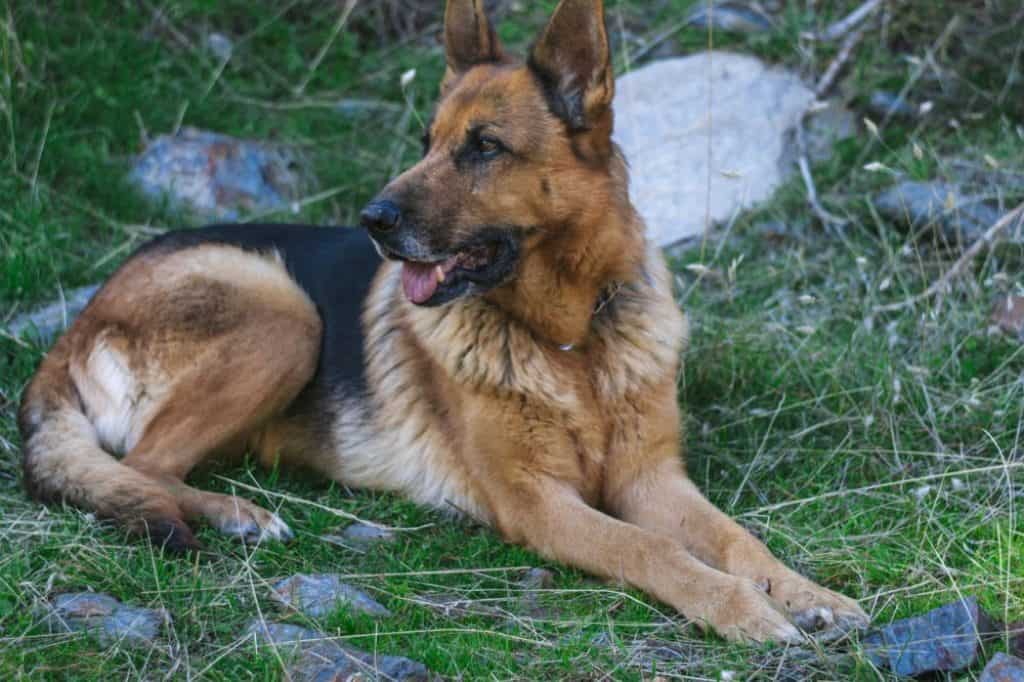 Now that you've chosen your Martingale Collar, it is time to fit the Martingale Collar around your dog's neck.
If you've got a German shepherd, this part is going to be a little difficult but once you do it, you're all set.
Simply take the collar and loosen it up by pulling the tri-glide away from the tag inside the collar.
Now, you're going to put the collar on your dog. Once that is done, you'll tighten the collar up again.
Make sure the collar is not too tight but at the same time comfortably snug.
If you've done things the right way, you're going to see the side loops on the back of the neck of your dog and their fur peeking through them.
You're all set for taking your German shepherd for a lovely walk now!
Conclusion
Martingale collars are the best for all dog breeds without a doubt.
You won't have to worry about your dog slipping out of the collar anymore.
The gentle pressure will make sure your dog remains obedient and comfortable at the same time.
In my opinion, the best Martingale Collar in this list is without a doubt, the RUFFWEAR Chain Reaction Martingale Collar.
Simply because of its durability, comfort, many great designs, silent tag, visibility features, and multi-function for everyday use among many other benefits.
Plus, the pricing is decent as well. So, I'd prefer it.
You can choose whichever you like and have a great time walking your dog around peacefully!