The fact that you are searching for the best collar for Belgian Malinois means that you understand that this breed is very energetic and extensive, thus requiring a collar that will suit its personality.
This dog breed(s) exceeds its potential with the countless impressive things it can do when adequately socialized and trained.
With a lifespan of 12-15 years, these obedient and protective breeds thrive well in extensive exercising (1-2 hours a day).
So, if you want to adopt this dog, and you are wondering which collar is best for your Malinois, then read on as this article got you covered.
I will walk you through a list of the best collars for Belgian Malinois, giving you the pros and cons of each product.
I also help you understand what collar size your lifetime companion needs and take you through easy tips on how to choose a good collar for your Malinois.
Excellent Elite Spanker K9 Tactical Nylon Collar
With a 100% warranty, the Excellent Elite Spanker K9 Nylon Collar will sustainably withstand all your Malinois vigorous activities due to its heavy-duty 1000D nylon material designed to withstand rips and frays.
It has a control handle that helps you grab your dog from the collar. This feature puts you in a better position to control your dog's movement.
Its D-ring provides you with enough space that let you attach any leash to your dog's collar.
This adjustable K9 Tactical Nylon Collar also has a magic sticker and a quick-release button that work in unison to enhance your dog's safety due to the double closure feature.
Black Rhino Ultra Soft Neoprene Padded Dog Collar
This dog collar is made from premium neoprene material that prevents your dog's skin from chaffing when it's active.
The material used also dries quickly and is odor resistant, thus assuring your dog smells fresh 24hours a week despite its outdoor activities.
This collar design is available in 3 widths fitted with a perfectly cut out rust resistant buckle that can easily be adjusted to accommodate a growing pup or any size of a Belgian Malinois.
Designed with heavy-duty material, this Black Rhino Dog Collar is guaranteed to serve your Malinois active and energetic lifestyle effectively.
It's also fitted with a reflective neon stitching that increases your dog's visibility even in the least visible light.
This dog collar comes in a variety of colors that's sure to accentuate your dog's appearance.
Carhartt Pet Adjustable Webbing Collar
If your Malinois keeps wandering off, then this collar is the best fit for you as it is fitted with a high-end metal D-ring which will firmly hold your dog's ID and also effortlessly accommodates all types of leashes.
Its fully adjustable side buckle release, made of premium plastic and rust-resistant metal, helps you quickly put on your dog's collar.
Available in different sizes ranging from small to large this Nylon Webbing Collar enhances your dog's safety due to its reflective triple needle stitch that makes it easily visible even in the lowest light, making it an ideal collar for nighttime walks.
This collar aces at durability as it's made from heavy-duty nylon reinforced with duck canvas weaving.
Soft Touch Luxury Real Leather Padded Collar
The Soft Touch Luxury Real Leather Padded collar will do the trick for a more practical combination of grandeur and functionality.
Padded with genuine premium leather, this dog collar takes your dog collar experience to another level due to its flexibility, ease of washing, and stain-resistant nature.
This Soft Touch Dog Collar also has a built-in small ring next to a stainless-steel buckle, making it easy to attach your dog's ID securely.
Fitted with a large metal D-ring that not only makes it easy for you to attach your dog's leash on but also provides you with speedy access just in case of emergencies that need you to clip or unclip your dog's leash.
These collars come in a collection of bold colors that not only enhance your dog's appearance but also give it an edgy look.
Blueberry Adjustable and Personalized Dog Collar
The Blueberry Adjustable and personalized collar is the best fit for a growing Belgian Malinois dog.
Available in 22 different colors, this easy-to-adjust collar will not only guarantee your dog comfortability when it's active but also ensure its safety due to its easy-to-fit features.
Make sure you correctly measure your dog's neck width before hitting the stores to pick up your classic blueberry adjustable dog collar.
This Adjustable Nylon Dog Collar is sure to serve you for a long time due to the use of high tensile nylon fabric reinforced with high-density webbing and the use of chromium to strengthen the metal D ring during its production.
The buckle made from ecofriendly and heavy-duty plastic also makes this collar dog-friendly.
Dogline Bioathane Waterproof Dog Collar
Confidently let your Malinois explore its water-loving nature safely by purchasing this water-resistant, unshrinkable, and odor repellant collar today.
It's fitted with a quick-release buckle that allows you to efficiently supervise your dog while it's playing with other doggies or pets.
The Dogline Dog Collar is also made of durable, nonabsorbent biothane material, which is reinforced with polyester to suitably sustain your Malinois energetic and adventurous nature.
The strong and large enough metal D ring fitted on this collar provides you with ample space to conveniently place your dog's leash and ID tag.
It's available in 3 widths and 11 colors to specifically accommodate all your collar preferences.
QQPETS Comfortable and Adjustable Dog Collar
If you are fashion-oriented when it comes to choosing your dog's collar, then the QQPETS comfortable and adjustable dog collar is the best fit for you and your doggie.
It's manufactured with a biodegradable plastic buckle and a heavy-duty polyester material to increase its shelf life and resist wear and tear due to natural elements such as extreme temperatures.
The Metal D ring is reinforced with a nickel-free coating to make it more convenient and stronger when attaching a leash.
The easy-to-adjust straps fitted in this QQPETS Dog Collar (which generally fits regardless of your dog's shape or size) are geared towards enhancing your dog's comfortability and security.
It also has a quick-release buckle that allows you to quickly put on and take off the collar from your dog's neck in case of a tight spot eventuality.
Tuff Pupper Heavy Duty Dog Collar
If you are thinking of a long-term investment when it comes to your dog's collar, then this rip and fray-proof ballistic nylon collar will fit the bill.
Made of superior material that comprises of a stainless-steel metal buckle and hardware which are resistant to most tear and wear forces, this Heavy Duty Dog Collar will sure serve your Malinois dynamic nature to the optimum.
The integrated stretch bungee handle takes your dog's movement control to the next level, thus letting you confidently enjoy the outdoor space with more confidence.
This feature goes a long way in preventing avoidable accidents and injuries from occurring while you are in a public place with your doggy.
The collar comes in a variety of widths that can adequately fit any dog's size.
What Size Collar Does Your Belgian Malinois Need?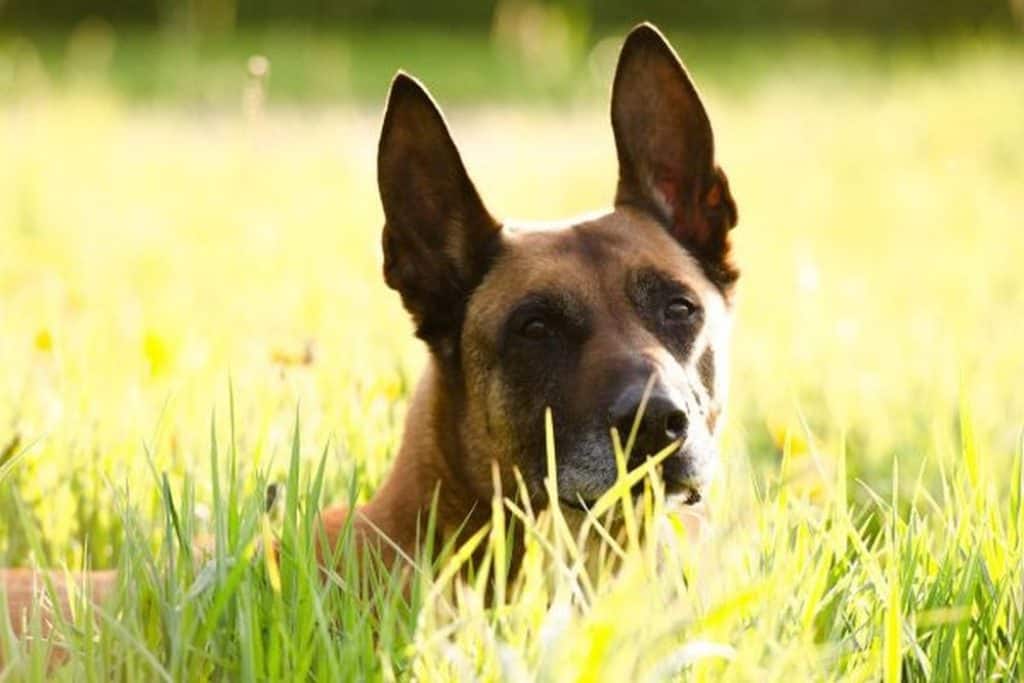 It's normal for any dog parent to wonder what size collar will perfectly fit their canine pet.
If your Malinois is still a puppy (less than 2 years), it's advisable that you buy it a collar that has a wide range of adjustable notches due to its rapid growth.
On the other hand, an adult has an average neck size measuring at least 16-22 inches wide.
However, some factors like age, gender, nutrition, and underlying medical condition may make this ideal measurement not to fit your doggy.
So before purchasing a collar for your dog, ensure that you consider the factors mentioned above.
How To Measure Your Belgian Malinois Neck
Below are a few steps on how to accurately measure your dog's neck width for a properly fitting collar;
Firmly hold a seamstress tape measure (use this tape measure to avoid measurement errors) 2 -3 inches below your dog's head (small dogs); for large and medium-sized dogs, hold your tape measure at least 1 inch below its head.
Pull the tape until it snugs-ensure that it's not overly tight and that you can comfortably slip your index and middle finger between the tape and your dog's neck.
NOTE! It is essential that you correctly measure your dog's collar size since a loose or tightly fitting collar is a safety hazard for your dog.
So, to avoid your dog choking, slipping out of its collar, and badly hurting itself, it's better to have a collar guru accurately measure your dog's collar size.
Different brands have different measurement sizing, so don't rely on the labeling when it comes to choosing your dog's collar.
How To Choose The Best Collar For Your Belgian Malinois?
As discussed earlier, buying quality and fitting collars for your pup or doggy goes a long way in determining how safe your canine friend will be.
So, before you hit the stores and shop for a collar for your Malinois, it's vital that you consider the factors below;
1. The Purpose Of The Collar
Dog collars are multifunctional; they can be used for different functions. For instance, dog collars can be used for;
Identification of a dog(s) – this applies in an area where the dogs of the same breed are many and cannot be easily distinguished
Fashion – if you are into fashion, purchasing a dog collar studded with goldware or spikes will do the trick
Training – shock collars come in handy when it comes to using collars to train your Malinois
Restraint – used to keep your dog under control. Most effective when your Malinois isn't appropriately socialized with other dogs, pets, or people
Protection – spiked collars are the best fit if your primary purpose of using a collar on your doggy is to protect it
Pro-tip: When it comes to choosing a collar due to fashion, it's advisable that the added accessories such as beads, feathers, bows, crystals, or treat holders be securely attached to the collar.
If this is not possible, ensure that you closely monitor your dog when its collar is on.
This will help you avoid life-threatening emergencies just in case your dog accidentally or intentionally ingests any of the decorative materials attached to its collar.
Knowing precisely what you intend to do with your dog's collar will help you choose the right type of collar for your hound.
2. Material Or Fabric
The material used to make your doggy's collar directly impacts the durability and comfortability of the collar.
Below are the cons and pros of the different materials used to make dog collars;
Nylon – This is the most common type of material used to make dog collars. It is highly favored due to its affordability and flexibility. Nylon collars are ideal for dogs who have sensitive fur(skin).
Chain – Typically made of stainless steel, these collars, also known as choke chains, are a good fit for a Malinois that is hyperactive and constantly engages in vigorous activity.
Leather – If you are looking for a classic and durable collar for your Malinois, then a genuine leather collar is the best fit for you and your doggy. It's recommended that you choose a rolled leather collar if your dog has thick hair on its neck.
Biothane – This collar material is the best fit for your Malinois due to its love for the water. Biothane is a synthetic material made of either polyvinyl or polyurethane making it 100% non-toxic.
3. Features That Improve The Collar's Functionality
Before purchasing a collar for your Malinois, ensure that it has the features mentioned below for improved functionality. Such features include;
Buckles – helps you easily attach a leash or a check cord to your dog. Choose a metal buckle for a more durable and secure collar.
Adjustability and the number of notches – choose a collar with a high range of adjustability to help you save on the cost of having to buy another collar just because your doggie has outgrown it or its smaller than it.