In search for the best diets for the best dog food for Labradors with skin allergies?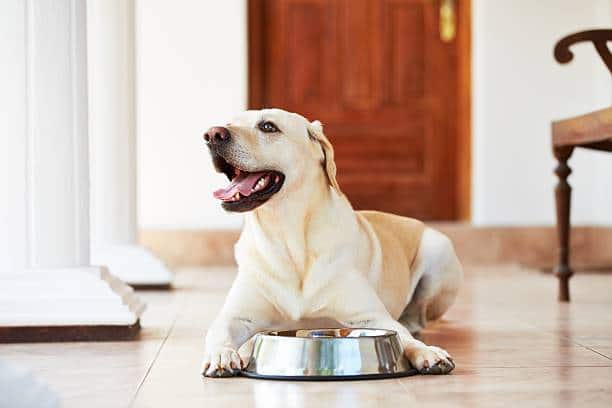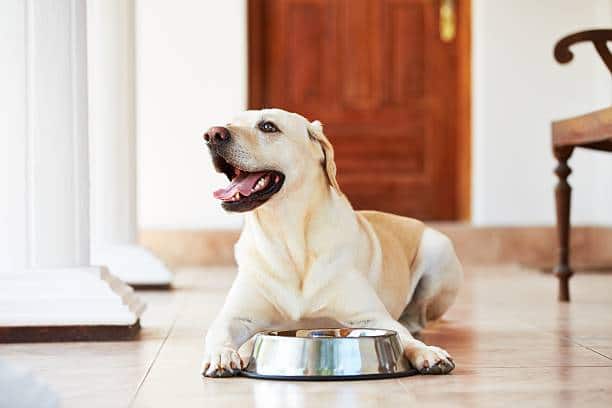 Many people are not aware that our canines react differently from humans when they have allergies. Instead of sneezing, when a dog has allergies, it makes their skin itchy.
The skin allergy of dogs is called, "atopy." Labradors often suffer from atopy or what is also known as "atopic dermatitis."
The areas of their bodies that commonly affected are the ears, folds of the skin, the belly, and their feet.
Symptoms of skin allergies in Labradors
The atopy symptoms typically manifest itself when the Labrador is 1 to 3 years old. If this health concern is not addressed, it will get worse.
The most common symptoms are:
Ear infections
Rubbing their face
Frequent paw licking
Chewing of the affected area
Scratching the affected area
Skin ailment such as redness
Loss of fur in the affected area
Ear discharge
Frequent shaking of the head

Treatment for Labradors with skin allergies
There are treatment options for atopic dermatitis in dogs.
One of the treatment options is for our canine friends to have the right nutritional intake with the ideal formulation to prevent their skin allergies from continuing and flaring up again.
With the best dog food for labs with skin allergies, the health concern may be remedied and cured.
Common food allergens
It might be a surprise to many pet owners but there are protein sources that may cause dog skin allergies. The common food allergens are:
Chicken
Chicken eggs
Lamb
Beef
Dairy products
Soy or wheat gluten

If your Labrador is showing any or a number of these common skin allergies symptoms, it is possible that the skin reaction is due to the dog having sensitive skin, it is allergy season, or because of the food that the dog ate.

Using any of the best dog food for labs with skin allergies is an easy solution that may address the health concern and save your dog from further suffering.
Best dog food for Labradors with skin allergies
It is possible that the dog food choice is what made the Labrador have skin allergies.
If your canine companion has skin allergies, you might want to consider changing the food that they are consuming to any of these specially formulated dog food that may provide the best diets for Labradors with skin allergies, such as:
1) Blue Buffalo Basics Limited Ingredient Grain-Free Food
High-quality dog food that is formulated with supplements, healthy fats, and beneficial protein.
This brand offers a variety of allergy-free dog food products that are suitable for Labradors who are on a limited ingredient diet.
This product line includes those made with protein sources like duck, lamb, salmon, and turkey. This brand of dog food has its Wilderness line that is formulated with multiple protein options.
2) Wellness Simple Limited Ingredient Diet Grain-Free Salmon and Potato
This dog food line has various limited ingredient diet options for all growth stages of our canine friends, such as that for Labrador puppies, adult Labradors, and those for other breeds.
Their original recipes include that of their Core dog food which a special line of products specifically designed for dogs with skin problems. The Core dog food line has both canned dog food and kibbles.
3) Instinct Limited Ingredient Diet Grain-Free Dry Dog Food with Lamb
The line of dog food products of this brand made from protein sources like turkey, rabbit, and turkey.
Every one of their limited ingredient diet dog food products contains Omega 3 and 6.
It has a coating made from green tea extract with the carbohydrates source derived from tapioca and peas.
This brand has adult dog food in kibble form and another type for small dog breeds.
How do I know what my Lab is allergic to?
The best way to know is to ask your veterinarian. They will be able to do some tests to determine what your dog is allergic to.
If you notice that your dog experiences any of the allergy symptoms mentioned earlier after you gave them something new or are exposed to a new environment, then it is likely those things.

To conclude
If the reason why your Labrador has skin allergies is because of the food that they ate, the simple remedy is changing their dog food.
Choose among any of the best dog food for labs with skin allergies to provide a solution that will give your pet relief from their itchy skin.