Keeping your dog smelling good is important, not just for its health, but also for your nose.
This means investing in the best smelling dog shampoos for your beloved pet buddy; and with so many products, that can be a challenge.
You know you've struck gold when you get one that lasts and gives your dog a sweet-smelling scent that makes cuddling a wonderful experience—if your dog is up for that.
Unfortunately, not every shampoo product can give you this satisfaction.
Some are too watery, others give a good scent that hardly lasts before your dog starts smelling like you never used one in the first place.
Of course, no brand will advertise their shampoo as low quality, so you might never know till you use it. You do not have to make that gamble, however.
With our compilation of the 10 best smelling dog shampoos, you can make a better decision and give your beloved pet a sweet-scented bath.
The Best Smelling Dog Shampoos With Long-Lasting Scents
01. Buddy Wash Original Lavender Dog Shampoo – Best Overall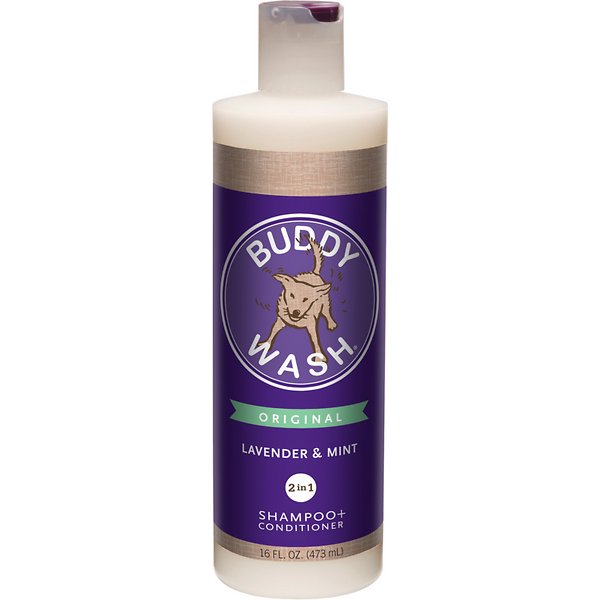 Buddy Wash often takes the top 3 positions on many lists of this same nature, and for good reasons.
It is made with natural ingredients, including chamomile, green sage, coconut, aloe vera, mint, lavender, wheat extract, and essential oils.
Buddy Wash is also made in the United States and comes in different sizes.
What's more, only a small amount of this shampoo is needed to form lather. This makes the product last longer.
The lavender and mint work together to give your dog a sweet-smelling scent, while the wheat extract gets rid of odors.
Altogether, this product is excellent for outdoor pooches that get dirty easily.
Pros
Uses natural ingredients
Made in the United States
Lasts long, giving you good value
Gives a pleasant scent and acts as a deodorizer
Cons
The scent can be too strong
02. Earthbath Oatmeal & Aloe Dog & Cat Shampoo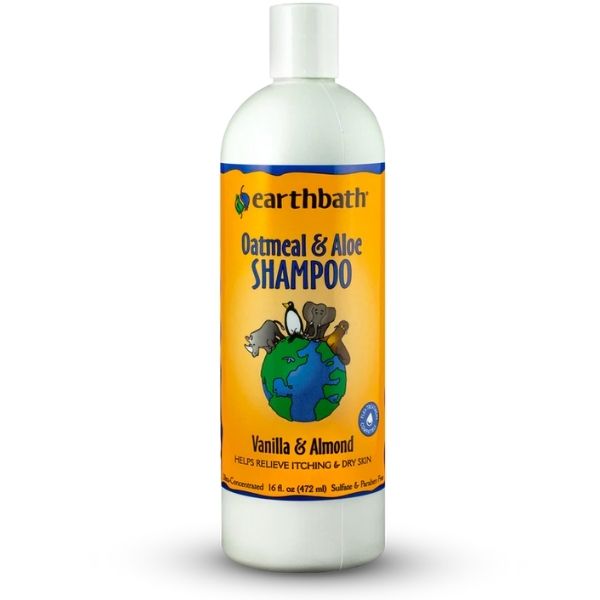 Earthbath is what your dog with dry and itchy skin needs. The organic aloe vera has a soothing effect, which calms the itchiness and relieves your dog.
It is good for both dogs and cats older than 6 weeks, and it is safe as it doesn't wash away topical flea meds. It lathers well too and has two different sizes.
Earthbath has a pleasant scent as well, but some customers don't appreciate the fragrance.
Also, some have pointed out that the formula in the bigger Earthbath (1-gallon) is of lower quality.
Other than those, there don't seem to be any other flaws with this product.
Pros
Good for dry and itchy skin
Lathers well
Affordable
Doesn't contain phosphate, paraben, and soap
Moisturizes
Cons
Some customers don't like the fragrance
The 1-gallon formula may not be as good as the smaller one
03. Rocco and Roxie Dog Shampoo for all Dogs and Puppies – Best for Puppies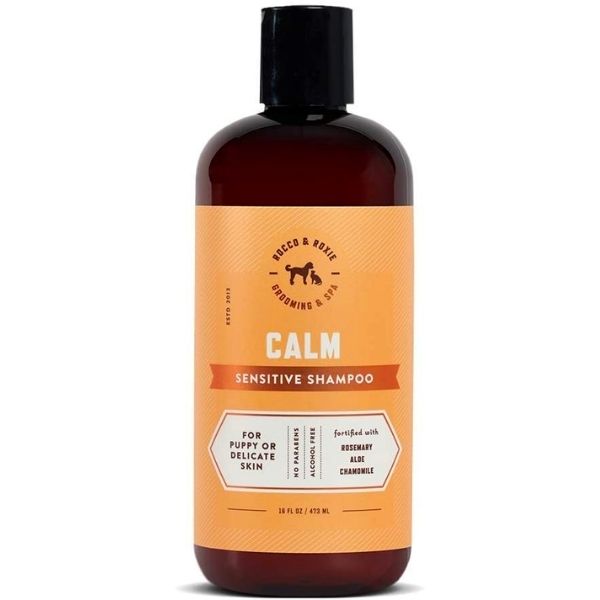 Rocco and Roxie is a well-praised brand, from its dog treat brand to the shampoo product.
It is a calm hypoallergenic shampoo recommended for puppies because the ingredients are gentle.
The aloe vera and chamomile are soothing while the rosemary extract helps with the growth of follicles. It comes with no alcohol, paraben, or dyes.
Rocco and Roxie's shampoo is made in the USA and uses only natural ingredients.
However, some customers have reported that the shampoo triggered an allergic reaction in their dogs.
This isn't universal, however, and you can get a money-back guarantee if you're not satisfied.
Pros
Good for puppies' sensitive skin
Contains no alcohol, paraben, or phosphate
Made in the United States
Has a nice scent
Money-back guarantee
Cons
May trigger allergies in dogs
Not good for cats
04. Burt's Bees Tearless Puppy Shampoo with Buttermilk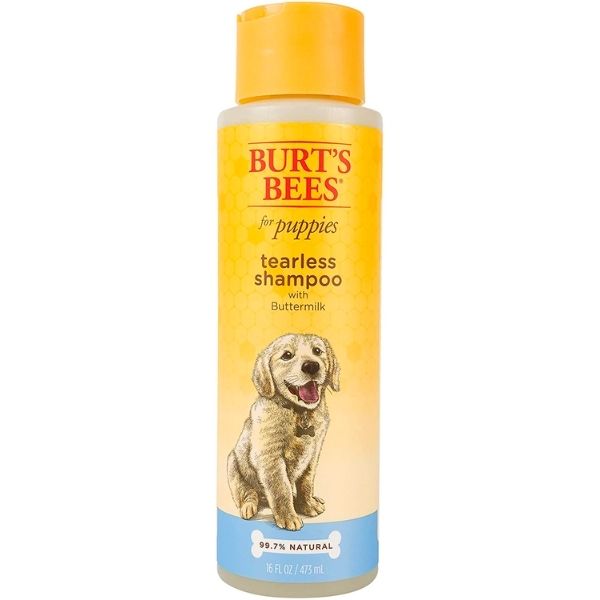 Burt Bees' products have a reputation for having good fragrances, and the shampoo is not an exception.
It is made out of honey, buttermilk, and beeswax and smells so nice you might be tempted to use some yourself.
Burt Bees is good for dryness because the ingredients serve as a moisturizer.
In addition, it is free from colorants and sulfates and it lasts long.
The only problem some customers have with this product is that it doesn't produce enough lather, but hence it still lasts, others don't mind.
Pros
Has a pleasant scent
Honey and other ingredients act as moisturizers
Good choice for puppies
Lasts long
Cons
It doesn't produce much lather
05. 4-legger Organic Dog Shampoo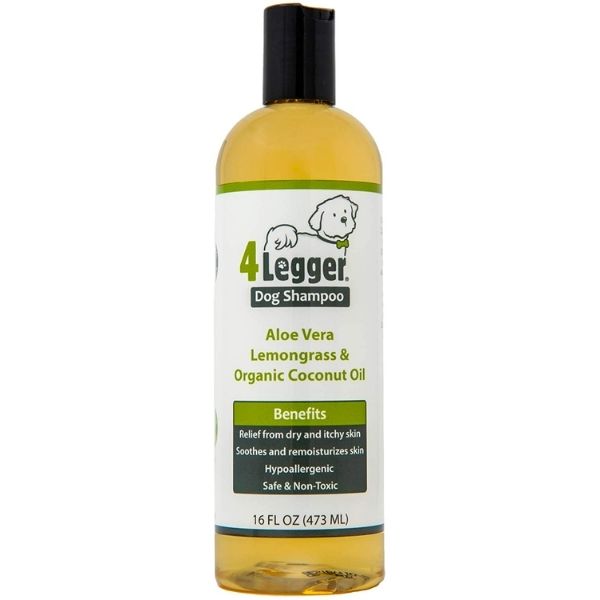 4-legger shares some of the advantages as others on this list. It is long-lasting and has a pleasant scent.
Its ingredients are certified by the USDA and are all organic. Rosemary, lemongrass, essential oils, olive, and aloe vera are some of the natural ingredients used.
These ingredients combined soothe your dog's skin and gives it a nice scent.
4-legger also offers medical assistance as it has antifungal and antibacterial properties.
It repels ticks and fleas as well. It also lasts long, and the only complaint we know of is its price.
Pros
Organic ingredients certified by USDA
Hypoallergenic shampoo
Concentrated formula
Non-toxic, vegan and cruelty free
06. TrueBlue Pet Products Natural Balance Conditioning Dog Shampoo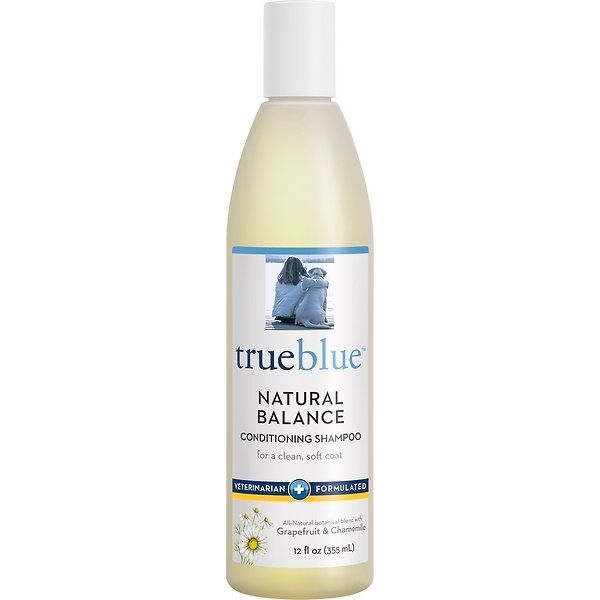 TrueBlue Shampoo was designed by veterinarians to have a product that will not wash off the natural oil on a dog's skin, a common concern when bathing dogs.
The scent is also lovely and long-lasting. You can as well count on chamomile and green tea to keep your dog's coat looking smooth and shiny.
Another advantage of this shampoo is that it was made in the United States and produces enough lather.
It only comes in a 12-ounce bottle though, and it can wash off topical flea meds if applied too soon.
Pros
Has a nice scent
Made in the United States
Doesn't wash off the dog's natural oil
Made by veterinarians
Made with natural ingredients
Cons
Only one size available
May wash off topical flea treatments
07. TropiClean Spa Renew Shampoo for Dogs & Cats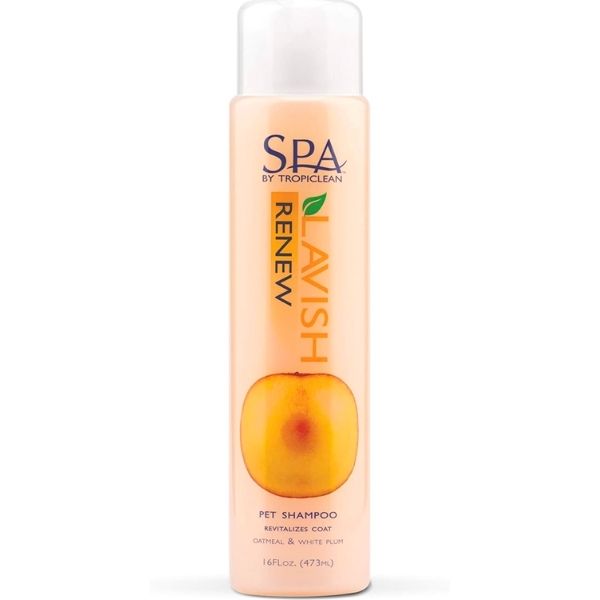 TropiClean has a nice scent that would remind you of flowers and gardens (hence the name). It is also good for dogs with dry skin because of the oatmeal within.
Other excellent ingredients are coconut, white plum, and ginger that keep the dog's skin shiny. It is also a United States-made product and gentle to the skin.
TropiClean promises safe and natural pet products. So far, it has lived up to expectations with its gentle, natural ingredients.
It has also been proven to heal hot spots, and it doesn't come with soap. The best part is, this shampoo is safe for humans too.
Pros
Doesn't contain soap
Safe for cats and even humans
Doesn't wash away tropical meds
Good for dry and itchy skin
Has a nice scent and lasts long.
Cons
Some customers don't appreciate the scent.
08. Lilian Ruff Berry Blue Doc Shampoo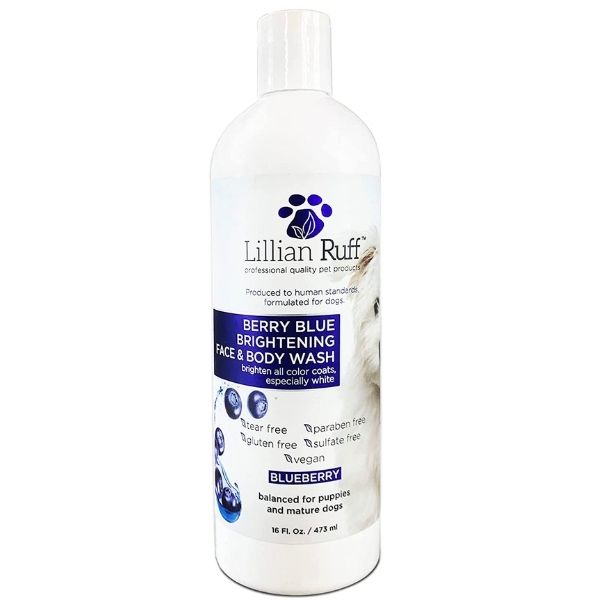 Lilian Ruff is a good shampoo for white dogs as it easily removes stains, especially tearstains.
It isn't limited to white dogs, though. It can be used on dogs of any color.
This product is equally good for itchy skin and gets a natural scent through the natural blueberry ingredient it uses.
Lilian Ruff comes highly recommended by veterinarians and is usually used by groomers because it is safe and lasts long. It has two different sizes as well.
Pros
Has a tear-free formula
Made in the United States
Contains no sulfate and paraben
Cons
It is expensive
May not always be effective
09. Wahl 4-in-1 Calming Pet Shampoo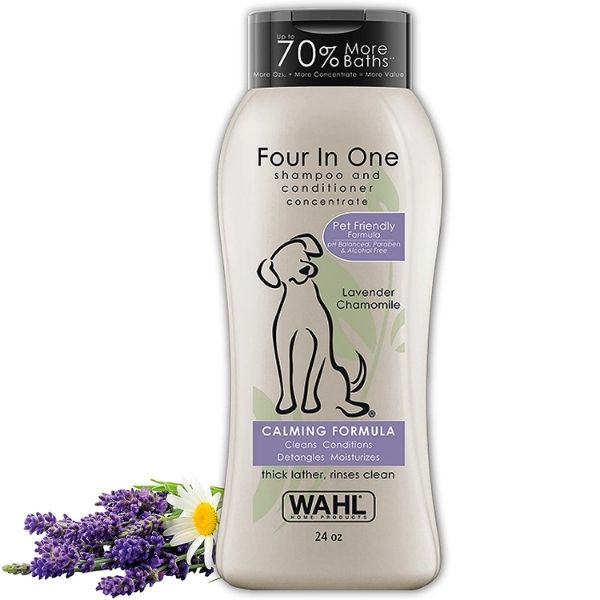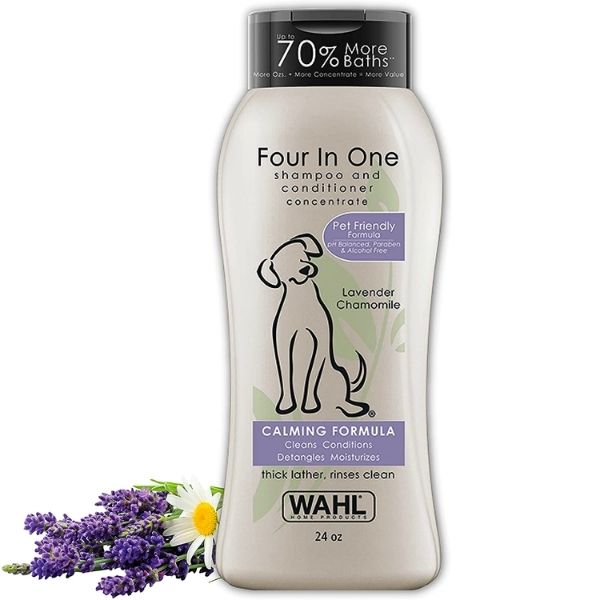 Wahl 4-in-1 is recommended for longer-haired dogs because it detangles alongside the normal functions of cleaning, conditioning, and moisturizing.
The lavender and chamomile scent is calming, which can be very advantageous for reluctant dogs.
Wahl is expensive but provides enough value to make it worth the cost.
Alongside the benefits mentioned above, Wahl shampoo contains no alcohol and paraben. It is pH balanced too.
Wahl 4-in-1 does contain Cocamidopropyl betaine, which may irritate some dogs' skin. It can wash off topical flea treatment too.
Pros
Has a pleasant smell
Highly concentrated
Used by professionals
Cons
Irritates some dogs skins
Can wash off topical flea treatment
10. Vermont Soap Pet Magic Dog Shampoo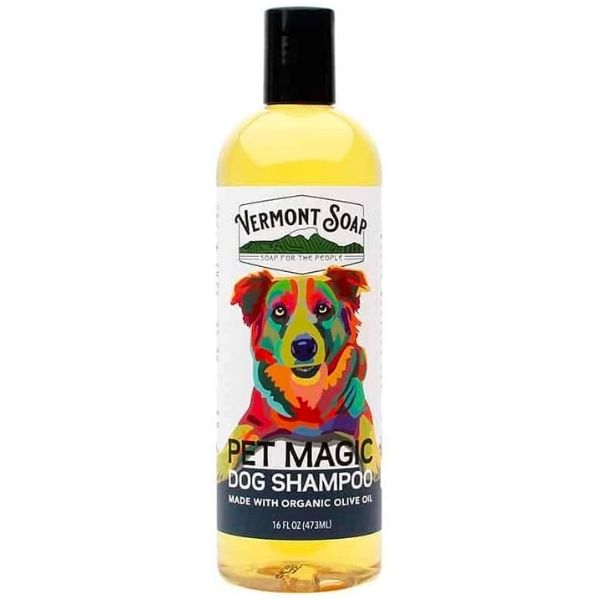 The final shampoo but not the least on our list is Vermont, a gentle product that makes use of castile soap, a vegetable-based type of soap that's soft on the skin.
In addition to that, Vermont contains olive oils, coconut, jojoba, and rosemary among others. It comes in 3 bottle sizes.
It also comes with no artificial additive, including sodium lauryl sulphate, a lather-producing ingredient.
This has its benefit as it prevents irritation, but the downside is that it doesn't produce much lather.
Customers also complain of its cost and that it doesn't work well on dogs with double coats.
Pros
Uses natural, certified products
Has a concentrated formula
Cons
Not effective on double-coated dogs
It is expensive
Buyer's Guide: How to Get the Best Dog Shampoo for Smell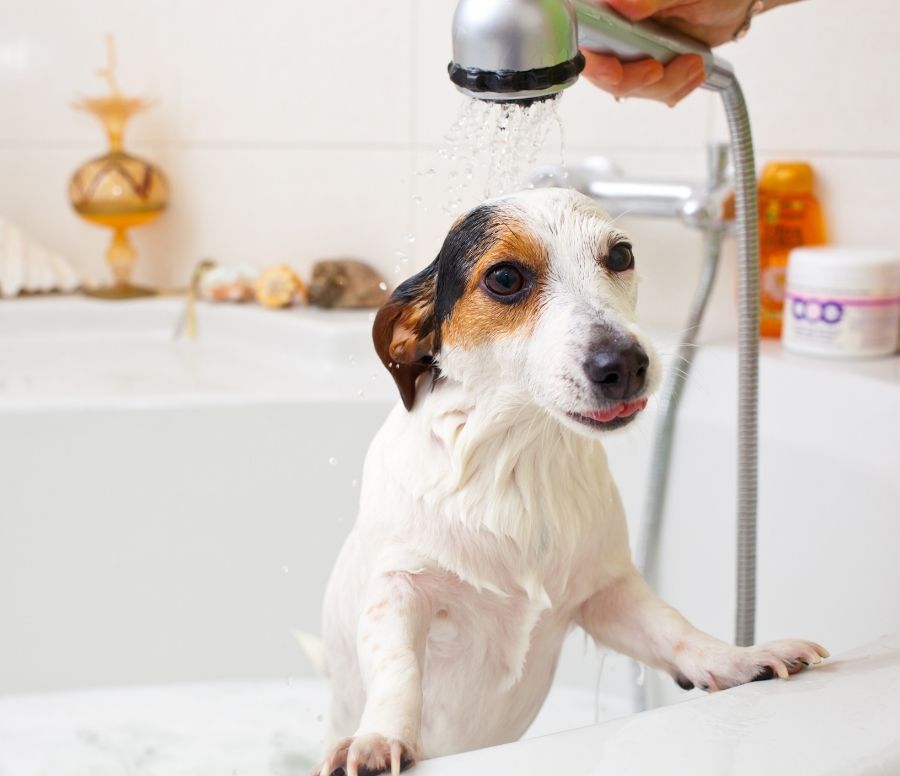 With our reviews of some high-quality shampoo products, the search has been narrowed.
Having said that, you still need to know which shampoo would be better for your dog.
This section would provide some factors to consider while shopping for the nicest smelling dog shampoo.
The most important ones are scent, your dog's age, and the ingredients therein.
The scent is one of the most important factors you should consider. All shampoos claim to have nice scents, but not all will be favorable for you and even your pooch.
Furthermore, some scents are more efficient than others. Examples are vanilla, lavender, and citrus.
Avoid products with overpowering scents as they can make your dog uncomfortable.
Your dog's age matters a lot too. Puppies can't use the same shampoo as adults because of their sensitive skin. Seniors might also need a specific shampoo for their skin.
Then we have the ingredients. You need to ensure these ingredients target your dog's main skin needs.
Does your dog have dry skin? A moisturizer is appropriate.
Does it have longer hair? Find a shampoo that conditions.
What about allergies? Here, you need to be even more careful so you can select hypoallergenic dog shampoos.
There are some shampoos you should avoid, regardless of the low cost. Some products use artificial scents and parabens which can irritate.
Avoid any product that uses soap too, as well as watery ones. They don't last. A high-quality shampoo is highly concentrated.
Dog Bathing: Tips to Bathe a Dog
Getting a good-smelling dog shampoo is but one part of the equation. You must also know how to give your dog a good bath.
Dogs don't need daily baths like humans, but now and then they should get something more than brushing.
An instance is when you sight your dog with mud all over, or it emits a bad skin odor.
If this is your first time bathing, we recommend meeting a groomer for advice.
That said, here are some tips to get you started:
Keep your dog as comfortable as possible.
Choose the right spot, according to your dog's size. A small pooch can be bathed indoors, but not a giant breed.
Be mindful of the water temperature and pressure.
While using the shampoo, avoid sensitive areas.
Ensure you completely wash off shampoo to avoid skin problems.
Dry totally.
FAQs
What do dog groomers put on dogs to make them smell good?
Professional dog groomers use a variety of products to make your pup smell fresh and clean.
They also use dog shampoos that are specially formulated to remove odors from the hair and skin of your pooch.
While some of these shampoos try to eliminate odor, others shield it for a short period of time.
How often should I bathe my dog?
The answer to this question depends largely on the breed.
Some dog breeds like the Siberian Husky clean themselves up in a feline manner. So, they seldom need a bath. Odorless dogs don't need as many baths too.
The activity level, health, and even size. On average, bathe your dog once in two months or when it gets dirty. 
Can I use human shampoo on my dog?
Human shampoo is not advisable for dogs because these canines have more sensitive skin than humans. The pH of human shampoos (5.2 to 6.2) is also not the same as that of dogs (2.2 to 7.5).
If you find yourself out of dog shampoos and you need to bathe your dog, a safer alternative is baby shampoo.
Can I start using a new dog shampoo right away?
Before you start using a dog's shampoo, test a little of the product on your dog's skin to be sure it won't react.
If you notice any red spots or dryness, do not use that shampoo.
Summary
All the products on this list come highly recommended, but we can't presume that they would all be good for your pet.
Following our guide and some advice from experts, you will be able to make the right choice.
Our best overall choice for the overall best smelling dog shampoo with a long-lasting scent is the Buddy Wash Original Lavender Dog Shampoo.
Containing natural ingredients, including chamomile, green sage, coconut, aloe vera, mint, lavender, wheat extract, and essential oils, this shampoo will properly clean your dog's coat and also leave them smelling amazing.
In terms of best for puppies, we recommend the Rocco and Roxie Dog Shampoo for all Dogs and Puppies. With no addition of alcohol, paraben, or phosphate, it is perfect for a puppy's sensitive skin.
Getting the right shampoo is essential for your dog's well-being, so take your time to select the one that suits your pup.
Recommended:
10 Best Brush For Short Hair Dogs & Why They're Good