Are you looking for unique, cute, sassy, badass, and hipster girl dog names for your female puppies?
Don't worry, we're here to help.
Let's face it, choosing a dog's name is an uphill task. Sometimes, it's hard to know where to begin.
It's all joy and cute moments when you bring your puppy back home and everyone gathers to get a look at the furry puppy until someone asks 'what should we name him/her?'
The name you give your dog should also reflect on gender. It would be wrong to give a boy dog's name to a female dog (except if you opt for gender-neutral names). 
There are many things to consider when naming your lady dog. Will a cute name be appropriate, or should you go for something with more edge?
The dog breed matters, too.
You won't give a Chihuahua the same name as a pit bull.
The name has to be just right, and it feels like the first step in parenting a dog.
Sounds hard?
It doesn't have to be an all serious business, however. You can have some fun while you're at it.
After all, this is a step to you becoming a pet parent. If you're a new pet parent, it may be even more daunting.
With our list, you won't have to brainstorm for long. Simply find the name that 'connects' with your pet and you're good to go. 
Hipster Girl Dog Names
For dog owners who would love to be trendy, hipster girl dog names are always in vogue.
These names are exceptional and show a lot about the peculiar taste of you, the owner.
Stay current and stay creative with these names. Feel free to tweak any, if you wish. It's your pet's name, after all.
Jude
Neva
Finley
Scout
Miri
Woodson
Gertrude
Bryce
Edie
Quinn
Sia
Merritt
Atticus
Flora
Brax
Ike
Jules 
Otis
Reese
Darby
Mishka
Devon
Tate
Dixie
Adley
Kai
Iris
London
Prairie
Savannah
Ramona
Clementine
Salinger
Billie
Ansen
Lila
Delilah
Minnie
Hayes
Juniper
Everitt
Edna
Marlow
Zane
Grey
Sullivan 
Olive
Wynn
Mikkel
Cleo
Ivy
Badass Girl Dog Names
Some dog breeds give off badass vibes, especially wolf-looking dogs like Huskies.
If you've got one of those, complete the outlook by giving her a badass girl dog name. It would fit her identity better than something cheesy.
Rebel
Sheena
Zelda
Roxy
Blaze
Roxanna
Valencia
Vixen
Ruby
Harley
Akira
Blair
Arna
Alba
Cerise
Eileen
Estella
Eve
Fox 
Freya
Floss
Gemma
Gia
Ginny
Kali
Karla
Justice
June
Jolene
Kiska
Koko
Kirra
Lacey
Ivy
Izzy
Inez
Ice
Jade
Jo
Karla
Kate
Kiska
Korra
Lyla
Scarlet
Macy
Mae
Maple 
Rogue
Paige
Sedona
Related: Husky Dog Names For Male and Female Huskies
Tough Female Dog Names
This one is for the worker ladies, the hunters, the police dogs, and military canines.
They need a name that would reflect their stubbornness and overall strength.
If you've got a tough lady dog, here are some good tough female dog names for you. 
Storm
Xena
Myka
Shadow
Sasha
Lara
Alex
Athena
Artemis
Freya
Cleo
Ronan
Lilo
Bear
Raven
Kaya
Kali
Zelda
Scout
Stormy
Zola
Onyx
Koa
Bowie
Cinder
Astra
Red
Jinx
Onyx
Amazon
Finn
Sasha
Indy
Kali
Sage
Kaya
Juno
Dakota
Electra
Duchess
Gaia
Genesis
Karma
Leia
Katniss
Lena
Liberty
Loretta
Zola
Zoe
Vixen
Tiana
Tessa
Skye
Skylar
Sheba
Rylie
Sassy Girl Dog Names
If your dog is a girl with an attitude, perhaps a sassy girl dog name will give her the spark she needs.
Who wouldn't like an elegant female dog who knows better than to get in the mud?
Arya
Sally
Nala
Kalie
Bonnie
Sadie
Scout
Bella
Athena
Violet
Tillie
Abby
Zoey
Avery
Ivy
Sophie
Josie
Pearl
Lucie
Dolce 
Sasha
Delilah
Dixie
Queenie
Stella
Princess
Queen
Betty
Roxy
Hazel
Sky
Diamond
Ariel
Elsie
Luna
Missy
Gia
Frida
Ivory
Elsie
Mika
Natasha
Riley
Una
Vicky
Zara
Koko
Peaches
Dolly
Dottie
Unique Female Dog Names
Some names are unique and give your dog an exotic quality.
While these unique female dog names may seem more suitable for elegant and rare breeds, you can give them to any dog of your choice, from Poodles to Labrador Retrievers.
Ada
Adara
Adele
Adelyn
Aida
Bell
Bellatrix
Brynlee
Cece
Cersei
Cleopatra
Kiki
Kiara
Kelsey
Kay
Lakshmi
Laika
Lavender 
Leeler
Lemon
Liberty
Locket
Lo
Magenta
Mai Tai
Maisey
Maisy
Nema
Nermal
Nia
Niki
Nightingale
Noalie
Queen Rasha
Rae
Reba
Raven
Sappho
Savanna
Sapphire
Myrrh
Trudy
Trinket
Tisha
Utah
Valeria
Vera
Vi
Veruca 
Venus
Bailey
Zia
Cute Girl Dog Names
For those cute female dogs, big and small, we bring a set of lovely names.
Those eye-catching furries need an attractive name to complete the package. 
Lily
Lacey
Dawn
Gigi
Giggle
Sugar
Honey
Piper
Maya
Nikki
Millie
Kali
Heidi
Mia
Maddy
Cassie 
Sunny
Love
Abby
Belle
Joy
Luna
Daisy
Lucy
Lollipop
Sadie
Babe
Bambi
Cora
Pearl
Pumpkin
Cherry
Pickle
Pear
Fleur
Birdie
Biscuit
Cookie
Blossom
Butterfly
Dolly/Doll
Fifi
Iris
Indie
Josie
Kiwi
Kiss
Ocean 
Boo-boo
Apple
The Bottom Line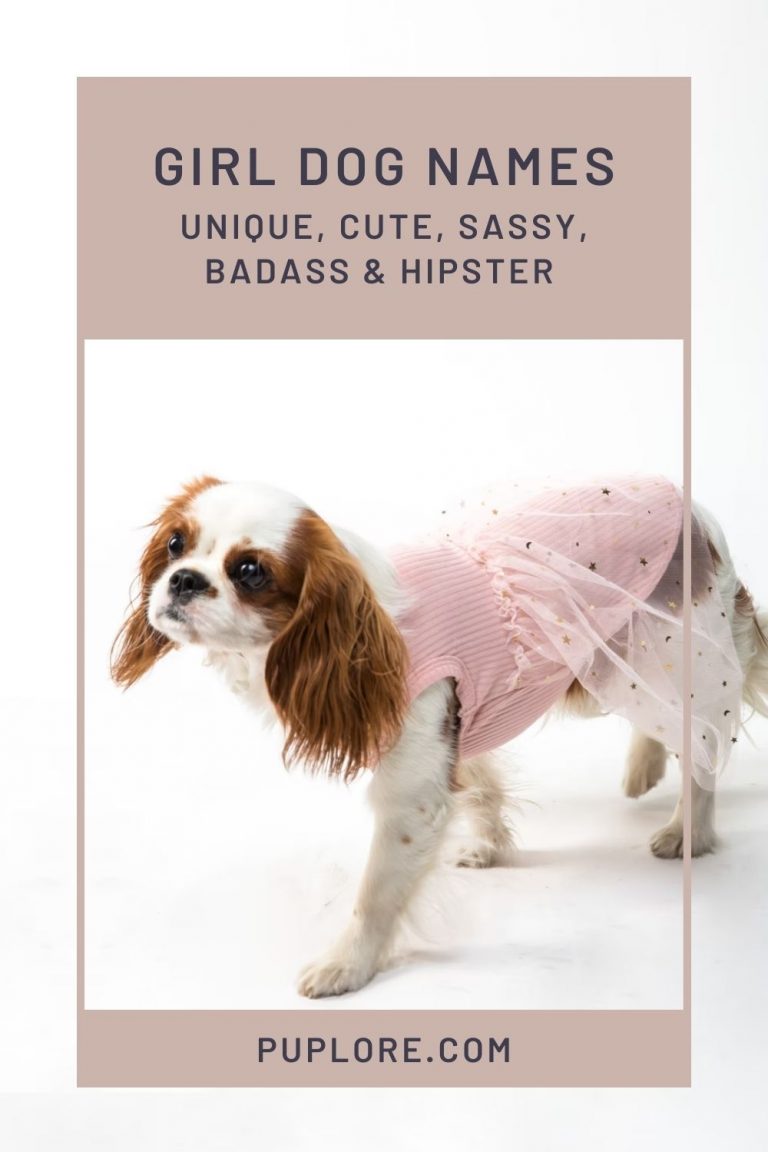 Naming gets easier when you have many options, and with 300+ cute, sassy, hipster, and badass girl dog names at your fingertips, you have more than enough to give your dog.
This can lead to a dilemma as you may find many good choices for your pet. 
The first thing to do is to not overthink it.
While a name is important, it is not the biggest part of pet parenting.
To not get overwhelmed, see pet naming as a fun game. It shouldn't be a chore.
Study your pup as well, the breed in question, and the role they play.
Altogether, these should give you a good idea of which category fits best. Trust your instincts too.
You May Also Like: Game Of Thrones Dog Names