If you're looking for great Game of Thrones dog names for your canine, we have got fantastic ideas for you to explore.
You must have been in a cave hibernating if you haven't seen any episode of Game of Thrones yet.
Okay, maybe not, but you belong to a minority.
GoT fandom is enormous, and it keeps increasing as latecomers strut into the party.
A record-breaking seasonal movie, Game of Thrones was inspired by books credited to George R.R Martin.
Game of Thrones got everyone talking—and we haven't finished talking about it just yet.
The complex plot and memorable characters took us to another world of battles, royal families, and tons of scheming.
Winter has come and gone, but many people still have their hoodies on.
Dog lovers are no exception. With so many fanciful and exotic canines on the screens, doggy lovers were drawn into that fictional world.
Many of us haven't recovered from the sight of beautiful, ferocious, and intelligent members of the canid family.
There were the names, too. Creative and original, you can't help but appreciate the work done by George R. R. Martin in fashioning these names.
Met with such ingenuity, who would blame you for wanting to take a leaf out of his book?
Below are some dog names inspired by Game of Thrones that you could give your pet.
Not only would this benefit your dog, but it will also allow you to connect with other GoT fans.
Direwolf Dog Names in Game of Thrones
Remember the Stark's sigil? Bet you did.
The direwolves left such a strong impression on owners, interest in Wolf-like dogs (like the Siberian Husky) increased.
More radical people went for actual wolfdogs. Whether they succeeded in their venture is a story for another day.
Right now, here's a list of interesting direwolf dog names in Game of Thrones you could be interested in.
Your dog may not be a direwolf, but it isn't a crime if they bear the dignity of one.
To help you choose a good name, we listed the owners alongside them. That way, you can align with your favorites.
Lady (Sansa Stark)
Ghost (Jon Snow)
Nymeria (Arya Stark)
Summer (Bran Stark)
Shaggydog (Rickon Stark)
Grey Wind (Robb Stark)
Related: Dog Breeds That Looks Like Huskies
Game of Thrones Dog Names Inspired by Places
Besides the conflict that made you keep vigil to watch this show, no doubt the fantasy world took you away from your couch and popcorn to another reality.
That's what good movies do.
What you probably didn't consider is that the places from GoT could serve as good dog names.
Take a unique step and pick one of the Game of Thrones dog names inspired by locations in the series.
It would be a nice tribute to a show that made your days interesting.
Winterfell
Essos
Westeros
Dragonstone
Highgarden
Eyrie
Casterly
Ashemark
Dreadfort
Harrenhal
Sunspear
Valyria
Volantis
Pentos
Braavos
Astapor
Meereen
Riverrun
Dorne
Antler
Axe
Bhorash
Kraken
Crackclaw
Crag
Dothraki
Evenfall
Felwood
Flint
Qohor
Frostfang
Baelor
Wyk
Griffin
Harlaw
King
Lannisport
Lorath
Lys
Harroway
Maegor
Pebble
Paps
Osric
Oros
Ghis
Nightsong
Grove
Norvos
Naath
Milkwater
Holdfast
Moonsinger
Muddy
Mummer
Oak
Ragman
Rhoyne
Rosby
Myrth
Skull
Slaver
Skane
Skagos
Sothoryos
Yi Ti
Yron
White Knife
Whispers
Wend
Theyrs
Volon
Valysar
Vaith
Arryn
Dothrak
Vaes
Thenn
Khaleen
Dosh
Tarth
Tarbeck
Sty
Sunspear
Storroid
Stone Mill
Ruby
Selhorys
Sheelba
Ibben
Planky
Queenscrown
Qarth
Reach
Sept
Silverhill
Merling
Starry Sept
Yaros
Asshai
Bandallon
Bite
Clegane
Coldmoat
Crakehall
Cool Dog Names Inspired by Game of Thrones Characters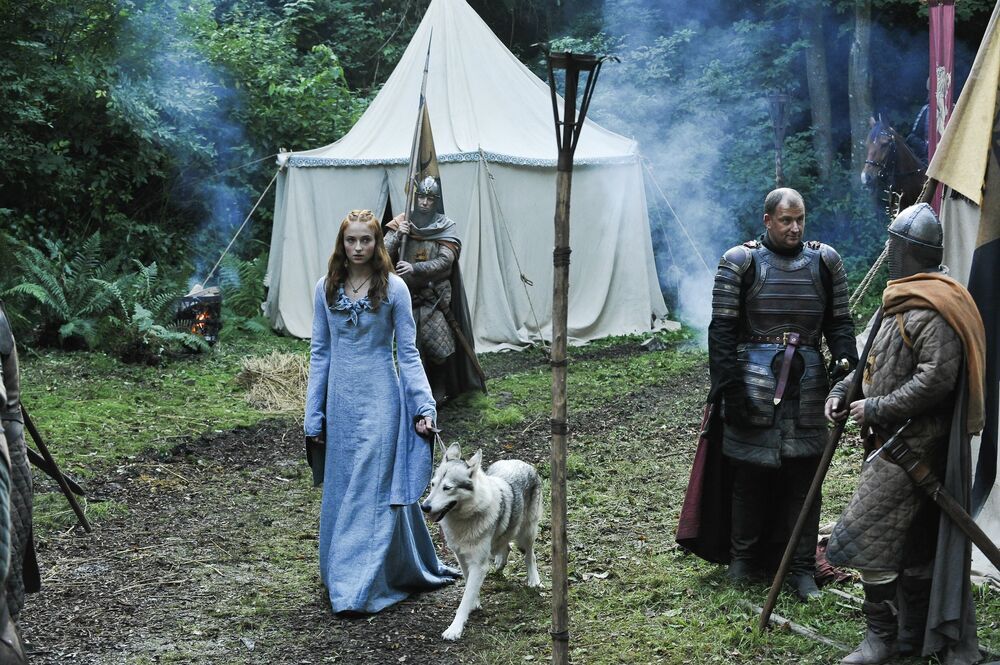 What's GoT without the characters? They breathed life into the show and made you feel a variety of emotions.
Some characters you rooted for, others you despised. Some made you laugh, some made you cry, and some made you want to hurl your remote at the TV screen.
Pick a cool dog name from one of these characters.
Jaime
Petyr
Maegaery
Cersei
Dany
Tyrion
Robb
Shae
Eddard (Ned)
Catelyn
Jorah
Baelish
Viserys
Lannister
Khal
Oberyn
Baelish
Drogo
Walda
Thenn
Bran
Theon
Ayra
Yara
Tywin
Sansa
Samwell
Jeor
Melisandre
Gendry
Stannis
Seaworth
Brienne
Davos
Roose
Bolton
Ramsay
Ygritte
Talisa
Bronn
Varys
Jaqen
Greyjoy
Daario
Naharis
Tommen
Stark
Baratheon
Giantsbane
Tormund
Meryn
Osha
Gregor
Pycelle
Clegane
The Mountain
The Hound
Beric
Dondarrion
Hot Pie
Alliser
Barristan
Grey Worm
Qyburn
Tyrell
Shireen
Olenna
Loras
Mace
Lancel
Renly
Benjel
Ros
Rast
Lysa
Walder
Ilyn
Payne
Arryn
Shagga
Syrio
The Tickler
Lord of Bones
Edmure
Tully
Podric
Mance
Lothar
Umber
Smalljon
Rayder
Karstak
Lyanna
Rhaegar
Howland
Dongo
Aerys
Snow
Tarly
Coolest Game of Thrones Dog Names Ideas
Get from this stock the coolest GOT-themed dog names to give your pet. A good number of them belonged to dragons, and though you wouldn't want your dog spitting fire, dragons are cool. Other names do not fit into any category but are great for your pet to identify as.
Viserion
Rhaegal
Balerion
Drogon
Vhagar
Sunfyre
Meraxes
Meley
Arrax
Syrax
Shrykos
Morghul
Dreamfyre
Ghiscar
Vermithrax
Valyron
Seasmoke
Archonei
Essovius
Sheepstealer
Valyrian
Greyscale
Dothraki
Raven
White Walker
Dracarys
Warg
Stormcloud
Vermithor
Silverwing
FAQs
What Dog is the Direwolf in Game of Thrones?
Although many Game of Thrones sought Huskies as a close alternative to the direwolves in game of thrones, huskies were not the dogs used for this breed.
Direwolves used to exist once, but they have gone extinct. To portray them, the Northern Inuit dogs were used. This dog breed is a close relative to Huskies.
An Arctic wolf was filmed too. Effects were used to make them seem bigger, close to what real direwolves looked like.
In the show, the direwolves were devoted pets of the Stark family.
What were the dogs' names in Game of Thrones?
Before the Northern Inuit dogs were cast as direwolves with names ascribed to them, they had original names.
The dogs that played Summer and Grey Wind are brothers named Odin and Thor and were trained for the role.
Wrap Up
Whether you want to showcase your undying fandom for the HBO series, or you just want cool Game of Thrones dog names for your furry friend, let these guide you.
Most of the name ideas on this list are rare—a good advantage if you don't want your dog going by common names like 'Bob' and 'Frank'.
The best time to name a dog is when he's a puppy. It gives you enough time to train him to recognize the name.
So, go ahead and christen your pet.
You could even have a little get-together.