Discover all you need to konw about using turmeric for your pet, its health benefits, and side effects to answer the question: is turmeric good for dogs?
Turmeric has been in existence for ages, and in those years, it has gained a stellar reputation amongst people for its numerous medical benefits.
A spice that doubles as a herb, turmeric has served humans well. That's why it left India—its origin country—to get to other places in the world.
Studies done on turmeric have proven its benefits to humans via its most important ingredient, curcumin. One can't deny its ability to prevent blood clotting and its anti-inflammatory traits.
According to a study done by Monika Nagpal and Shaveta Sood, turmeric is efficient in boosting oral health and a person's overall health.
Besides having anti-inflammatory benefits, it is antioxidant, antimicrobial, antiseptic, antimutagenic, hepatoprotective, and immunostimulant. It has also served in treating oral cancers.
A sufficient test hasn't been done on the benefits of turmeric to dogs, but if the words of veterinarians and nutritionists are true, then we should expect that it will contribute to our dog's overall health.
Pet parents are often encouraged to serve their pets some turmeric. There ought to be a reason for that counsel.
What is Turmeric?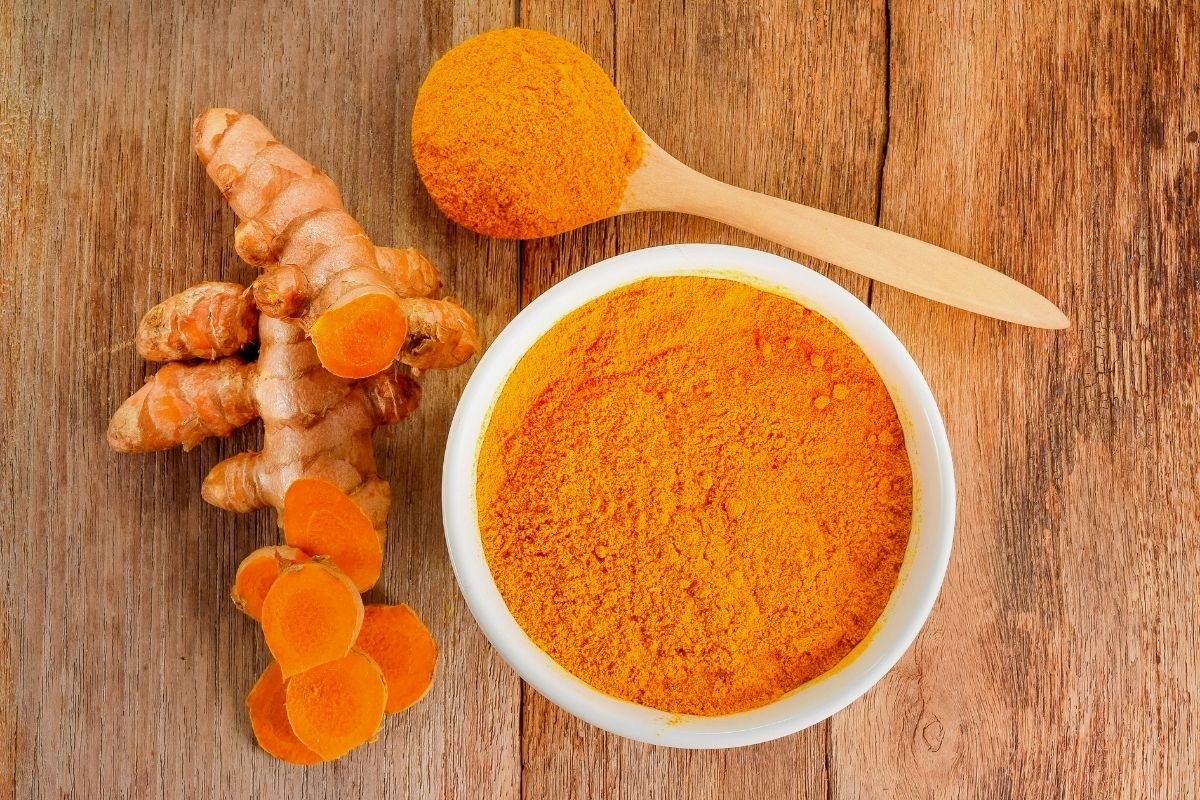 Turmeric is from the ginger family and is an essential herb in the Asian region. It originated in India but is currently used in many countries.
Turmeric can be used in food to add flavor or in packaged human and pet food for the same purpose. Its natural scent makes any meal appealing.
It often comes in powdery form after the root stalks get crushed. The yellowish color of the turmeric is thanks to the curcuminoids within.
The curcumin in turmeric has earned approval as a healthy food additive from the World Health Organization (WHO), the European Parliament, and the United States Food and Drug Administration (FDA).
Is Turmeric Good For Dogs?
It is common knowledge that Turmeric is good for humans because of its numerous healthy components.
However, not much research has been done on turmeric and dogs to confirm the benefits of the former on the latter.
That said, dog food brands use turmeric both for flavor and to increase the standard of their product. They recognize that turmeric could be beneficial to dogs, in small quantities.
Turmeric isn't a meal of its own, nor should it be considered as one. In small doses, it is regarded as beneficial to dogs, just like humans.
Some experts agree. According to Dr. Jamie Richardson, "turmeric has been reported to provide anti-inflammatory effects and pain relief for the treatment of osteoarthritis, and as a healing tool for chronic lick granulomas in dogs".
Dr. Katie Woodley of The Natural Pet Doctor also pointed out the anti-inflammatory and anti-cancer effects of curcumin, the major ingredient in turmeric.
What Are the Health Benefits of Turmeric For Dogs?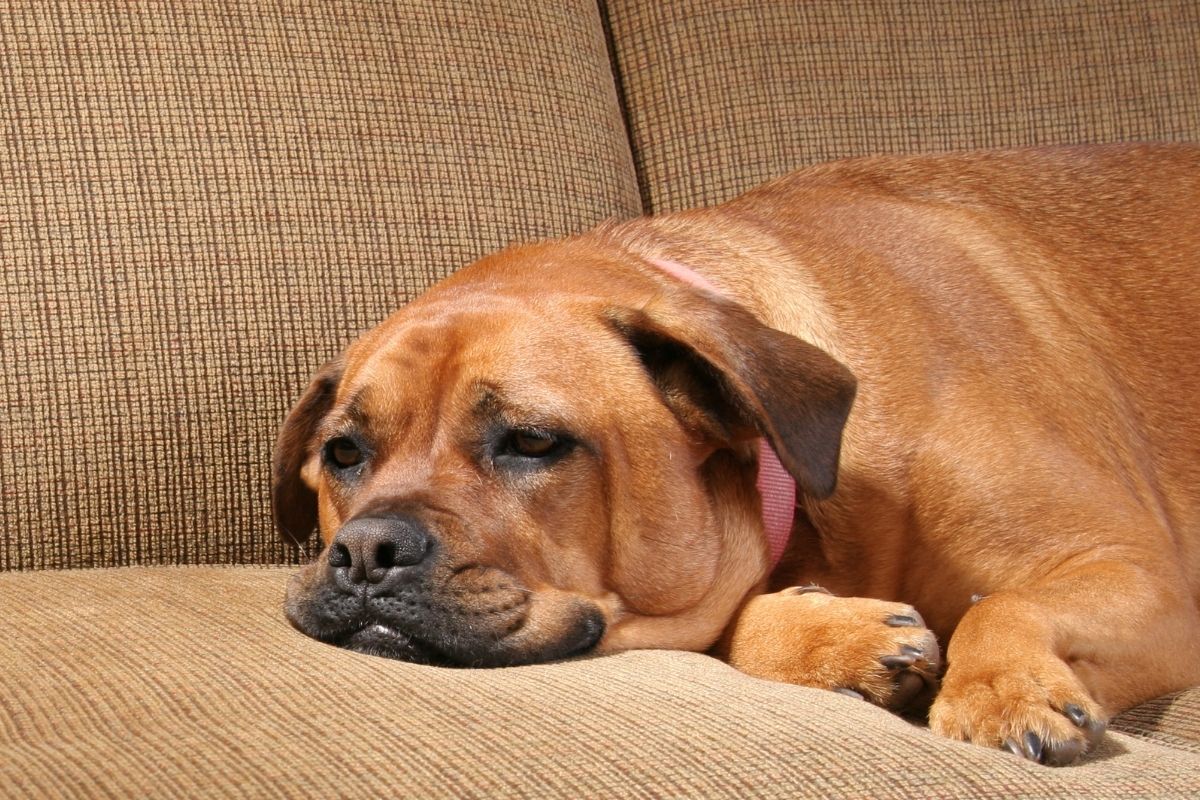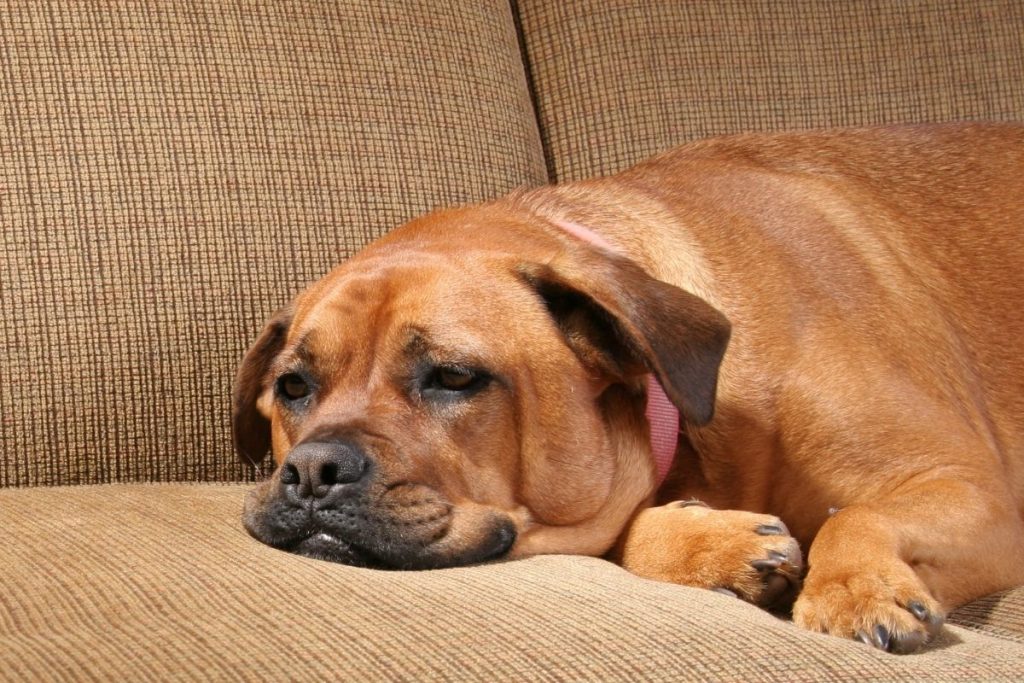 Now that we have an idea of the good turmeric does to dogs, let's look into some of the benefits culled from observation from both experts and pet parents.
1. It improves cardiovascular health
Turmeric has been known to help a dog's heart function properly. This is due to the anticoagulant nature of curcumin, which prevents blood from clotting in the heart.
A blood clot is a serious medical issue that becomes fatal in a short time.
2. It fights against cancer
Again, credits go to the curcumin found in turmeric. Curcumin kills cancer cells and stops tumors from growing.
Older dogs who are more prone to cancer will need turmeric supplements.
3. It eases pain
Turmeric is a competent pain reliever, especially when your dog is in pain due to inflammation. It eases swelling and removes red spots.
4. It helps the skin
Turmeric makes a dog's skin retain its glow, and it is an effective treatment for skin problems like lick granulomas and allergies.
5. It works on the joint
Arthritis is a common condition that affects both humans and dogs when both are old.
This condition makes the joint weak, immobile, and sometimes swollen. Turmeric would strengthen the joints and help a senior dog move better.
Are There Side Effects of Turmeric for Dogs?
Turmeric is not a perfect supplement. While it is recommended for dogs, know that it comes with some side effects.
These effects are not fatal, but they can be serious and may lead to your pet getting hospitalized.
Some of the side effects of using turmeric for dogs include:
Vomiting
Diarrhoea
Constipation
Stomach upset
To forestall the side effects, do not give your dog an overdose of turmeric.
Like other supplements, turmeric should be given according to the size and age of your dog.
It is also preferable to give your dog turmeric during or after a meal, not before.
Top 10 Vet Recommended Turmeric Supplements for Dogs
Considering the benefits of turmeric and the possible side effects, you need to take caution when buying turmeric supplements from the store.
Before introducing your dog to turmeric supplements, get in touch with a veterinarian or nutritionist to guide you.
In general, there are a couple of turmeric supplements recommended by veterinarians. They include:
1. Amazing Nutritionals Turmeric Chews for Dogs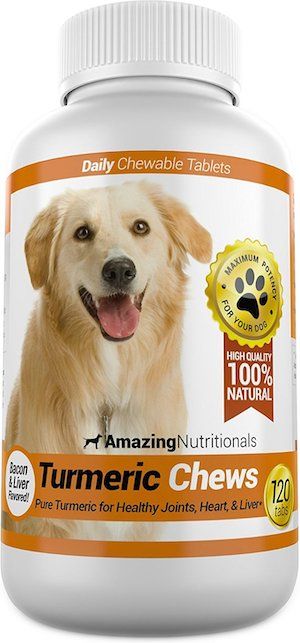 The turmeric chews for dogs from Amazing Nutritionals has a good flavor and works in relieving pain, but can cause diarrhea as a side effect.
2. Active Chews Chondroitin MSM and Turmeric for Dogs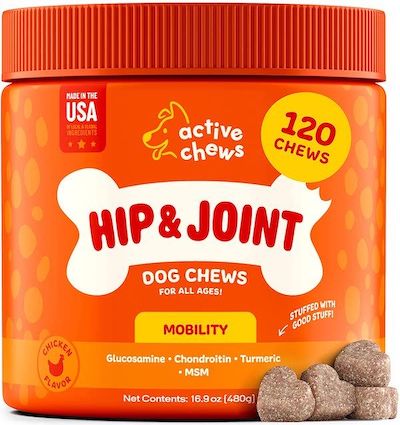 The Active Chews Chondroitin is good for active dogs and contains a natural chicken flavor.
It is also made in the United States and is FDA approved. It is affordable, relieves pain, and is easy to eat.
However, it can lead to an allergic reaction.
3. Zesty Paws Senior Advanced Glucosamine for Dogs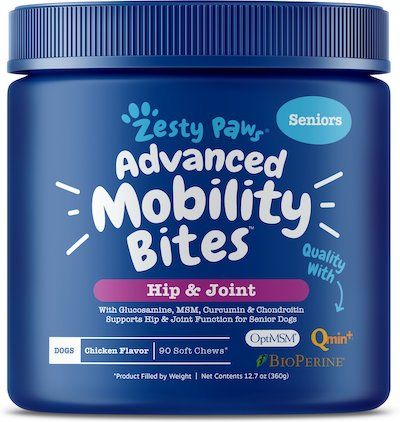 Zesty Paws comes with Glucosamine and other ingredients that are good for the joint. It has no artificial ingredients, comes with a good taste, and is grain-free.
However, it can make a dog's urine bright yellow.
4. Zesty Paws Turmeric Curcumin Bites for Dogs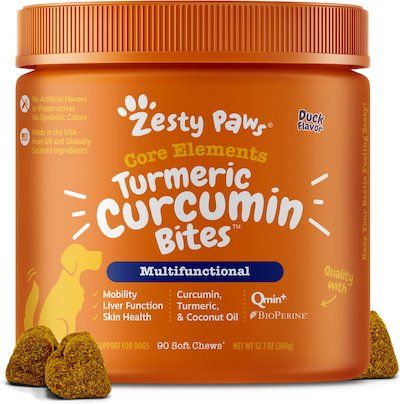 The Turmeric Curcumin Bites comes with coconut oil as an ingredient, which helps the dog eat well.
It is made in the United States, organic, and free of artificial ingredients. It is also grain-free and delicious.
However, it can leave a stain.
5. Bocce's Bakery Turmeric Dog Treats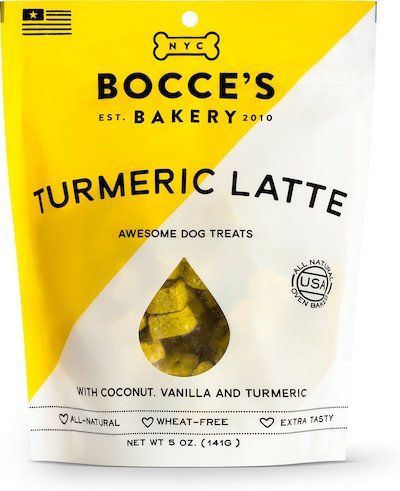 The Turmeric dog bar has limited ingredients that are human-grade.
The antioxidant properties help with cell tumors, and the dog treat as a whole is good for dogs with allergies.
The downside, however, is that the flavor may not sit well with some dogs, especially those with sensitive stomachs.
6. Organic Liquid Turmeric for Dogs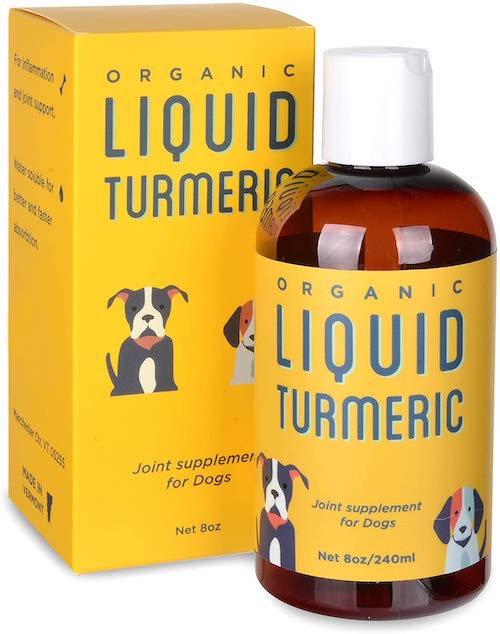 The Kangaroo Dogs Organic Liquid Turmeric contains distilled water and 97% organic turmeric curcumin.
It is easy to use, has a good flavor, and helps with pain.
However, it has strong side effects, though, and can make some dogs vomit.
Is curcumin the same as turmeric?
Curcumin is an integral ingredient in turmeric. It wields the healing touch in turmeric and has been recommended by experts.
Some people tend to confuse curcumin with turmeric because of the association. However, they are not the same. 
What does curcumin do for dogs?
Curcumin has many advantages to a dog. It makes digestion easier and boosts the heart by removing blood clots. It is also known to reduce inflammation. 
What is a natural pain reliever for dogs?
When a dog is in pain, there are many supplements you can use to alleviate the pain. Turmeric, cinnamon, boswellia serrata, and hawthorn are good examples of natural pain relievers for dogs. 
Is turmeric good for dogs' joints?
Turmeric contains glucosamine and chondroitin that reduces inflammation. This makes turmeric good for dogs with joint problems, especially older dogs. 
Can I give my dog CBD oil and turmeric?
CBD oil and turmeric can be used as a treatment for some conditions, and as an alternative to drugs. Mixing both achieves a better effect, so it is more advisable. 
Wrap Up on Using Turmeric for Dogs
Turmeric provides tremendous benefits to both dogs and humans. It is recommended that you include turmeric in your dog's supplementary diet.
Ensure that you maintain the approved dosage for your dog, as an overdose of turmeric may come with side effects.
The best turmeric products come with natural ingredients and flavors (as opposed to artificial) with organic turmeric and are often grain-free.
Keep these in mind as you consider using turmeric for your canine.
You May Also Like:
Useful Resources: