For over a decade, the name Cesar Millan has elicited a remarkable level of awe and respect in the dog training world.
Though lacking any formal education, Millan can boast of being one of the leading figures in the art of accurately guiding canines on the right behavioral path.
From A-list celebrities to everyday people, Millan has earned the trust of virtually everyone as the go-to person in handling canine behavioral issues.
His talent for effectively training dogs, especially aggressive canines who seem uncontrollable, has established him as the best dog trainer in the world.
While Millan may not be capable of helping every dog owner in need of his expertise, his television series, which focuses on dog training, has served as a means of sharing his knowledge to an audience in earnest need.
Thus, Millan has launched multiple television shows focused on molding canine behavior.
From the newest Cesar Millan TV shows to the oldest, we review all the renowned dog trainer series and TV specials.
Every Cesar Millan TV Shows (New and Old)
1. Cesar Millan: Better Human Better Dog (2021– )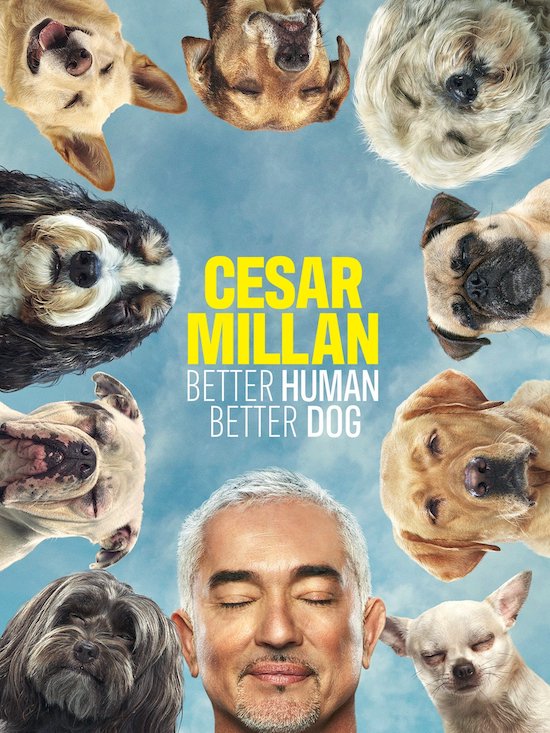 Genre: Reality-TV Series
First Episode Date: 30 July 2021
Network: Nat Geo Wild
Watch / Stream Online: Amazon Prime Video
No. of Seasons: 1
No. of Episodes: 10
Since the final episode of Dog Whisperer with Cesar Millan aired, fans have eagerly anticipated a long-running television series centered on Millan's dog training exploits.
Over the years, Millan has managed to satisfy these growing demands, albeit ineffectively.
However, with the launch of his Cesar Millan: Better Human Better Dog on the National Geographic network, fans may just get what they have been clamoring for years.
A special series targeted at helping families newly initiated into the clans of grooming adopted canines, Millan hopes to help simplify the tricks of teaching dogs new habits while shedding old harmful ones.
Aired right from his famous Dog Psychology Center, the series follows Millan's day-to-day work, capturing the star figure as he relates with man's best friend while overcoming each unique challenge presented by difficult canines.
The series is currently in its debut season and is ten episodes long — long enough to capture every aspect of dog behaviors.
From interacting in dog packs, overcoming harmful behaviors developed as part of survival tactics, mitigating the influence of overly aggressive canines on other pets, preventing mini dog-cat civil war, to effectively transitioning to the ideal well-behaved pet, the Cesar Millan new show covers it all.
2. Cesar's Recruit: Asia (2017– )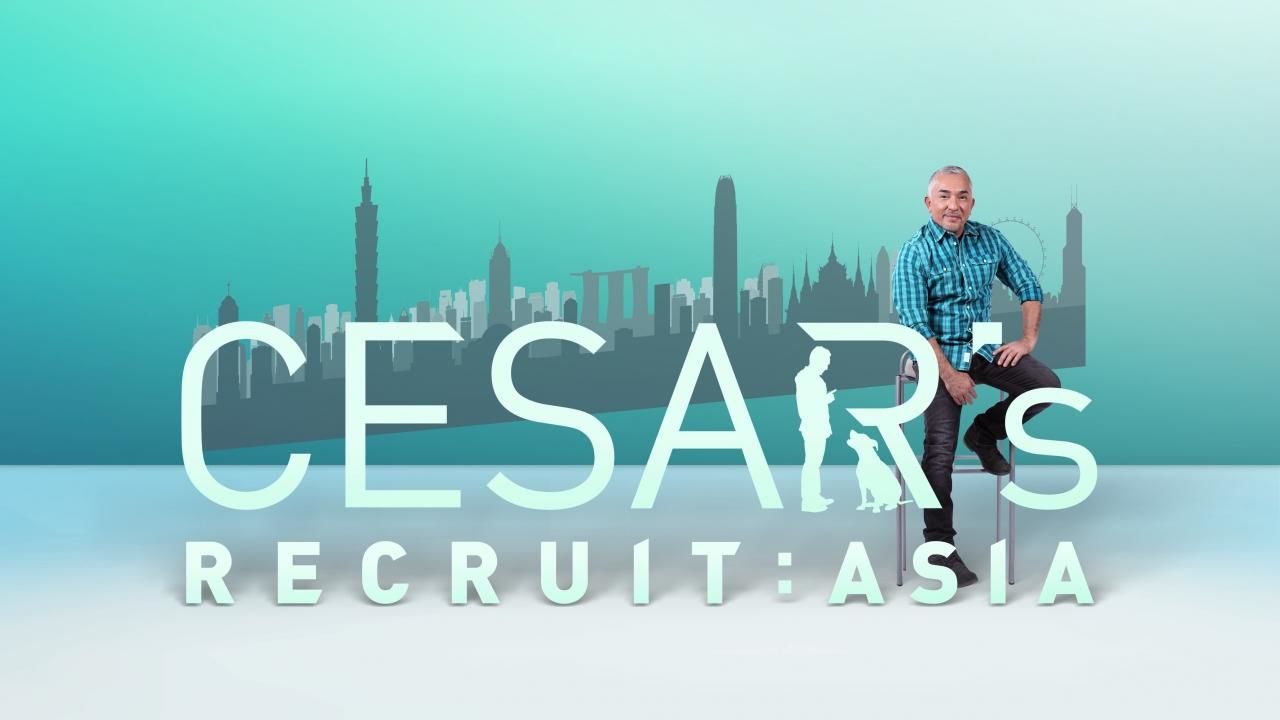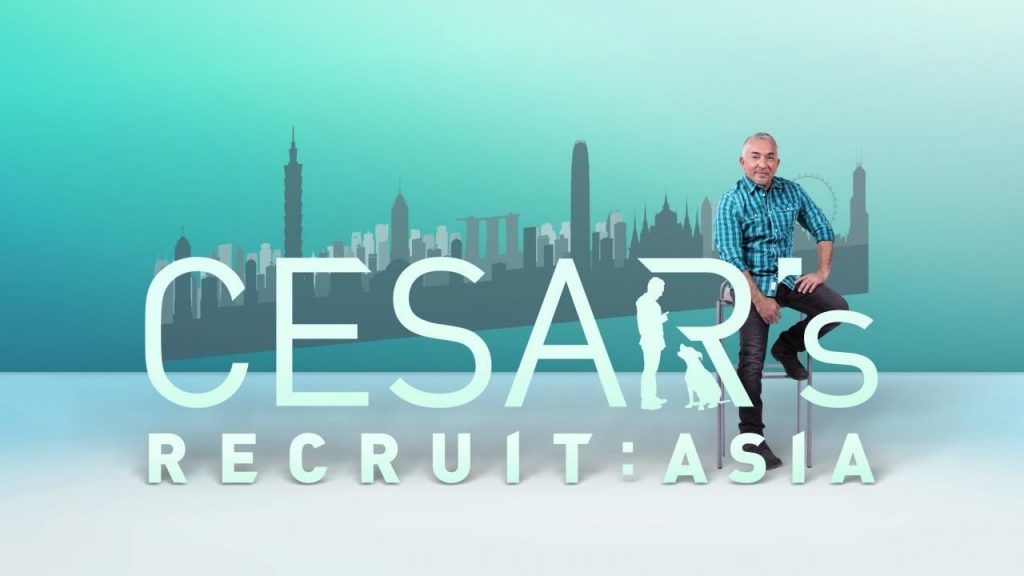 Genre: Reality-TV Series
First Episode Date: 11 January 2017
Network: National Geographic; Subaru Asia
No. of Seasons: 3
No. of Episodes: 22
For two seasons, Millan scouted the diverse region of Asia, searching for the right candidate fitting every part of the puzzle to be crowned his anointed trainer.
The television series, which aired on the National Geographic Channel, saw eight aspiring dog trainers with enough moxie to woo Millan go the extreme mile in a bid to convince the Dog Whisperer host that they indeed fit the part to be the Asian version of Millan.
The show fuses the mundane dog training exercise with competitive exploits with heightened thrills.
With just days to spare, the dog trainers have to imbibe the rudiments of pack leadership assertive qualities in helping chaotic dogs transition into well-behaved and friendly pets.
The scheme is similar to Millan's canine rehabilitation tactics but only with the clock ticking.
Millan credits the show with being attuned to his efforts to develop local leaders in crusading his global movement to reduce dog abandonment and help dog owners and their pets develop better chemistry and harmony.
3. Cesar Millan: Viva Las Vegas! (June 2015)
It is not unusual for Millan to hit the road touring city after city, marveling at arrays of beloved fans with his astonishing dog training prowess.
But when he decides to document such a performance for future consumption of fans who missed out on the live-action, then fans are assured that the world-famous dog trainer has an astounding trick up his sleeve.
In 2015, the spectacular blitzing city of Las Vegas played host to Millan for a night as he infused energy, humor, and ingenuity in heralding the gospel of his practical dog training approaches in instilling in canines positive behaviors and abating aggression.
Witnessing the astuteness of Millan's ingenious transformation of canines, fans were in awe and wonderment.
Millan did not just dole out his usual extemporaneous dog training ritual; in this television special, he displayed unusual magic of his and a flair for impressively interesting with dog owners as much as he gets along with the most brutal of canines.
No wonder the special was caught live to remind fans of Millan's peak creative efforts.
4. Mutt & Stuff (2015–2017)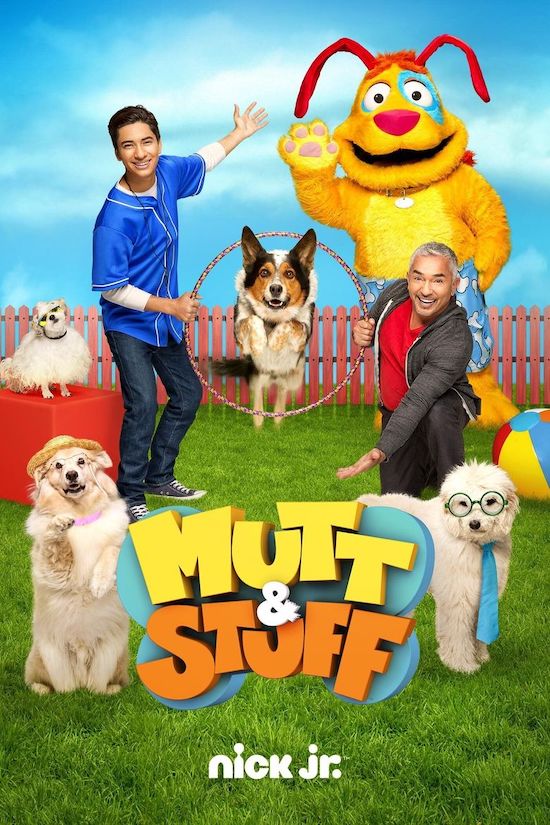 Genre: Educational
Release Date: 6 March 2015 – 1 November 2017
Network: Nickelodeon
Watch or Stream Online: Amazon Prime Video
No. of Seasons: 2
No. of Episodes: 73
Who better captures the end rearming and affection for dogs than children?
Well, Millan, alongside his son and show frontlines, Calvin Millan, hoped to model an educational dog show with the fun and theatrics to encapsulate younger viewers.
Millan may be a little too old for the role, but with his son fitting excellently as the right star figure, he offered practical counsel on the back burner while making cameo appearances.
As far as the motive of Mutt & Stuff goes, Cesar Millan's son starring as the lead figure was well received.
For two seasons, kids crowded in front of screens watching the marveling creativity of Millan, producers Sid and Marty Krofft, as well as show creator Bradley Zweig.
In a remarkable fashion testament to the success, and overall acceptability of the show among kids, Mutt & Stuff received two nominations at the Daytime Emmy Awards, Outstanding Directing in a Children's or Preschool Children's Series and Outstanding Pre-School Children's Series.
5. Cesar Millan: Love My Pit Bull (2014)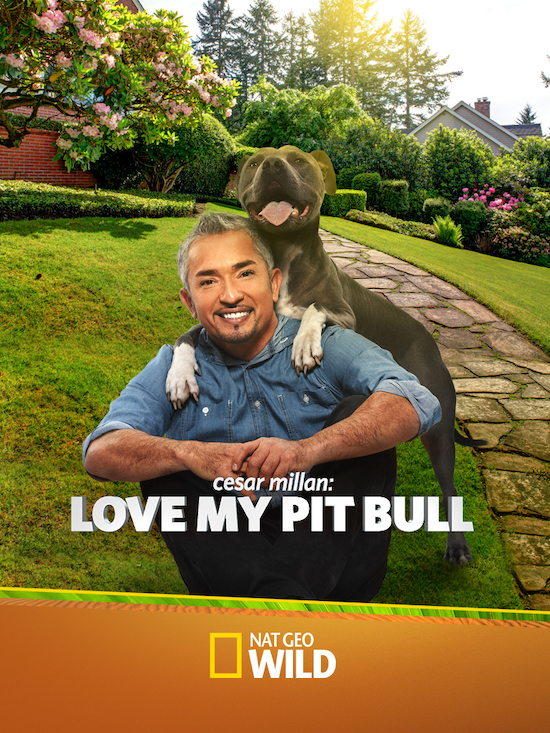 Genre: Documentary, Special Interest
Release Date: 18 April 2014
Network: Nat Geo Wild
Ardent fans recognize one central detail that has been a notable hallmark of Millan's training schemes.
Whether it chalks up to a sidekick or furry partner, Millan has had pit bulls who work with him day in and day out as he maneuvers the intricate world of taking aggressive dogs.
His choice of pet further intrigues fans, but for Millan, it serves as a model of heralding his gospel of eclipsing dog stereotypes of every sort.
From Daddy to Junior, Millan has perfectly encumbered the stereotype regarding pit bulls being aggressive monsters.
In the 2014 documentary, which centers on his enamored relationship with his beloved pooch, Millan shows in tremendous detail the high intellect, mellifluous companionships, and bonding, as well as the unwavering loyalty of pit bulls in the hour-long documentary.
The documentary infused the emotionally gratifying side notes of bonding with such pets and the sad reality of losing such loyal mates as in the case of Cesar Millan and Daddy, his first pit bull.
Reminiscing on the remarkable attributes of Daddy, viewers get an introspective, insightful detail into the unraveling relationship of both Millan and Daddy. But it isn't all sad and gloom.
It follows Millan's resurgence of genuine happiness in finding comfort and solace in Daddy's mentor Junior, a pit bull that has come to nourish Millan's endless love for pets.
While enough attention was cast on Millan and his dear furry friends, the documentary details Millan's interactions with pitbull breeders, supporters who tirelessly protect pit bulls from abuse resulting from negative stereotypes, in a bid to help viewers demystify all negative thoughts about the dog breed.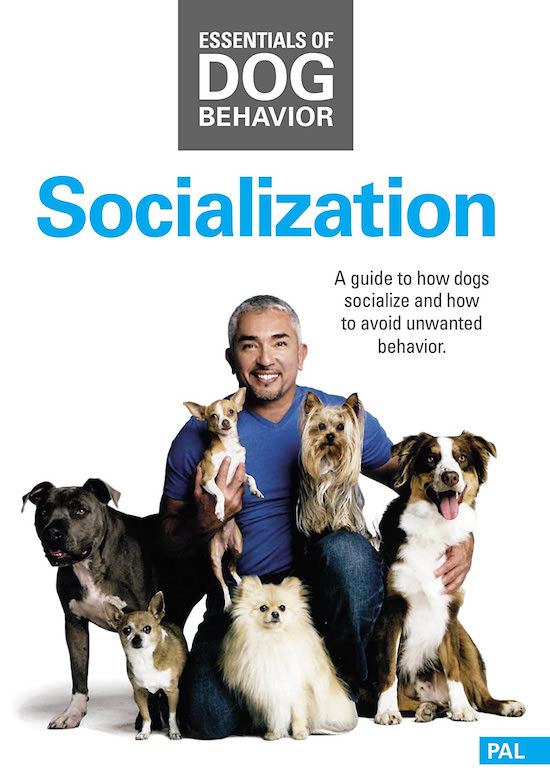 Genre: Documentary
Release Date: 2014
Format: DVD Series
The burning desire to help correct every stereotype and behavioral issue in dogs and see such knowledge readily available Spurs Millan to continually work on numerous television programs.
Thus the impetus for his 2014 DVD series Essential to Dog Behavior. The first in the series puts canine socialization in the spotlight.
In insightful and practical detail, Millan expertly learned how to adeptly balance dog socialization in various situations.
From mundane dog walks and playtime in the park to casual activities in the house, Millan analyzes how effectively to handle your pet's socialization skills. The star dog trainer doesn't stop there.
He takes his esteemed analysis of canine socialization to unique heights by clearing the air on four prevalent myths about dog socialization.
Undoubtedly, the series further racked up his legitimacy and reputation for impressive technical analysis on all dog behavioral matters.
7. Cesar 911 (2014– )
Genre: Reality-TV Series
First Episode Date: 7 March 2014
Network: Nat Geo Wild, National Geographic
Watch or Stream Online: Amazon Prime Video
No. of Seasons: 4
No. of Episodes: 39
Millan held dog lovers spellbound for four seasons and episodes with his ingenious and creative approach to transforming aggressive canines.
Cesar 911 happens to be Millan's first long-running television series following his canine behavioral training since the season finale of dog whisperers in 2012.
In true Millan fashion, he does justice to the show as he captivates viewers while he intercedes as the glorified mediator in settling conflicts between aggressive dogs and their owners.
From his arsenal of dog behavior tactics, Millan chooses the weapon to wield with each dog, bearing in mind the uniqueness and severity of the situation.
Millan not only helps transform dogs in the series, but he also imparts knowledge to dog owners struggling to grasp why their pets act out.
Perhaps a central feature of Ceasar 911 that makes it alluring to fans is the productive follow-up tactics Millan adopts to ensure rehabilitated dogs make a fine transition away from the observant eyes of their owners.
Millan accomplishes this rigorous task by mounting cameras at not so obvious positions, away from the curious eyes of pets, but clearly positioned to document the canines in their comfort zones.
Thus fans get to see the magical aftermath of Cesar Millan's dog behavioral training transformation.
8. Cesar Millan: Doggie Nightmares (2013)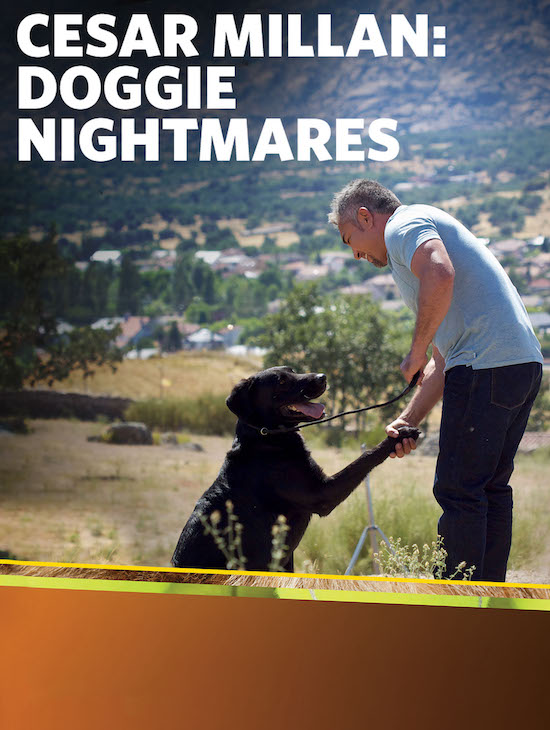 Genre: Reality-TV Special
Release Date: 2013
Network: Nat Geo Wild
In the first-ever television special of his career, Cesar Millan captures the enthralling moments he helps a family with the emotional inundating task of dog adoption.
With Millan's boot on the ground at a local shelter, he clears the air on fig adoption from dog shelters.
Millan help allay the fears of a family seeking to secure a furry companion for their child from a shelter.
The star dog trainer unravels the intricacies of dogs in shelters, explaining in clear terms why such dogs may have badly behaved.
Clues are in place to help shake these furry creatures into beloved, well-behaved, loyal companions.
The soo oh crisp follows the Millan journey in helping the family settle for their preferred furry partner while inculcating in a spirited manner the rudiments of good behavior in the adopted dog.
In keen alignment with the television special title, Millan helped turn doggie nightmare into loyal partners.
But at times, for some dog owners, too much nasty behavior may as well move them to turn away from adoption, ultimately handling affairs to the master of shaping dog behavior.
Millan's debut TV special details these dramatic choices.
9. Dog Whisperer with Cesar Millan (2004–2012)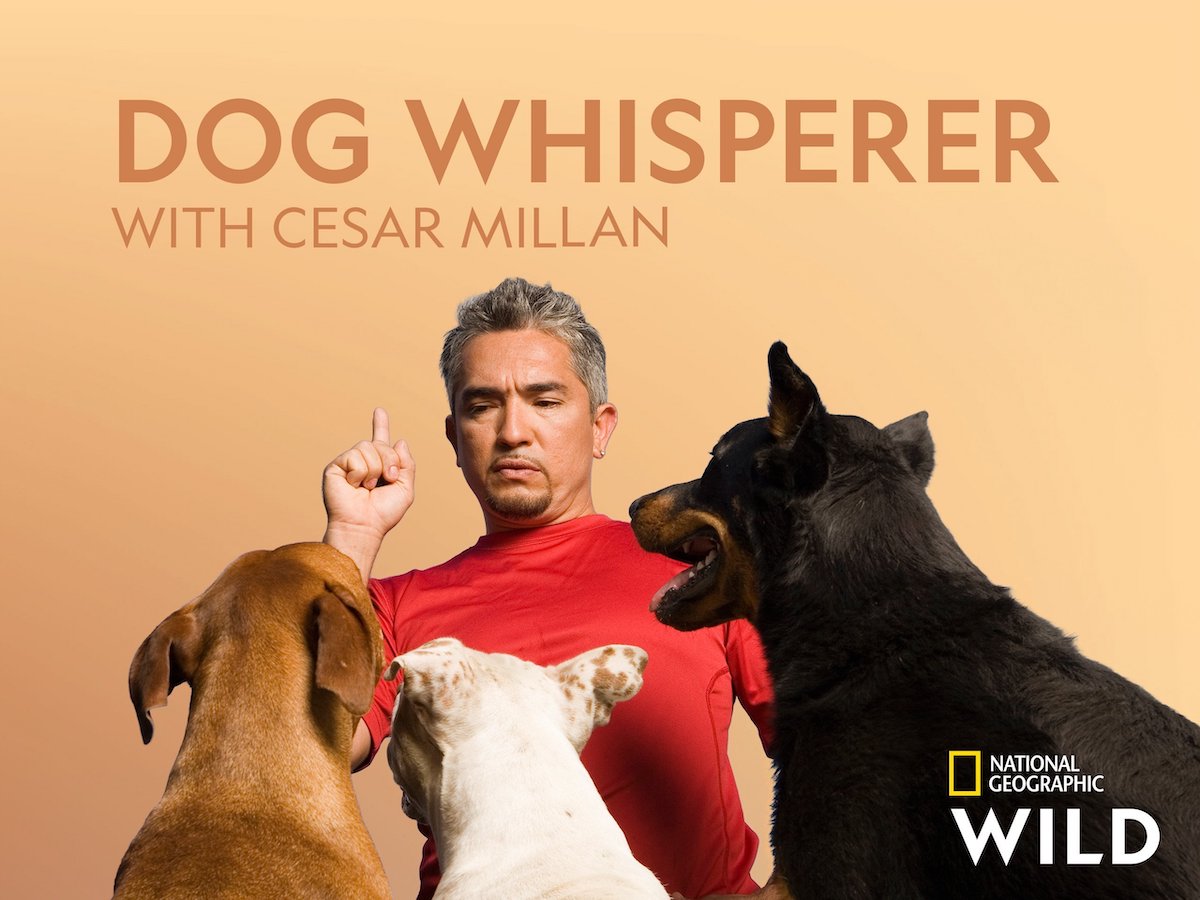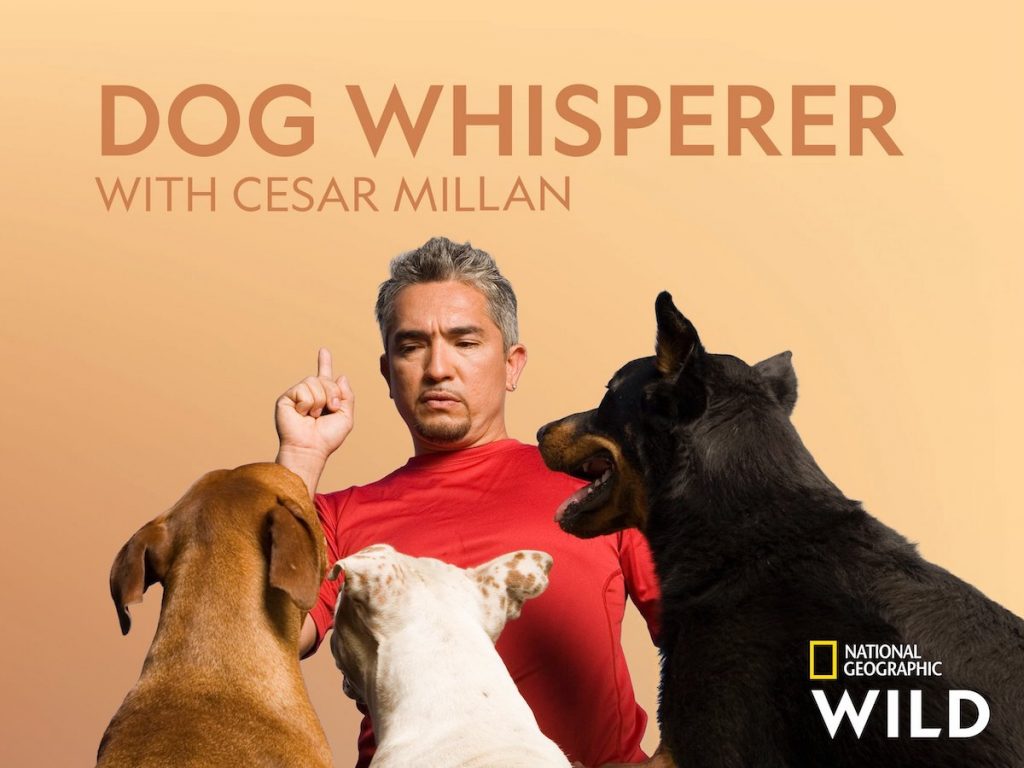 First Episode Date: 13 September 2004
Network: Nat Geo Wild, National Geographic Channel
Watch or Stream Online: Amazon Prime Video
No. of Seasons: 9
No. of Episodes: 162
A decade since the last episode of Dog Whisperer aired, the popularity of the renowned television show still reigns supreme.
The holy grail of dog training television series, the show experienced explosive popularity, airing in over 80 countries, thus establishing Cesar Millan as the lead authority in dog training globally.
When the show premiered in 2004, Millan was a budding dog training du jour with a faint fan base.
However, by 2007, about four years after the show premiered, his fame had exploded, with Millan adding a New York Times Bestselling author feature to his proverbial honorary cap.
In no other television series did Millan emphasize his pack leadership tactic in distinct and pristine detail in asserting dominance and authority over pets to foster good behavior as much as he did in the Dog Whisperer.
His generic but bizarre method of reinforcing positive behavior in pets enamored viewers across America as Dog Whisperer peaked at as much as 11 million viewers every week—an astounding feat testament to the eager reception of his trading tactics.
One particular feature of Dog Whisperer that captured the hearts of fans was the emotion gratifying bond between Millan and his pit bull, Daddy, who worked alongside him and helped greatly through his contagious positive influences in helping ill-behaved dogs imbibe good manners.
The genuine affection Daddy displayed for Millan episode-by-episode further strengthened the show's expanding fan base, thus making it one of the most-watched dog training television series of the 2000s.
While Millan enjoyed enviable success, he encountered multiple setbacks on the bumpy ride to success.
From lawsuits from prominent figures, scathing disapproval of some of his training techniques from reputable animal welfare organizations, 14 thousand strong petitions declaring his methods humane, to a critical op-ed attacking his tactics, Dog Whisperer continued to survive every attempt of sabotage.
However, as with everything, there is just so much negative press for any venture to survive, and the crumbling weight soon crushed the incredibly successful Dog Whisperer series.
Since the end of the show, fans have been anticipating similar shows starring Millan as the heroic figure he is.
Millan has continually worked to satisfy the seemingly unquenchable thirst of crabs eager for a show reminiscent of everything Dog Whisperer offered.
Dive Deeper:
Why Was The Dog Whisperer Cancelled? Controversy & Facts
Wrap Up
The respect and delight the famous dog trainer generates in the canine community is one that has greatly been strengthened by Cesar Millan TV shows, series, and specials.
Building on the esteemed reputation of the Cesar Millan brand, the star has continued to launch numerous shows while extending and solidifying his reach and influence as the best dog trainer in the world.