Years after the end of one of the biggest dog TV series, the question "why was The Dog Whisperer cancelled" still reigns on the minds of beloved Cesar Millan's fans.
For almost a decade, The Dog Whisperer with Cesar Millan was the go-to TV Series to learn just about how to tame the most aggressive dogs.
The star of the show, self-taught dog trainer Cesar Millan, a Mexican with no formal dog training, had an inspiring rise to the zenith of his career, which likely endeared viewers and fans to his show.
However, after about eight years, with nine seasons and 162 episodes, the National Geographic announced that the Dog Whisperer was to come to an abrupt end.
We unravel what led to the end of the successful TV show in this article.
How Did The Dog Whisperer With Cesar Millan Begin? 
To understand just what made "The Dog Whisperer" a TV series canceled after eight seasons, it is important to know how the beloved show, which earned multiple Emmy Primetime nominations, began.
Cesar Millan always knew he had an amazing talent for training dogs and thus, strove to become the best dog trainer in the world.
That determination led him to move to the United States with just $100 and no knowledge of English language.
After arriving in the US, he soon got a job at a dog training center where his skills were detected and attracted to high-profile clients such as Jada Pinkett Smith.
Jada Smith played an integral role in helping Millan to achieve his dreams by providing him with an English tutor for a year.  
With his English reinforced, Millan began training dogs well, and his amazing abilities led him to be profiled on the Los Angeles Times in 2002, a move which soon got him calls from MPH Entertainment, Inc.
MPH Entertainment, Inc. was interested in developing a television pilot for his dog training abilities, a move that birthed the acclaimed TV series the Dog Whisperer with Cesar Millan. 
On September 13, 2004, Dog Whisperer premiered on the National Geographic Channel before it was moved to the Nat Geo WILD channel.
Recommended:
Cesar Millan Net Worth & Biography – A Rags To Riches Story
Why Was The Dog Whisperer Cancelled? 
In the years Dog Whisperer aired, Cesar Millan, the star of the show, was subjected to numerous legal actions as well as criticisms over the methods he employed in training aggressive dogs.
Millan's method of subduing a fractious dog was achieved by partially cutting blood supply to a dog's brain.
The American Humane Society criticized the show and referred to Millan's methods as "inhumane" and "cruel," giving viewers an "inaccurate message about what constitutes effective training and appropriate treatment of animals."
Noteworthy of all, which most likely had a significant impact on deciding the fate of the show, was a change.org petition with over 14,000 signatures that referred to Millan's style of dog training as inhumane.
All of this culminated in the decision to end the long-running TV series.
Cesar Millan Was Constantly Attacked by Critics
As with any noteworthy personality, Cesar Millan has seen his fair share of scathing criticism from some of the most seasoned personalities in animal care.
In 2006, dog expert and writer Mark Derr in a New York Times article titled "Pack of Lies" referred to Millan's tactics in handling dogs as "outdated" and "laughable ."
Derr further stressed that though Millan's actions may be good for television content and have had lasting results in certain cases, the tactics comes against what certified veterinarians, ethnologists, and animal behaviorist have learned about abnormal and normal canine behaviors.
Millan's dog training tactic of showing "pack leadership" and humans as the alpha dogs, often referred to as dominance theory, has also been criticized.
In 2009, the American Veterinary Society of Animal Behavior issued a statement on the tactic employed by Millan without mentioning his name. 
His dog training methods were denounced, with the organization stating it leads to an "antagonistic relationship between pets and their owners."
In a 2012 appearance on British daytime chat show The Alan Titchmarsh Show, host Alan Titchmarsh referred to his tactics as "unnecessary" and "cruel."
He reinforced his argument with a video stating that Millan punched a dog in the throat.
Millan responded by saying it was a touch and not a punch.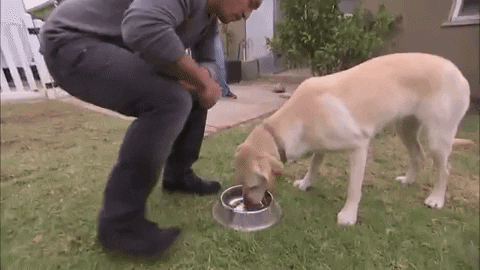 Titchmarsh also quoted a Royal Society for the Prevention of Cruelty to Animals (RSPCA) statement in which Millan's tactics were said to cause fear for dogs and compound behavioral problems in dogs.
Controversies & Lawsuits
Aside from the criticisms, Millan has faced all his career; he has been embroiled in several controversies.
In an episode of Cesar 911, where a dog being trained nipped a pig in the ear. Millan was subsequently investigated for animal cruelty, with no charges against him. 
In September 2021, lawyer Brian Adesman sued Millan alleging that his Pitbull, Junior, attacked and killed rapper and actress Queen Latifah's dog.

The suit alleged that Millan attempted to cover up the incident by instructing his staff to inform Queen Latifah that her dog was killed in a hit by a car. Also, a young gymnast Lidia Matiss, alleged that Millan's pit bull attacked her, which forced her to halt her gymnastics career.
An aggrieved client also voiced her misgivings over Millan's tactics on her Brazilian Mastiff dog. Ligia Morris revealed that she consulted Millan to help with her dogs, and she noticed positive changes at first.

However, she decided to board her dog at Millan's Dog Psychology Center, and on returning, she noticed her dog had an injury in its eyelid. The center informed her that her dog was a fighter, a behavior she insisted she had not noticed before boarding her dog.

She soon noticed that her dog gets distraught when she left the house, an experience that gave her dog anxiety.  
Conclusion 
While speculations abound as to the exact reason why Dog Whisperer was canceled, despite a successful run, the reasons seem just obvious.
A cumulation of all these complaints, criticisms, investigations, lawsuits, and pressure from the public did affect the decision to end the show. 
Though the show may have ended, Millan has recorded other accomplishments and produced different TV shows detailing how he trains dogs.
Featured Image via National Geographic