In September 2021, the canine world was thrown into shock and disharmony when news got out about a nasty lawsuit alleging that celebrity dog trainer Cesar Millan's Pitbull killed Queen Latifah's dog.
The report got more sordid as the allegation further revealed that the esteemed dog trainer swept matters under the carpet.
He allegedly informed his staff to lie to Queen Latifah that her dog died in a hit-and-run accident.
Owing in no small part to the significance of Cesar Millan in the dog community, the allegation raised eyebrows.
Though the lawsuit marked the umpteenth time Millan has been at the center of a controversy, this was at the very least the first allegation of this sort leveled against the self-trained dog trainer.
Months after, fans still wonder, are the allegations true? Does the lawsuit contain any iota of truth regarding the unfortunate happenings described?
Unveiled in this article are all the nitty-gritty pertaining to the incident and the players in the legal dilemma of the ex-Dog Whisperer show host. 
The Lawsuit
Gymnast Lidia Matiss filed the lawsuit through attorneys Brian M. Adesman and Omar G. Qureshi.
Lidia alleged that in 2017 when she visited her mom in a training facility owned by Cesar Millan, which houses his Cesar's Dog Psychology Center training facility, she encountered Millan's Pitbull.
The pitbull was said to be "unsupervised and unleashed" and began to attack her. She revealed that she was mauled by the dog who attacked her legs.
A visit to the ER revealed she sustained serious injuries which prevented her from going ahead with her gymnastics career.
'Matiss insists the incident with the dog caused her emotional and psychological pain, disgrace, humiliation, loss of self-esteem, and poor social life.
She attributes the incident as the reason why she no longer competes in gymnastics. 
The lawsuit further asserts that Millan's Pitbull had a history of violence but was still allowed to roam through the premises.
Cited in the lawsuit is an incident that involves the dogs of rapper and actress Queen Latifah.
Queen Latifah had placed two of her dogs in Millan's care, but one of the dogs was mauled to death by the Pitbull, with Millan covering up the incident by instructing his staff to lie to the rapper that her dog was killed in a hit and run incident.
The suit states that "Junior possessed vicious and dangerous propensities and was inclined to attack, bite, maul, maim, and disfigure people and other animals in its vicinity" and requests unspecified damages.
Though the lawsuit is the latest instance of Millan embroiling in contentious legal proceedings involving his dog training center, this doesn't mark the first instance.
In 2015 a Florida critical care nurse revealed that she sustained "disfiguring open wounds, deep muscle, and tendon lacerations" in a lawsuit against Millan.
The attack occurred about six days after the Pitbull named Gus was released from the Dog Psychology Center run by Millan.
The nurse who was seeking punitive damages disclosed in her suit that she permanently lost function and feeling in her left hand. 
Cesar Millan's Pitbull: Who is the Pitbull accused in the suit against Millan?
For avid watchers of the now-defunct reality TV show Dog Whisperer with Cesar Millan, the American Pit Bull Terrier, known as Daddy, was a familiar sight.
Daddy proved to be a loyal and trusted companion to Cesar Millan as he went about his dog training exploits.
But aside from his companionship, Daddy displayed exceptional attributes which endeared him to viewers.
The dog had a calm temperament and demeanor, which proved vital in showing empathy and tolerance to younger dogs. 
Millan, on numerous occasions, employed the calm nature of his dog in rehabilitating dogs in his care, making Daddy a role model for other dogs.
The bond between Millan and Daddy was so affectionate that Millan referred to the Pitbull as the True Dog Whisperer. 
So exceptional and noteworthy was Daddy's attitude that Millan brought on a younger dog, Junior, to be mentored by Daddy and take over Daddy's role.
On February 19, 2010, Millan's dear friend and beloved pet, Daddy, passed on, leaving Millan and dear fans devastated.
However, Millan and his dear fans took consolation in Daddy's protege, who proved to be as loyal as Daddy.
By the time Daddy died, Junior had already developed and understood its role in helping younger dogs develop acceptable social skills.
Junior was said to be patient with unstable dogs and unruly puppies.
The dog also showed a remarkable level of respect when dealing with senior dogs — a disposition that Millan credits to his experiences with Daddy. 
While Junior was perfect, he had one flaw that Millan strived hard to correct. Millan revealed that Junior had a side of him that pummeled him to get into fights with dogs.
Though fully aware of how unacceptable such behavior was, Junior still got involved in fights, and Millan had to continually teach his pet why such behaviors were unacceptable.
However, Junior outgrew the nasty behavior and turned out to be confident, submissive, and calm, accompanying and participating in Millan's Cesar Live shows.
Junior's dispositions became obvious to all that during Cesar Millan's receipt of the Bergin University of Canine Studies Canine Mentorship Award and an Honorary Master of Science Degree in Canine Life Sciences, Dr. Bonita Bergin said of Daddy's positive influence on Junior that he has "a strong belief in and appreciation of the knowledge one dog passes on to another. Junior is living proof of that and serves as a spokesperson for this canine capability." 
In July 2021, Junior passed away.
Fans thus begin to wonder how a submissive and assertive dog such as Junior can be so violent, as depicted in the lawsuit.
Or did the incident occur while Junior was still displaying his nasty tendency to get involved in fights with other dogs, thus, going as far as mauling Miss Matiss and killing Queen Latifah's dog?
This and many more questions prove the minds of millions of fans of the dear pooch.
Cesar Millan's Response
In a formal response to the lawsuit, Cesar Millan's lawyer revealed that Millan was unaware of the unfortunate incident and had no culpability in the incident because she was aware of the danger and assumed the risk of being bitten.
Millan's lawyer also accused Matiss of negligence and fraud.  
In a statement to tabloid news site Page Six in September, Millan's rep disclosed that gymnast Lidia Matiss demanded Millan pay her $850,000 through a letter, threatening to go to press if her request was not obliged.
He also reiterated that Matiss was aware of the risk and returned to the property repeatedly after the incident.
Queen Latifah's Response
Since news of the allegation that Cesar Millan's Pitbull killed Queen Latifah's dog the latter has chosen to refrain from making any public statement on the matter.
The rapper and actress has remained silent on the matter and has not responded to requests from news outlets for comments on the lawsuit and the allegation.
Did Queen Latifah Sue Cesar Millan?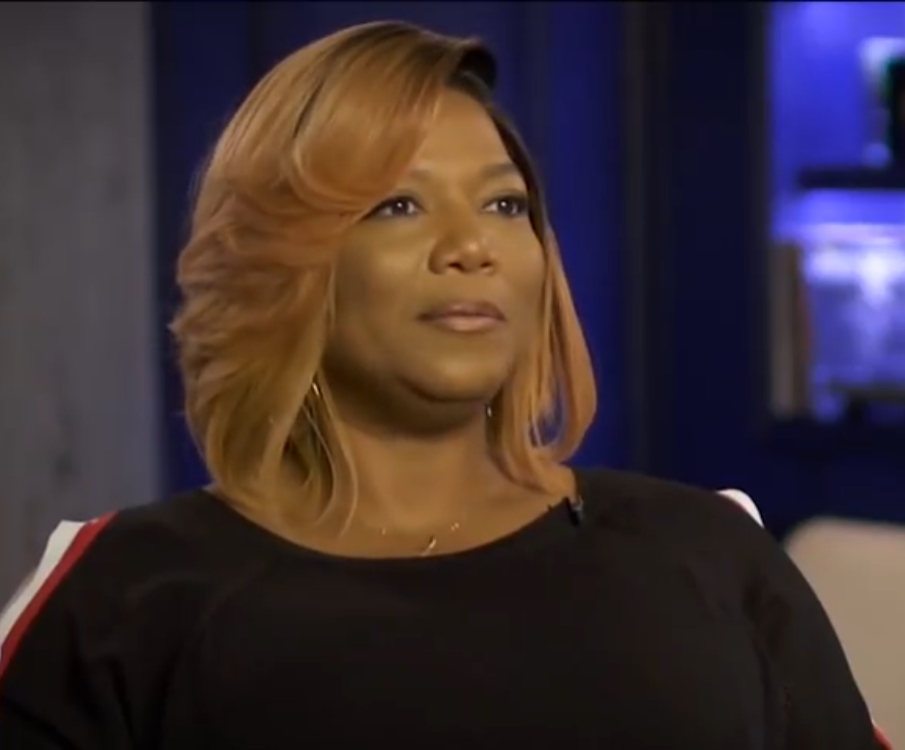 Queen Latifah is yet to file any legal action against Millan and has not made any statement on the incident.
The lawsuit against Cesar Millan was filed by gymnast Lidia Matiss who cited Queen Latifah's dog being mauled to death by Junior, the same dog that attacked her. 
Final Words 
With the legal battle involving Caesar Millan and Lidia Matiss ongoing, the allegations in the gymnast's lawsuit have elicited interest from fans of the renowned dog trainer, who stand solidly behind their beloved star.
Whether the allegation contained in the lawsuit has unsettled Queen Latifah and brought about an inquiry into the cause of death of her dog or the actress seemed unconcerned about the news, that remains to be established.
But one fact about the trending lawsuit is that it has generated lots of bad press for Millan, who is eager to put the incident and the lawsuit fast behind him.
Featured Image: National Geographic