Heroic dogs bring back-to-mind tales and fables we would not quickly forget, but could it be any more than fiction?
Bravery, risk-taking, empathy, awareness, and proactiveness — a concoction of these is the perfect recipe to save the day.
Undoubtedly, there are countless cases of humans coming to the rescue, fighting against hostilities from other humans, wild animals, unfortunate incidents, and the uncertainty of time.
They're called heroes — but such an honorary title has been deservedly extended to our canine companions, displaying their unwavering loyalty and bravery in tragic states of affairs.
Experts believe dogs can exhibit heroics — armed with facts and real-life experiences that authorize their claim.
In heartfelt appreciation to our furry, four-legged friends, we'll honor ten dog heroes on the spot to protect or save their masters, friends, or other humans from danger.
Touching Stories of Real-Life Heroic Dogs Saving Humans
1. Roselle – Guide Dog Saved His Blind Owner On 9/11
Breed: Labrador Retriever
Country: United States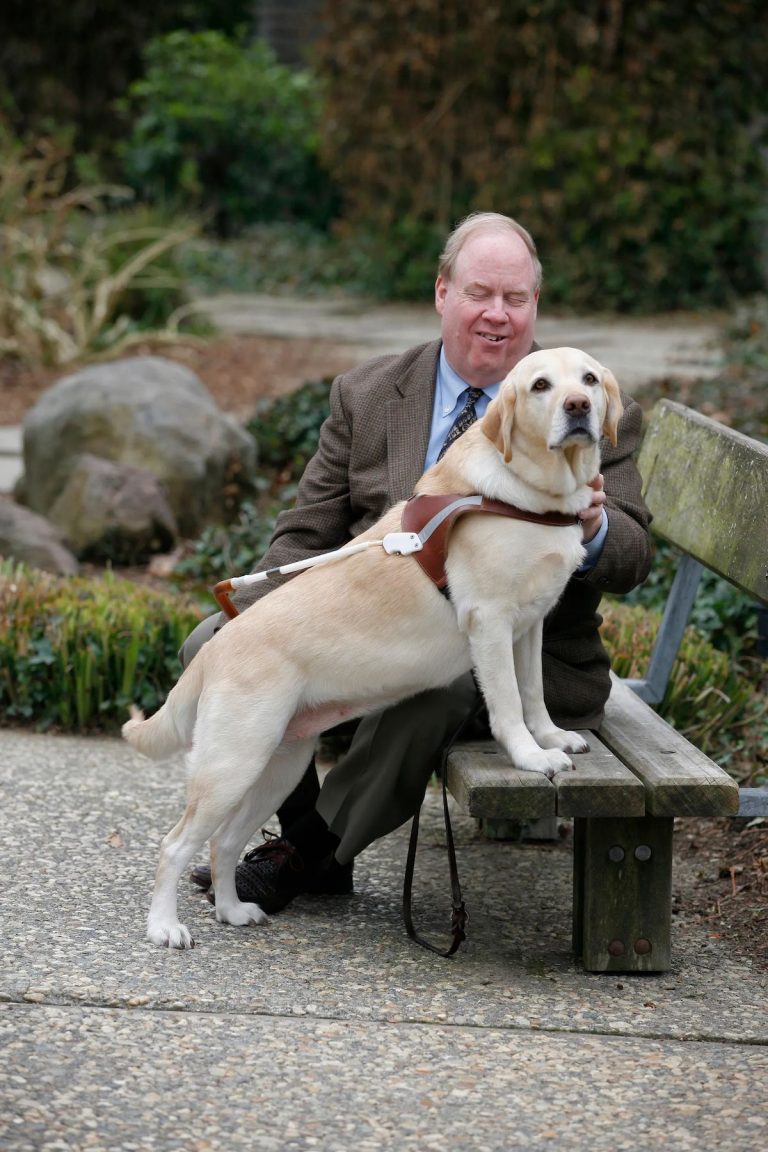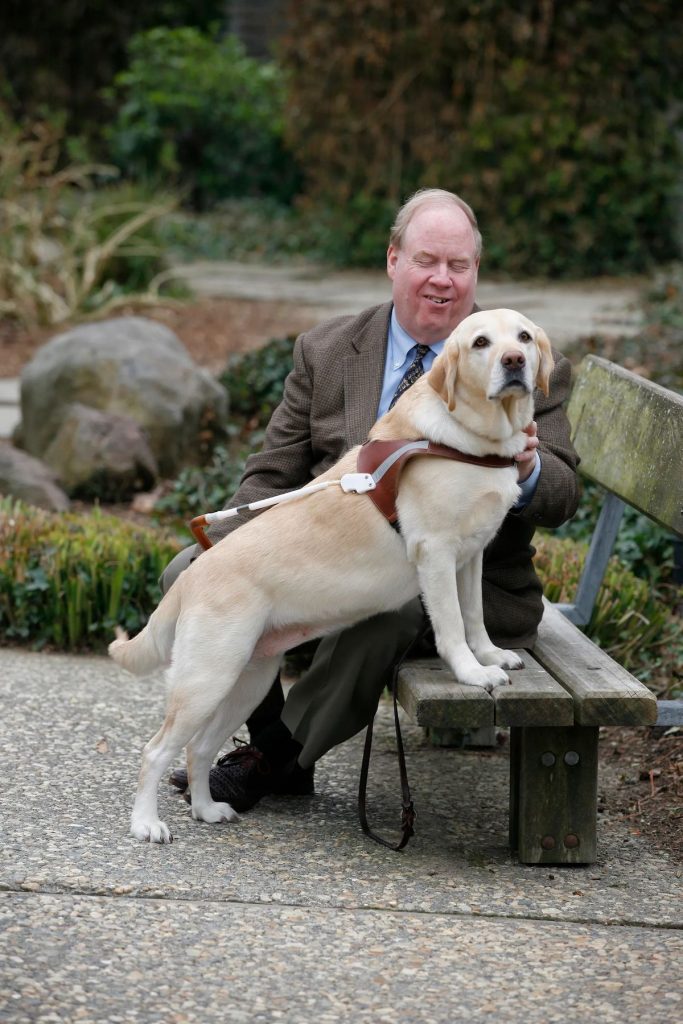 On a day believed to be tragically written in the history of America, the cops, military, health agents, other governmental agencies, and relief committees are presumed to be the heroes.
While we can't downplay their service to humanity, who would have thought that a Labrador Retriever would have saved someone's skin?
Roselle, a yellow Labrador Retriever, has been serving as a guide dog to her blind pet-dad, Michael Hingson, before the tragedy of September 11, 2001, that claimed several lives.
About 300 dogs from all over the U.S were around to assist in search and rescue operations, but Roselle stood tall, leading her pet dad and thirty others out of the debris and commotion within the North Tower.
While Roselle dedicatedly led Mr. Hingson to his sales management job at Quantum, Hingson probably had never relied on Roselle's guidance as much as he did that fateful day.
The faithful yellow Lab kept running, helping her dad and those that trusted their guidance down 78 floors and out of clouds of smoke and sand into safety.
Torrents of thanks to the benefits of companionship kept pouring from Mr. Hingson's heart when he said, "Roselle and I are a team, and I was not about to let her go."
It did have a happy ending; Roselle earned the 2002 Ace Award for Canine Excellence in the service dog category, 2011 American Hero Dog of the Year award, and had her name and legend inscribed in "Thunder Dog," a book by Michael Hingson and Susy Flory.
Roselle's heroics on 9/11 earned her praises from many, ranging from survivors, admirers, and popular television hosts like Bryant Gumbel, Regis and Kelly, and Larry King whose show hosted Michael Hingson and Roselle.
She sadly passed away aged 14 in 2011 but has never been forgotten.
2. Lucca – Protected Marines from An IED Explosion
Breed: German Shepherd x Belgian Malinois Mix
Country: Afghanistan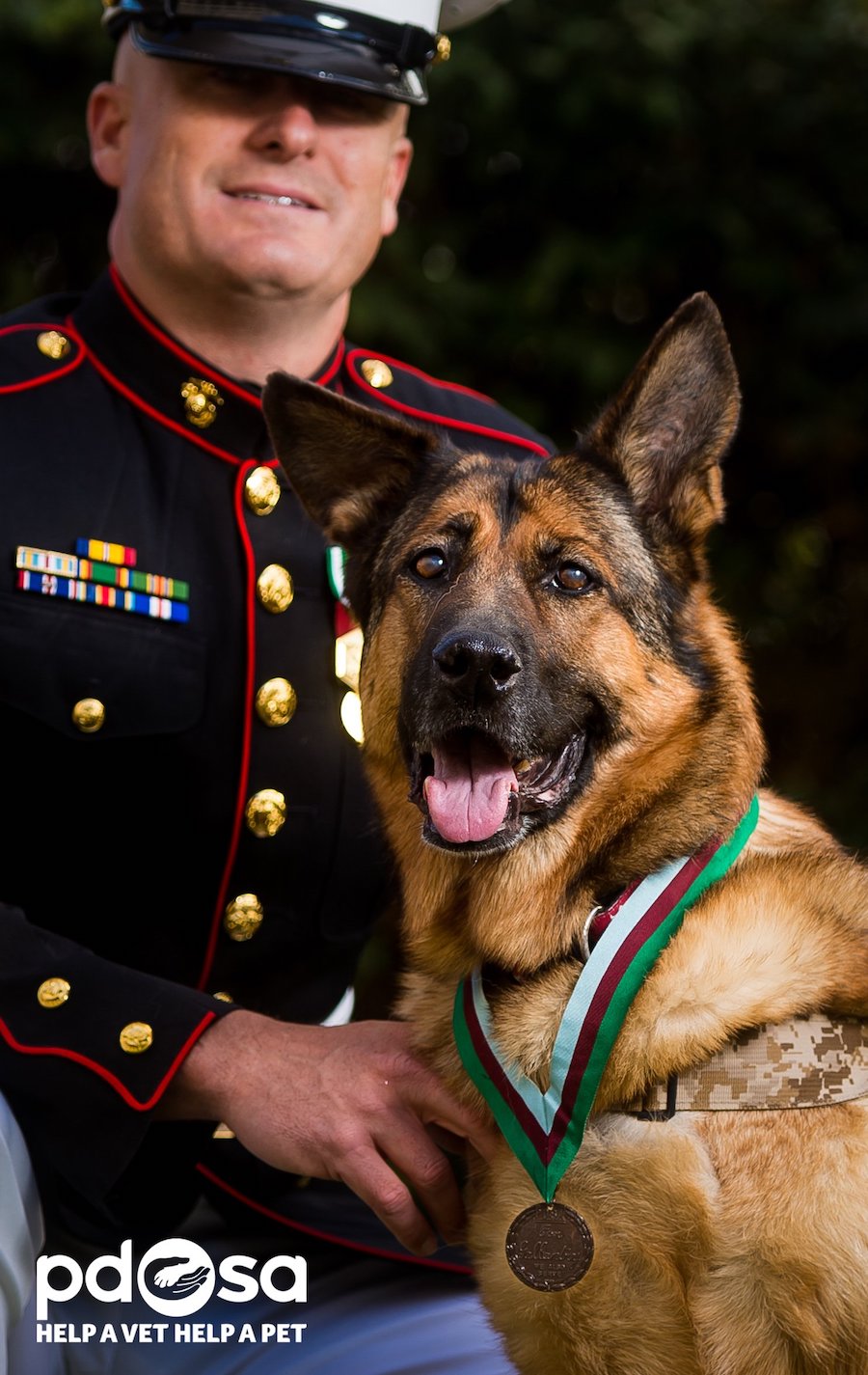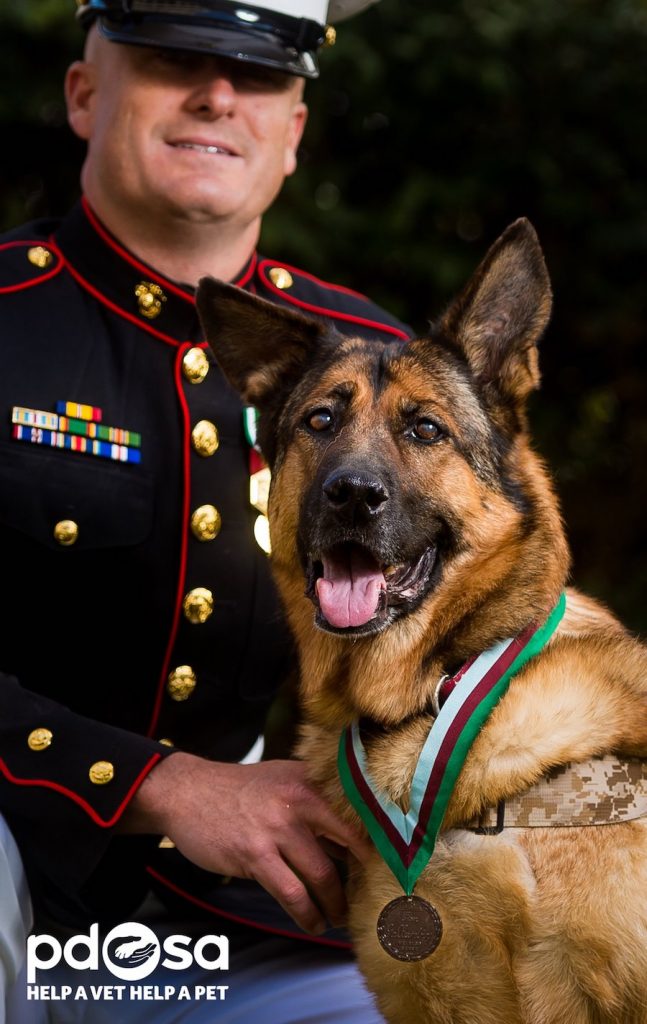 What a gallant soldier, discovering over forty Improvised Explosive Devices (IEDs) in six years.
Surprisingly, she's no special operation agent but a loyal German Shepherd Belgian Malinois mix trained to identify IEDs.
Through her course of faithful service, Lucca commendably led around 400 patrols, including a tragic one, which became her last in Afghanistan in 2012.
An unexpected IED detonated underneath Lucca during a patrol in 2012, just after she located one.
The result was that she sustained permanent damage to her front legs, enough to keep her out of the military.
However, Lucca surprised military members, especially her first handler and later adoptive owner Gunnery Sgt.
Chris Willingham commended the upbeat personality Lucca maintained after her recovery.
"Being exposed to an IED, suffering serious injuries, and returning with the same personality speaks of her resiliency, strength, and character," — says Chris Willingham.
Lucca's bravery has little to do with breed and instinct but the ability to realize the danger and remain loyal despite putting herself between the devil and the deep blue sea.
She was awarded the highest honor an animal can receive in the U.K's military service — the People's Dispensary for Sick Animals (PDSA) Dickin Medal, considered the prestigious Victoria's Cross's equivalent for animals.
Lucca's award in 2016 saw her become the first U.S. Marine dog to receive the prestigious medal.
Recommended:
K9 Dog Breeds: 14 Best Police Dog Breeds Who Serve
3. Sako – Fought Off Coyotes to Protect Boy After Car Crash
Breed: King Shepherd
Country: Canada
Helpless and lost 100 yards into the woods, what could be more frightening than howls in the dark?
If there's anyone worthy of praise for 16-year-old Joseph Phillips-Garcia to share his experience, it's his dog, Sako.
En route a fishing and potato picking trip in the summer of 2014, Joseph Phillips-Garcia and Sako survived a fatal car crash that claimed three lives, one of Joseph's femora and a collar bone, limiting Joseph's movement.
However, they were thrown off the vehicle, 100 yards into the woods.
As though he was trained for rescue missions, Sako kept his pet brother warm, helping him maintain his body temperature, a measure health personnel recommend during an injury and shock crisis.
Sako ensured Joseph got water and helped him to a creek.
According to Constable Kris Clark, the wilderness in Kanaka Bar, British Columbia is subject to several predatory animals, including wild cats, bears, and coyotes.
Nevertheless, Sako gallantly fended off coyotes in the night and stood by Joseph until a search team located them 40 hours later.
Thanks to Sako's brilliance, Mr. Phillips-Garcia, after hours of surgery and months of recovery, could attend the 2015 Purina Animal Hall of Fame Induction ceremony in Toronto, where his dog was honored alongside three other animals.
4. Todd – Took a Rattlesnake Bite to Protect Owner
Breed: Golden Retriever
Country: United States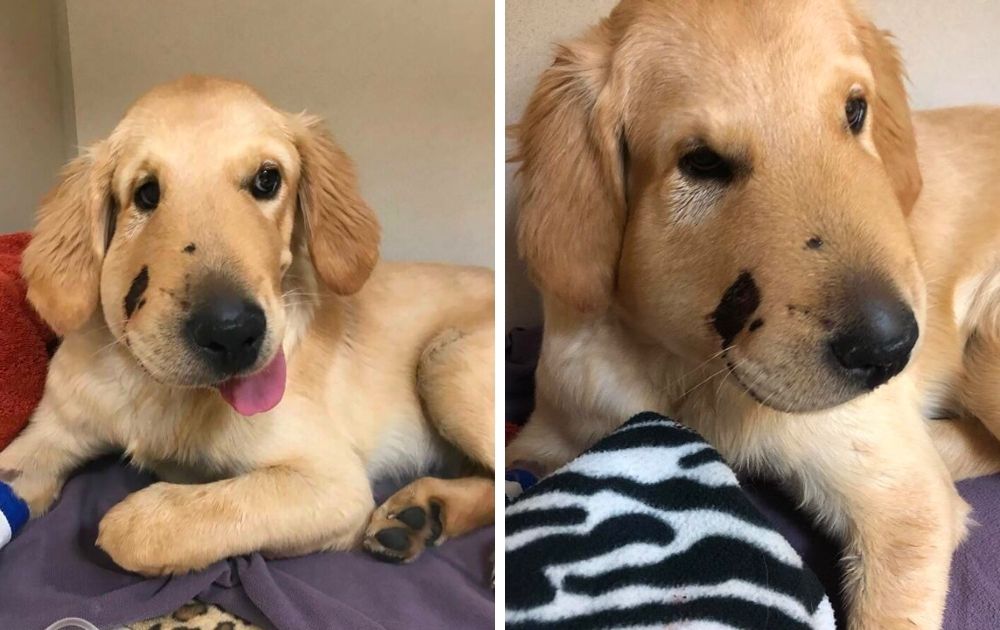 Todd couldn't have stood seeing its caregiver get bitten by a venomous snake; it'd rather groan in pain in her place.
What more could be asked from a hero?
Praising Todd, Paula Godwin, Todd's pet mom, proudly posted via Facebook: "My hero of a puppy Todd saved me!"
On a walk around their home in Arizona, Paula and her dogs were attacked by a rattlesnake before Todd, a young Golden Retriever, shielded Paula from a rattlesnake's venomous bite, jumping in front of her leg where she could've been bitten.
Paula recounted that she is usually alert but was fooled by the camouflaged color of the reptile and its quietness such that she didn't even notice it.
Her joy was unmatched to see her "su-paw-hero" survive the attack despite a swollen face where it was bitten.
There haven't been any reports of Todd being awarded, but pictures of the canine hero went viral, finding their way to the popular Twitter dog page WeRateDogs.
5. Cheyenne – Veteran With PTSD Found Calm
Name: Pitbull
Country: United States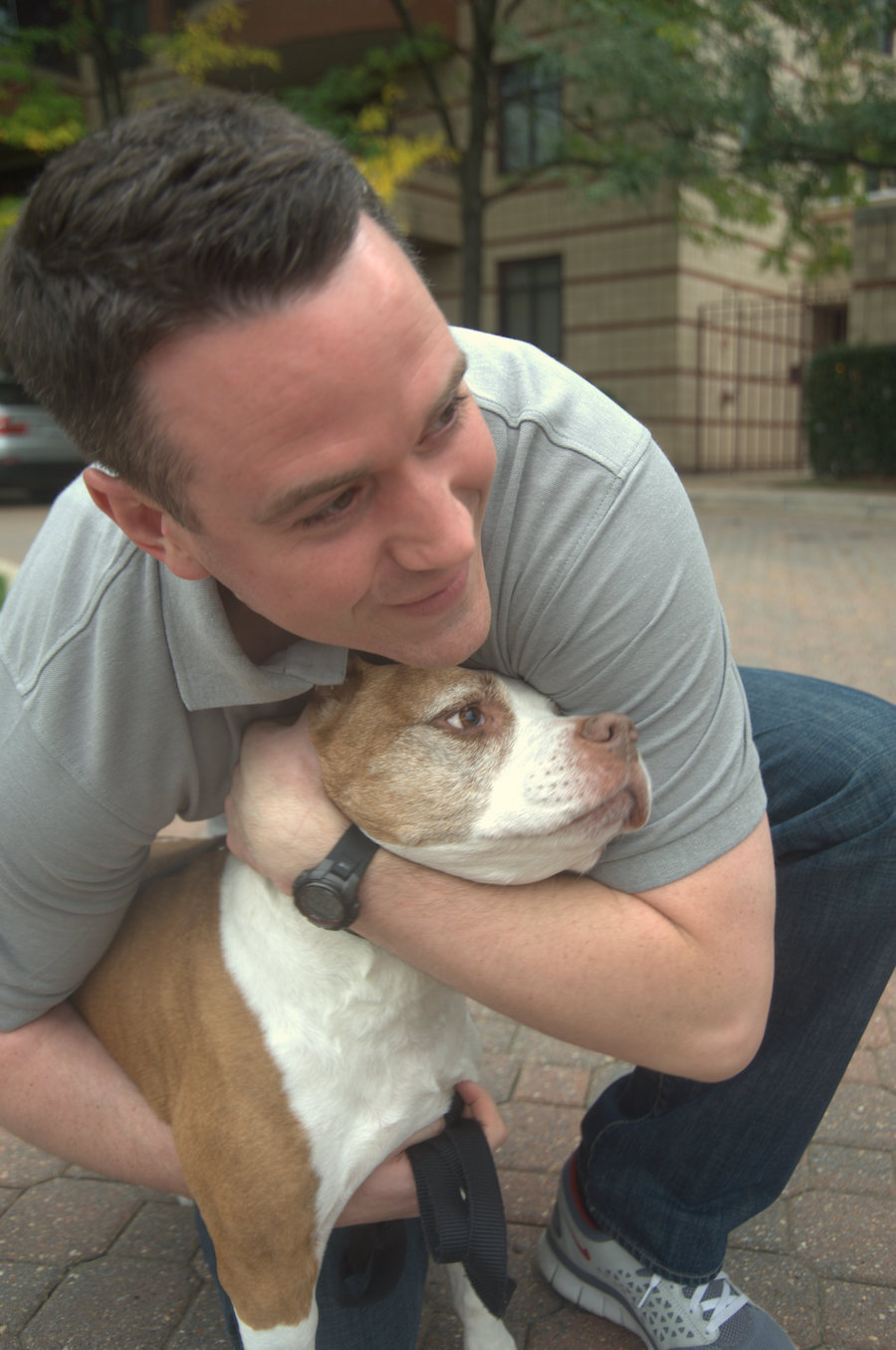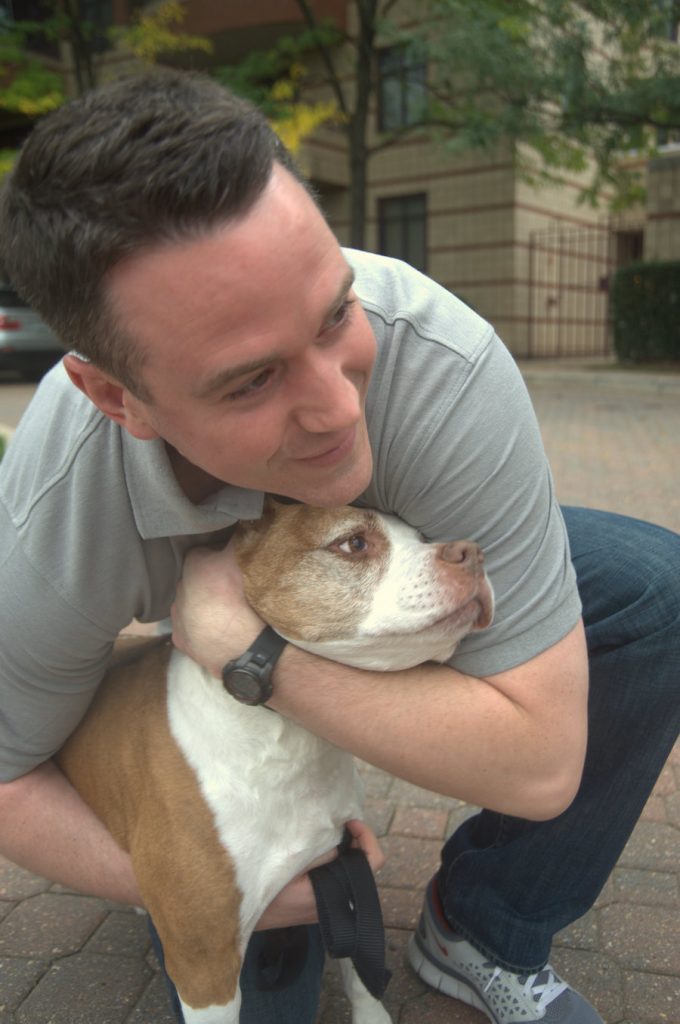 David E. Sharpe is revered as the founder of Pets 2 Vets, a non-profit organization pairing shelter animals to veterans living with Post-Traumatic Stress Disorder (PTSD).
However, he's been through two suicide attempts years before 2009 when the idea of starting a program that could pair shelter animals to veterans living with PTSD first came to his mind.
In 2009, a news segment on television reminded Sharpe of how his brown-and-white Pitbull saved his life twice, inspiring him to help other veterans with a similar experience.
PTSD, depression, and the list could've been more, but ending it right then and there seemed to be the most comforting option for former Air Force Senior Airman David Sharpe who witnessed experiences that deteriorated his mental health.
Thanks to the merry-making and comforting gesture of Cheyenne, David Sharpe's Pitbull, he found the courage to let go of his .45-caliber handgun and fight his demons.
Cheyenne licked her master's ear, helping him see that he had reasons to stay alive.
Falling into another suicidal state a month later, Sharpe intensified his efforts, locking his bedroom door to prevent Cheyenne from stopping him.
However, the Pitbull broke through, giving Sharpe a questioning look that reignited his drive to live.
Cheyenne has been more than Sharpe's dog ever since; she has also been his therapist.
6. Blacky – Stray Dog Saved an Abandoned Newborn
Country: Philippines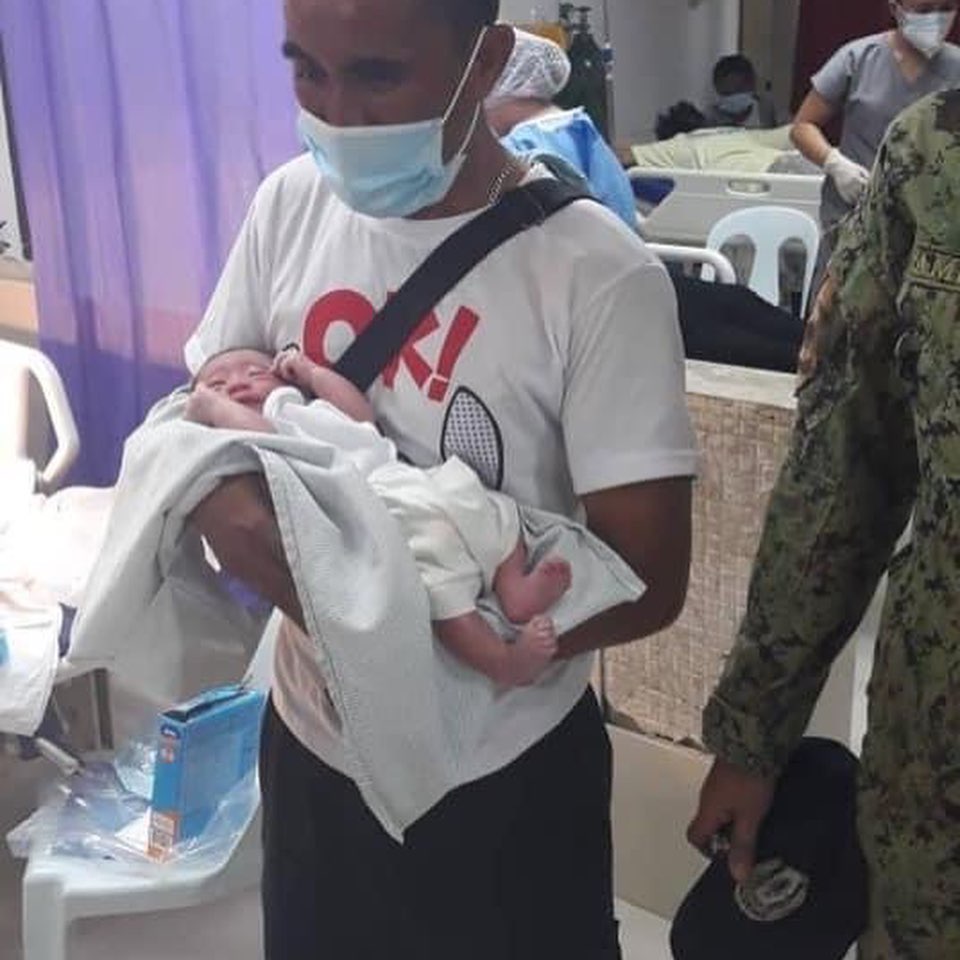 Maybe the saying is true "we don't deserve them," our furry friends being more human than some humans.
The claim, as mentioned earlier, is evident in the experience of a cyclist Junrell Fuentes Revilla from Southern Cebu, Philippines.
While riding his motorcycle in the Mountain Barangay Magkagong on Christmas eve, a stray dog named Blacky led him to an abandoned baby wrapped in a towel in a nearby, grassy dumpsite.
When the baby's mother failed it, Blacky seemed to know what it meant to be without a home and came to the rescue.
At the police station where Junrell reported the case, Blacky's heroism was recognized.
The story of this dog's heroism soon spread across the internet, intriguing Hope for Strays, a non-profit animal shelter that partnered Blacky with Pawson's project to recognize his heroism.
Both organizations decided to honor Blacky and his human family, gifting them foodstuffs and pet supplies.
7. Clover – Stopped Traffic to Save Her Human Having a Seizure
Breed: Maremma mix
Country: Canada
"I know she will be there for me, and I love her to death" were the words of a grateful pet parent to Inside Edition.
We can guess Clover had always been a good dog, perhaps getting lots of praise from her human, Haley Moore, but the Maremma mix made headlines for her nurturing instincts.
Upon collapsing on a walk due to a seizure in the early hours of March 16, 2001, Clover stopped upcoming traffic to find help for her Moore without taking her eyes off her.
A neighbor's security camera recorded footage that captured Clover's heroics as she swung into action like a trained seizure alert dog.
Clover's ability to assess the situation put her life on the line by stepping into the road and cautiously guarding her human as a stranger attended to her, all without prior training regarding such a situation, is mind-blowing.
In all practical terms, we can't fault Miss Moore for saying, "If this happens again, I feel ten times safer, and I know she will be there for me."
While Clover's heroics has earned no award from elite animal-based organizations, her good deeds didn't go unappreciated by her family.
Randall Moore, Haley's dad, recalled his wife Diane fed Clover with delicious streaks to reward her for her diligence.
8. Jazzy – Hero Rescue Dog Rescues Owner From Diabetic Shock
Breed: Yorkshire Terrier Mix
Country: United States
Honor isn't only reserved for the solvers of a problem but also the detectors of that problem.
While Jazzy wasn't the doctor that revived her pet dad Michael, the Yorkshire Terrier mix dog alerted others as he fell unconscious due to a dip in his blood sugar levels.
Jazzy tried her best to reinstate Michael's consciousness by nudging his chin. However, her frantic barking alerted Michael's mother, who woke him before it escalated into a diabetic shock.
While medically-trained dogs perform better, detecting changes in blood sugar 20-30 minutes before the latest technology can, Jazzy's case is one worthy of applause.
Little wonder Christine, Michael's mother, acknowledged Jazzy's indisputable assistance, doubting Michael's survival without Jazzy's help.
Jazzy's canine heroics found its way to the internet via a 2018 web report by Fox10 Phoenix, a local fox-affiliate in Candor, New York.
9. Toby – Saved His Owner from Choking to Death
Name: Golden Retriever
Country: United States
When your dog makes you wonder if it's a Red Cross personnel, you have no choice but to push it for the Dog of the Year.
This claim is valid in 45-year old Debbie Parkhurst's case when a piece of apple refused to go down her throat.
Her desperate attempt to dislodge this piece yielded almost no result until her Golden Retriever Toby stepped up to offer crucial assistance.
Knocking Debbie to the floor, Toby jumped on her chest, dislodging the lump by performing the Heimlich maneuver.
As though Toby knew his human was at the risk of losing consciousness, he licked her face to keep her awake.
He seemed to have evolved from canine instinct as he exhibited cognitive skills and was eventually rewarded with the Dog of the Year award. 
10. Major – Dialled 911 After Owner Surfers Seizure
Breed: Pitbull x Labrador Retriever Mix
Country: United States
Arguably the most heroic of all! Simply astonishing!
In total reliance on his service dog, Terry McGlade, a U.S Marine suffering from PTSD and seizures following an IED mishap in Afghanistan, couldn't be more grateful for his dogs' persistence, loyalty, and top-notch display of intelligence during one of his seizures.
Major, Mr. McGlade's Pit-Labrador Retriever mix stepped up in human-cognitive brilliance, grabbed his master's cell phone out of his pocket, and put his paw on it to dial emergency services.
Hearing a dog's bark instead of a human's cry for help, dispatchers logically dismissed Major's call and continued to do so.
However, Major's perseverance paid off in the end, as the dispatchers eventually heard McGlade's struggles from the background and sent an ambulance.
Major waited in the front lawn of their Zanesville, Ohio, home for the health workers to arrive, he received and lead them to McGlade.
Major wouldn't stop until he saw that his pet-dad received the required care.
Frequently Asked Questions
Does breed determine canine heroism?
No doubt, breed temperament, and behavioral traits play a crucial role in your dog's personality. However, any dog can display canine heroism regardless of its breed.
Does training determine a dog's ability to demonstrate bravery?
The saying "Dogs are man's best friends" shows that dogs are instinctively loyal. Some breeds are bred to guard and protect, implying that bravery is an intuitive trait.
Your dog will spring to action to defend you if you find yourself in a dangerous situation. Still, special training can help a dog demonstrate intelligence by assessing a situation and providing the required assistance.
For example, military dogs trained to identify IEDs might be prompted to save a soldier's life than a family dog taken to war. 
Do dogs remember specific training?
Dogs have semantic memory, making it possible to remember specific lessons during training sessions. For example, a guide dog won't forget its training even after it's adopted.
Do dogs remember past trauma?
Researchers believe dogs remember traumatic events often triggered by places linked with a disturbing experience.
Military dogs from Iran and Afghanistan were suspected of showing signs of canine PTSD due to exposure to gunshots, gunfire, and explosions.
Symptoms of canine PTSD may include avoidance of locations linked with traumatic experiences, hyper-vigilance, and refusal to perform the tasks they're trained to perform.
Does my dog know I need help?
While your dog might not have the ability to tell what the emotion is or the cause, it can sense the difference in your mood and try to offer assistance.
A study reported by LiveScience reveals a difference in how sampled dogs behaved when their owners were asked to act distressed.
Final Thoughts
These stories have shown that life is never totally rough when your "woof" is around.
Many pet parents believe that their dog's bravery results from bonding and emotional attachment.
While their thesis might be true, researchers also believe that canines can exhibit actual bravery by assessing the situation and providing assistance regardless of apparent dangers.
Several stories, including personal experiences, show that there are heroic dogs, present, and past.
We could sample ten dog heroes, but your dog could be one of the several others with proper training and care, regardless of its breed.
Do well to appreciate your dog with treats and praises for every job well done and for its display of courage and intelligence.
Recommended:
9 Dog Museums Every Dog Lover Must Visit
Featured Image: The Epoch Times