Of the myriad technological innovations that excite man, the AI Robot vacuum cleaner ranks among the least.
Though a prerequisite for owning a clean home, especially one that abounds with our furry friends, the vacuum cleaner is not given as much attention as other technological innovations.
Not shining and glittering like the latest high-tech smartphone or game console, AI vacuum cleaners are time-saving necessities that are greatly appreciated when they function intelligently and excellently.
The AI vacuum cleaning industry is inundated with robots with amazing features which are smart enough to sway us. Still, in all, it may be lacking that essential feature that does terrific justice to it.
We review one of the leading high-performance AI smart vacuum cleaners available and its exciting features, scrutinizing every bit of its performance to see how well it fits the high set standards for being the best AI vacuum cleaner in the industry.
Before we delve into the intricacies of the Trifo Ollie Pet AI Robot Vacuum cleaner, a bit of an introduction to the brand behind the ingenious product would help us get a better sense of the fantastic features included in the Trifo Ollie Pet.
About Trifo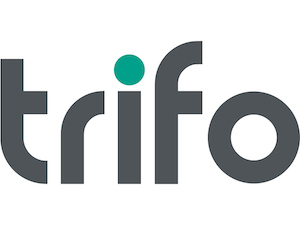 The year is 2016, and while robot vacuum cleaners are no strange innovation, few exist specifically designed for cleaning homes with furry creatures in mind and serve to attend to engage pets.
A group of tech-savvy and ingenious minds coalesced right in the heart of San Francisco's prominent tech hub, Silicon Valley, and Trifo was birthed.
The team behind the formation of Trifo sought to harness the intelligent nature of AI to help develop a vacuum cleaner that brings balance to the family.
Trifo Ollie Pet Robot Vacuum Cleaner Overview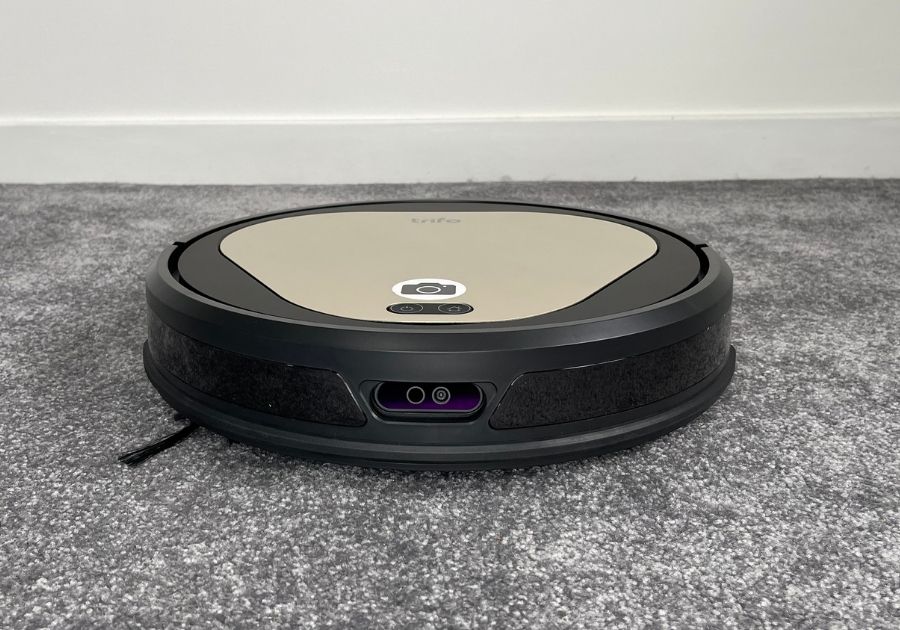 A run through the modifications of the Trifo Ollie Pet specifications would lead to one conclusion; it is indeed one of the most powerful AI vacuum cleaners available.
But pretty much every powerful AI vacuum in the industry boasts of the notable features of the Trifo Ollie Pet vacuum cleaner.
So what makes it unique? Unlike its contemporaries, the AI smart vacuum cleaner comes with added features that make cleaning a notch further and place a key priority on engaging your pet's attention.
The Trifo Ollie Pet comes equipped with an industry-first detachable laser point and an odor-eliminating air freshener.
These two superior features eliminate odors while vacuuming and keep your furry partner entertained with its detachable laser point.
The AI smart vacuum cleaner complements these fantastic features with an HD 1080P camera, making it easy to watch, listen to, and talk to your pets whenever you wish.
The actual color camera has day and night time vision and can multitask. You can talk to your furry friends while The Trifo Ollie vacuums your home.
With a suction power of 4000 pa, 600 ml dustbin capacity, and a 120 minutes runtime, the high-performing vacuum cleaner will leave even the dirtiest carpets in the primmest and most immaculate state ever.
For a vacuum cleaner with such premium features and high performance, the Trifo Ollie is reasonably priced as it goes for $299.
Pros
TOF Sensors
Real-time Video Streaming
HD Night Vision Camera
Pet Hair Extractor 
Laser Pointer 
High Suction Power 
Air Freshener 
Advanced mapping functions
Specification
| Product Name | Trifo Ollie Pet |
| --- | --- |
| Battery Capacity | 5200 mAh |
| Dustbin Capacity | 600 ml |
| Runtime | 120 mins |
| Noise | 70 dB |
| Sensors | TOF & 1080p Camera |
| Charge Time | 180 mins |
| Suction Power | 4000 pa |
| Batteries | 1 Lithium-ion battery (included) |
| Item Weight | 14.97 pounds |
| Price | $299 ($40 coupon + 10% code, use CV23AMWG) Buy at Amazon |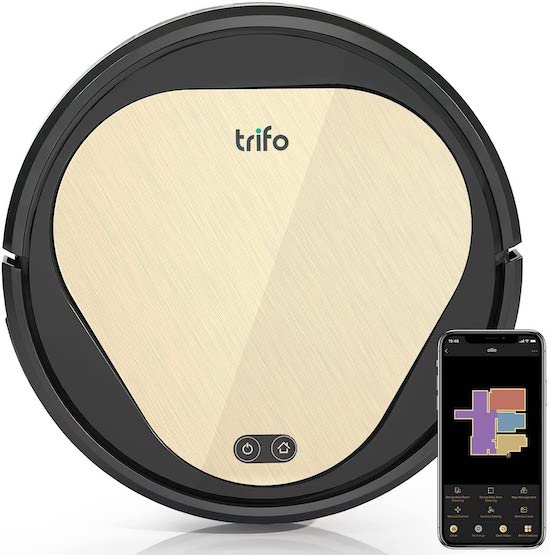 The overview of such a fantastic high-tech vacuum cleaner would undoubtedly make the obvious pretty clear; the Trifo Ollie Pet is indeed one of a kind.
However, considering every feature of the robot vacuum cleaner would further help you appreciate just how much the Trifo Ollie Pet is unique and extraordinary.
Features
1. Pet Design
If there ever was a vacuum cleaner that prioritizes your furry friends in such high esteem in design and features, the Trifo Ollie Pet is among the very best of such vacuum cleaners.
The detachable pet module, the pet Fun, and point Fresher keep your pets entertained while ensuring the elimination of odors.
Among the vacuum cleaner's features that amaze us, the detachable laser point and pet pointer top the list.
For one reason, it is an industry first, yes, exclusive to the Trifo Ollie Pet, and in combination with the 1080 HDR camera, you can watch how cheerily your pets are entertained.
Aside from that, the pet-friendly design of the vacuum cleaner further ups the ante with its multitasking ability, engaging your pets while vacuuming. How ingenious!
AI-smart may seem like a fancy buzzword conjured by marketing experts to drive the hype of the Trifo Ollie, but believe us, it's far from it.
The AI robot vacuum cleaner is indeed as smart as it is touted to be. A piece of clear evidence asserting this fact is its depth Time-of-Flight (ToF) sensor, which makes it possible to avoid obstacles.
What is even more impressive about its High-precision Obstacle Avoidance feature is that the vacuum cleaner can avoid obstacles as small as 1 inch, which is a notable feat as most robot vacuum cleaners avoid obstacles as large as 4 inches.
The top feature also makes mapping super easy for the vacuum cleaner. It maps your entire home 3:3 times faster than most robot vacuum cleaners by leveraging over-the-air (OTA) to pick up updates on surroundings on every vacuum run.
This feature thus makes the robot vacuum cleaner make super-smart cleaning decisions in far less time than that of its contemporaries.
3. Powerful Cleaning Ability
A vacuum cleaner can boast high-tech features, but without satisfying the rudimentary prerequisite of powerful cleaning, it falls far below all the robot vacuum cleaners inundating the industry.
Trifo recognizes this fact, and thus the Trifo Ollie Pet cleaning ability was made to be super powerful.
The robot vacuum cleaner boasts suction power of 4000 pa, making it very easy for it to suck up crumbs, dust, and debris without missing any in just a single pass.
Alongside its six-sided claw brush, you can ensure that your carpet fibers would be left in the tidiest and most pristine state in a vacuum run.
4. Allergen Capturing and Air Purifier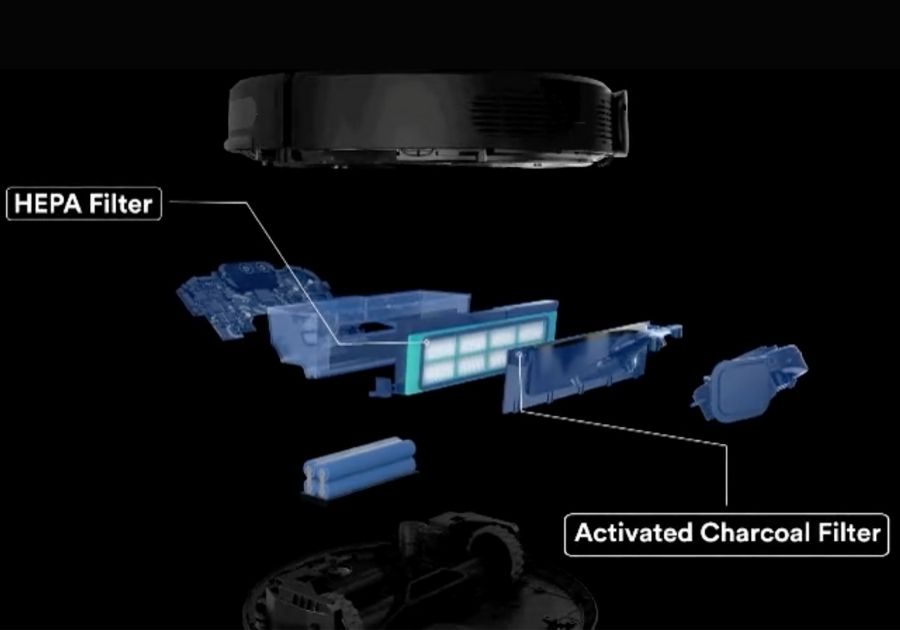 Of the numerous features in the Trifo Ollie touted, its odor removal and air purifier feature are among the prominent. While that is a fact, it makes it even becomes even better.
Aside from odors, the robot vacuum cleaner captures allergens, thanks to its in-built HEPA and charcoal filter. Thus, ensuring your room remains pristine, mint, and fresh at all times.
5. Pet Hair Extractor
No doubt we have an intense love for our pets. But one challenge we all battle with is strands of pet hair that snuggle into every corner of our homes.
The Trifo Ollie Pet vacuum cleaner has a perfect solution to that. With its special brushless attachment, Pet Hair Extractor, the robot vacuum cleaner suction flows freely, removing all dust bunnies and hair in a single vacuum run.
You don't need to bother about cleaning hairs off the brushes.
6. Real-time Home Surveillance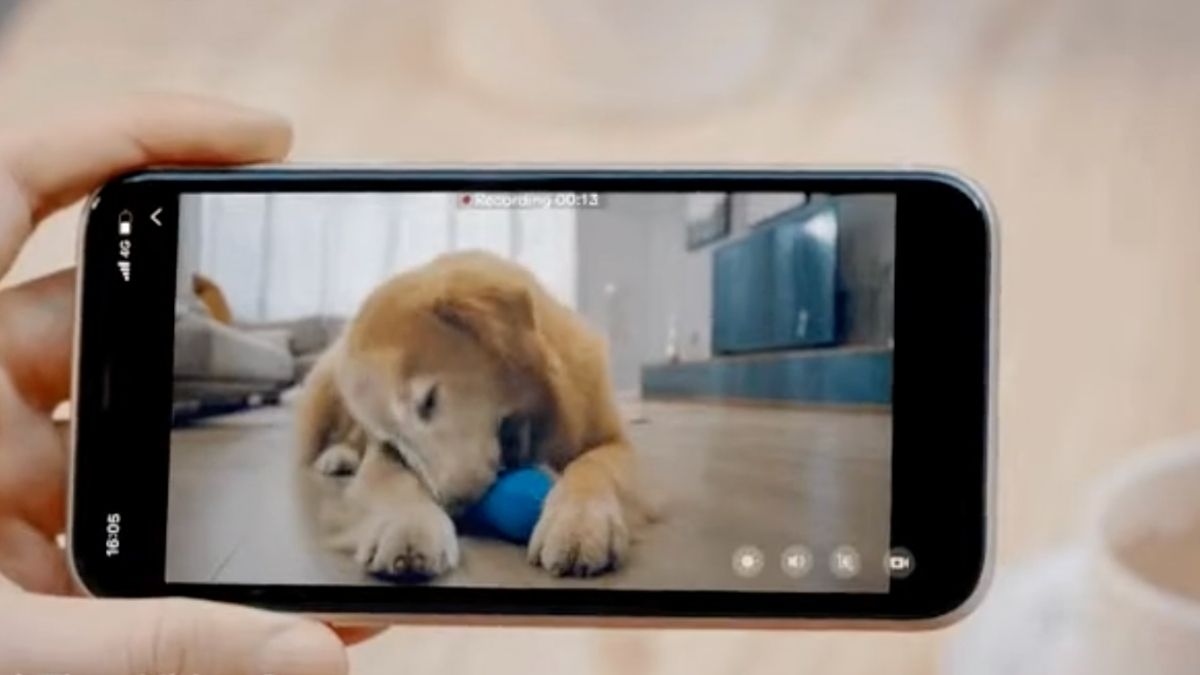 The high-tech vacuum cleaner is armed with a 1080 HD color camera, which detects movement and gives you a real-time video stream view of what the camera is seeing.
7. Keeps Your Home Clean and Safe 24/7
The core function of the robot vacuum cleaner is to keep your home in the neatest state ever.
Still, Trifo also recognizes the importance of safety and communication with your furry friends. As a result, the 1080 color HD camera was included in the vacuum cleaner.
Thanks to the high-tech camera, you get a real-time view of your home. The camera also identifies objects in the dark and works well with a motion sensor (if turned on) to send a motion alert in cases of intrusion.
8. Smart Home Enabled & Trifo Home App
A fascinating feature of Trifo Ollie is the ability for your AI friend, Ollie, to collaborate with notable AI `personalities", such as Google Home or Alexa, to initiate voice commands for starting abs stopping your home vacuum cleaning.
Through the Trifo Home App, you wield the ability to launch the robot vacuum cleaner.
The Trifo Home App also contains other unique features such as monitoring your pet camera, accessories status, customizing cleaning modes, battery power, scheduling cleaning, and the use of manual control.
9. 3D SLAM Technology 
The Trifo Ollie Pet comes with the company's own patented visual SLAM technology which makes the robot vacuum cleaner easily make precise measurements and increase cleaning coverage as much as possible.
The technology gives Ollie the ability to learn, adapt and generate a cleaning path, which makes cleaning faster and more efficient.
You need not worry about Ollie crashing into obstacles as its SLAM technology alongside depth ToF sensor helps prevent that.
10. 120-minute Runtime
High performing robot vacuum cleaner can boast multiple unique features.
Still, if it lacks a reasonable runtime to fulfill its task, an essential requirement in all robot vacuum cleaners, it grossly falls below the standards of being the best.
Fortunately, the Trifo Ollie boasts of a long-lasting runtime. With a single charge of its 5200 mAh battery, the AI robot vacuum cleaner can run for 120 minutes, cleaning up to 2,000 square feet.
The 600 ml dustbin capacity also holds enough debris and pet hair.
11. Smart Mapping
An essential quality of every AI is its ability to learn and apply itself to make notable improvements, thus setting itself aside from the herd. For the Trifo Ollie Pet, that is precisely the case.
Thanks to its impressive AI learning abilities, mapping your home is achieved quickly and more efficiently.
Trifo Ollie maps your room 3:3 more efficiently than other robot vacuum cleaners. Your rooms are automatically divided, with you reserving the ability to name the rooms.
Should you wish to limit Ollie's movement to specific sections of your home, the No-Go zone on your floor plan allows you to make such restrictions.
12. Carpet Detection 
The optical flow sensor at the bottom of the Trifo Ollie Pet helps it recognize carpets, thus automatically increasing the suction power when vacuuming carpets.
Review
What's in the box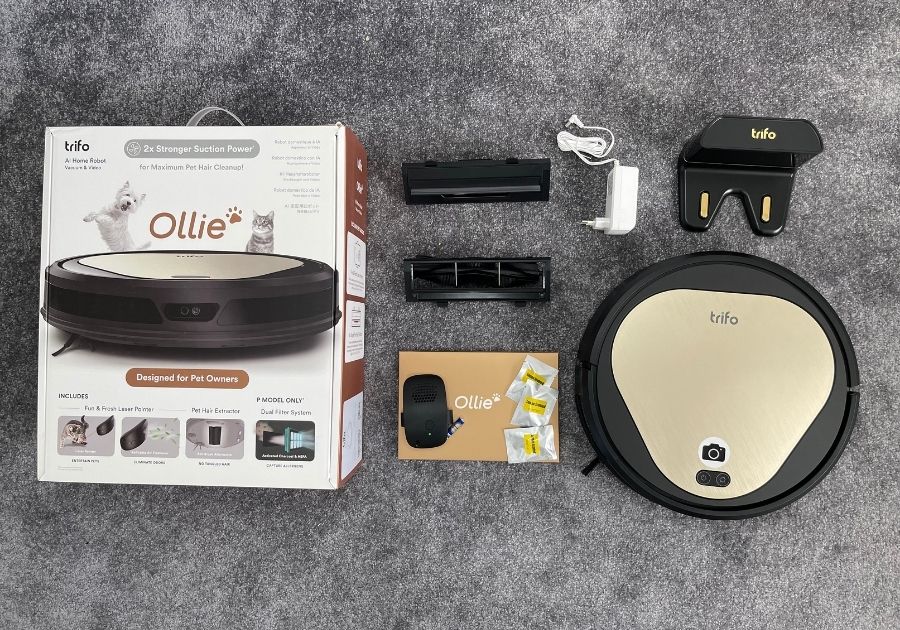 Ollie robot vacuum (1)
Main brush (1)
Charging Dock (1)
Pet hair extractor (1)
Replacements for Air Freshener (3)
Fun & fresh pointer (1)
User manual (1)
AAA Battery for Pet Module (1)
Power Adapter (1)
A run through the features above of the Trifo Ollie tells us precisely what the fancy vacuum cleaner is all about, but how did it perform in real-time against other vacuum cleaners we have tested.
Reviewed in depth is the performance of just about every feature of the robot vacuum cleaner, including battery power, pet design, setup, and usability.
Trifo Ollie Design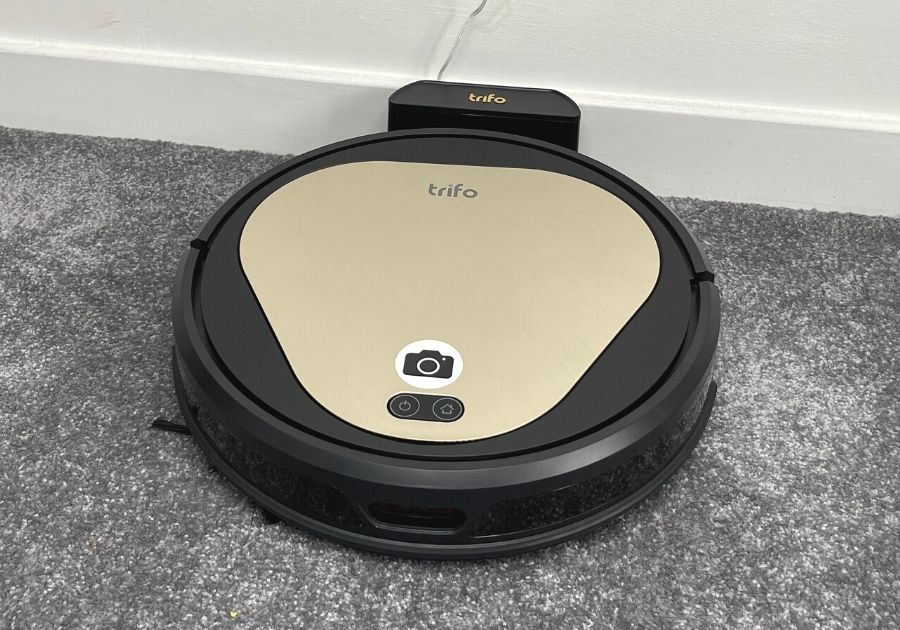 The design of the Trifo Ollie is no different in no small degree from other Trifo vacuum cleaners. It comes with the Trifo signature slim design for easy access to tight enclosures such as under the furniture.
It has a round design with a copper lid, two buttons with one indicating home, which upon initiation returns it to the dock, and the other for powering the device on and off.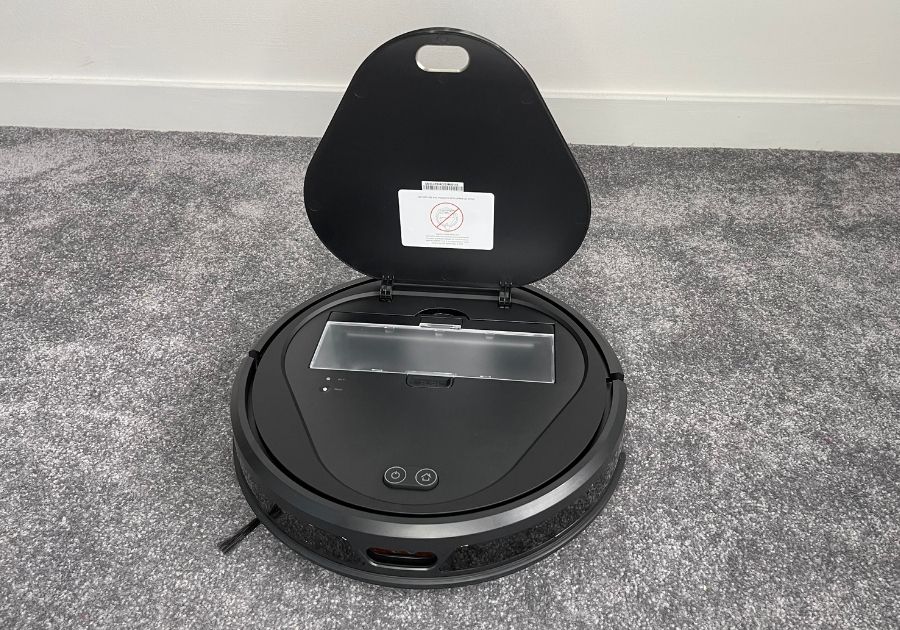 Beneath the copper lid are the WiFi indicator, the 600 ml capacity dustbin, and a reset button.
The dustbin contains a removable HEPA filter, which must be washed regularly for better performance. A button also is present which controls the removal of the dustbin.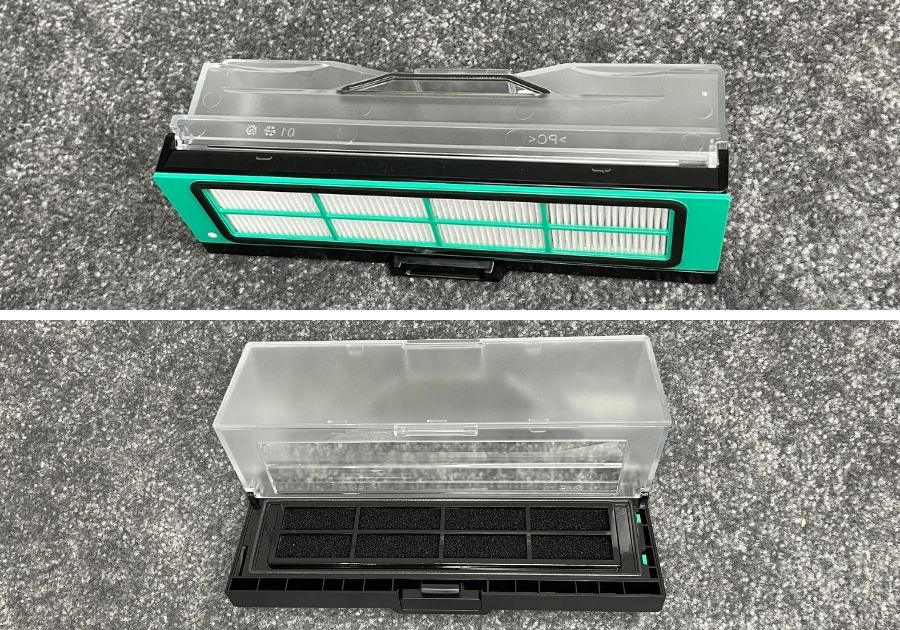 The vacuum cleaner's front bumper houses the 1080 HD camera and Time of Flight (ToF) sensor. The top is one of the most fundamental features of the robot vacuum cleaner.
It controls the mapping of your home, promoting swift vacuum rounds in both night and daytime, avoiding obstacles, and mounting heights up to 2cm.
The 1080P HD Night vision Camera ensures live video streaming, object identification, and avoidance of obstacles easily.
The rear bump of the vacuum cleaner houses no exciting feature, as it only contains two air vents for airflow.
The bottom contains a swivel wheel and two large wheels for locomotion. It also houses contact points for charging, two brushes, one small side brush, and a large horizontal main brush.
The Pet extractor fits in the same spot as the main brush, so feel free to fit it in the exact spot.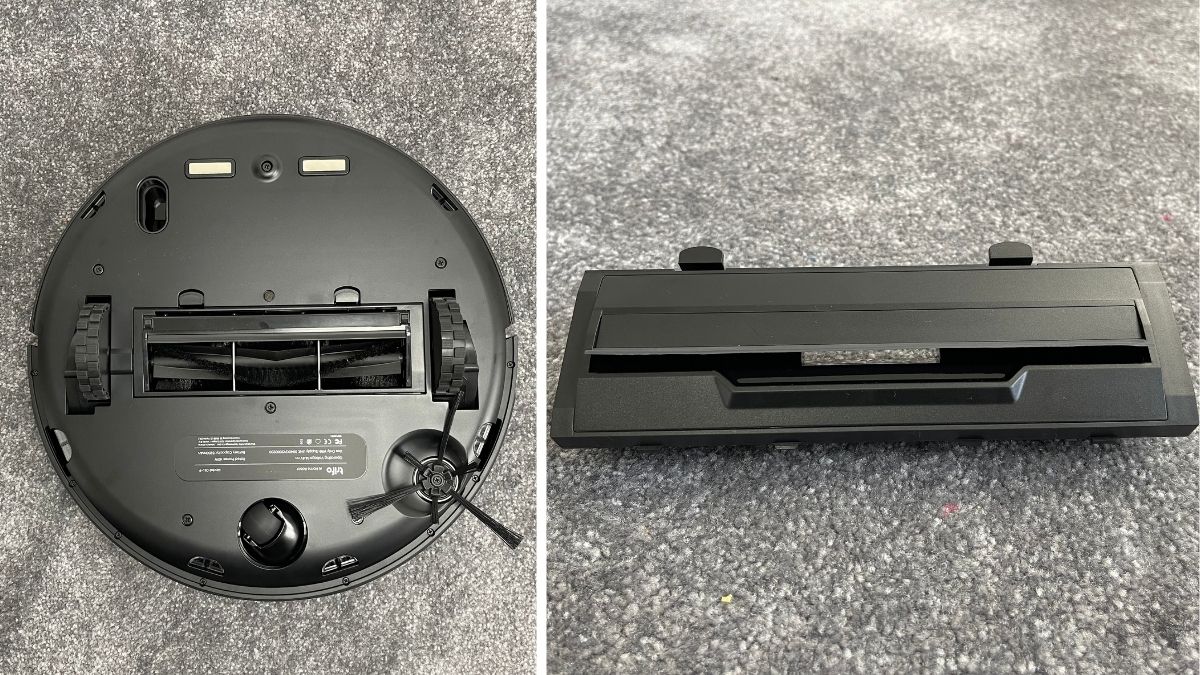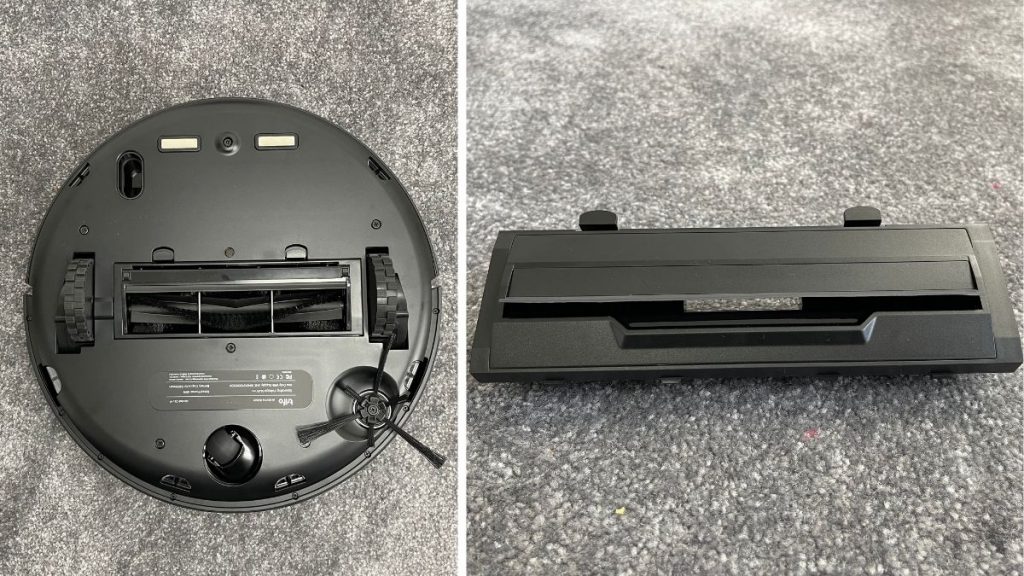 For fast cleaning, a large brush is recommended. It's a cleaning span of 9 inches, and six-sided claws diets are easily picked up from every corner. The essential six anti-drop features prevent the vacuum cleaner from dropping.
Performance
One feature we all look out for is suction power when it comes to robot vacuum cleaner performance.
For the Trifo Ollie, it is no different. Its 4,000 pa suction power set it miles apart from its contemporaries, who boast of about 2500–3,000 pa.
When vacuuming hard floors, the 2500 pa vacuum cleaners may do the job, but for carpets, the limitations of the suction power become nastily obvious.
When tested on a hard floor, Trifo Ollie worked amazingly well without extending beyond the 2000–2500 pa suction power.
However, when working its magic on carpets, the robot vacuum cleaner extended its maximum 4000 pa suction power.
This was made possible by its intelligent carpet detection mode, an ingenious feature for the robot vacuum cleaner.
Thanks to the HD camera and ToF sensors, you can trust the vacuum cleaner to navigate obstacles while vacuuming.
What is even more interesting is that it is capable of mounting elevations as high as 2 cm, so you need not worry if you own thick carpets as it can perfectly transition from floor to carpet?
Expect a little delay on its first vacuum round as the AI smart vacuum cleaner takes time to map every corner of your home.
After mapping your home, you can trust it to vacuum every inch of your floor, as it employs zigzag motion in cleaning every corner of your home.
Another essential feature of the vacuum cleaner is that it readily returns to the dock either when it has insufficient battery power (it resumes cleaning once it fully charges) or after completing its vacuum round.
The vacuum boasts of two filters, the HEPA filter, and the Charcoal, activated filter, Hutu, which are essential for capturing allergens and odor removal. The HEPA filter requires that it be washed for optimum performance.
The 600 ml capacity dustbin can store dirt and debris for up to a week, but emptying its dustbin at least twice a week is recommended in dusty surroundings.
The Pet Extractor feature works best when the roller prevents hair entanglement in the main brush.
Battery Power
The 5200mAh capacity of the Trifo Ollie gives it a run period of up to 2 hours, and on a single charge, it can vacuum an 1100 square meters area.
The vacuum round can be completed in a single round, but it would take more extended periods for large homes.
The AI robot vacuum cleaner reserves the ability to return to the dock once it runs out of power and commences cleaning after it fully charges.
Laser Pointer with Air Freshener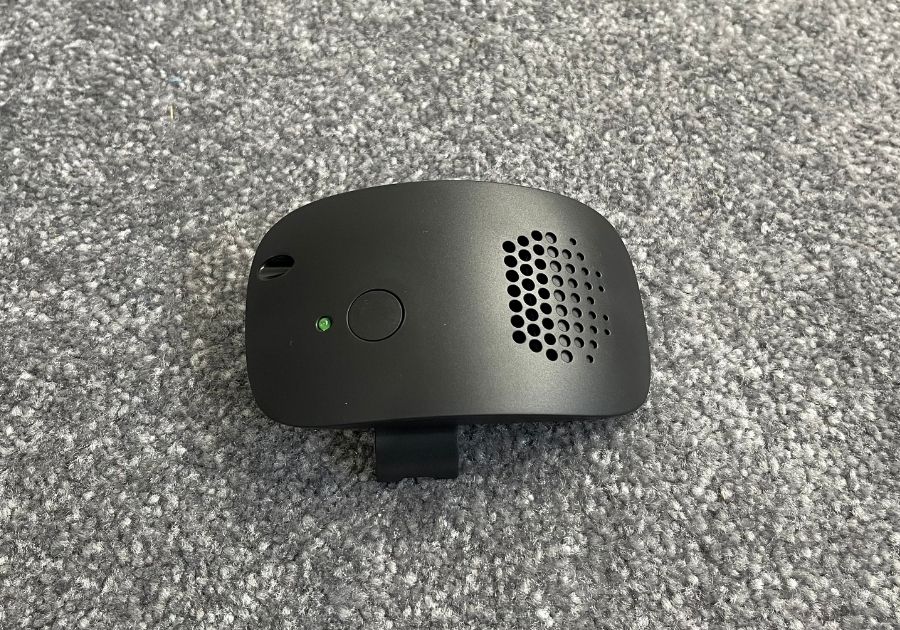 This feature sets the Trifo Ollie Pet aside from other vacuum cleaners, making it one of its most essential features.
The laser pointer has a shape similar to that of a PC mouse and can be attached to the side of the vacuum cleaner. The air freshener feature is also included in the detachable pet module.
Set Up and Mobile Application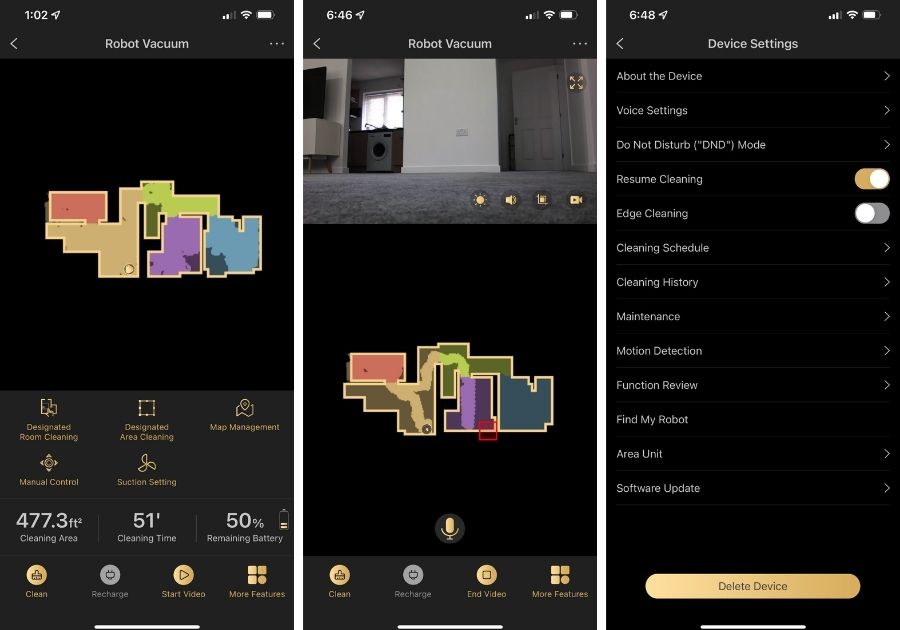 Upon laying hands on your Trifo Ollie, please give it a full charge before working its magic.
After a full charge, power the device on and connect it to the Trifo Home mobile app and WiFi.
For iOS devices, the app can be downloaded here. Android users can download the app here.
Connecting your device to the Trifo Home app is seamless, as the app gives you a run through the connection process, or you can consult the user manual.
Checking out the Trifo YouTube channel for tutorials to resolve any complications can also help.
The app gives you the ability to control suction power, update software, manually control the robot vacuum cleaner, send the vacuum cleaner to the charging station, schedule cleaning, designate No-Go areas, set virtual walls, limit vacuuming to specific rooms or zones, and renaming rooms.
Options are available to initiate live watch for two-way communication, and motion detection for intruder alarm is included in the Trifo Home app.
Bottom Line
The Trifo Ollie AI Pet robot vacuum cleaner is high-performing and would provide incredible value for your money.
For $299, you get a high-tech robot vacuum companion that fulfills the rudiments of cleaning and provides a security camera with motion detection for your home, entertains your pet, and traps all allergens in your home.
The robot vacuum cleaner is indubitably one of the best among its contemporaries, and we strongly recommend it as a top choice if you are considering getting a vacuum cleaner.
Do well to purchase the Trifo Ollie Robot Vacuum Cleaner with a 10% discount on Amazon using code CV23AMWG.
You May Also Like:
Featured Image: Samuel / Puplore