Let's face it, as much as dogs are adorable, they can be very stubborn. Even some easygoing breeds may not always want to comply with your commands or direction.
That's where a dog training collar is needed. Training shock collars are not always necessary, but when you find some bad behaviors your dog keeps displaying, it might be time for one.
We have suggested the best training collar for stubborn dogs, and you might find that one of them is exactly what you need to keep your dog in check.
Before we delve into that, we will explore the things you need to know about dog training collars and how to use them.
You'd also get a buying guide to further help you make the right choice.
Our Top Picks of the Best Shock Collars
RATING
PRODUCTS
FEATURES

Educator E-Collar Dog Training Collar

Waterproof.
Suitable for stubborn dogs.
100 stimulation levels
Easy to use and locate the transmitter.

ABBIDOT Shock Collar for Dogs

Simple to use. 
Waterproof. 
Long-range transmitter. 
Ensures safety and doesn't harm the dog. 

PetSpy P620 Remote Dog Training Collar

Waterproof. 
Blind operation design. 
Long-range transmitter. 
Corrects many bad behaviors. 
What is a Dog Training Collar?
Training collars have sparked numerous controversies amongst dog experts and many pet parents.
To understand training collars and how they work, you must first know the two broad training methods used on dogs.
The positive reinforcement method serves to motivate and encourage the dog when it obeys a command or does a trick.
The ultimate purpose of positive reinforcement is to get the dog to co-operate by getting it to associate a good act with a reward. Examples are praises, pats on the back, and treats.
The negative reinforcement method is often less popular but can also be effective when the first method fails.
This method is used to discourage bad behavior, and it also uses the associative style to make the dog link behavior to a form of discomfort.
Training collars fall under negative reinforcements, which is why they are controversial.
To be clear, positive reinforcements are more effective. However, when you do have to tame a stubborn dog or discourage bad behavior (such as excessive barking), training collars might be necessary.
It can also come in handy when your dog continually disobeys your orders. Dog training collars are reserved for serious cases, however, and should not be used at a whim.
There are many types of dog collars, each with a specific role. Here are some of them:
Types of Dog Collars
Shock Collars
Shock collars are usually reserved for extreme behavioral issues and lack of concentration. It is remote controlled and sends vibrations from it to the dog to get it to behave.
It has settings that you can use to manage the level of vibration the dog will receive.
Shock collars should be used only by a professional trainer as abuse of it can cause aggression from the dog.
Choke Chains
Choke chains should be used only during training to avoid your dog getting strangled by them.
They are used to teach a dog to walk on a leash, heel, or obey your voice. If the dog ignores or resists, a tug on the choke chain can bring back its focus.
Prong Collars
Prong collars work like choke collars, and while it is considered more effective with a lower level of risk, their structure makes them controversial.
The prong collar has probes that tighten the dog's neck and can be fatal in the case of abuse. Prong collars should only be used by professional dog trainers.
Nylon Collars
The nylon collar is considered standard and generates lesser controversies than all the ones we've mentioned. It has a buckle or hook that would enable it to sit well on a dog.
It is suitable for dogs that are already learning to be obedient but may not be too advisable for rebellious dogs as they might pull on the leash and choke.
Harnesses
Harnesses look different from other collars and are more similar to what we see on horses.
It is good for dogs with long necks, spine issues, or those that have leash problems.
Because of the wider freedom it gives a dog (compared to other collars), it may not be so effective.
Top 10 Best Training Collar For Stubborn Dogs
1. Educator E-Collar Dog Training Collar – Best Overall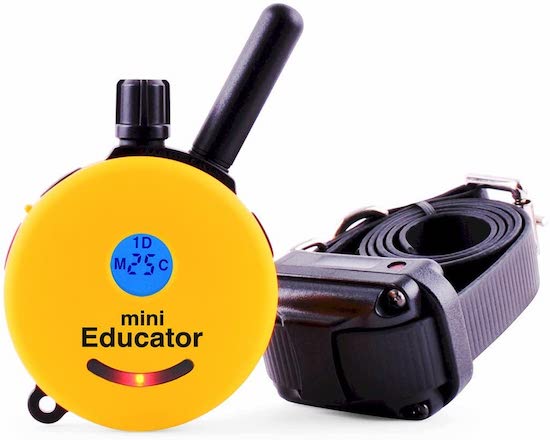 As the name goes, the Educator serves to "educate" dogs on proper conduct. It is good to support trainers looking to control a stubborn dog.
Educators come with up to 100 levels of stimulation, and it has settings for tone and vibration.
This collar was designed with your dog's comfort in mind, as even stubborn dogs deserve some comfort. The ideal neck size is 28 inches because it weighs up to 20 pounds.
It also has a stopwatch design for easier use and has a beeper you can use to find a lost transmitter. Added to these is a tracking light that can pick up a dog after dark.
In addition, Educator is waterproof and will even float if you mistakenly drop it in a lake. It doesn't stress your dog but is enough to detract it from bad behavior.
With an impressive range of a half-mile, you can use Educator anywhere. It is good for dogs between 5 and 100 pounds.
Highlights
Has a small receiver for dogs of 5 pounds (2 × 1.5, 2.4 oz).
One dog system with a range that goes as far as a half-mile.
Comes with a mini ergonomic stopwatch transmitter which enables it to be used anywhere.
Has a Pavlovian tone that gets your dog's attention, as well as a sensation similar to a vibration.
The stimulation level goes from 1 to 100.
Pros
Waterproof.
Well suitable for stubborn dogs.
100 levels of stimulation.
Transmitter is easy to use and locate if it goes missing.
2. PetSpy P620 Remote Dog Training Collar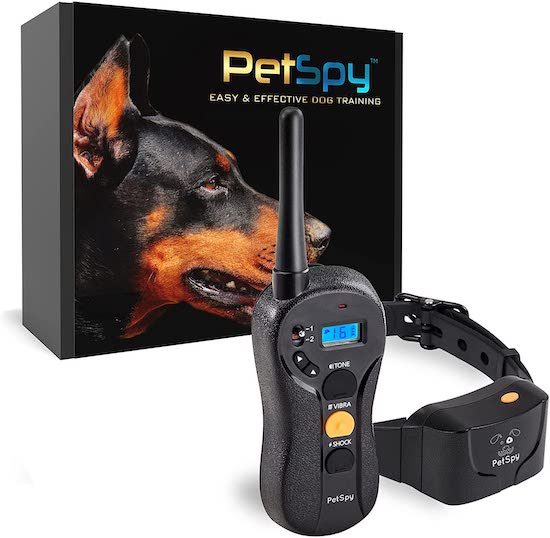 PetSpy P620 has three modes: a vibrator, a shock, and a beep. Which one you use depends on how stubborn or wild your dog is.
Its design is termed "blind operation," which means your dog won't see you use it and can't associate the discomfort with you. It would rather link it to the behavior. It can also be operated by touch.
PetSpy P620 is suitable for both professionals and first-timers, and all the modes are considered humane as even the highest level won't be disastrous for your dog.
It has 16 levels that can be adjusted according to the situation. Its range goes up to 650 yards, and it is waterproof.
PetSpy is good for dogs weighing between 10 and 140 pounds. It helps control barking issues, pulling at the leash, frightening strangers, and running off on its own.
Highlights
Good for both experts and new pet parents.
It has 3 training modes: vibrator, shock, and beep.
Works for dogs that fall between 10 and 140 pounds.
The range is up to 650 yards.
Its blind operation design makes it easy to use and enables the dog to associate the discomfort with the bad behavior, not with you.
Pros
Waterproof.
Blind operation design.
Long-range transmitter.
Corrects many bad behaviors.
Cons
It can't be used when the weather is foggy.
3. PetSafe Remote Trainer Dog Collar – Best Long Range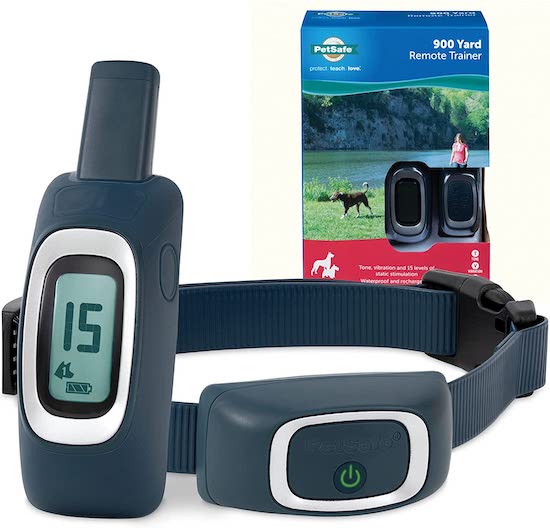 PetSafe Remote Trainer Dog Collar was designed with stubborn dogs in mind, and that includes those that pose serious training challenges. It has a tone and vibration level and comes with 15 adjustable levels.
The 900-yard collar is suitable for medium to large dogs, while the 600-yard collar is good for small to medium dogs.
PetSafe Remote Dog Trainer Collar is waterproof and rechargeable, accompanied by an indicator that shows when the battery is down.
It can work on two dogs at the same time because of its "add-a-dog" feature, and the vibration warning helps when you're training a deaf dog.
Overall, if traditional training methods have failed with your dog, then using this collar is a good option.
Highlights
It has four adjustable training levels with the highest intensity available.
The battery for the collar and remote charges in 2 hours and can last up to 40 hours.
It has a low battery indicator.
The collar can be used on two dogs.
It is adjustable.
Pros
Suitable for very stubborn dogs.
Works for dogs with hearing impairments.
Waterproof and has a low battery indicator.
Can be used on dogs of different sizes.
4. PATPET IPX7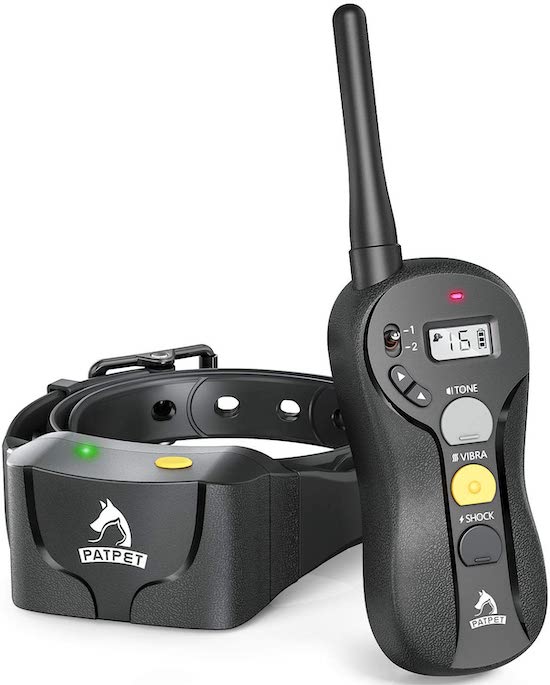 PATPET is another collar that's suitable for stubborn dogs. It comes with three training modes: the beep, vibration, and static shock.
Like the ones we've mentioned so far, the PATPET is water-resistant. You don't have to worry about the collar damaging if your dog gets into the water with it.
What's more, PATPET is wireless. This means you can train your dog even if you're not in the same room with it. The range is up to 3000ft, and it isn't limited to one dog alone. You can train up to two dogs with it.
The LED light attached to the training modes makes it possible to train even at night.
Highlight
It has three training modes.
The remote is wireless.
The receiver and the remote are waterproof and rainproof, respectively.
The Lithium-ion battery is rechargeable.
The receiver is scratch resistant.
Pros
Long lasting material with reliable design.
Battery lasts long.
Waterproof state makes it easy to use in wet conditions.
Easy to use.
Cons
Not everyone likes the remote control design as it is tied to a wrist strap.
5. ABBIDOT Shock Collar for Dogs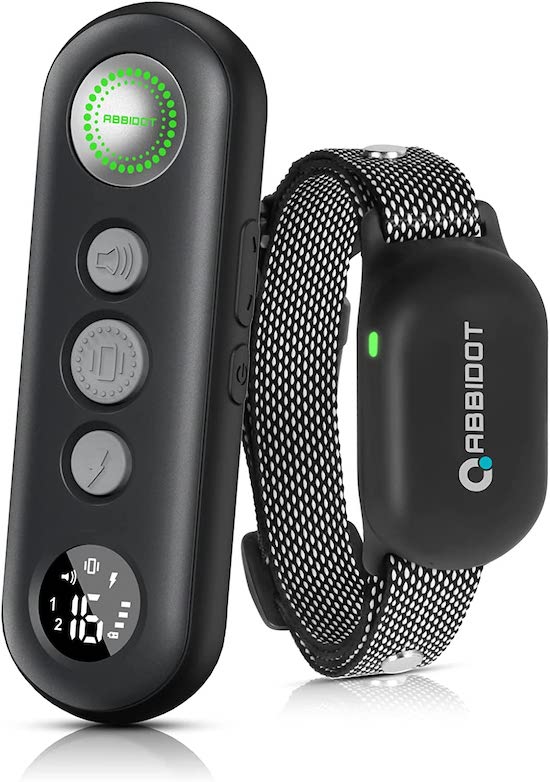 ABBIDOT comes in 3 modes that help you control your dog even when it is running away or swimming off. It comes with an adjustable strap and can be used with dogs of all sizes.
Most people get worried that collars will hurt their dogs, but ABBIDOT got that covered. The shock isn't meant to hurt the dog as the mode is gentle.
ABBIDOT covers people who have never used a training collar before by providing a training guide for beginners.
It also guarantees your dog's safety by shutting off 10 seconds after incorrect use. Still, on the subject of safety, ABBIDOT has a keypad lock system if you have nosy kids.
The range of the collar is far-reaching, and it can go from 300 to 8000 feet. The waterproof nature protects both the remote and the collar from water.
Highlights
It has 3 training modes (beep, vibration, and static) with 16 levels.
The remote is wireless and has a wide range of control.
The receiver is IPX7 waterproof, and the remote is IPX5 rainproof.
The battery is rechargeable.
It has a safety keypad lock.
Pros
Simple to use.
Waterproof nature makes it not get damaged by water.
Long-range.
Ensures safety and doesn't harm the dog.
Cons
The remote is a cheap plastic material.
6. Slopehill Dog Training Collar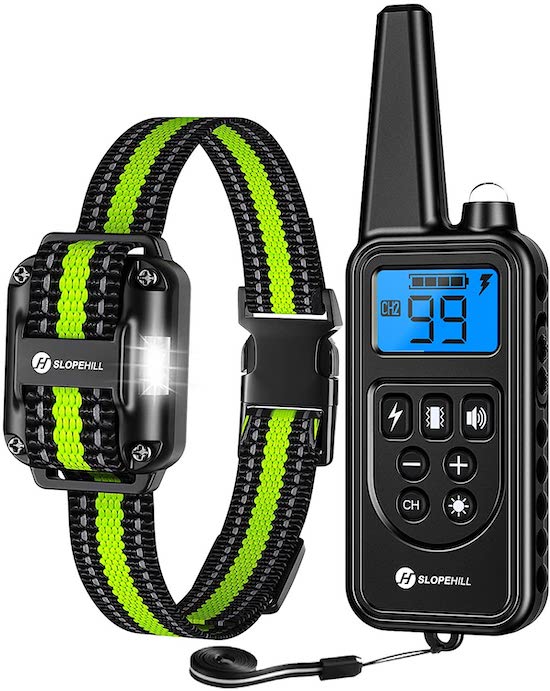 Slopehill Dog Training Collar has the same waterproof feature that others do, which counts as its first quality. It makes a great choice for both dry and wet weather.
It has five different modes that help solve behavioral issues and teach your pup basic obedience training.
The collar is rechargeable and can last for 15 years after the battery gets full. The collar's design ensures your dog's comfort while still deterring it from bad behavior.
The remote has a secure keypad lock and has a long range, going up to 2600ft.
The five modes are beep, vibration, shock, light, and keypad lock. The beep serves as a warning without damaging the dog's hearing, the shock only gives a mild discomfort as it is adjustable, so it shouldn't hurt.
The light mode helps you train your dog in the dark, and the keypad lock is for safety.
Highlight
It has a security keypad lock.
It comes in 5 modes, the keypad lock inclusive.
The training collar is waterproof.
The battery is rechargeable and lasts for 15 days.
The shock level is adjustable.
Pros
Adjustable.
Long-lasting battery life.
Can be used in wet and dry conditions
Keypad lock ensures safety.
Cons
The remote control has a wrist strap which isn't convenient for many people.
7. Garmin Sport PRO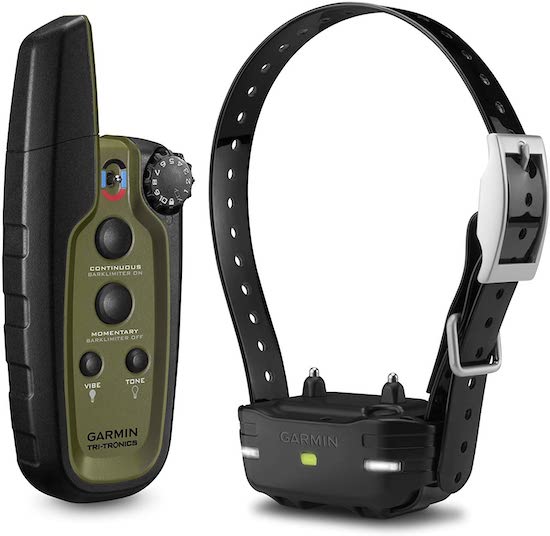 Garmin Sport PRO is a multi-dog training collar that can work for as many as 1, 2, or 3 dogs.
It has four training buttons that can be regulated, and it is suitable for very stubborn dogs. It guarantees results within a short period and promises to be effective.
Gamin comes with a quick dial, making it easy for you to switch among the 18 levels of stimulation. The training buttons control vibration and tone, and there is an LED status light too.
Operating Gamin can even be done with one hand, making it comfortable for many pet parents. You can effectively use the device while keeping your eyes on the dog.
Highlights
It has a quick turn dial
It has four training buttons.
There is a tone signal and vibration control on the dog device.
It comes with an LED status.
The battery is long-lasting.
Pros
Effective and easy to use.
Waterproof and can go up to 1m deep.
Material is of high quality.
Reliable and customized to specific needs.
Cons
It is available in one color.
8. Casfuy Dog Training Collar with Remote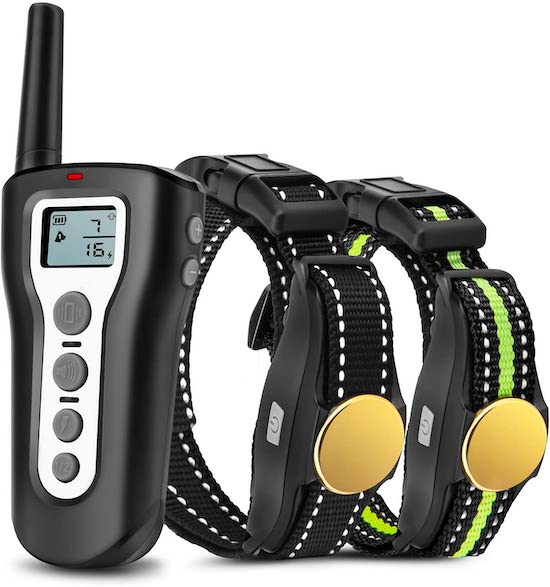 Casfuy Dog Training Collar is targeted toward training stubborn dogs and does a good job at ensuring the dog's compliance.
It comes in two modes: vibration and static. Both modes are geared towards deterring bad behaviors.
Casfuy has a long range and can reach up to 1,000 feet. It is also waterproof and can survive being put deep into the water. That means your dog can go for a swim with the collar on and have no problems.
The prongs on the Casfuy are made of comfortable silicone that sits well on the dog's neck.
It has an adjustable setting from 1 to 16 levels with a tone mode included. You can also train two dogs with it, and it is safe.
Highlights
It is safe, effective, and humane.
The range can reach up to 1000ft.
The Lithium-Polymer battery charges in 2-3 hours.
It has a quick turn dial.
Pros
Safe, humane, and effective.
Easy to use.
Waterproof.
Rechargeable battery lasts long.
Cons
The charging time is too long.
9. PORUIS Lightweight Portable Shock Collar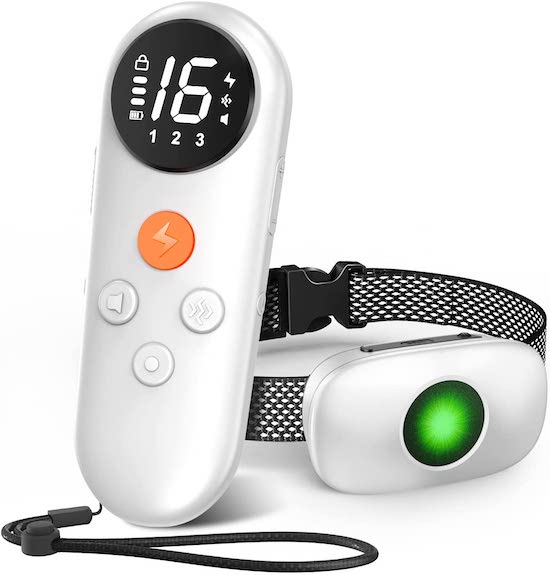 PORUIS Lightweight Portable Shock Collar is fit for every pet parent, from the new and inexperienced to the experts and professionals.
It helps owners correct bad behavior, stop excessive barking, get on the leash training, etc.
As the name implies, PORUIS is both portable and lightweight, making it easy for you to use it. It is a good option for those who want to train their dogs in public because they are easily carried around.
It is also rechargeable, and—still a part of its portability—it can be connected through a USB charger.
Highlights
The collar is portable, lightweight, and small, making it easy to use anywhere.
It is adjustable.
It has a safety lock.
The device charges quickly.
There are three available training modes that are safe and humane.
Pros
Battery lasts long and charges easily.
Safe and humane.
Safety locks prevent accidents.
Easy to carry.
Cons
Some users may not understand how to charge it.
10. Dimunt Dog Collar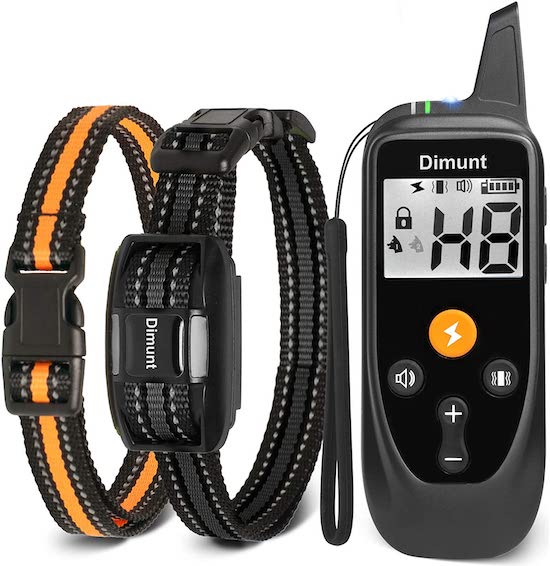 Our last recommendation is Dimunt Dog Collar, a product that prides itself to be of high quality and efficiency.
It comes with a strong battery and three modes that are good for training a stubborn dog in many aspects, especially off-leash training.
Dimunt Dog Collar can also be used to train many dogs, as a couple of others on our list.
The range is long, another quality that makes it good for off-leash training. It can also help keep your dog in check when hiking, camping, or doing some other outdoor activities. The range goes to 3350 feet.
Dimunt collar's battery goes up to 15 days, and the remote can last for an impressive 45 days after one charge. It is waterproof and dustproof, making it adaptable to any weather.
Highlights
There are three available modes.
The battery for both the collar and remote control is rechargeable.
It is waterproof and dustproof.
Its range is 3350 feet.
It has a low battery feature.
Pros
Long-lasting batteries.
Can be used to train many dogs.
Efficient and of high quality.
Good for the outdoors
Buyer's Guide: What to Look Out For When Buying a Training Collar
As you decide which of the above recommendations will suit your dog's needs, here are some guidelines to follow when you want to buy a training collar. Consider them necessary criteria for buying one.
The structure and design
Stubborn dogs are usually very determined, and they can tug or pull at a collar.
A good training collar has to be made with strong material to withstand the stubborn dog's rebellion.
Materials like nylon and leather are good for training collars, so keep an eye out for those.
The dog breed and size
Dog breeds are different. The training collar that works for one may not necessarily be suitable for another.
The size of your pooch matters too. To be on the safe side, go for a training collar that has been tried on your dog breed.
The versatility
The best collars play different roles, and to save money, you should get those.
As a dog grows, the need for a particular collar might change. Rather than buying new collars each time, get a versatile one.
The usage
To save yourself the stress and wasted effort, buy a collar that's easy to use. It needs to be adjustable to the dog's neck too, and comfortable enough while still doing its job.
However, it shouldn't be easy for your dog to figure out or it might remove it during training.
The price
If you're out looking for the cheapest options, you might need to rethink.
While you shouldn't overspend on a training collar, the low price should not be your only guiding factor. Look for quality.
Frequently Asked Questions (FAQs)
What do you do if your dog doesn't react to a shock collar?
If you try to stop your dog from exhibiting bad behavior using a shock collar and it doesn't react, increase the stimulation. Be careful not to abuse it, however. 
How do you discipline a stubborn dog?
Training collars are effective for disciplining a stubborn dog, but it isn't the only known method.
You can use timeouts, take away their toys or simply not give attention if the behavior isn't too serious. 
Do vets recommend shock collars?
Vets and other experts are divided in their views of training collars. While some argue that it is okay because it helps preserve the dog, others dissuade its use of it. Either way, shock collars should only be used when necessary. 
Wrap Up
To train a stubborn dog, the best shock collars can be effective when used right.
The first step here is getting a collar that won't hurt your dog, but only give it enough discomfort to curb bad habits or get it to listen to you.
Training collars are controversial and not meant for everyone, but if you find that you require them, make a careful choice and use it with prudence.
You May Also Like:
Best Dog Calming Treats (Top 10 & Why They're Good)