Learn how to camp with a dog in our ultimate guide to camping with dogs.
Camping is a family affair and your dog is very much part of your family.
Most dogs enjoy being outdoors, so it's natural to want to take them camping with you.
Days out on the trail, a crackling campfire and dog cuddles in bed – nothing beats a weekend away with your furry best friend.
Whether your dog is a seasoned camper or has never ventured out of the city, follow our guide to make sure your camping adventure is fun and memorable for all the right reasons.
What to Consider Before Camping With Dogs
While many campgrounds are doggy friendly, it's always worth checking the rules before you turn up.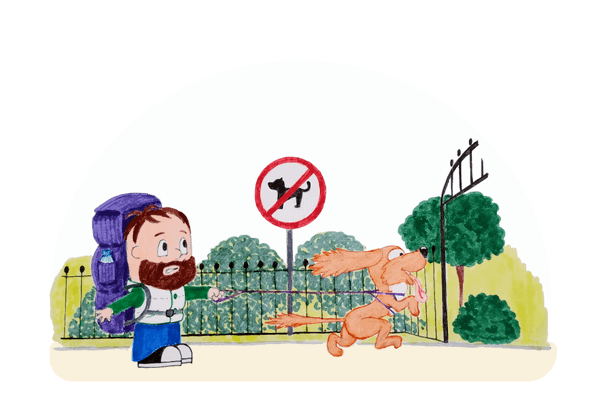 Are Dogs Allowed?
Campgrounds may have specific rules for dog owners or only allow a certain number of dogs per site.
If you're camping at more remote sites or in the backcountry, then you'll need to check if dogs are permitted.
Rules and regulations vary depending on who owns and manages the park or land you're on.
In many places, you may be able to take dogs on trails but not take them camping.
If you're in the US, there's a handy guide to which national parks you can take your pet to on the National Park Service website.
What's Your Dog's Camping Personality?
Like humans, dogs have their own idea of what's fun and what's not.
The good news is that most of our four-legged friends love the great outdoors as much as we do.
But like children, if you drag them off on an activity they don't enjoy, they'll make their displeasure clear!
Some dogs are fit enough to run around all day, but if your idea of fun is a 20-mile hike and your dog refuses to walk more than 5 miles, you're going to run into problems.

Related: How Do I Prepare My Dog for Hiking?
While you may be able to carry small dogs, if your dog is larger or doesn't enjoy being carried, then you may need to temper your expectations for the trip.
Remember, camping is supposed to be fun for you AND your furry friend.
Likewise, if your dog is nervous in crowds or around other dogs, you may want to choose a small, secluded campground over a big, popular site or go wild camping.
What to Pack When Camping With Dogs
You don't want to travel to the middle of nowhere only to find you've left the dog food behind.
Make sure you add the essentials your dog needs (plus a few treats) to your camping checklist.
We could write a whole article on this – and we have!
Check out our dog camping essentials list for a detailed guide to your canine camping kit.
To get you started though, here are some of the must-haves…
How to Camp with a Dog for the First Time
If you've never camped with your dog before, then a bit of preparation can make the experience more enjoyable for you and your fur baby.
Do a trial run in your backyard where you set up your tent and let your dog have a good sniff around.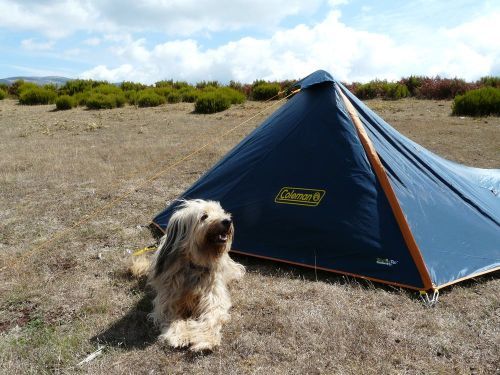 Throw in some of her toys or a treat to encourage her to explore.
If your dog is particularly nervous, you may want to do this a few times before going camping.
It's also worth testing out your sleeping arrangements at home.
If your pooch is as wriggly as a worm in springtime and you don't sleep a wink, then at least you've got a bit of time to rethink your camping set up before going on your first trip.
The great outdoors may be heaven for you, but if your dog is used to a more urban environment, then the sights, smells, and noises can be overwhelming and scary.
Think about this when choosing a campsite for your first trip.
If your pup tends to bark at every slight sound, it's probably worth avoiding a packed campground on a holiday weekend.
Where Do Dogs Sleep When You're Camping?
Most campgrounds will require your dog to sleep with you, either in your tent or your vehicle.
Here's how to make sure you and your dog get a great night's sleep.
In Your Tent
Unless you have a very small tent, you'll probably have your dog in with you. This keeps them close to hand and they have the reassurance of your presence.
You also get a four-legged hot water bottle for your feet – win!
You can buy a sleeping bag for your pooch, but many dogs will be happy sleeping on a familiar blanket, or an old foam sleeping mat cut to size.
Just remember when you're buying a tent to make sure you leave enough space for your furball to fit in with you.
Dog Crate
Bringing your dog's crate from home can help reassure nervous pooches and give them a safe space to retreat to.
If it's not practical to pack your usual crate, you can buy foldable ones designed for camping.
Just make sure you get it out at home first to let your pup get used to it.
RV and Campervan Camping
If you have an RV or large campervan, there's likely to be plenty of space for your dog to sleep on the floor.
You may even have room for a dog bed (of course our friends at Ruffwear have some awesome ones!).
With smaller vans, you (and your pooch) may need to be more imaginative about creating a space they can curl up in.
In (Or Under) Your Hammock
If you do a lot of backpacking, then you may prefer to sleep in a hammock rather than a tent.
If that's the case you've got a couple of options for where your dog sleeps:
In the hammock with you (good for small dogs)
On the ground underneath your hammock (better for larger dogs)
In their own hammock, either separate to yours or underneath it
If you want to build your pup a hammock of their own, here's a great example…
Dos and Don'ts for Camping With Your Dog
Although individual campgrounds will have their own rules and regulations, here are some general do's and don'ts for camping with dogs.
Dos
Be courteous to your fellow campers – don't let your dog wander into other people's campsites, and if they have a tendency to bark, choose a secluded camping spot.
Keep your dog on a leash. Campgrounds are full of tempting smells, so make sure they're not going to run off when your back is turned.
Prepare for emergencies – pack a first-aid kit for your dog including tweezers for tick extraction, booties to protect injured paws and details of your pet's vaccination record and health history.
Make sure your dog has flea and tick protection.
Take plenty of pick-up bags. The "leave no trace"rules apply to your dog as well as you.
Bring extra towels. Your dog may love swimming, but you don't want them traipsing mud into your tent.
Have fun!
Don'ts
Leave your dog unattended, whether that's tied up at camp or in your tent or car. Not only could it disrupt other campers, but it could also be dangerous for your four-legged companion.
Assume your dog will be happy camping. It's always worth doing a trial run at home first.
Forget to pack extra food and dog treats – if you're out and about every day, your dog may be burning more calories than they're used to.
Wrapping Up on How to Camp With a Dog
Camping life is always better shared with your closest friends.
Whether they're chasing squirrels in their sleep, sharing their body heat with you, or waking you up with a wet doggy kiss, your furry companion will soon become part and parcel of your outdoor adventures.
With a bit of forethought and preparation, you can make sure your doggy friend enjoys camping just as much as you do, and the memories you create together will last forever.