The best sheepdog whistle is a tool or instrument that allows you to attract your dog's attention with the intention of either correcting its behavior, training it, or teaching it a few tricks.
It is usually small, so it is easy to carry, and it works by placing it directly on the lips and blowing air.
They have been created in various shapes and styles, making them have different combinations of sounds and capable of withstanding any environmental condition.
Even some quiet ultrasonic models operate at a frequency higher than the average person's hearing.
If you are looking for a classic and original long-range whistle model with adjustable whistles where you can find a suitable response frequency for your dog, you have come to the right place.
I will review some of the best whistles that work great with sheepdogs and adaptable to your needs.
Are you interested in buying the best sheepdog whistle?
Stay with me until the end.
Logan Turbo Brass Sheepdog Whistle
This Logan Turbo Brass Sheepdog Whistle is quality. It is made of lead-free brass, the perfect material for precision.
Its two-hole design creates a unique tone timbre capable of competing with background noise and being heard clearly at a significant distance.
It can emit a wide range of whistle command sounds such as: soft and low to loud and sharp. It is versatile, ideal for dog training but used in leisure activities and other sports.
This whistle comes with a velvet pouch and instructions for use with a link to the how-to video.
Each whistle has a nice sturdy adjustable leather lanyard that allows you to carry the whistle with you without losing it.
Its sound resonance is so excellent that it cuts through wind, rain, and fog. Even in urban/congested areas through traffic or crowd noise, so you can contact your dog wherever it is and train it easily.
Logan A1 Black Sheepdog Whistle
My second sheepdog whistle is a Logan A1 Black model, a professional standard engraved with the Border Collie motif.
Each whistle of this model is also equipped with a nice, resistant adjustable leather lanyard that allows you to take the whistle with you wherever you want without losing it.
Designed by the best sheepdog handler in the UK (seven-time national champion and winner of BBC One Man and His Dog)
In addition, it is used by the best handlers around the world for its versatility. It is perfect for training all breeds of dogs.
Precision cut from a solid piece of high-quality aluminum, without rivets or joints. It is also anodized for a tasteless finish.
It measures 1.75 inches wide at the base and is lightweight, like all the whistles of this brand. Perfect for all breeds of dogs. Dogs can hear it at distances of a mile or more.
With the Logan A1 Black model dog whistle, you can easily teach your dog/puppy unlimited commands, such as stop barking, lie down, sit and be quiet, among other tricks.
Boulder Bluff (BB) Shepherds Whistle
Professional dog trainers and shepherds have used the Boulder Bluff Shepherds Whistle for many years.
This Boulder Bluff sheepdog whistle can ensure that most canines obey basic orders.
It is the most universal of all hisses (mouth whistles, herding whistles, lip whistles, border collie whistles, etc.).
By inserting it into the mouth and manipulating it with the tongue, you will be able to produce a range of easily controlled and variable tones.
Once you have learned to make a variety of sounds, you can teach your dog what you want him to do with a sound of your choice.
With this whistle, your dog will respond better to the whistle sound instead of a voice command because he can hear the sound of the whistle from both short and long-distance.
This is one of the reasons that make him the favorite of professional dog trainers around the world. They use this whistle to teach their dogs different activities such as:
Go down, sit down, right, left.
To bite, jump, rollover.
Anything else you can teach it to do with a hand signal or a voice command. You can assign a different sound to each of these activities.
You can find it in yellow plastic for dogs + 1 x "BREAK-A-WAY" cord.
Boulder Bluff (BB) Plastic Lip Dog Whistle
My fourth whistle is a Plastic Boulder Bluff. This other BB whistle has long been a favorite of dog trainers and professional shepherds.
Like the predecessor whistle, it is one of the most universal of all whistles. Many professional instructors around the world use it to teach their dogs in many different activities such as:
Sit down, right, left, here.
To bite, Jump, rollover.
And anything else you want to teach with a hand signal or voice command.
For each of these activities, you can choose a different sound, according to your preference.
Once the user of this whistle learns how to make a variety of sounds, you can coach your dog to do as you want it to do with the sound of your choice.
This whistle makes the dog respond much better than a voice command because it can hear the sound of the whistle accurately/clearly at a long-distance as well as up close.
The advantage of using this whistle when you master it is that you can vary the pitch to make any sound comfortably.
ACME Shepherd's Mouth Whistle
This brand presents this flat solid plastic lip whistle in black, although you can find it in other colors such as lime green or white.
It has more than 140 years in one of the most demanding markets such as English.
It is often called the "Shepherd's Lip Whistle" thanks to the television program, "A Man and His Dog," where it gained greater fame.
Its versatility makes it ideal for home training, competition, or hunting. In addition, it is compact and easy to store while you go for a walk with your pet.
This ACME Shepherd's Mouth Whistle allows the user to create a crescendo of sound in a wide variety.
Many dog handlers consider this to be the latest and greatest communication in tune with their dog.
I think this is a great whistle to start the learning process and see if an ACME 576-Black Mouth Whistle is the way you want to go with training your dog.
If, after honestly putting at least 8 hours into the learning curve, you can't get sounds on this whistle, then it's not for you.
Pick up another chord for your learning speed, or spend more time mastering this one.
Logan 304 Stainless Steel Sheepdog Whistle
The Logan 304 Whistle is my last review on this blog. Like all Logan Whistles products in the UK, it is precision-crafted from a solid piece of premium stainless steel weighing only 0.71 ounces.
It has streamlined contours and outstanding balance that make it fit comfortably in the mouth.
Produces consistent, distortion-free sounds and performs especially well on open flat terrain and over long distances without losing its smooth tones for close-up work.
Due to its quality, it is widely used in sheepdog testing competitions. Well, it is suitable for all breeds of dogs and sports.
This Logan 304 stainless steel whistle includes a nice adjustable leather lanyard, instructions for use, and a beautiful velvet Logan Whistle bag to protect your whistle so you can take it wherever you want without losing it.
Like the Logan from my first review, this one has such excellent sound resonance that it cuts through wind, rain, and fog.
Even in urban/busy areas, through traffic or crowd noise, that will allow you to contact your dog wherever it is and train it easily whenever you want.
How To Use A Sheepdog Whistle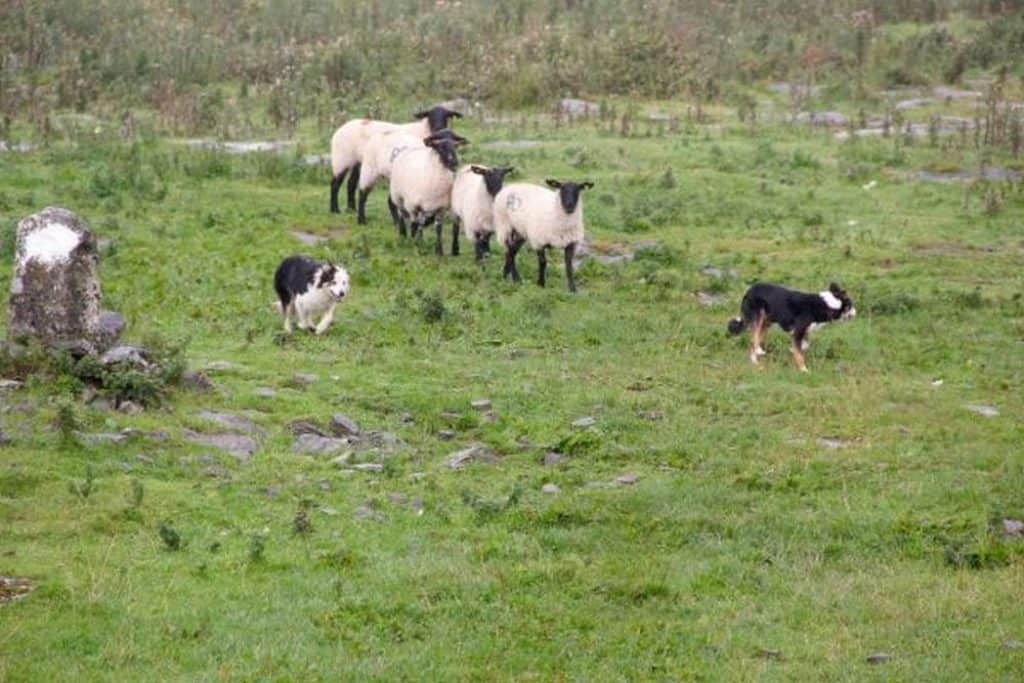 Depending on the number of beeps you manage to emit with the whistle you choose for your dog, the constancy you give will allow it to learn and memorize each task you command it to do, such as lying down or lifting its paw.
You can differentiate these two exemplary tasks with a "beep" or two "beep-beep" according to the force you emit blowing.
The dog can also perceive it as you train with it. You can educate it to respond according to the variation of the sound and the different particular/exclusive beeps emitted according to your preference for each activity.
Don't forget to reward it every time it correctly performs the tasks you order it. It is an effective way to help it memorize each of its acts.
Conclusion
I am 100% sold on the Logan Turbo Brass Sheepdog Whistle; although all the whistles reviewed on this blog exhibit excellent features, the Logan Turbo Brass is the one that stands out as the best sheepdog whistle. It is the one with the best comments and also:
It Does Not Cause Discomfort
It is one of the canine whistles specially designed so that only your dog can hear it, and it prevents you from being an annoying owner and damaging the eardrums while still being effective.
Have you been to a pet park and run into the typical pet owner who uses a regular whistle?
Then you know that the sound of those whistles is usually high-pitched and annoying.
Encourage The Use Of Positive Reinforcement
It helps to make full use of positive reinforcement because it puts the dog's attention on its user. If the dog is distracted, it makes it easy to draw its attention back to its user.
"Humanize" Behavior Correction.
Goodbye to pulling on the leash, punishments, or electrostatic shocks that somehow always cause some damage to the dog. The use of sonic devices helps correct behaviors by attracting the shepherd's attention in a non-threatening manner.
Consistency In Commands/Orders.
A pet can respond to a voice command, but it is known that the voice usually changes, becoming hoarse or more serious, which sometimes causes the dog not to respond to a specific command. Whistles ensure consistency in commands.
Whistle Versatility.
It allows you to create the sound you want, from a single explosion to a chain of beeps. It is so versatile according to your ability, and dog training requires it.