You've probably seen a herding dog whistle before, but you likely haven't used one for your own pet.
These specialized whistles are used in a variety of settings. And, they help professional trainers and regular dog owners train and control their dogs.
Herding whistles have been used since the 19th century.
In particular, these whistles are useful for herding dogs and hunting dogs. But, you can use a herding whistle for more simple purposes such as training in your home.
If you are interested in getting a herding dog-whistle for your pet, you have come to the right place. I will talk more about this product throughout this post.
This way you can find the best herding dog whistle for your pet!
There are tons of different herding whistles out there. And you want to make the right choice.
I have the expertise to help you with this matter.
Logan – Turbo Brass Sheepdog Whistle
The first herding whistle I will talk about today is the Logan Turbo Brass Whistle.
This herding whistle is one of the best herding dog whistles on this list.
It is made from high-quality brass and offers the best craftsmanship and design out of the products on this list.
While you will have to pay a little extra for the quality of this whistle, it is worth every penny.
The Logan Brass only comes in one color, though. But it has a nice leather cord to hang the whistle around your neck.
Alternatively, you can get the whistle without the leather cord and save yourself ten dollars. This is up to you.
Talking about this whistle in general, it has great sound quality. You get a lot of great tones out of this whistle ranging from high to low. And, professionals enjoy using this whistle, as well.
So, you know that you are getting your money worth with the Logan Brass Whistle.
Still, you can use this whistle whether you want to just casually train and work with your dog. And, if you have a professional competition with your pet this whistle can also be used.
Logan – A1 Sheepdog Whistle
The next whistle is another herding whistle from Logan.
The design and build of this A1 Sheepdog Whistle is similar to the first Logan whistle I talked about, but this is a small downgrade.
In particular, this whistle is made from aluminum instead of brass. So the quality won't be as high as the first option I offered.
Still, this is a great whistle, especially if you want to save a little money and still have a product that works well.
Logan whistles tend to be easier to use and they have a nice clear sound. You won't get as many tones as with the turbo brass whistle.
But this is still a great product to try out. And this is a professional-grade product as well!
Really, there is a lot to love about the Logan Shepard Whistle. It comes in up to seven different colors. So, you can get something that really suits your tastes.
The price is also a little more affordable, as well.
But, you won't get the whistle with a cord option. You will have to buy a cord or lanyard yourself if you want to wear this around your neck.
Boulder Bluff ВВ – Stock Plastic Lip Dog Whistle
The third whistle option I will be talking about today is the Boulder Bluff ВВ Whistle.
This is a budget-friendly option that will save you a lot of money.
And, while this might not be the best dog whistle, it does work well and has plenty to offer for dog owners.
If you are serious about training your dog with a whistle but don't have a lot of experience this is a good whistle to start out with.
You won't waste a lot of money if you end giving up on training your dog this way.
However, if you want to invest a lot of time with dog whistles, this might not be the best option for you.
I would recommend going with a Logan whistle, as they are made of higher quality material.
Overall though, you can get some nice sounds out of this whistle though. So give it a try if you want something a little more low budget!
Acme – Shepherd's Lip Whistle
The final whistle I will discuss is the Acme Shepherd's Lip Whistle.
This whistle is also budget-friendly and offers a range of tones for dog owners to try out on their pets.
Again, you won't get the same quality as the Logan whistles. But, this British-made dog whistle has a lot to offer you.
For a beginner whistle, this is a great product. But, some people do complain about the way this nickel plated product sits in their mouth.
So, if you want something more comfortable go for a more expensive whistle. Otherwise, this product should suit your needs just fine!
How Do You Use A Herding Dog Whistle?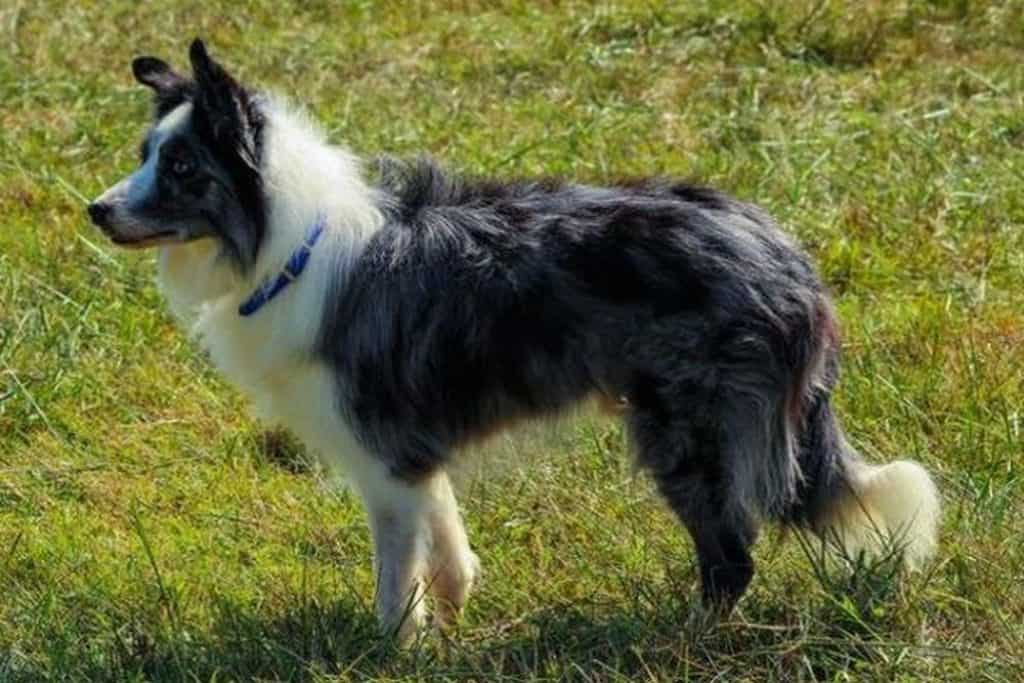 Before you use your herding dog whistle, make sure that your dog already has some kind of training. Your dog won't respond right away to the sound of a whistle.
This is because they need to learn verbal and visual commands first. After you have taught your dog commands this way, you can begin learning to use your whistle.
This is not an easy task, and it takes some time to really learn how to train a dog with a whistle.
But, I'll go over the basics with you here:
To start, the curved part of your whistle needs to be facing your lips. After you have the right placement, you put the whistle into your mouth.
Your tongue should be beneath the whistle. Don't completely cover the hole near the lower part of the whistle this will only create silence.
Next, you need to make sure that there is a gap between the whistle and your tongue.
The gap can be small, but all you have to do is make sure that your down is not laying completely flat against your whistle.
Putting the whistle near the back of your tongue should help with this.
After this, you can start blowing into your whistle. For many people learning how to whistle with this type of product is not easy.
So take the time to test out your whistle. And remember not to cover the hole all the way. Moving your tongue around the hole in your whistle, to widen or make the hole smaller, will change the pitch.
Changing how forcefully you blow can also change the sound your whistle makes.
This all takes some practice and research though, and there are tons of commands you can learn to teach your dog.
So, just be patient!
Conclusion
Herding dog whistles have a pretty steep learning curve in general. But, if you can take the time to learn how to use this device, there is a lot you can do with your dog.
Both pet professionals and regular dog owners can benefit from having one of these whistles.
I went over some of the best dog whistle products in this post. This way you can find a suitable whistle for your pet.
But, I would recommend going with the first whistle on my list. While the other whistles I talked about have great points.
The Logan Turbo Brass Whistle offers the best value and quality.
It will last you a long time and has some of the best sound quality. This is crucial when you are learning to train your pet.
The price is high for this product, but it is worth the cost if you want the best herding dog whistle for your pet!