Plenty of things can force you and your Labrador Retriever puppy to stay indoors. So, how to play with a Lab puppy indoors is one thing. That you may be looking at if you want your Labrador to stay fit and happy.
After all, puppy playtime is one of the best ways you can engage your Lab puppy and keep them active.
The good news is that there are tons of activities that you can do with your puppy while you are just inside your home.
If you want to know how to play with your Lab puppy indoors. Read the rest of this article for some helpful and practical advice.
Why do I need to play with my Labrador Retriever puppy?
Before we get into the different games you can play with them. Let's talk about why playtime is so important at any stage in your Lab's life.
There can be negative consequences from your Labrador pup not getting enough play.
First off, not playing with your Labrador Retriever puppy or giving them enough stimulation can lead to unwanted situations. Like your dog chewing on your shoes and furniture.
We already know that bored Lab puppies love to chew. And not giving them the fun that they need can very well lead to the destruction of your household belongings.
Next is that playing with your dog is a healthy activity for them.
When you play with your Lab, they can get their exercise for the day while also getting mental stimulation.
You are engaging them in challenging activities that they will need to think about. Which is the best thing about playtime.
Of course, not all games have to be complex. Games for puppies are usually just games like hide and seek or some other indoor game.
Hence, as you may notice, the main goal of playtime is to share fun times with your Labrador while also keeping them active. Also steering them away from boredom.
The next section will detail the other ways and options that you can play with your Lab puppy indoors.
This is especially useful today with the pandemic since going outside is limited and generally no longer as easy and as safe.
Consequently, exploring different options for you how to play with your Labrador Retriever puppy indoors is a great thing to think about during this time.
Indoor games that can teach you how to play with a Lab puppy indoors
In general, you should allot a large space since your Labradors are medium-sized dogs that need space to play in and to exercise.
However, it is not always feasible to procure space for your Lab, even when they are still a puppy.
Hence, keeping your options open is always a good thing.
So, when the time comes that you are in a pinch, and your Lab puppy is in dire need of play. There are some activities that you can do without going outside.
1) New tricks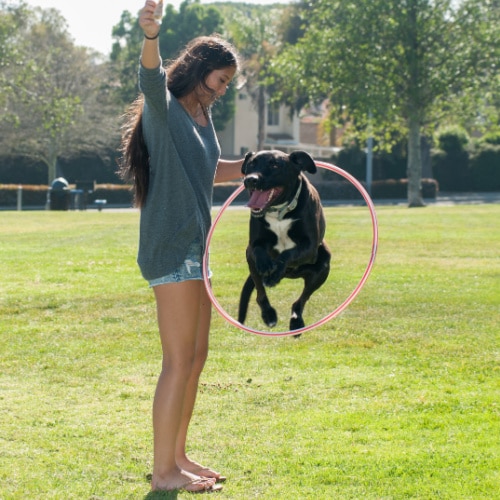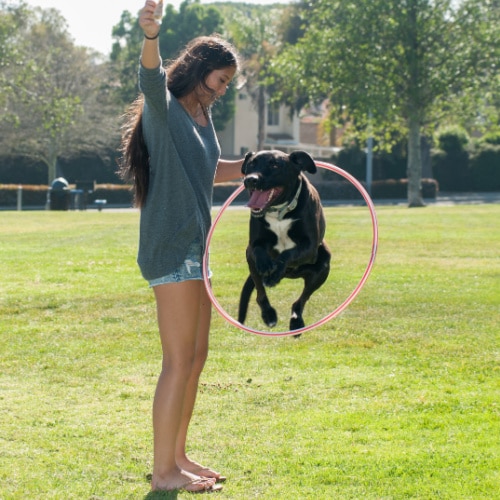 One of the best ways that you can play and engage with your Lab puppy is to teach them a new trick.
It is always fun to try and challenge them to do something on cue. Not only does it enhance their personal abilities; it can also mentally stimulate them.
The best thing about teaching your Labrador puppy a new trick is that you don't always need a large space to do it.
Plus, there are always tons of tricks to choose from that are appropriate for the level of your puppy.
2) Hide and seek
Hide-and-seek is a game that we all grew up playing. But, it could also be a fun activity for your Labrador Retriever puppy.
It may not seem like a lot, but your puppy will probably have a lot of fun when you play hide-and-seek with them.
This game works best if your puppy already knows how to stay in place on cue.
But, if they don't, you could always get another family member to help you out with distracting them while you go hide.
3) Puzzle games
There are many different kinds of puzzle games available in the market for your Lab puppy.
There are puzzle toys for the beginner pet, and there are toys for those that can deal with increased difficulty and challenge.
Whatever age your Lab puppy may be, chances are that there will be a great puzzle toy for them. All you have to do is just find out the right one.
Picking out the right puzzle game for your Lab is crucial since having fun with a puzzle entails an understanding of how it works.
You may need to practice for a little bit before your Lab puppy gets completely used to the idea of the toy.
Those few times of practice are worth it since your puppy will be having fun with the toy for a long time to come.
You can even add treats to many of the puzzles as incentives to successfully solving the puzzle or figuring out what they need to do to get the treat out.
Puzzle games are great since there are toys that allow you to leave your dog unattended while they are playing with it.
Of course, you also have to make sure that your puppy already knows how to use it.
4) Food games
One thing that a Labrador cannot say no to is food. In fact, the first thing that you probably know about Labs is that they are great pets, and the next is that they can eat quite a lot.
Their inclination to food is something that is natural to them and even has a scientific explanation relating to gene mutation.
Since Labradors are food-motivated pets. Using food as an incentive in games and fun activities can really help engage their pet owners more.
The good news is that there are so many dog toys out there that serve this exact purpose.
The Kong, for example, is a classic and easy-to-use toy that your Lab can play with indoors.
You only need to put some food or treats in the toy, and you'll be good to go!
It's an easy way to feed your dog and keep them mentally stimulated. Your Lab can even use the toy as a chew toy or as something to use when playing fetch.
5) Indoor fetch
Although fetch is best done in large areas where your puppy can run around, you can also do it at home.
However, there are still limitations to this, and you will need a significantly large area for a Labrador puppy.
A great way to play fetch inside is to use your stairs or hallways. Utilize any large space that contains no belongings that your Lab could break by accident.
Make sure that the space you allot is enough for you and your Lab to play comfortably in.
6) Interactive toys
You can also try using interactive toys for a more productive playtime with your puppy.
Usually, these interactive toys will also be great for mental stimulation, so you are hitting two birds with one stone when you use them.
With mental stimulation toys for dogs, you can supervise your Labrador and teach your Lab how to play with the toy so you can bond with them.
Sniffing challenges are usually easy to find, and you will have no trouble looking for these kinds of toys.
There are several different variations in different sizes, so you are sure to find one that is right for you.
Check out your local pet store if they have interactive toys for dogs available on their shelves. You can also read our post here for some ideas.
Conclusion
Playing with your Lab is an important and enriching activity that your Labrador needs in order to be happy.
This study even states that dog activities can have positive benefits for both the owner and the pet.
However, keep in mind that you should still physically exercise your Labrador daily, as they were built for energy-intensive tasks.
Overall, just don't let the lack of outdoor space prevent you from having fun with your Lab.
Staying at home and making use of what is available is always a great option that your Lab puppy is sure to love.
You can also check this post if you're looking for tips on how to play with your Labrador puppy.