When you have a dog as energetic as a Labrador Retriever. You may want to have mental stimulation toys for dogs to keep your Lab happy and content.
As a very active dog breed, Labradors usually need more than one walk a day. At least some playtime to burn off their energy.
However, even if they get the right amount of exercise in a day, boredom may still strike some Labs.
To help your Labrador Retrievers overcome their boredom. Interactive dog toys and mental stimulation toys for dogs may be a good way of giving them sufficient mental stimulation.
What is mental stimulation?
Mental stimulation is not some complex activity that you have to go through every day.
It is literally as simple as teaching your dog new tricks or letting them play with dog puzzle toys.
Mental stimulation does not have to be overly complex for it to be effective.
The great thing about mental stimulation is that it will take your Lab less time to burn through energy by having them. Undergo mentally stimulating activities than they would through physical ones.
A 30-minute walk with your Lab is probably equivalent to half of that time with an activity like giving them time to play with mental stimulation toys for dogs.
Without enough mental stimulation, Labradors tend to bored and do things you would not want them to do. Like chew on your furniture at home.
Mental stimulation toys for puppies are probably the easiest way for your Lab. To get mentally stimulated since most of them are simple and don't need intense instruction.
Apart from the first few times when you may need to supervise your Lab while they are playing with their new dog toys, you can just leave them with their toys.
However, keep in mind that you should only use interactive dog toys that fit your Labrador's experience level.
According to this study, success in using toys depends on a number of factors, including age and experience.
You can vastly improve your experience with challenging dog toys if you use them properly.
Mental stimulation toys for dogs that can help keep your Lab mentally stimulated
Most of the toys that provide your Lab the mental stimulation they need are interactive dog toys.
The toys available on the market range from treat-dispensing contraptions to best chew toys for Lab puppies to games that require a lot of sniffing on the part of your Labrador.
There is a wide range of mental stimulation toys for dogs available, as we will discuss below: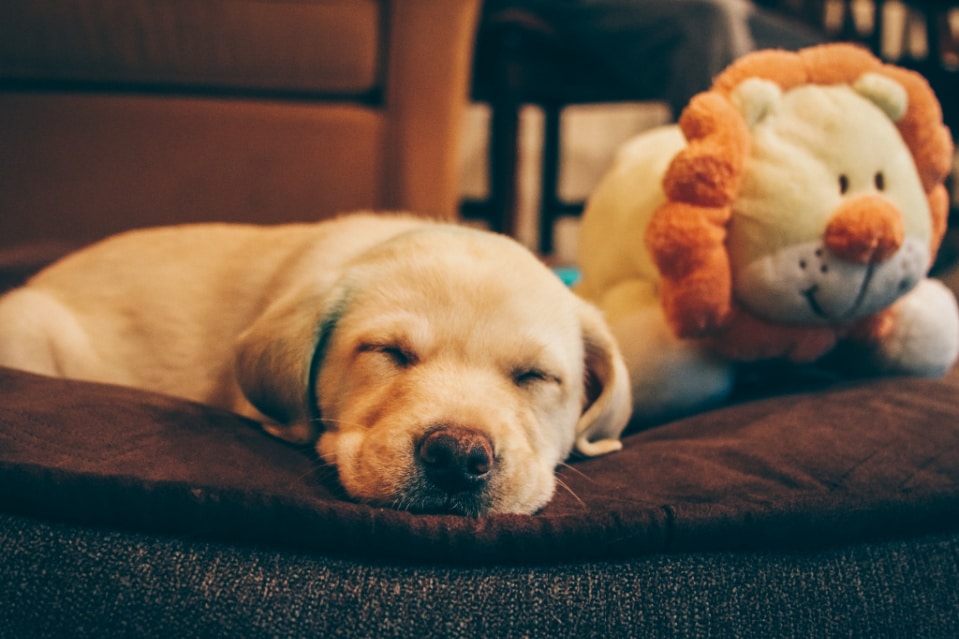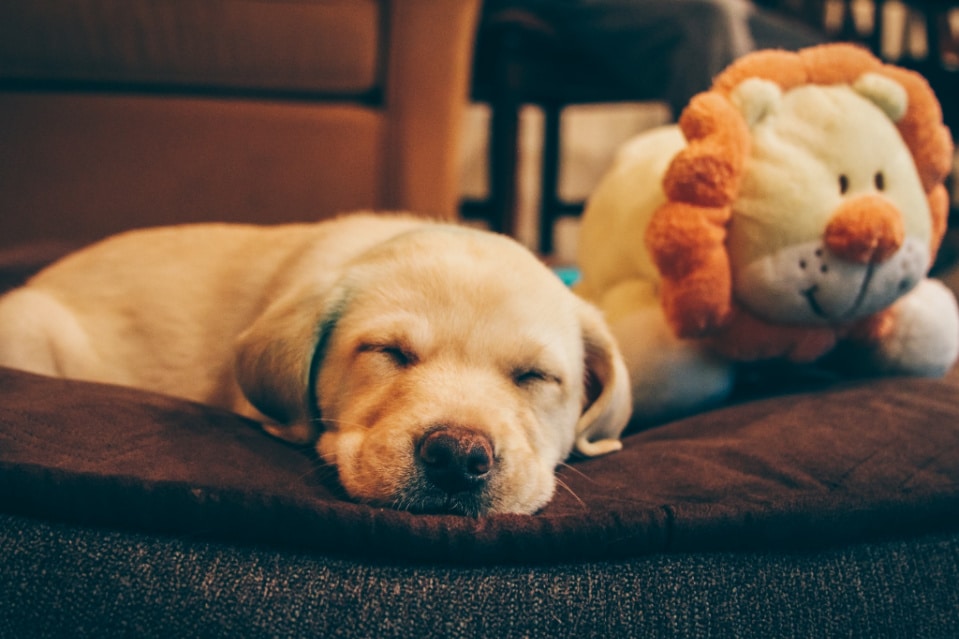 1) Kong Classic
The Kong classic toy is a good mental stimulation toy for dogs. As there are a lot of things you can do with just the Kong Classic.
For one, you can stuff the toy with some yummy treats and have your Lab work for their food.
In addition to that, the Kong Classic can also be an indestructible dog toy for Labs due to its durable nature.
Overall, the Kong Classic is an excellent toy that has a range of purposes.
It's a good toy for dogs and for owners who are just starting to try out best mental stimulation toys for dogs. You can get the toy here.
2) Buster Activity Mat
This toy is a very interactive dog toy that will leave your Lab using their brains and wits while trying to get the reward.
A toy that you can customize a lot, the Buster Activity Mat leaves a lot to the imagination and creativity of the owner.
You can attach it to 35 studs, which makes for fun playtime without needing to repeat the same thing over and over again.
3) AFP Interactive Food Maze
Another toy that is all about food, this mental stimulation toy for dogs. Will give your Lab an interactive mealtime that can be fun and entertaining.
It works in a similar fashion with slow feeder toys that will give your dog more time to eat to prevent them from gobbling down their food in a hurry.
Plus, the AFP Interactive Food Maze can be used with wet and dry food, so whatever your Lab eats is safe for the toy.
It is also dishwasher-safe, so make sure to clean it well after every use.
4) Sniffiz SmellyMatty Snuffle Mat
Similar to the activity mat, the SmellyMatty also offers a range of five different activities to give your dog a unique experience every playtime.
However, instead of snaps to hold the puzzles in place, the SmellyMatty has a dedicated snuffle mat so your Lab can explore scents as much as they like.
An enriching indoor activity, the SmellyMatty offers your dog an excellent avenue to test out their sensory skills while getting a reward in the end.
The toy is made out of a food-safe cloth that is completely safe for your Labrador.
In the event that you want to slow feed your Lab, this toy is also a great choice.
The mixture of the puzzles and the pockets in the snuffle mat make for a lengthy but enjoyable mealtime.
5) Trixie Mad Scientist
The Trixie Mad Scientist is another excellent toy for food interaction and slowly feeding your dog.
There are different containers in a windmill-like structure that your dog has to scrounge through to get their food.
Each of the containers has a hole on top so that when your dog moves the toy around, the food will come out slowly.
The makers recommend that the owner leave the lids off when their dog is experiencing the toy for the first time.
When they get used to turning the windmill, the lids can go back on for an added challenge.
There are even different patterns for the lids so that the toy becomes even more interactive and challenging.
You can mix and match different caps for an extra layer of difficulty.
6) Nina Ottosson Dog Brick
The Dog Brick is an interesting toy that will work great for dogs with intermediate experience in the mental stimulation department.
The game involves easy-to-open flip containers where treats can be placed as incentives.
The containers can even be slid around for added complexity.
Overall, the Dog Brick is a simple yet interesting toy for any dog and owner who wants an interactive toy without too much fuss.
You can even leave your dog alone in the room while they are playing with it.
7) Hide-A-Squirrel Squeaky Puzzle
This one is a little bit different from the others. The Hide-A-Squirrel toy does not involve any treats in a food sense.
Instead, the squeaky sounds and your dog's natural instincts will be the ones to come into play.
It is an interactive, hide-and-seek dog toy that you can use to place plush squirrels in the trunk of a plush tree.
The toys are squeaky, which adds more fun to the hours of playtime that your Lab can get from the toy.
However, you may need to supervise your dog while they are playing with the toy.
Considering that it is a plush toy, it could easily be damaged by your dog no matter how durable it is. Still, it provides an interesting game of fun!
8) Zogoflex Tux Treat
Back to treat-dispensing toys, the Tux Treat can store foods such as peanut butter or kibble in its main compartment.
Your Lab can then do their best to take out the food from the container as a treat.
This is an excellent toy for dogs that are vicious chewers and like to chew anything you have at home.
Due to its durable nature, the dog toy can withstand even your very energetic dog.
As an added bonus, the toy can serve as a tool for playing fetch when they are empty.
The toy is dishwasher-safe and non-toxic, thereby making clean-up much easier for you.
All in all
All of these mental stimulation toys for dogs have plenty of benefits to offer to your Labradors.
Not only do they mentally stimulate your Labrador Retriever, but they also promote better health and prevent unwanted behavior.
If you find the above mental stimulation dog toys too much for your budget. You can also try making homemade mental stimulation toys for dogs to keep your Lab mentally stimulated.
You can also check out our post here. If you're looking for tips on how to mentally stimulate your Labrador puppies.