Most dog lovers fear owning a Rough Collie due to its grooming demands.
But aside from its grooming demands, this long-haired dog breed has a lot to offer when it comes to its personality and guarding skills.
Don't let this loyal and affectionate dog scare you just because of its 'beauty demands.'
So if you are thinking of adopting a Rough Collie, or you already got yourself one, and you are wondering 'what's the best brush for Rough Collie', then read on as this article got you fully covered.
I will also take you through a detailed guide on how to groom your Rough Collie like a pro!
Pin Brush
Bond with your Rough Collie when grooming it by getting it the HERTZKO Pin Brush today.
This ingeniously designed brush is fitted with safe and smooth pins with rounded tips that ensure your dog's loose hair, dander, and debris are adequately removed with the utmost comfort.
With 100% customer satisfaction, the HERTZKO Pin Brush is not only durable but also helps your dog maintain healthy pH-balanced skin, as it causes no irritation when used or any damage to your dog's skin.
Slicker Brush
The HERTZKO Self-Cleaning Slicker Brush is specifically designed to groom a rough Collie that sheds a lot.
This super brush, when used properly, will help you effortlessly untangle and demat your hound's fur without hurting its skin in any way.
If you are allergic to dog dander, consider purchasing this dog Slicker brush as its fine bent bristles effectively remove trapped dander and debris.
Its anti-slip handle not only provides you with a firm hand grip when using it but also prevents you from straining or spraining your wrist when using it.
The HERTZKO Slicker Brush is also fitted with an advanced tech that makes it easy to clean it after use.
All you have to do is click its stepless button, and the bristles will automatically retract back into the brush, making it easy for you to wipe out your dog's hair easily.
Undercoat Rake
Improve your Rough Collie's skin health today by getting it the Dog Rake Deshedding Dematting Undercoat Rake for Dogs.
This multipurpose brush is safe for use on your dog's skin as both Vets and guru dog groomers approve of its use.
It is scientifically innovated to minimize or prevent your dog from getting skin allergies or removing healthy hair on your dog's skin.
Using this Undercoat Rake for Dogs once or twice a week to groom your Rough Collies hair will definitely stimulate its hair follicles and promote healthier and lustrous fur growth on its body due to its non-allergic double row of stainless pins.
Dog Comb
Get creative today and enhance your grooming skills by purchasing the Dog Comb for Removing Tangles and Knots today.
This dog's comb comes with a FREE E-book that provides you with easy DIYs when it comes to grooming your dog.
Please take full advantage of the round and gentle comb teeth fitted in this dog brush to effectively break up hard to untangle tangles and promote maximum blood and air circulation on your dog's skin during its grooming session.
The ergonomic rubberized handle fitted in this dog brush helps you get a firm and anti slip grip, thus reducing the time taken to groom your Rough Collie's long hair by half.
This ingenious Dog Comb also comes with a risk-free lifetime guarantee;
Therefore, you are assured of a hassle-free refund or replacement just in case the comb malfunctions due to the manufacturer's defect.
V-Rake
Get your Rough Collie the Aaronco Pets V-Rake Dog Comb today for a more painless and comfortable grooming session.
Its V-rake design makes it easier for you to break your dog's mat in both its outer and undercoat.
The ergonomic handle fitted in this dog brush takes your hand's grip to the next level, thus making it easier for you to access all your dog's fur.
It's also fitted with an advanced two rows of teeth that help you to effortlessly pick away your Rough Collie's mats without irritating or damaging its skin.
Dog Grooming Scissors
Reduce the time taken to trim your long-haired Rough Collie by purchasing the Pet Magasin Round Tip Dog Grooming Scissors today.
This scissor is fitted with smooth round tips to prevent any poking or accidental cuts from occurring during your dog's grooming session.
This pair of superior stainless-steel scissors are sold when packed as a complete grooming set as it has 2 pairs of scissors, one for trimming your dog's face and paws and the other one for trimming its body coat.
Tips On How To Brush And Wash Your Rough Collie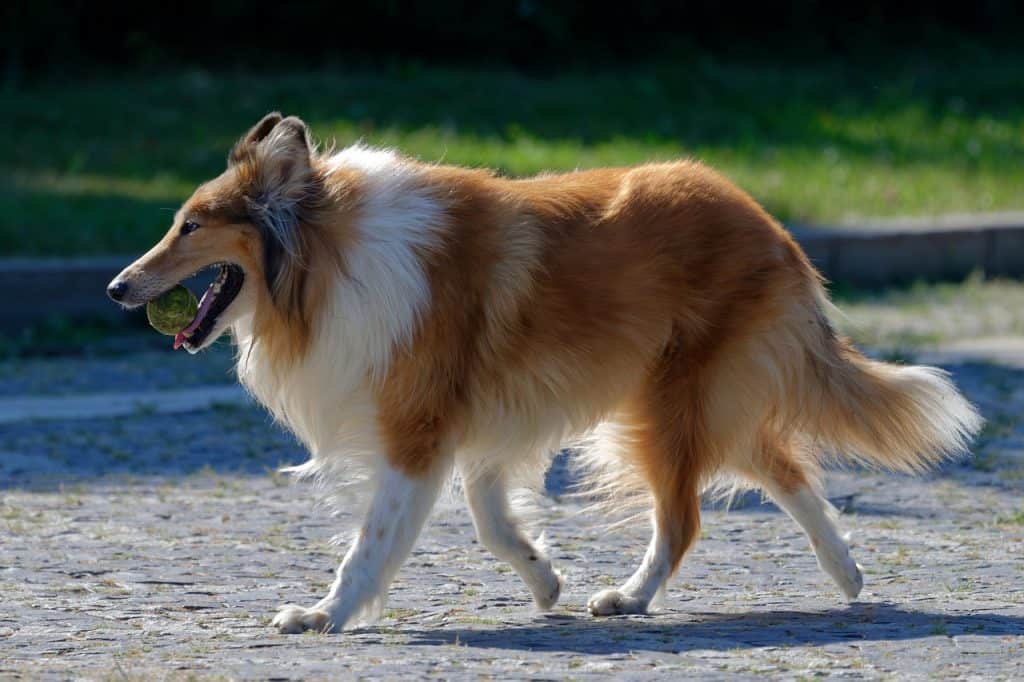 Most dog owners (even I included) have resorted to brush and wash their hounds at home.
So if you are wondering how to go about it, worry no more as I got you covered.
I will walk you through easy-to-follow steps to brush and bath your Rough Collie like a pro!
Have All Your Rough Collie's Brush And Wash Supplies Assembled
Having all your doggies grooming supplies assembled in one place makes it easy for you to groom your hound quickly.
Below are the must-have essentials before grooming your dog;
The right Rough Collie brush and comb
A dog-safe shampoo and condition
The appropriate dog scissors or shears
Pro-tip; NEVER at any time use a shampoo that's not specifically designed for use in a dog.
Be systematic when cleaning your hound; always start from its head and proceed to its other parts of the body.
This ensures that you don't skip any part of your hound's body during its grooming session.
When grooming your hound, always take advantage of this time and check for any abnormalities on its body.
Check for hair loss, change in its eyes and coat color, swellings, or bruises on its body.
Proceed To Brush And Wash Your Rough Collie's Coat
Start by brushing it with the best brush for Rough Collie.
This helps reduce the tangling and matting on your dog's fur. Always start brushing it from its neck as you move down to its tail.
If your Rough Collie's fur has overgrown, use sterile scissors specifically designed for grooming a dog to trim it.
After satisfactorily trimming its coat, brush its coat again. Wet its hair, and then apply a dog shampoo on its coat.
Lather the shampoo on all of your dog's body parts (excluding its head) for around 2 minutes and rinse it with running lukewarm water.
Use a standard dog dryer to dry its coat, and then brush it again.
Extra tip; Always use a clipper guard when shaving your Rough Collie's hair. Place the clipper flat on your hound's skin; this will help prevent you from over-shaving it.
Systematically start shaving your dog's neck, back, abdomen, legs, and, lastly, its tail.
Do It Like A Pro! Brush Your Rough Collie In Style!
Get your Rough Collie a good brush and groom its hair like a pro.
Always use dog shampoo, dog toothpaste and toothbrush, and a good brush for Rough Collie when grooming your lifetime canine companion.