The hygiene and care of your Old English Sheepdog is a task that you should not take lightly; it is very important and necessary for its health and appearance.
The Old English Sheepdog's two-layered coat and dense fur are also curly, and demand regular maintenance, with dry baths, brushing, and, from time to time, a wet bath.
It is here that special attention must be paid to choosing the best shampoo for the Old English Sheepdog so that bathing is a matter of care, hygiene, and safety.
Stay with me until the end to learn about the best options you have to choose between different versions/sizes of shampoo.
As well as which natural alternatives to opt for to achieve good dog cleanliness, in case you run out of shampoo.
Keep going!
Healthy Breeds – Bright Whitening Dog Shampoo
Bright Whitening Shampoo is a protein-enriched shampoo that promotes bright white coats and gives a lustrous shine to any light-colored coat.
It is designed with a tear-free philosophy to take care of the animal's eyes.
This brilliant whitening shampoo not only thoroughly cleanses and adds shine but also body to the coat without discoloration.
It creates a lather that rinses easily and leaves a fresh tropical scent like Pina Colada.
Ideal if you combine it with topical flea control products.
Healthy Breeds – Young Pup Dog Shampoo
This young puppy shampoo, also from Healthy Breeds, is a very natural and gentle shampoo for your young puppy's coat.
It is spectacular because it cleans without stripping the natural oils from your puppy's coat.
Plus, it's a soap-free, detergent-free shampoo with a pleasant baby powder scent.
Like most Healthy Breeds brand products, it is designed so you can buy with confidence in the United States from federally regulated manufacturing facilities.
It offers satisfaction guaranteed through excellent customer service and a respectable return policy.
Cosmos Corporation – TropiClean Dog Shampoo
My third review is this spectacular 2-in-1 Luxury shampoo and conditioner, suitable for both dogs and cats.
It manages to do three crucial things: It cleans, moisturizes, and conditions your pet's skin and coat in a luxurious lather.
Plus, it helps relax the tangled coat to make brushing easier, leaving his coat soft and healthy.
This version blends the sweet scent of papaya and coconut to leave your pets ready for pampering with an appealing, fresh tropical smell.
Like all TropiClean pet products, this one is also cruelty-free.
Central Garden & Pet – Adams Plus Flea & Tick Dog Shampoo
My fourth review is of Adams Plus Flea & Tick Dog Shampoo with Precor. Although it carries the brand name "Adams," this product is manufactured by "Central Garden & Pet."
This shampoo is specially formulated for sensitive skin and contains deep conditioners to remove loose dander, dirt, and flakes.
It is enriched with oatmeal, aloe, coconut extract, and lanolin.
Spectacular, the scent leaves the coat soft, shiny and manageable.
It is long spectrum! Effectively kills flea eggs and flea larvae around 28 days to prevent reinfestation.
PetAg Inc. – Fresh'n Clean Dog Shampoo
PetAg Fresh 'n Clean Shampoo is designed to perfume dogs with a classic fresh scent.
Gently detaches dirt and grime, and its fragrance is long-lasting, staying on hair for up to two weeks.
Its natural, soap-free, plant-based cleaners remove dirt and grime.
Meanwhile, its special hair conditioners, vitamin E and soothing aloe leaf juice coat the fibers of your dog's hair.
In addition, it is designed to retain moisture and leave hair that is manageable and tangle-free. Help animals to lead a healthy and vital life.
It is formulated with quality ingredients and backed by state-of-the-art research and quality control.
Bayer – HyLyt Dog Shampoo
HyLyt Shampoo is my last review. It is a hypoallergenic formula, soft and luxuriously scented with coconut.
This shampoo combines moisturizers, emollients, and fatty acids for routine cleansing and hydration of skin and coat.
This Bayer proposal gently cleanses and hydrates your dog's coat while eliminating irritating environmental allergens, such as pollen.
HyLyt will not remove the natural protective oils from the skin because it does not contain soap, therefore leaving your pet's skin hydrated and your pet's coat dry and beautiful.
What To Look for In Shampoo For Old English Sheepdogs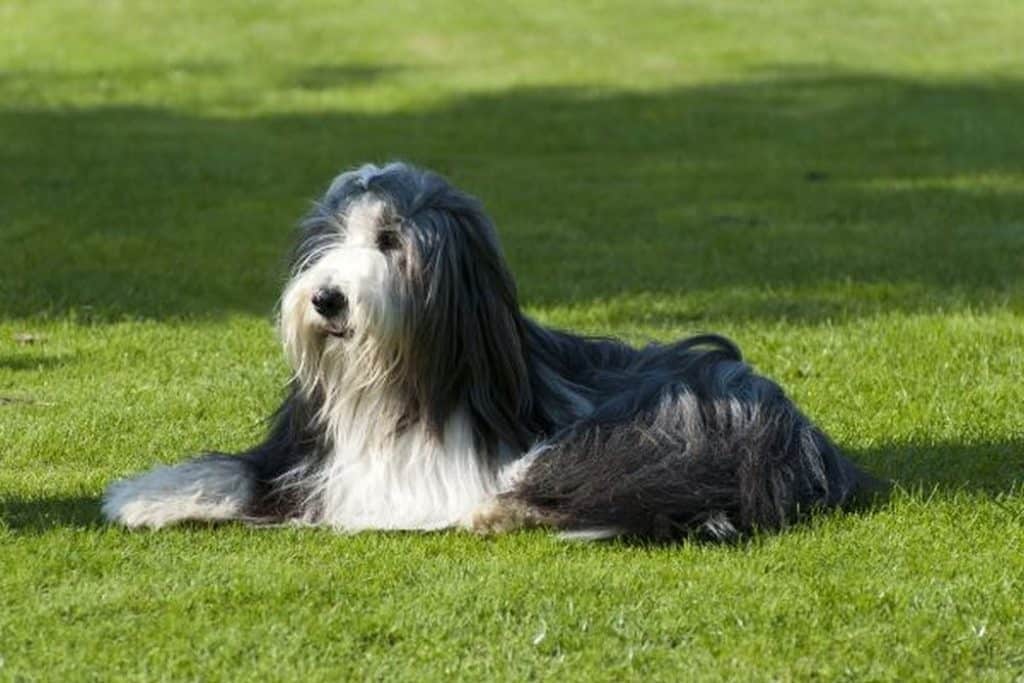 Some products and types of shampoos designed for dogs today might work well for Old English Sheepdogs.
You must use a shampoo specifically formulated for dogs, considering the type of coat of your Old English Sheepdog.
Also, make sure it is of the best quality and that the packaging displays certificates that endorse it as a regulated, controlled, and safe product.
In the market, you will find:
Shampoo with products for different coat types, even some brands distinguish them directly by breed, at reasonable prices. It is not surprising that you will find a shampoo for Old English Sheepdogs easily in your city or online.
Shampoo with general insecticidal properties, tick repellent, flea repellent, and many more can accompany the life of your English Sheepdog.
It is important to take your time to consider the particular grooming needs of your beautiful dog; that will lead you to choose the best option and use the right product for your dog.
It is well known that all dogs are different, even within the same breed, just like people. This means that what works well for one puppy may not necessarily be appropriate for another.
Some natural ingredients in a shampoo, ideal for the care of the Old English Sheepdog, are the following:
Oatmeal.
Coconut oil.
Aloe Vera.
Some good shampoos have additional effects like:
Moisturizing.
Hypoallergenic.
Texturizer.
Whitening.
Soap-free.
It is essential to always consult with your sheepdog's veterinarian for a professional opinion before choosing your best shampoo option for your Old English Sheepdog.
What Can I Wash My Dog With If I Don't Have Dog Shampoo?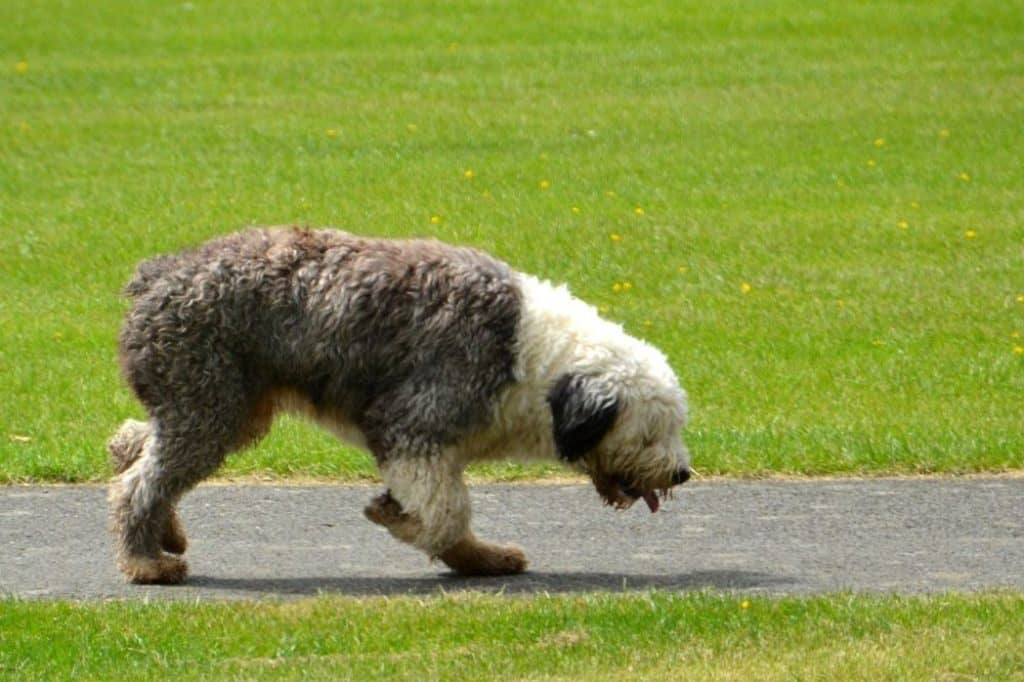 If you ever run out of dog shampoo at home, there are other options that will keep your pet clean and well-groomed in a similar way to dog shampoo.
Remember, you should avoid using human shampoo.
Although only in extreme cases, you could optionally use those for babies. I emphasize, if you cannot first resort to natural alternatives, which you can do yourself at home.
You can wash your dog if you do not have dog shampoo with a shampoo that you can prepare yourself from the comfort of your home, without spending a lot of money or investing a lot of time in that work.
The ingredients for its preparation are very easy to buy in stores, and some recipes are simply for one application, so if you prefer, it is not necessary to store it in containers.
The important thing is that you take into account the pH of the animal's skin when making the mixture, since that implies a risk.
The pH of the skin in humans oscillates in a range of 4.5 – 6.5 levels. Whereas in dogs, the healthy pH range is between 6 – 8.5 levels.
Too low levels mean that it is too acidic, and it can cause skin irritation, both in humans and animals, although more strongly in the latter.
On the internet, there are many recipes. I suggest you consult with your veterinarian in this regard.
Conclusion
Regarding the main topic of this blog: "Best Shampoo For Old English Sheepdog," for me, Bright Whitening Dog Shampoo is the best dog shampoo of those reviewed.
My dog, who usually dreaded bath time, now relaxes as I massage his coat with this. This shampoo keeps his coat soft, not overly scented, but clean, in over a week!
This shampoo is a keeper. I didn't even find the need to spray him between baths!
As with the hygiene and cosmetic products we humans use, to define the "best" shampoo for your Old English Sheepdog, you must take your time.
It is not an easy task since the right one for your inseparable friend is between shampoo that:
Good but more expensive or cheaper,
Generic or specific, scented or neutral.
What is certain is that you should buy a high-quality product, which tends towards the natural, as much as you can. Do not get carried away by colorful packaging or advertising campaigns.
I suggest that you consult the veterinarian that treats your English Sheepdog, breeders, exhibitors, and breed specialists. Let them guide you on the most suitable shampoo for this dog according to its characteristics.
Decide according to the benefits they bring to the appearance and health of your beloved Old English Sheepdog.