Australian shepherds are beautiful, mesmerizing dogs!
Their breed is active, intelligent, and driven by energy.
Houses that have Australian shepherds are never dull. These loving creatures demand attention and attract immediate attention.
As easy as they are to take care of and maintain, there are specific ways you can make sure your Australian Shepherd stays comfortable and healthy.
And one of the top ways to make their life luxurious is getting them a good dog bed.
Being a dog parent myself, I have plenty of exposure, experience, and knowledge regarding dog beds.
And out of all the ones I've ever come across, the following six are among the best for Australian Shepherds.
I have selected them based on their quality, comfort, price ranges, and aesthetics.
So, depending on your priorities and preferences, you can choose the one that pleases you the most.
FurHaven Orthopedic Bed For Dogs
Explicitly designed to provide security and comfort to your pet, this cozy, burrowing, and nestling Dog Bed by FurHaven is a perfect gift for your Australian Shepherd.
The sleeping surface is adequately lined with a soft faux fur plush, and the bed has supportive bolsters on three sides; these bolsters are covered in suede.
Both these materials are extremely comfortable and gentle on the paws and nose of the dog.
It comes in 15 beautiful colors and styles, including a plain white, a quilted iron grey, a diamond brown, and a bold wine red.
You can also get it in 5 sizes, including small, medium, large, jumbo, and jumbo plus.
Lastly, it is available in 7 styles, including a fiberfill pillow, a waterproof liner, egg-crate orthopedic foam, memory foam, orthopedic full-support, cooling gel, and only the cover.
---
BedSure Orthopedic Dog Bed
The best dog bed for Australian Shepherd puppies and adults is the one that addresses their individual issues.
For example, if your Shepherd is suffering from orthopedic pains, make sure you get an orthopedic mattress for them.
This one by BedSure is 3 inches high and distributes your dog's weight very evenly.
This way, it provides maximum comfort and support to ensure a cozy experience for your Australian Shepherd.
You can get to this dog mattress in two beautiful colors: grey and dark grey, both priced precisely the same.
It only comes in a large size and is excellent for adult Australian Shepherds as well as younger puppies.
---
BedSure Waterproof Orthopedic Large Dog Bed
Another great option by BedSure is this Waterproof Dog Bed for your moisture-loving pet!
If your dog likes to keep his bed out on the balcony or usually comes to bed soaking wet, you are probably suffering from a significant problem.
Some Shepherds also wet their beds with dog pee, which is quite nasty to wash.
So, for situations like yours, a waterproof dog bed would be an excellent choice.
This one by BedSure is a dense 3-inch high egg crate dog bed, and it comes in four beautiful colors.
You can also get this BedSure dog bed in three different sizes (medium, large, and extra-large).
Thanks to the bolstered sides and flannel cover, the overall design of the dog bed ensure maximum comfort and good deep sleep!
The bottom is studded with non-slip plastic, so it stays put.
---
SlowTon Calming Doughnut Dog Bed
Covered in faux fur, this fluffy, comfortable, and breathable dog bed is a crowd-favorite.
The doughnut design not only provides comfort and an excellent place to sleep but also reduces your dog's anxiety with its cuddler, circular design.
In addition, the bottom has sticky beads to prevent it from slipping, and the dense fabric further helps it stay put.
Available in 7 luxurious colors and four convenient sizes, this Doughnut Dog Bed allows maximum customization and personalization of your buddy's bed!
If your dog has any color preferences, like some of them do, you can choose either dark colors like coffee or dark green or a lighter shade like light pink or purple.
---
Kroser Deluxe Reversible Dog Bed
Reversible sleeping dog beds are also a unique idea, and I personally love them.
This one by Kroser passes the quality and comfort tests! It comes in a stylish blue design with a reversible pillow.
One side of this pillow is made from soft plush, self-warming, and ideal for colder seasons.
The other side is conveniently breathable, perfect for summers and warmer days.
Depending on your dog's size and age, you can get the bed in a small, medium, a large, or extra-large size, all of which are easy to clean as they come with removable, machine-washable covers.
---
JoicyCo Large Pad Mat Dog Bed
If you have a large pet and are looking for the best dog bed for Australian Shepherd dogs, consider a padded mat.
This one is also a unique concept, like reversible pillows, but it is not new at all. Pad mats are generally great for larger and bulkier dogs.
And if your Australian Shepherd weighs more than what a regular bed can handle, opt for these mats.
This one by JoicyCo comes in three sizes: 36, 42, and 47 inches.
Moreover, it is available in 6 beautiful colors: Celadon grey, clay gray, dark blue, dark brown, dark grey, and, my personal favorite, wine red.
In addition, the pad is covered with a soft fleece plush material, making it both comfortable and durable.
The great pad is also a hundred percent washable; you can use both your hands and your machine!
Lastly, the bottom design is non-slip, so it stays in its position and does not move or shift.
---
Buying Guide For Australian Shepherd Dog Beds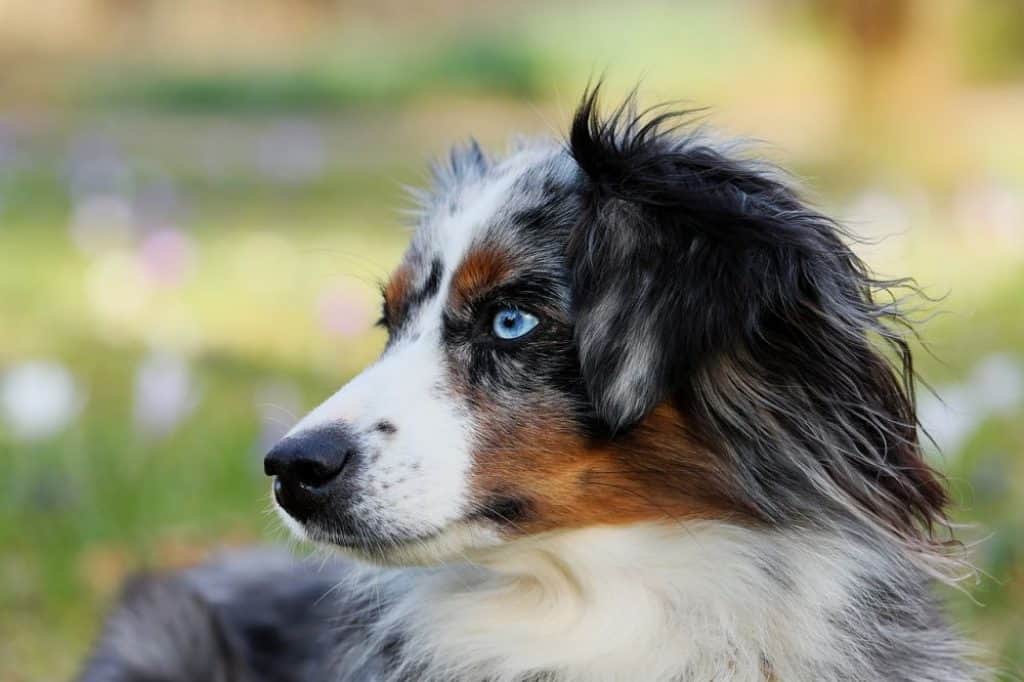 Getting the best dog bed for your Australian Shepherd can be a tricky task.
You need to consider many things, and sometimes, it can be even more complex than choosing a bed for yourself.
A buying guide can be beneficial in such situations.
The following are the most important things you need to keep in mind when you go out shopping:
Mattress Support
As beautiful as these dogs are, unfortunately, they are very vulnerable to musculoskeletal issues.
These problems include orthopedic diseases like osteochondritis dissecans, elbow dysplasia, and hip dysplasia.
Hence, make sure you choose a bed that has a supportive mattress.
Doing this would prevent joint pains and also alleviate them if your dog has any.
Bolsters
Most people ignore this feature, but bolsters are an important characteristic of a dog bed.
Side bolsters are especially essential for Australian Shepherds, particularly for their joints and spine.
If your dog has mobility problems or joint restrictions, pay special attention to the side bolsters of the bed you buy.
Raised beds can significantly help alleviate joint pains.
Allergies
Dog breeds like Australian Shepherds usually have different allergies, and it is not rare for them to react to certain materials.
Therefore, when choosing a dog bed for your pet, make sure it is hypoallergenic and does not contain any materials and chemicals that might trigger an allergic reaction.
For example, dust mites are one of the most common things dogs are allergic to.
Choosing a mattress that has dense, thick fibers can be the right choice as these beds don't let dust mites settle in them.
Size
Everyone has a general idea of how big or small their dog is. However, sometimes, even an inch of a difference can make or break the deal.
The best way to choose the right size for your dog is to take accurate measurements of their existing bed (which fits them) or measure the pet directly.
You must choose a dog bed that gives them enough space to roll around, lay down, and rest comfortably.
Choosing a bed too small will lead to discomfort, sleep issues, body fatigue, aches, and other unpleasant consequences.
Washability
Dogs can make their beds dirty quite quickly.
They bring dirt, germs, mud, odors, and other random things stuck to their paws.
And even though you might not see visible stains or substantial signs of uncleanliness, these beds almost always need a regular wash.
And washing a dog bed can be a real hassle.
If you know you will have to wash it daily, make sure that the cover of the bed is washable and does not take a lot of time and effort to clean.
Also, ensure that the cover is removable.
Many buyers forget to check this particular feature and later realize what a mistake they've made.
Durability
Check the quality of the manufacturing and the type of material used to create the dog bed.
These characteristics will help you determine how durable and long-lasting the product is.
Will it even last long enough for you to get your money's worth?
Materials that are resistant to water, moisture damage, and chewing are the most durable ones.
Price
Dog beds are indeed an important investment, but you don't want to go broke!
When people don't know what their ideal budget is, they end up either overspending or under-spending.
Determine your financial limitations before you head out to shop.
Doing this will help you easily and quickly narrow down your options based on what you are comfortable with and stop you from overspending.
In Conclusion
So, did you spot the best dog bed for Australian Shepherd?
If yes, great!
If not, here, I'll give you a personal recommendation: my favorite of all six beds mentioned above is the FurHaven Orthopedic Dog Bed.
It's pretty obvious why I like it the most: it's gorgeous, comfortable, and easy to wash.
What else does one want for their dog's sleeping place?
Obviously, we all want our dogs to be happy and comfortable, so choose the best one for them.