You are now a new Sheltie owner, the whole family is fascinated by its beautiful white fur coat, and they wonder:
What kind of collar to put on it?
Since it's now a family pet, it needs to wear a tag collar that won't ruin its coat.
Considering that and that the use of a collar/leash is a precautionary principle, I have prepared for you a selection of the 6 best collars for your sheltie!
Black Rhino – Neoprene Smooth Pattern Adjustable Collar
This is undoubtedly one of the best padded collars for developed, strong, and energetic dogs.
The Black Rhino Collar is light, comfortable, and strong. It does not have that metal that retains the heat in the summer.
Likewise, it is explicitly built with the best quality rugged hardware.
Furthermore, it has reflective seams so that it is visible and to give you security, particularly in those walks or hikes early in the morning or late at night.
And on top of that black rhino offers you a money back gurantee In the unlikely event that you are unhappy with your purchase
Carhartt – Fully adjustable webbing collar
My second review is for an ultra-durable collar, ready for whatever your dog demands.
Fully adjustable and constructed with a sturdy half metal/half strong plastic side release buckle, it's easy to put on and take off.
The size of this Collar by Carhartt is perfect, and it is pretty light. The metal dog tag ring is very nice and sturdy.
The bright color and reflective stitching increase visibility during after-hours activities. It provides comfort/security.
This collar is highly durable and well-made!
Blueberry Pet– Adjustable Collar
My third review is undoubtedly a collar widely used for dogs with no leash manners and requires customization.
It's an Personalized Dog Collar without any frills and works excellent. The metal D-ring is covered with chrome to accompany the pet for a long time.
Constructed of nylon with a high-density webbing that adds durability. The buckles are made of ecological plastic.
Sleepy Pup – Limited slip leather collar
This collar option is ideal for a training process.
This Collar by Sleepy Pup is designed to slightly tighten the dog's neck in case of pulling without closing completely.
The leather is beautiful and durable; you can clean it very well with a leather cleaner.
Perfect for taking strong and stubborn dogs out for walks or activities outside the home.
QQPETS – Adjustable Collar for Small, Medium, and Large Dogs
My fifth review is of a collar made from one of the most common materials, capable of providing a wide variety of patterns, colors, and sizes.
This Adjustable QQPETS Collar is made from high-quality/density polyester, which imparts softness and durability.
It's easy to put on and take off; it has a quick-release buckle made of eco-friendly plastic. Special for daily use.
Its available in a multitude of colorful designs, and it is comfortable and resistant.
Hyhug – Nylon Martingale Collar
Finally, my latest review falls on this spectacular collar, designed for walking, professional training, and everyday wear.
This Martingale Collar by Hyhug comes in a total of ten beautiful colors for you to choose from.
It has reinforced/folded seams for softness, strength, and durability.
In addition, it provides more comfort for you and your furry friend during use.
The martingale collar is more difficult to release than a conventional collar, fits well, and is robust.
What Collar Size For Sheltie?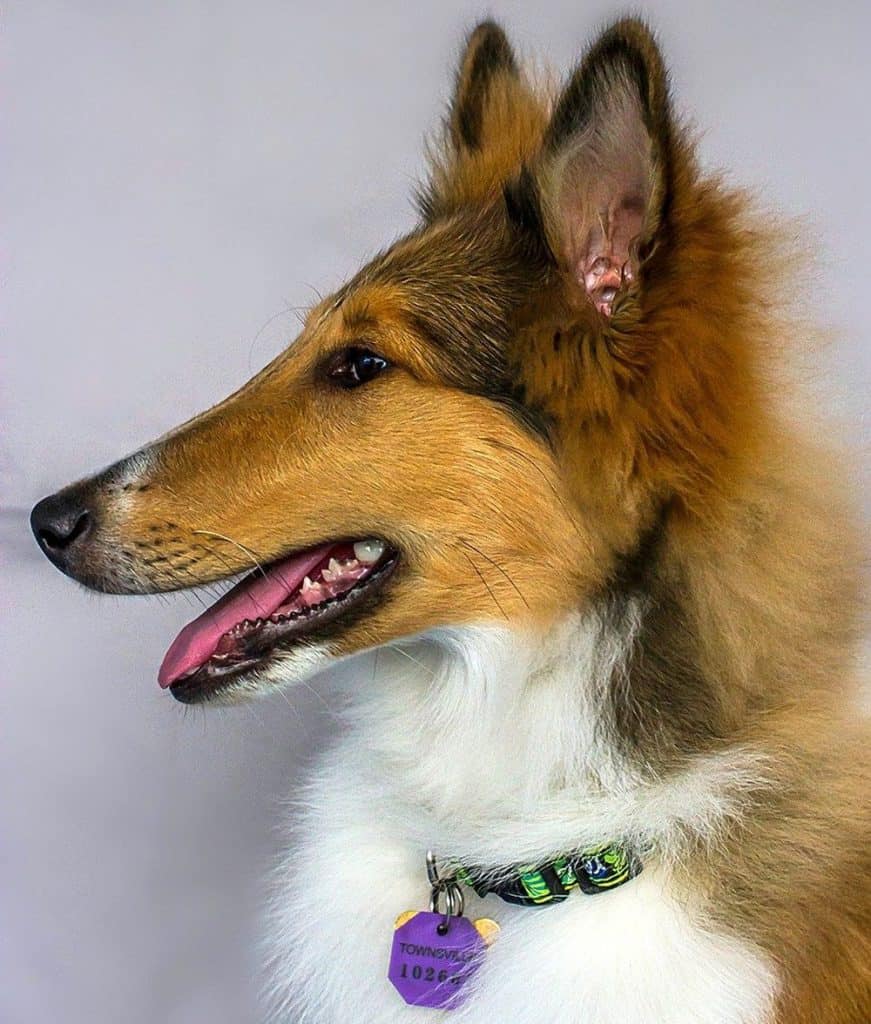 Before going out to buy a collar for your Sheltie, the first thing I suggest is that you ignore the myth of "a collar for life."
Get that belief out of your mind!
The second thing is that you keep in mind that:
The heads of the Shelties are smaller than their necks due to the characteristics of their coat (double coat, dense and long).
Shelties are intelligent, skilled, and agile. Some of them are very good escapists and have learned to remove collars from their necks if they do not fit properly before you know it.
Considering the above, when you go to buy a collar or a harness for your Sheltie, you should also bear in mind that:
It is important that it fits snug but not tight.
If it's too loose, the dog can break free, and if it is too tight, you can "choke" it.
Apply the rule of passing a pair of fingers between the collar and the dog's skin. It is ideal both for the safety of your Sheltie and from a practical point of view in case you have to grab it by the collar.
Depending on the different brands, the sizes of each collar or harness may vary.
Since the Sheltie is a dog of average medium height, a collar measuring 12.5 to 20 inches may do well.
The chest measurement to choose the harness size is between 18 and 28 inches.
It all depends on the size of each Sheltie, its age, and weight.
Therefore, for your safety, there is nothing better than measuring your furry with a tape measure.
Consult with your favorite pet store expert or with your private veterinarian if you have any doubts in this regard or verification.
So you can buy the necklace that you like the most and adjust to the particularities of your Sheltie.
How To Choose A Good Collar For A Sheltie?
As the Sheltie is an intelligent and very restless dog of medium height, it tends to pull a lot and is skilled at escaping.
Equipped with a double-layered coat, dense and long hair, which also has sensitive skin, then you should consider choosing a good collar for your Sheltie, the following:
Small/medium breed dogs, such as the Sheltie and young puppies of any breed, should wear a soft, lightweight collar with a quick-release buckle. It is best to use a harness. I suggest taking it out for a walk and leaving the necklace for the house.
For dogs that pull, a martingale collar can help control it better.
For escaping dogs, harnesses and martingale collars are suggested.
For dogs with thick coats and long coats, prone to pulling and irritation caused by tangled hair, using a standard rolled collar for daily use and a walking harness is generally recommended.
And for dogs with sensitive skin, I suggest you choose a collar with the following characteristics:
Correct measurement.
Soft material.
Low chemical content.
Very convenient, it will help you choose the best collar for your sheltie to answer the following questions:
What material is most appropriate for the specific function of the collar, as well as for your dog's well-being?
What will be the primary use of the collar: training, walking, adornment, etc.
Conclusion
Concluding the information provided in the article regarding the best collar for your sheltie, choosing the best option involves determining which one has the most qualities described throughout the article.
In that sense, my top pick is the Black Rhino Collar.
I choose the black rhino collar because its high quality, customizable and it's also among the two best-reviewed collars on amazon.
Apart from that, i always recommend having more than one type of collar at home. It is always a good idea.