Training is a very important aspect of your Labrador's life. Whether you plan on having them trained by yourself or in a Lab training school. Training per se could make or break how peaceful your life is going to be with your pet.
Labrador Retrievers known for their great temperament and are generally easy to train, so you aren't likely to have trouble if you prefer training your dog at home.
However, if that is not the road you want to take. There are also Lab training schools where you can get your dogs taught by professional trainers.
Now, first off, there's really no one type of training for your Labrador. Training could mean house training, obedience training, or even professional gun dog training.
All these types of training warrant varying degrees of commitment and complexity.
In that case, it's not really applicable to train a puppy that's only 3 months old in gun dog training or service dog training.
When to start training your Labrador
A good time to start housetraining your Labrador is the moment that they can walk or the moment you bring them into your home.
Housetraining your Lab is the foundation of making sure they succeed in any other training venture in the future.
However, puppy training for proper house behaviors can also taught in a Lab training school. Just look around for puppy classes that are in your area. The entry age for most of these puppy training schools is about 10 weeks.
For more serious Lab training classes, such as service training or gun dog training. You have to expect that they will only take older puppies about five or six months old.
Many pet owners do not have the time or the skill they feel needed to properly train their pups.
So, they look toward professional help, a solution that is completely fine depending on what you can provide for your dog.
To add to that, there are numerous types of classes that a Labrador may sign up for in a Lab training school.
Puppy training
Puppy training largely involves processes that needed for your puppy to live in your home. Abide by our human rules with socializing.
These will likely involve basic housetraining skills for your Labrador puppy and how they should act around other people and pets.
Some Lab training schools prefer to train the puppy at home and do home visits with regularity.
If you are comfortable with this, home visits are also a great way of house-training your dog.
Puppy training may also called behavioral training in some situations. Essentially, it helps your pup deal with the human world better and troubleshoots any behavioral issues. Such as excessive chewing or a little too much barking.
Obedience training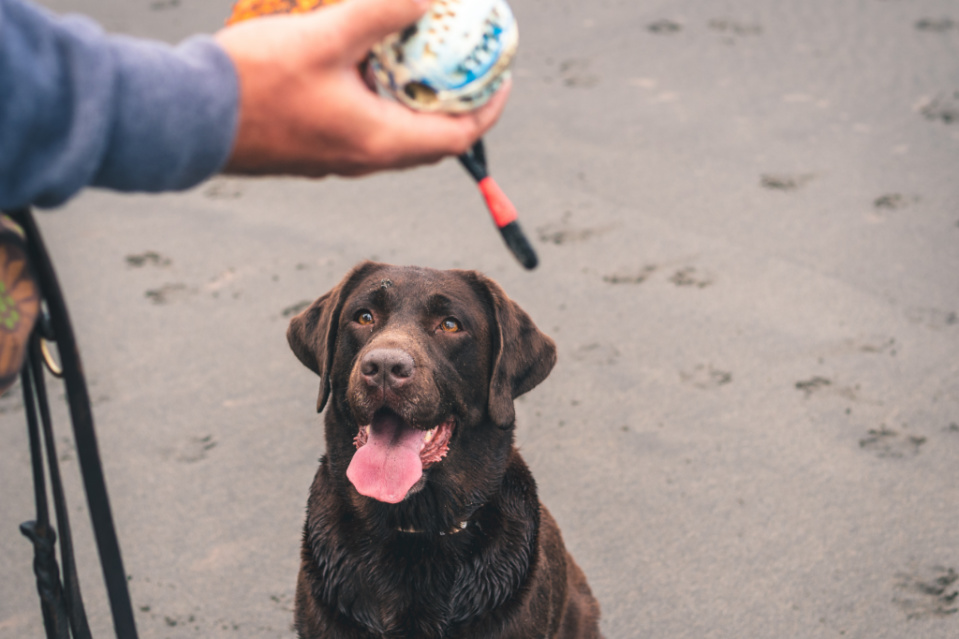 Obedience training is largely a type of training that deals with making sure that your Labrador Retriever stays obedient to you at all times. This includes all types of situations such as going out in public or even just staying at home.
Obedience training geared towards you asking your dog to do something and making sure that they follow you even when you have already left the room.
Something to remember about obedience training is that it's not for your Lab to be completely obedient to their owners regardless of any situation.
It's not made so that owners can have full control of their dogs. Obedience training is to ensure that the owners can live amicably with their pets.
Obedience training is important because you might get in a dangerous situation, or your dog has tendencies to run away when captivated by something else. In these situations, it is best that you exert a semblance of control over your dog and you know that they will follow your cues.
This study on human-canine relationships observed how the relationship between dog and owner changes after obedience training. The results showed positive results and improved human-canine relationships.
Vocational Training
Labradors known for being great service and work dogs due to their breed coming from a lone line of working dogs that go back centuries. Their history is rich with work and human companionship.
In addition to that, Labs have great temperaments that allow them to be amazing service dogs. They easily trained and work well with people.
However, gun dog training and service dog training are not the only types of vocational training available for dogs.
Labradors can become therapy dogs, protection dogs, and more! There are tons of opportunities available if you are interested in training your pet vocationally in a Lab training school.
Remember that these types of training are more advanced than just basic training and will most likely need more commitment and training. You can expect that to train in these specialized training types, your dog will need to know the basic cues and commands.
These also mostly made for dogs who are older at 6 months or more, although that's not a set rule. It depends on the Lab training school or on the trainer whether they will accept your Labrador.
Thus, if you interested in pursuing a career for your dog, they will almost always need some form of training.
It's great to invest in different types of training for your dog if a future in working is one you envision for your Lab.
How are classes conducted?
The way classes in a Lab training school conducted, largely depend on the trainer or the training school.
Some prefer to have classes of 4-8 dogs while some prefer home visits or one-on-one training sessions. Some Lab training schools offer a hybrid of these or let the owner decide at their discretion.
You will need to consult with your trainer or the training school more about this topic. It depends on how well a certain schedule will work with your lifestyle.
Conclusion
There are different types of training classes out there that will suit your Lab. You can consult with your local Lab training school to see what programs they have available.
Training classes are a great way of immersing your Lab in different things. But, the cost can stack up in the long run if you're getting your pet trained professionally. So that is also something you need to budget for.