Summer is here, and you and your family are preparing for that long-awaited trip. You want your Labrador to accompany you to the lake, the seaside, the camp, or to see your relatives. Traveling with a Labrador might be difficult. So when bringing your Labrador on vacation, there are several things to consider. You don't want to taken off guard, so keep the following travel tips in mind.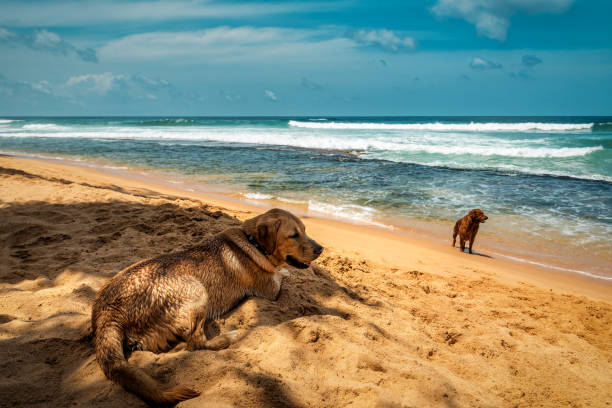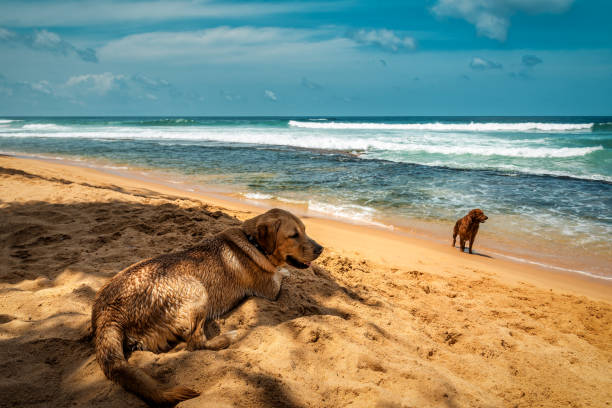 Labrador Travel Tips
Vaccinations
Examine your pet's vaccines to determine if they're up to date. Some states, especially those that need rabies immunizations, may require proof of this. Health certificates may also be required in some regions. Make sure you have all of the necessary documents before leaving. If you go to a location where heartworm is an issue, your dog should be treated for parasites to prevent him from contracting the disease.
Anti-flea and anti-tick medicine
Fleas and ticks should be treated in your Lab. You don't want him to come home with a flea infestation or health concerns as a result of tick bites.
Chip and identification tag
Make sure your Labrador wears an ID tag with your phone number on it so you can be found quickly if he gets lost. If your dog is chipped, make a note of his microchip number for easy identification.
Pet-friendly lodging
Check ahead of time to be sure you can find pet-friendly lodging. Check to check whether any hotels, campgrounds, or other accommodations accept dogs. Make a point of going through all of the restrictions. For example, some hotels may only allow dogs of a certain size or weight. Some campgrounds may limit dogs to certain areas of their facilities.
Food
Your dog's food should brought with you. You don't want him to become sick while traveling if his favorite brand isn't available where you're going.
Toys and sleeping bags
Bring along your Lab's bed and some toys. Things from home will assist him in swiftly acclimating to his new environment.
Cleaning supplies
Please bring your own cleaning supplies. After your dog has gone potty, always clean up. It is expected in many places, and neglecting to do so rude and disrespectful. You may also want paper towels and cleaner if he has motion sickness throughout the ride.
Always keep your Lab on a leash
While rest stops and campgrounds may appear to be excellent places to let him run around, there are a number of ways he might damage himself or cause alarm to others.
Rest stops that are pet-friendly
If your Lab doesn't have somewhere to stay, such as a kennel, don't plan to stop in regions that aren't pet-friendly. When eating out or visiting an amusement park, you should never leave him in the car. He will grow overheated and dehydrated if he is kept in the car for a lengthy amount of time.
Basic commands
The basic Commandments are the most important. Before you leave on a trip with your Lab, it's a good idea to teach him some fundamental commands.
Riding In Cars With Labradors
Road vacations with your Labrador may be a lot of fun for you both. Whether you're going to camp and hike or just to get some rest and relaxation, traveling the road with your friends may be a pleasant experience. However, it is critical that you plan ahead of time.
How to Begin
Before embarking on a lengthy road journey, it is a good idea to gradually introduce your dog to vehicle rides. You may start teaching your dog to go on road trips at any age. Begin by taking him on small journeys. You may take him to the park or conduct an errand with him. Make it a point to take him to areas he appreciates. If you just take your dog to the doctor, the groomer, or any other place that makes him nervous, he may be less willing to get in the car.
Increase the length of your travels gradually. He will become accustomed to spending extended lengths of time in the automobile over time. If you take your dog on an errand, make sure it is either to a location where he can accompany you or to a location where someone can stay in the car with him for a few minutes. You never want him to feel abandoned or overheated in the car.
Car Sickness
If your dog is prone to motion sickness, there are a few things you may do to help him. To begin, simply offer him a tiny breakfast about an hour before you leave, or wait to feed him until you arrive. Don't offer him anything along the way.
If your dog is prone to motion sickness in the automobile, see your veterinarian about motion sickness medicines. Some Labs may do well on short journeys but struggle on longer ones, especially if the route includes winding roads. As a result, have your dog's motion sickness medicine on available at all times.
Labrador Car Safety
Avoid leaving your dog alone in the car. If you're traveling alone and need to stop, just open the windows enough to let some air in but not enough to let your dog out. If your dog tries to squeeze out the window, he may damage himself. Allow no more than 10 minutes of alone time for your dog at a time.
Do not panic or chase your dog if he escapes. Sit down and make an attempt to call your dog. To keep him occupied, provide him food and toys. Chasing your dog will just make him more frightened. Some dogs think you're playing with them when you chase them. This irritates dog owners who wish to protect their dogs from danger. Keep yourself cool and remain still.
Additional Suggestions
When you stop, always keep your Lab on a leash. Most rest stations might have a lot of cars and people, and you don't want him to go out into the parking lot or scare people by racing up to them. Even if your dog is well-trained off leash, it is always polite to keep him on one.
Don't be alarmed if your dog runs away from you while you're at a rest stop. The worst thing you can do is chase your dog. He may believe you are playing and will flee in order to continue the game. Or he may believe he is in peril and flee in order to prevent it.
Traveling with Senior Labradors and Puppies
You may still want to travel with your Lab as he gets older, and he will enjoy it. Remember that he will probably need a little more attention than he did when he was younger. Older dogs may require more frequent urination. You'll need to stop frequently to allow him to stretch his legs and relieve himself.
Your senior Lab may have more difficulty getting in and out of the car than he did when he was younger. You may consider purchasing a dog ramp to make it easier for him to exit and enter the car. Lifting him all the time might damage both you and him.
Traveling by Plane
What about when you have to fly somewhere? There is wonderful news to report! Your Labrador is still free to go wherever he wants. You may fly with your dog on several airlines; just make sure you plan ahead of time and satisfy all of the criteria.
Unless your Labrador is a service dog, he will have to go in the cargo hold in a crate and will not be permitted to fly in the cabin with you. Most airlines require that your Lab travel in a large plastic cage. Because each airline has its own set of regulations, it's a good idea to contact them or look them up online to see what they require.
Reservations
Give yourself plenty of time to plan your vacation and make bookings. There are a few restrictions that most airlines have that you should be aware of if you want to fly with your pet.
All airlines need proof of rabies vaccination and a health certificate issued within the last 10 days before to travel. You must verify that his vaccines are up to date and that you have sufficient time to get him to the veterinarian to fill out the certificate.
Several airlines require you to make bookings via phone rather than online when traveling with your dog.
If you're still worried about traveling with your Lab, you may always consult with a pet travel company. There are a good number of them. Read reviews, do your research, and pick a company that is respectable and well-liked by other pet owners. They may help you ensure that you meet all of the requirements for pet travel and may even help you with health certifications and reservations.
Maintaining Family Cohesion
Your Labrador is one of your family members. You know he's happiest when he's with you, regardless of where you are. Bring your Labrador on vacation with you this summer. To have a safe, pleasurable, and memorable journey with the entire family, follow these travel tips.