Regularly bathing your Great Pyrenees not only helps get rid of accumulating dog dander but also positively enhances your dog's physical activities.
So, if you are wondering what is the best shampoo for Great Pyrenees, then worry no more, as you have searched on the right article.
I walk you through 7 of the best dog shampoos for your hound.
I also provide you with a few tips on how to choose an ideal bathing shampoo for your doggie.
And for those of you whose doggies are quite problematic during a bathing session, I also got you covered as I provide you with a practical and straightforward guide on how to bathe your dog.
Healthy Breeds – Bright Whitening Dog Shampoo
Available in volumes of 12 oz(ounces), this bright whitening dog shampoo scented with Pina Colada (a perfect combo of coconut and pineapple fragrant) is a good fit for a White coated Pyrenees that loves spending most of its time outdoors.
This 100% guaranteed and easy to return policy product contain a pH-balanced formula that helps keep your doggies coat nourished, hydrated, mate and tangle free.
And it also adds a shiny and luster appearance to your hound's skin.
Tropiclean – Perfect Fur
This product is the best fit for a Pyrenees that is high spirited as its effectively and efficiently penetrates your dog's undercoat.
Tropiclean – Perfect Fur is formulated with a de-shedding control formula that helps promote the natural deshedding of your dog's coat by carefully exfoliating it's under skin. Thus reducing the excessive shedding of your Pyrenees' hair.
It contains naturally derived ingredients that enhance the speed at which your doggy's coat dries up by absorbing the excess water and lowering the water surface tension on your dog's skin.
Healthy Breeds – Oatmeal And Aloe Dog Shampoo
If your Great Pyrenees has an itchy situation, this doggy shampoo will fit the bill.
Healthy Breeds hypoallergenic pH-balanced formula makes it safe for use simultaneously with a topical flea control treatment.
It also contains an infusion of Pina Colada scent that helps keep your dog smelling fresh throughout the day.
Veterinary Formula – Snow White Dog Shampoo
Designed not to wash out your dog's topical flea and tick treatment, this product ensures that your white Pyrenees lives up to its energetic temperament without the fear of permanently staining its coat's.
The patent optical brighteners infused in this shampoo ensure that hard-to-remove stains are safely and permanently eliminated from your dog's coat.
This Snow White Dog Shampoo doesn't contain peroxide or bleaching agents in its ingredients.
Thus, you are assured of maintaining an itch-free and irritant-free dog skin when you use it for bathing your doggie.
Healthy Breeds – Young Pup Shampoo
Coming in a volume of 8 ounces, this natural and gentle, easy-to-apply, and use shampoo effectively cleans your Pyrenees skin without stripping its natural oils, thus adding an extra layer of hydration.
A federally regulated manufacturing company manufactures it; therefore, you are assured of 100% safety for use.
Healthy Breeds soap-free property also ensures that your dog's natural skin pH is balanced.
Thus, you are guaranteed of no adverse side effects unless your Great Pyrenees has a very sensitive skin.
Buddy Wash – Dog Shampoo and Conditioner
Made from botanical and garden-fresh ingredients, the Buddy Wash Dog Shampoo is infused with hydrating oils that keep your dog's skin dehydration resistant.
It also contains bergamot, green tea, rosemary, and sage botanical extracts that enhance the moisturizing properties of this easy-to-use and effective shampoo.
Its specially formulated with a coconut base, aloe vera plants, and vitamin E that helps give your dog's skin's antiaging and antioxidant properties.
Burt's Bees – Dog Shampoo and Conditioner
This Burt's Bees Natural dog shampoo and conditioner works best in Pyrenees with itchy and dry skin.
The Chamomile and rosemary-infused herbs in this dog shampoo help promote anti-itching properties and rejuvenate your dog's coat by promoting cell regeneration.
This easy-to-use dog hair cleaning product is vet recommended with its pH balanced so as not to disturb the natural composition of your Pyrenees fur.
How To Buy Or Choose The Best Shampoo For Great Pyrenees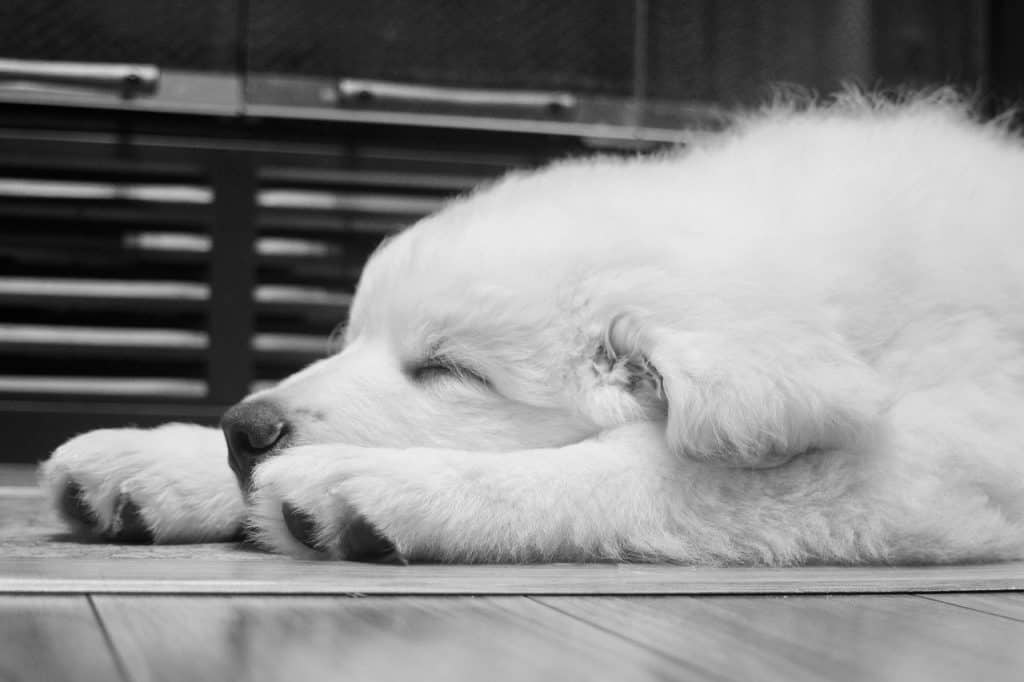 Knowing how to choose the right shampoo for your canine buddy not only helps maintain healthy and glowing skin but also enhances your dog's bathing experience.
Below is a complete guide with easy and savvy tips on how to buy the best shampoo for Great Pyrenees;
Critically Examine The ingredients Used
The ingredients used to make your dog's shampoo directly and substantially affect how well your dog's skin will respond to the cleaning product.
Always buy dog shampoos that have used natural ingredients for their production.
Be sure to confirm the Genuity of the labeled components as sometimes shoddy manufacturers may have their products tagged with ingredients they have not used.
So, to be sure that you are purchasing a legit product, shop at a known dog shampoo dealer that has their products third-party lab tested.
Your Great Pyrenees Skin Condition
As a caring dog parent, it's quite natural to know your dog's skin condition.
If your hound's skin is prone to allergic reactions that may cause it to itch, become scaly, or dry, then it is best you use dog shampoos that have moisturizers in them.
Avoid purchasing shampoos that are scented as they may worsen your dog's skin condition.
If you can't resist and you really want to buy your dog a scented shampoo, always choose the one that has a natural fragrance in it.
Extra tip; Apply this scented dog cleaning product on one spot of your hound's skin (preferably the neck region) for 1 week continuously to check whether your dog reacts with it.
If it doesn't, you can use the scented shampoo product for bathing the whole body of your Pyrenees.
Your Hound's Age
Shampoos have different concentrations of ingredients, each designed for use for a specific age.
So never use a shampoo designed for use in a grown dog to bathe a pup, as this may cause your canine buddy's skin to react.
Also, never use a shampoo designed for use in a puppy to clean a grown-up dog as it won't have any positive effect on your dog; you will have just wasted your time and your dog time!
Your Doggy's Coat Color
Different dog cleaning shampoos are manufactured for use in specific dog color coats.
So don't use a shampoo produced for a white-colored dog to bathe a brown or black dog as this may cause damage to your hound's skin.
Susceptibility To Matting And Tangling Of Your Dog's Hair
Pyrenees' long and thick double topcoat (specifically the white great Pyrenees) is usually prone to matting and tangling.
To make it easier for you to groom your lifetime companion's hair, it's vital that you buy a bathing shampoo which has hair conditioner in it.
Your Great Pyrenees Tolerance To Bathing Or Water
Sometimes dogs can be pretty problematic when it comes to bathing them.
If your Pyrenees falls under this category, it would be good to purchase a waterless shampoo to help ease the bathing experience.
However, ensure that you at least bathe it with the regular water shampoo once or twice a month to keep its skin hygiene in check.
Tips On How To Give Your Great Pyrenees A Bath
Giving a proper bath to the Great Pyrenees can sometimes be a daunting task, even to experienced dog parents.
However, you can quickly reverse this tricky situation (bathing process) into a fun and bonding moment with your doggie with a few smart tips.
Below are easy and practical tips that will help you adequately bath your dog;
Fill a clean container with warm water -Warm water helps kill germs, so don't use cold water. Using your fingertips, feel the warmth of the water.
Cushion the floor of your bathtub or sink with a water-resistant and non-slippery material-prevents accidents and also gives your dog's feet a firm grip to stay steady during the bathing session.
Gently pour warm water on your dog's or pup's body to wet it before lathering it with shampoo-ensure that you don't lather your dog's eyes.
Use a soft-bristled brush to deep clean your doggy and pour more water on its body to rise of the foam.
The Don'ts While Bathing Your Dog
Don't wash it outside in an open space-your dog's skin also has cold receptors.
NEVER use human hair shampoos to wash your dog's skin.
Never yell or punish your dog for its refusal to cooperate during bathing; instead, give it treats each time it agrees to be bathed.
Never apply your dog's shampoo inside its eyes, mouth, or nose, as this may cause your dog to have severe allergic reactions that might be life-threatening depending on the concentration and amount applied.
Key Takeaway
Only bath your Pyrenees at least thrice in a month. For the best shampoo for Great Pyrenees ensure that:
You use a dog shampoo that has a balanced pH formulation made from natural and garden-fresh extracts and is scented with natural fragrances like the Healthy Breeds Bright Whitening Dog Shampoo scented with Pina Colada.
Always purchase your dog's cleaning hair products from a certified and known manufacturer who strictly follows federal regulations during the dog shampoo production.
Never shout at your doggy when it refuses to cooperate during a bathing session; instead, use treats to reinforce good behavior portrayed during bathing.
Remember, human hair shampoos should never be used to wash a dog's skin as they may cause adverse side reactions that may be life-threatening.