Having a pet implies that you share most of the spaces of your house with them, you probably sit and watch TV together, and you surely cook together. But when it comes to sleeping together it can be a little bit troubling, especially for your dog.
Imagine trying to climb a huge bed every night, it surely isn't comfortable and can even cause pain in your joints. We are quite sure that is how your dog feels.
Now that you have the mental picture of your dog struggling every day to join you when you're relaxing or sleeping, we can move to the solution of this problem: dog ramps for your bed!
Buying a ramp for your bed is the best way of spending some quality time together with your pet in a comfortable way. You won't have to worry about carrying your dog to bed every day or teaching them how to jump to a probably uncomfortable height.
Since we know that the market for pet products is extensive and has a lot of options, we compiled a list with the best dog ramps so you and your pet can enjoy nap time together. We are also going to show you a buying guide so you can figure out which dog ramp for bed fits better with your necessities and even answer some frequently asked questions about dog ramps.
What Are the Best Dog Ramp for Bed?
We have found several options that contemplate diverse needs for you and your pet. We also have made a comparison chart that you can quickly check to see which ramps best fill your needs and you can certainly check the sections below to find more detailed information about each ramp.
Comparison Chart
Best Dog Ramp for Bed Reviews of 2023
We've updated our top to 2023, it's pretty similar to the previous years. Now we are going to show you why we consider these options the best ones for you and your pet. We brought options for every size and age. So that no puppy is left without a comfortable and secure way of accessing a cozy bed after a tiring day of barking and playing.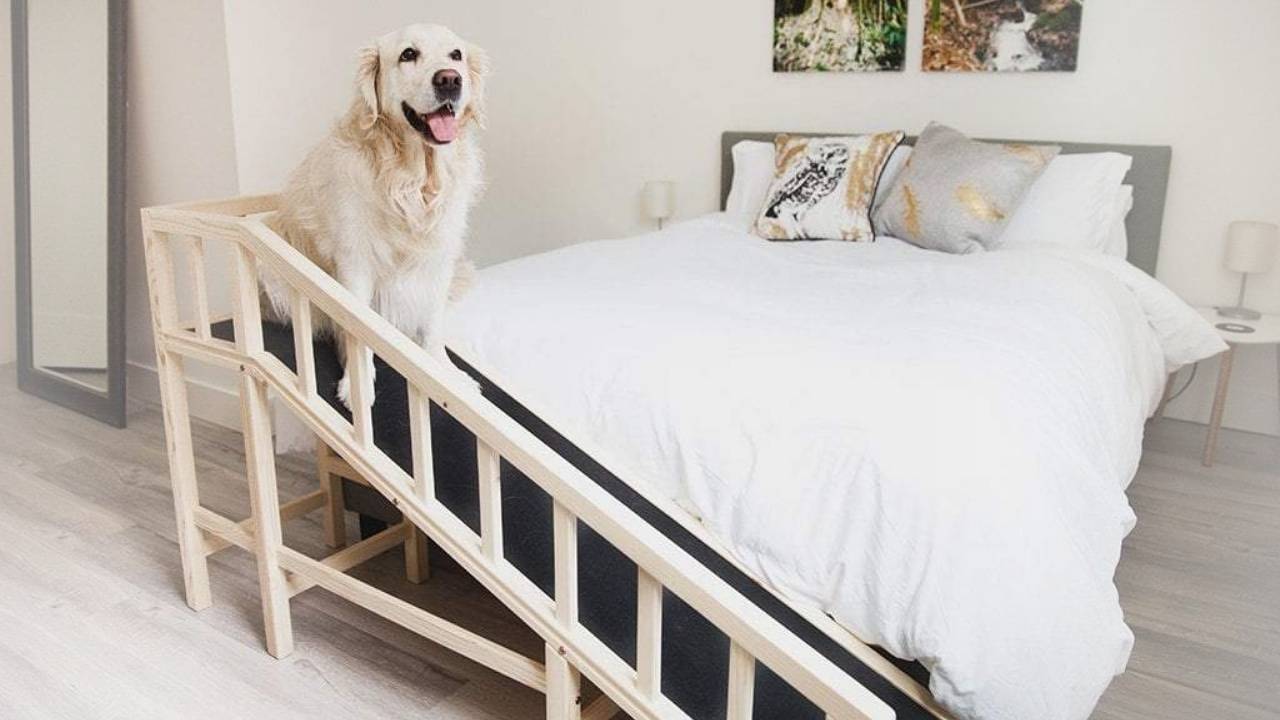 1. Gentle Rise Dog Bed Ramp: Best Overall
Originally Designed for Older Dogs
Last but not least, this pinewood and rubber ramp is guaranteed to make your puppy's life easier. It was originally designed for older dogs that may require a little extra help to join you in your bed, but it's perfect for every pet, regardless their size or age.
Low slope
The 26 inches in height are well compensated by the 74 inches in length on the ramp which provides this product with a low slope making it very easy for your pets to climb it.
Railing Security System
We also love the extra security detail given by the railing, which is adjustable allowing you to place it in different sides of your bed without any worry. The material that covers the ramp is a very special rubber made from recycled materials which is non-slip, offering maximum grip and cushion to help reduce the pressure on the joints of your pet.
Holds Over 130 Pounds
Finally, this ramp can easily handle over 130 pounds in weight, so if you have a big dog, it won't be a problem.
Technical Details
Measurements (LxWxH):  74 x 17 x 26 inches
Weight: 30 pounds
Holds up to +130 pounds
Main materials: quality pinewood and non-slip rubber
Color: pinewood
Perfect for: every dog at every stage of their life
Why Should You Buy It?
We think this is a perfect option for people that want to give their dogs an extra secure environment, the railing system allows this to perfection. The pinewood is also great if you want to make a DIY project and paint it to match with the rest of the furniture in your house. And even though the size of the ramp is quite big, it can easily fit into a middle size bedroom.
We also appreciate very deeply the fact that this ramp has a recycled special material, making this ramp even more special for your dog.
2. PetSafe Cozy up Step Ramp Combo: Best Collapsible Dog Ramp for Bed
Adjustable height
This ramp is called a Combo for a good reason! It integrates the best of both worlds since it can change from a ramp to a ladder depending on you and your dog's necessities. It has an adjustable height from 16 inches to 20 inches so it can adjust to your bed's or your couch's height if you needed.
Anti-Slip Steps/ramp
It's made of wood and the steps/ramp is built with an anti-slip fabric, making it a secure and durable product.
Versatile
This combo is very well thought because it's design to accommodate your dog throughout their whole life, from when they are an energetic little puppy until their old days when their hips need a rest in a comfy surface without the stress of climbing steps. This is also a great feature if you have more than one dog and need a versatile product that can allow all of them to be comfortable and secure when climbing onto your bed.
Easy to Store
Another characteristic of this product that we love is that fact that you can fold it and save it in case you have visitors, or you need to transport your dog
Blends Seamlessly with Your Surroundings
Lastly, this product has a modern like aspect that we absolutely love, it can blend right in with the rest of your furniture and almost every space of your house.
Technical Details
Measurements (LxWxH): 34.5 x 16 x 20 inches
Holds up to: 200 pounds
Main materials: 30D high-density foam and soft anti-slip corduroy
Color: Grey
Perfect for: every dog, no matter size or age
Why Should You Buy It?
We recommend this product for its durability and versatility. You can adjust this step/ramp to you and your dog's liking and lifestyle. We are also huge fans of the fact that it can adapt to different dogs living in the same house and that it's an easy to transport product, something that comes handy when you're traveling or visiting people with your dog.
3. PetSafe CozyUp Bed Ramp: Extra Sturdy Dog Ramp for Your Bed
Perfect Size for Bigger Bedrooms
This one is a ramp, no tricks included, but we decided to put it in this ranking because of the size that it has. It supports up to 120 pounds, so it's amazing and secure for every dog no matter their size, and it's perfect if your bed has a height of over 25 inches. The length of the ramp can be a little intimidating so we recommend it for people who have lots of space in their bedroom although you can easily fit it at the foot of the bed.
Variety of Colors
We also love this product because it offers two different shades, either a brownish color or white, which makes it easy to match with your bedroom furniture.
Built in Carpet that Avoids Slipping
Although it doesn't have an anti-slip surface like the other products, it does have a heavy-duty carpet that avoids your pet from sliding when using the ramp to get on and off your bed.
Lower Angle of Climb
Even though the size of this ramp is considerably bigger than the previous ones this is a great advantage because it provides a lower angle of climb for your dog, making it easier for them to use it. It also has a little surface on the top of the ramp making the transition from the ramp to your bed easier for your Labrador Rescues.
Technical Details
Measurements (LxWxH): 70 x 16 x 25 inches
Weight: 22 pounds
Holds up to:
Main materials:
Color: cherry (that brownish color that you can see in the picture) and white
Perfect for: every dog, but maybe not every space
Why Should You Buy It?
We believe that this is a great choice for people that want a sturdy and secure ramp, the materials on it are amazing and this is certainly a great addition to your pet's lifestyle. If you are looking for a basic but safe choice this one is the one to pick.
4. Topmart 3 Tiers Foam Dog Ramps: Best Value for Money
Quality and Durability
Even though this one is described as a ladder we wanted to include it in our article because of its high quality and durability. It's made of a high-density foam that doesn't misshape with use; it also has a dismountable cover that you can easily wash in your washing machine.
Wide and Deep Steps
The other thing that we want to remark from this product is the fact that the steps are wide and deep making an effortless climb for your puppy. Reducing the tension that jumping constantly can cause to your dog's joints these steps are recommended for elderly and/or smaller dogs that may require a softer surface to climb onto your bed.
Anti-Slip Corduroy Cover
Another characteristic is the top-of-the-line anti-slip fabric that covers the foam structure. This is perfect because it prevents your dog from slipping when going up or down the steps.
Small and Discrete
We recommend this product specially for smaller or elder dogs since it can hold up to 60 pounds, so it's a great and comfortable choice for those little furry friends out there.
Technical Details
Measurements (LxWxH): 23.6 x 15.75 x 15.75 inches
Weight: 4.36 pounds.
Holds up to 60 pounds.
Main materials: 30D high-density foam and soft anti-slip corduroy
Color: grey
Perfect for: small breeds and elderly dogs
Why Should You Buy It?
We highly recommend this product if you are looking for an easy to move around step, which provides your pet with a comfortable and secure method to climb to your bed, and blends seamlessly with the decorations in your bedroom. It's not as steep as other products like this since the foam structure absorbs the impact from your dog's body making it an effortless action for them to climb up or down.
What to Look Before Buying the Best Dog Ramp for Bed? [Buying Guide]
As we said before, the market is filled with dog ramps options for your bed, and it certainly can be tricky to find the best one for you and your dog's needs and lifestyle. What aspects you should take into consideration when buying a bed ramp? Well while choosing the ramps that we showed you before we used a series of criteria to select them, let's take a look at them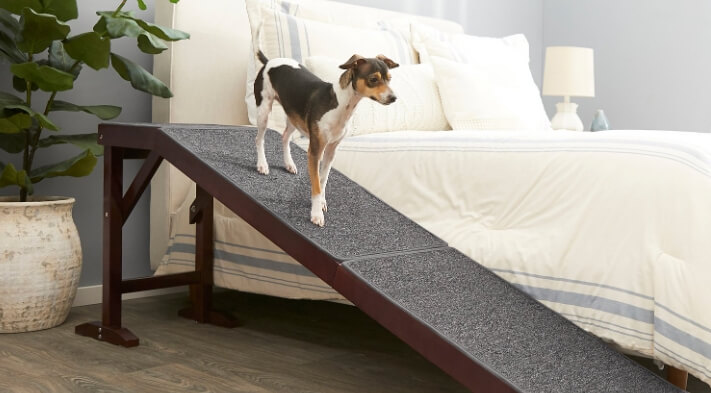 Size of The Space for The Ramp
This one is important! You should measure the space that you're going to assign the ramp in your bedroom so you can get an appropriate idea of how big you want it to be. As you've seen there are a lot of options, but it all depends on how much space you're willing to destine to the ramp.
Anti-Slip Surface
We all know that dogs have a way of getting into trouble and sliding down of a miniature slide could easily be one. That is why finding a ramp with an anti-slip surface has to be a key feature when looking up this kind of products. It's going to make sure that your dog is safe and it's not going to injure themself when trying to get into your bed or couch.
Your Dog's Needs
Every dog is different and can have a variety of preferences, but the breed of your dog is clearly a thing you wan to take into consideration when buying them a ramp that should help them to get into your bed. You should know if your dog is genetically predisposed to having issues in their hips or their joints, that way you can buy a ramp with a lower angle and softer cover that can avoid potential issues and even improve your dog's quality of life.
Quality of The Materials
You should know that you're buying the best of the best since you're trying to improve your best friend's life and that it's why finding a ramp with quality materials, for example, sturdy wood, it's going to guarantee that you're making your money's worth. Try to think of the quality of your own furniture when buying the ramp, you want it to last a long time and be a safe object for your pet to hang out at.
Adjustable Height
This is not necessarily a requirement but it's something that you might want to consider. This depends entirely on the areas that you want your dog to climb into, maybe you want the ramp to be able to adjust to your sofa and your bed, so in that case, a ramp that allows you to adjust the height it's a key characteristic that you should consider.
On Theme with Your Bedroom
This aspect might not be so important, but you should know that a ramp is clearly going to stand out if somebody peeks at your bedroom. That's why considering buying a ramp that adjust to the decorations of your bedroom can be a good idea, it's not going to make it invisible, but it surely won't contrast as much. Luckily a lot of manufacturers as taken this aspect into account and most ramps are nice to look at.
Is a Dog Ramp Better than Step for Bed?
Yes, not necessarily because your dog can't climb stairs or anything like that, but some breeds and older dogs definitely shouldn't use stairs, so a ramp is an easier and more compatible option with most dogs.
How Do I Get My Dog to Use a Ramp for Bed? / how Do I Train My Dog to Use Ramp for Bed?
At first your dog can react strangely when you introduce a foreign object to a familiar environment, but you can easily change that by putting some of their favorite toys on the ramp, maybe sit next to it and touch it so your dog can understand that it's safe to step on it. If this fails, you can always try to bribe them with their favorite snack.
What Is a Good Angle for A Dog Ramp? / What Is the Best Slope for A Dog Ramp? / How Steep Should a Dog Ramp Be?
This question depends entirely on two things: the height of your bed and your puppy. Some breeds cannot climb steep ramps, and some older puppies may find it easier to climb into your bed through a long and low angle ramp. If you find it hard to figure out this by yourself, you can always ask your veterinarian.
Is a Dog Ramp for Bed Worth It?
If you consider that sleeping with your pet is one of the best things in the world then, yes! A dog ramp is worth it not only because you are free from helping your furry friend so that they can join you in your bed but also because it doesn't involve any hard effort on your puppy.
What Size of Dog Ramp Should I Buy?
This depends entirely on the size of your dog and your bedroom. As we showed in the products we recommended, there are a lot of designs and sizes that can adjust to your lifestyle. We believe that first you should think in which part of the bed do you want the ramp to go and the proceed to take the measurements so you can choose the best dog ramp for you.
We recommend that for smaller dogs you buy a low angle ramp because it's probably going to help them to get into your bed without any struggle. Bigger dogs usually need a combination of a sturdy ramp and an anti-slip surface, the angle of the ramp should not necessarily be taking into consideration with them since they probably have less trouble getting into your bed.
How Long Will a Dog Ramp for Bed Last?
We can easily say that these ramps will last the same amount of time as any piece of furniture that you own. As you can see most of them are made from wood so as longs as you take good care of them, they can last you a lifetime.
How Much Weight Can a Dog Ramp Hold?
This answer depends on the model of the ramp, but usually they are prepared to hold between 60 to 120 pounds. Some of the products that we recommended can support bigger dogs.
What Is the Best Surface Material for A Dog Ramp for A Bed?
You should always try to select ramps that have surfaces that are anti-slip or some sort of anti-slip material such as rubber or carpet. This is very important aspect to consider when buying a dog ramp because it's what is going to make it easier and more comfortable for your dog to use without ever injuring themselves
Conclusion
As you can see there are lots of options and lots of things to take into consideration when buying a dog ramp. We hope that this article help you find the best one for you and your furry friend so from now on you can enjoy a relaxing time together without any trouble.